Edmonton community members explore using the Emergency Room as an entry point to transitional housing
Is there a better way than simply releasing a person experiencing homelessness from the hospital back onto the street? It creates an endless cycle of emergency room visits and escalating costs, not to mention the challenges the patients face in having a successful recovery.
As we continue to look for solutions to homelessness in our city, a group of community members from different fields and backgrounds met recently to brainstorm and discuss alternatives to the practice of releasing patients into a state of homelessness.
That's a long way of saying that if someone experiencing homelessness comes to an emergency room with a need for medical aid, the only alternative once treated is to release the patient back onto the street. The chances of recovery are greatly diminished, while the probability of return visits increases. The costs are severe, both to the person experiencing homelessness and to our ever-more expensive health care system.
Spearheading the initiative is Dr. Louis Hugo Francescutti, a veteran emergency room physician at the Royal Alexandra Hospital and a Professor at the School of Public Health at the University of Alberta.
Watch this short video to hear from some of those involved and to better understand the concept and learn why there is a growing groundswell of support for this idea.
There are many ways that people can get involved with this initiative. It's common sense that housing and health are interconnected. Finding solutions to chronic homelessness and easing pressure on our health care system is something we can all get behind.
Please contact Dr. Louis Hugo Francescutti directly to learn more about the project and how you can help:
Phone 780.932-7187
Tour "The Abigail" by Sorento Custom Homes – Grand Prize in the 2022 Red Deer Hospital Lottery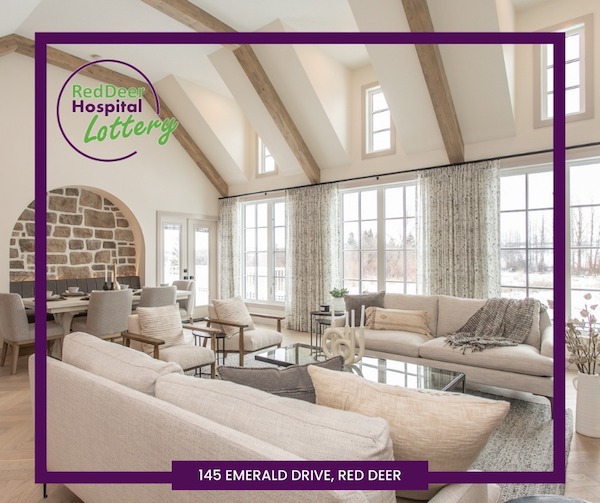 Have you seen it yet? Take a nice long look at the beautiful grand prize dream home!
NEW
TICKET GIFTING
OPTION
Step 1 – Click the GIFT TICKETS NOW! button
Step 2 – Enter the order for tickets and your personal information under buyers details
Step 3 – Click Send as Gift button and enter the giftee name and information
Print off this order form and mail in to the address listed on order form.
You can choose to get your tickets by mail, you will receive them in 3 to 4 week once processed by the lottery office.
You can also choose e-ticket and you will receive your tickets by email the day your order is processed. A valid email address is mandatory for e-ticket.
Mail to:
Red Deer Hospitals Lottery
PO Box 1098 Red Deer AB T4N 6S5
Call 1-877-808-9005 and a representative would be happy to help with your order, our agents are taking calls 7 days a week from 8am to 11pm
MAIN TICKETS
1 for $25 | 5 for $75 | 10 for $125 | 25 FOR $250
ORDER BY PHONE
Call Toll Free: 1.877.808.9005
MEGA BUCKS 50
1 for $10 | 10 for $25 | 25 for $50 | 50 FOR $75
5 winners already in Red Deer Hospital Lottery – Previous Supporters Draw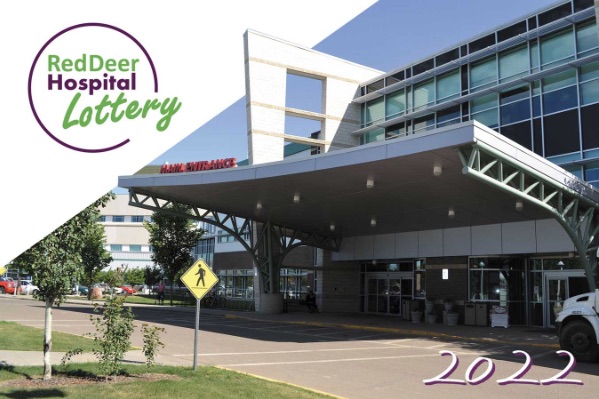 Five lucky people are already glad they purchased a Red Deer Hospital Lottery ticket – and the winning has just begun!
Thank you to Cecile A of Red Deer, Lynda H of Lacombe, Dan & Wendy K of Sylvan Lake, Bobbi & John W of Millet, and Jack W of Stettler who supported our hospital. They each won $1,000 in our Previous Supporter draws.
There are still 115 prizes totaling over $1.1 million to be won!
Our Grand Prize Dream Home package is valued $940,332.00 including furnishings from Urban Barn and $10,000 Dream Home CASH!
Maybe you'll win a 2022 GMC Yukon SLT worth over $81,000.00! Tickets are only $25 each.
There's still more. Buy before May 25th and you could win our EARLY BIRD CASH PRIZE OF $25,000
CHECK OUT OUR GREAT TICKET PACKAGES
$25 EACH | 5 FOR $75 | 10 FOR $125 | 25 FOR $250
Win half of an increasing jackpot of up to $1,000,000.
The jackpot grows with every ticket sold!
1 for $10 • 10 for $25
25 for $50 • 50 for $75
Win half of the current jackpot of:
17 of 83 pieces of equipment have already been funded!
Every ticket purchased will support the Red Deer Regional Hospital Centre with proceeds used to purchase eighty-three pieces of medical equipment for several units.
Since opening a few weeks ago, we've already secured funding for 17 stretchers benefiting 8 different units at our hospital!
CALL RED DEER & AREA OR TOLL FREE
403.340.1878 1.877.808.9005
Red Deer Hospital Lottery
PO Box 1098
Red Deer AB T4N 6S5Lottery Licence 590314 | Mega Bucks 50 Licence 590315
© RED DEER HOSPITAL LOTTERY 2022