The Irish Loop – Part 4 of a travel series on Newfoundland by Gerry Feehan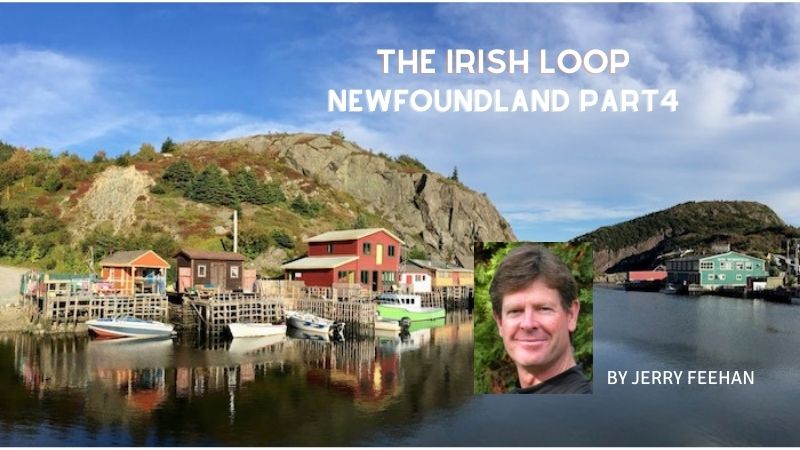 This is the last in a four part Newfoundland series.
Scroll down to find Part 1, Gros Morne, part 2 North America's Oldest European Settlement, and part 3 A World Famous Newfoundland Tradition.
When I told a Red Deer friend (born and raised in Newfoundland) that we intended to explore only the west side of the Island during our two-week visit she looked at me as if I were daft. "If you haven't walked down Water Street in St. John's, you haven't been to Newfoundland." And so we divided our 14-day fall camping trip on The Rock equally between both sides of the Island, with the last week dedicated to St. John's and the east coast.
Water Street was indeed a lot of frolic and fun. But frankly, narrow steep cobblestone roads and a motor home don't play well together. So, after a few days of fine seafood, great live music, an exploration of the fascinating Rooms Museum and a bumpy visit to Signal Hill, it was time to move on from the capital. We were bound for the Irish Loop, south of St John's, on the Avalon Peninsula. On our way out of town we stopped at Cape Spear Lighthouse, the most easterly point in Canada—and North America for that matter. The fair-haired interpreter seemed certain to have Gaelic roots (and thus knowledge of the Irish Loop) so I asked him if there were any special places we should visit. "Scottish actually," he said, stroking his sandy beard and disavowing any Irish ancestry. "The Avalon is beautiful, you can't go wrong. Just poke along."
And poke we did. After exploring scenic Petty Harbour, we poked our toes into aptly named Witless Bay, where we determined that the North Atlantic Ocean is brain-
freeze cold. We camped that night in a quiet spot overlooking Witless Bay Ecological Reserve, where in early summer tens of thousands of tourists flock to see "iceberg
alley" and the vast colony of Atlantic puffins that nest annually on Great Island.
"It's the end of the season, dearie," said the tired camp host. "The water gets shut off tomorrow." She looked out to sea and added, with quiet poetry, "the icebergs have
melted, the puffins have flown—now we've just a few stray tourists to drown." But with a wink added, "present company excluded." I took no offence—and swear it was by sheer inadvertence that I left the hot water running in the Witless bathhouse the next morning. For us it was an uncharacteristically early start. There must be
wisdom in that "early bird gets the worm" thing because by 8 a.m. we had encountered three different groups of hunters quartering moose by the roadside.
Hunting season had opened that day. Newfoundlanders take their moose quarrying very seriously. They are also very proud Canadians. Many yards sport a high-flying
maple leaf. But invariably the flag of Newfoundland also flaps nearby. And on the Irish Loop you'll also see a lot of green, white and pink, the pre-1949 Dominion of
Newfoundland Tricolour.
We hadn't planned on muzzling into other people's moose-business but, when we encountered a newly deceased bull being roped across the highway near Ferryland,
we had little choice but to stop and make inquiries. One quickly learns as a visitor to Newfoundland that there's no need to do more than simply open the conversation.
After that, listening will suffice. And so a roadside discourse began:
"This is how you paunch the carcass," the senior member of the group explained while his grandson sharpened a knife and began the on-site butchering process.
"And this here's the tenderest part," the grandfather continued, pointing loinward. I remarked on his particularly thick maritime accent. "Ha," one of his sons interjected, "Dad just returned from Ireland. They didn't even ask him where he was from, although one feller did ask if he'd spent a couple of years in America." He and
another brother were hoisting the 400 kg animal onto a makeshift wooden frame for further dissection. Dripping sweat, he continued, "Where are you two headed?"
"Toward Trepassey," I answered, "around the bottom of the loop and then back up toward the Trans Canada. We have an invite for Jiggs dinner on Sunday at a campground in Terra Nova."
"Trepassey?" remarked the patriarch, cutting a strip of hide from the recently departed moose's hindquarters. "Did you know Trepassey is in the Guinness Book of World Records as the foggiest place on earth? Last year a woman gave birth, but it was three months before they could tell if it was a boy or a girl." The younger two
generations nodded in amused agreement.
It was certainly foggy when we rolled into town. I almost drove through the restaurant doors before spotting the bright blinking light notifying us that the village's only eatery was closed. Apparently, the cook was out—hunting no doubt.
Someone had recommended that we stop for eats at the Squid Jigger back up the road in Calvert but that had been hours earlier. We had poked in there to see what was on the menu but decided it was too early in the day for a plate of salt-fish, potatoes and scrunchions.
It was well past lunchtime when we meandered into Peter's River. Cars were jammed outside the local hall. Perhaps a public pot luck dinner? No such luck. The entire community was gathered at the legion for "Chase the Ace," Newfoundland's favourite communal gambling pastime. We were getting rather peckish. With deep
regret I recalled the Squid Jigger's daily special: cod au gratin with a side of slaw and fries.
Finally, near Point La Haye we found a corner store with doors ajar. Scurrying in, we headed directly for the deli and ordered up a couple of prime 'Newfoundland
Steaks': fhresh sTle iced bologna. On the recommendation of the proprietress, we chose them 'tick' rather than 'tin'. At the checkout, the store phone rang. The owner
dashed off to answer. She came back, handed the cordless to the man behind us in line and said, "It's for you John. The missus says not to forget the toilet paper."
We parked for our picnic on a hill overlooking St. Mary's Harbour. As the fat bologna fried on the camp stove next to a couple of happy eggs, rain began and tick fog descended. It was the tastiest meal ever.
A colourful St John's streetGerry Feehan is an award-winning travel writer and photographer. He lives in Kimberley, BC.
Gerry Feehan is an award-winning travel writer and photographer. He and his wife Florence live in Kimberley, BC!
Thanks to Kennedy Wealth Management for sponsoring this series. Click on the ads and learn more about this long-term local business.
Gerry Feehan takes us to North America's Oldest European Settlement
Gerry Feehan Receives the Legendary Invitation, A World Famous Newfoundland Tradition
"Cook With Meg" creating community through online courses and camps for 3 years now
VIRTUAL COOKING SCHOOL THAT STARTED DURING PANDEMIC CELEBRATES 3 YEARS
On March 23, 2020, 27 families from across Canada connected via Zoom amidst the early days of lockdown to Cook with Meg. In this 4 day virtual cooking series, they made Picky Eater Sheet Pan Pancakes, Sticky Chicken Lo-Mein Noodle Bowls, Freaky Friday Fried Rice and That's A Lotsa Pizza D'oh using limited ingredients with former MasterChef Canada finalist Meg Tucker.
Many will remember when food products and ingredients were not readily available, so families used what they had, or what grocery stores click and collect services would provide. Through these daily cooking lessons, families not only cooked together, but formed friendships across the miles. Week after week, month after month, Cook with Meg grew to include families from Canada, USA, Mexico, Costa Rica, New Zealand and the United Kingdom.
Families became friends. We became a Cook with Meg Community.
Today, with over 6000 Zoom connections to thousands of families, the Red Deer and District Chamber of Commerce Small Business of the Year award and hundreds of five star reviews, Cook with Meg continues to thrive. Meg partners with the Egg Farmers of Alberta, Central Alberta Co-op, Alberta Pulse Growers, and Salton Canada to offer incredible experiences to families. She blends her years of experience and talents as a professional cook together by providing live and on-demand cooking classes and camps for families in six countries. Whether it's a class tackling some of the latest food trends, attending a virtual culinary summer camp, or an adult date night class, Meg's passion goes far beyond teaching people how to cook. It's building life skills, it's practicing patience, it's building kitchen confidence, strengthening family bonds and boosting self esteem.
No matter where you live, Meg says "everyone can connect through making and sharing food". To do that, Meg carefully designs her classes and camps in ways that help people to connect with their inner chef and the people around them.
A message from Meg: "To every person that has supported the Cook with Meg adventure. Whether you registered for a class, attended a class, liked a post on social, or shared us with your friends and family, THANK YOU. Thank you to all the families who continue to believe in the value of online learning, specifically in the kitchen. We often get asked if we will transition to "in person" classes, now that "life is getting back to normal". I have one simple answer. I always say we know that virtual and online learning was here before the pandemic, and it's definitely not going anywhere. I love it because for parents, you don't have to pack your kids in the car and drive them all over town. Your kids are getting to learn in YOUR kitchen, using your own appliances and tools. There is no learning curve, only a beautiful path to KITCHEN CONFIDENCE! So the answer is no. We are a virtual cooking school and will remain as such. This allows us to keep our costs low for you, to provide families with an amazing opportunity to learn and make friends all over the world, without boundaries!"
Head to cookwithmeg.com to register for one of our upcoming classes, and watch our social as Summer Camp registration officially opens May 1.
*******************
Meg Tucker has been creating shared experiences through media for over twenty years. Creator of the Shaw TV original kids cooking show Just One Bite, and a top twenty-five finalist on Masterchef Canada, Meg's catchy enthusiasm for life brings joy to everyone she meets in front of and behind her kitchen counter.
When the world shifted in March 2020, Meg made the ultimate pivot to build a food community called Cook with Meg..
Italian novelist: Leonardo's da Vinci's mother was a slave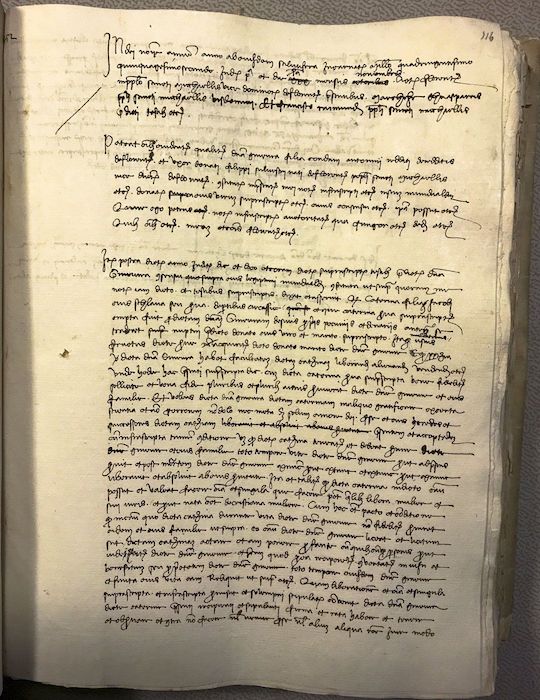 This picture made available on Wednesday, March 15, 2023, by historian Carlo Vecce shows what Vecce says is the original act of liberation of the slave Caterina, who he believes is the mother of Leonardo da Vinci and notarized by Leonardo's father Piero da Vinci. Vecce says he found it in the State Archives in Florence as described in his latest novel 'Caterina's smile'. (Carlo Vecce via AP)
MILAN (AP) — An Italian scholar and novelist has provided fresh fodder for an old debate over the identity of Leonardo da Vinci's mother, proffering a recently unearthed document as evidence that she arrived on the Italian peninsula as a slave from the Caucasus region of Central Asia.
Carlo Vecce, an Italian literature professor at the University of Naples L'Orientale, has revealed his theory in a new novel, "Il Sorriso di Caterina," or "Caterina's Smile." He based his claim on a document discovered in the State Archives in Florence that granted freedom to a girl named Caterina.
Leonardo's father notarized the record six months after the birth of the Renaissance genius, who went on to paint masterpieces including the "Mona Lisa."
Vecce said he originally was intent on proving that Leonardo's mother was not an enslaved person from the East, one long-held theory. "But when the evidence goes in the other direction, one must pay attention,'' he said.
He said he chose to put his research in a novel and not in a scholarly text because he felt an urgency to share his theory with a wider public. "I could joke that no one reads a book with footnotes and a bibliography,'' the author added.
Martin Kemp, an Oxford University art history professor emeritus, co-wrote a 2017 book that identified Leonardo's mother as Caterina di Meo Lippi, a 15-year-old orphan. He said he continued to favor the theory that the girl who gave birth to the masterpiece painter and inventor was a "rural mother."
"There have been a number of claims that Leonardo's mother was a slave,'' Kemp said in a statement provided to The Associated Press. "This fits the need to find something exceptional and exotic in Leonardo's background, and a link to slavery fits with current obsessions."
The art historian suggested the document may not be conclusive.
It was Leonardo's grandfather who said his mother's name was Caterina, according to Kemp. Caterina was a common name given to slaves when they were forced to convert to Christianity, and the husband of the woman who freed the girl in Vecce's document traded two slaves with that name in one year, Kemp said.
Kemp both praised Vecce's work as a scholar and expressed surprise that the Italian professor published his findings as a fictionalized account.