The Ferocity With Which They Propagate Disinformation Is Where The Divisiveness Comes From
'Doing what I want': Injured Humboldt Bronco achieving independence in his recovery
CALGARY — Three years after the Humboldt Broncos bus crash claimed the lives of 11 of his teammates, Ryan Straschnitzki is well on his way to reaching a major goal — the ability to live an independent life.
Straschnitzki, who is now 22, was paralyzed from the chest down on April 6, 2018, when a semi-trailer ran a stop sign and went into the path of the junior hockey team's bus in rural Saskatchewan.
In total, sixteen people died and 13 others were seriously injured.
Straschnitzki, who lives in Airdrie, just north of Calgary, has set his goals on playing on the national sledge hockey team at the Olympics, being able to walk again some day and caring for himself.
Last week, he drove up to his physiotherapy appointment, took out his wheelchair from his car, snapped on its wheels and was in the building in less than a minute. He often travels alone.
Later in the day, he went for a paragolf lesson,which he started earlier in September.
"One of my goals from the start was to be more independent and do more things for myself … for the time that I am living by myself or doing things for myself," Straschnitzki said while at Calgary's Heritage Pointe Golf Club.
"I'm going to be able to do it and manage adversity if something was to happen."
During the gruelling two-hour physio lesson, Straschnitzki used a walker and, with a little assistance, took about a dozen steps.
He has been working with a team from the Synaptic Neuro Rehabilitation Centre in Calgary and, two years ago in Thailand, had an epidural stimulator implanted in his spine. The device sends electrical currents to his spinal cord to try to stimulate nerves so he can move.
"I've got to get the stimulator reprogrammed and hopefully that can happen this year to make the stepping easier and more efficient," he said.
"But for now, yeah, it's a lot of walking and standing so I can be more independent and do it on my own."
On the golf course, Straschnitzki clutched his grandfather's driver. With one arm, he hit a ball more than 100 yards down the course.
He used to play golf before the crash.
"I love the feeling and it's something I want to get back in to," he said. "I went out to the driving range a couple of weeks ago and I was just smoking the ball.
"I'm just doing what I want to do and trying to better myself. And if people can take inspiration from that, then that's fantastic."
His golf instructor, Kiefer Jones, has been impressed with Straschnitzki's progress.
"He's hitting drives and hitting them straight, hitting them long," said Jones, who is legally blind.
"It was just so awesome that I wanted to be a part of it, so here we are, second lesson and I'm already seeing improvement."
Tom and Michelle Straschnitzki are amazed at their son's progress but said he often doesn't share his achievements.
"He's doing all kinds of things for himself. He barely wants me even around, so that's a good thing for him," Michelle Straschnitzki said with a laugh.
"Someday we're not going to be here and he needs to know he can do it for himself."
She became emotional when thinking back to her son's first day in the hospital after the crash.
"I still remember, like it was yesterday, the scream he made when they sat him up in the hospital in Saskatoon," she said.
"It still haunts me. But moments like this take a little bit of it away. Bit by bit."
This report by The Canadian Press was first published Oct. 4, 2021.
Bill Graveland, The Canadian Press
Calgary Beer is Back! Calgary Craft Brewer reimagines one of Alberta's most iconic brands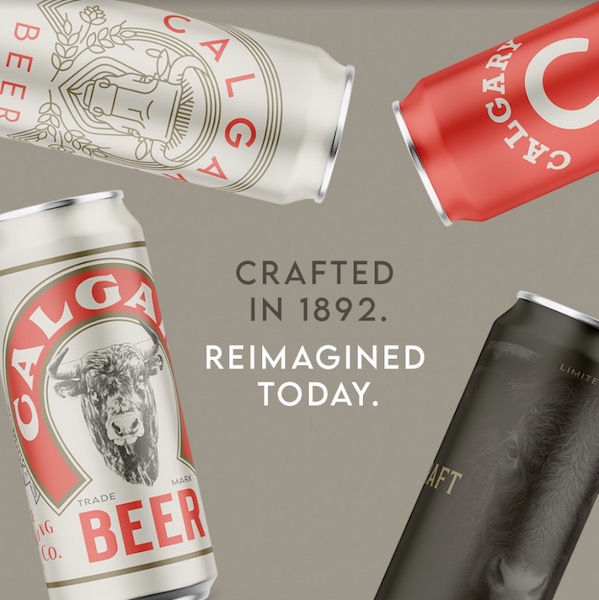 From technology, to communication, all the way to beer, our world is changing more rapidly every day.  Who could have imagined how the brewing industry would be turned upside down by craftsmen and entreupreneurs who risk it all for their passion to create a better product right in their community?
In a world that used to be very predictable, everyday another new craft beer hits the market.  It's hard to keep up, though many of us are doing our best.  Despite all the excitement around the new tastes and all the clever marketing needed to get those beers into our hands, we all know a few people who are 'holding out'.  Maybe they don't like change.  Maybe they don't know where to start.  Maybe they're perfectly fine with the same safe brew they've been tasting for their entire adult lives.  Maybe they should know one of Alberta's finest craft brewers is bringing back a familiar brand, offering a ton of comfort and enjoyment, one sip at a time.
The renowned brand "Calgary Beer" is back!  And of all the craft brewers in Southern Alberta, Village Brewery is the natural choice to have taken on this "reimagined" project.  Village Brewery was established by seven veterans of the brewing business, all with an equal passion for beer, and for their community.  It made perfect sense for this group to recognize their roots by recreating some local history in the town they love so much.  Just in case you didn't know, Village Brewery turns 10% of their profits, back to the Calgary community.
When Village Brewery Re-launched Calgary Beer they were nice enough to make their Head Brewer Jeremy McLaughlin available for a few questions.
Here's Jeremy McLaughlin.
1) Why are you bringing "Calgary" back?
The Calgary Beer brand is an important part of beer history in Calgary. It dates back to 1892 and the brand imagery is iconic and represents the origins of beer in Calgary. At Village Brewery, we have always been about supporting the community and bringing people together around beer. The idea of being able to produce something under this brand just fits so well with what we stand for at Village. It's special to us because we were given an awesome opportunity to modernize both the label and the recipe for today's craft beer fans.
2) Is this the exact same "Calgary" I drank many years ago?
Since the core ideology of this was to modernize the brand, we were not going to be using the same Export Lager style or name and decided to go with "Craft Lager". We felt this would reach the audience that Village reaches already. The main distinction, in terms of ingredients, is a significant hop character (from Ella, Sabro and Enigma), which make up the flavour profiles of a lot of craft beer.
3) Talk about the "craft" version. The can looks fantastic by the way. Curious about that and the beer itself.
The beer is really something that we as a brewery were looking to explore, a Craft Lager or dry-hopped lager is very much in the realm of beer profiles that can be interesting to new craft drinkers but something that experienced craft connoisseur would find interesting as well. A breakdown on ingredients and vital stats should get the conversation started here:
-ABV is 5.00%
-IBU: 15
-Colour: Light Gold
-Clarity: Light/Moderate Haze -Malt: Rahr 2-Row
-Yeast: Escarpment's Krispy Kveik
-Hops: Ella, Sabro and Enigma (all mainly used as a dry-hop). These are symbolic to the ideology of the project (modernization and reimagining, while paying respect). These hops are developed through breeding programs, which modernized historical varieties of hops.
The can design was by Jackson and includes 4 versions
-A vintage throw-back to the original design
-A modernized vintage design featuring design concepts that are popular in craft breweries today (line art)
-A more high design variation that is black with the bull image wrapping the can
-A minimalistic version featuring a red backdrop and a white horseshoe, focusing on clean and crisp presentation
All Alberta residents can purchase this limited edition lager by clicking this link.