Strathcona County RCMP arrest 2 after police pursuit – update
Jan. 22, 2021
Strathcona County RCMP arrest 2 after police pursuit – update
Strathcona County, Alta. – Strathcona County RCMP have charged a male and female in relation to the firearms complaint and pursuit that occurred on Jan. 19, 2021.
Michael Patrick Hill (23) of Onion Lake, Sask. has been charged with:
Assault with a weapon
Dangerous operation of a vehicle
Flight from peace officer
Pointing a firearm
Operation of motor vehicle while prohibited
Possession of stolen property under $5000
Possession of stolen property over $5000
Fail to comply
A 21-year-old female from Onion Lake, Sask. has been charged with theft of a motor vehicle. She was released on an Undertaking and is scheduled to appear in Sherwood Park Provincial Court on Mar. 17, 2021.
Michael Hill has been remanded into custody following a judicial hearing and is scheduled to appear in Sherwood Park Provincial Court on Jan. 27, 2021.
The officer taken to hospital was treated for minor injuries and released.
If you have any information about this occurrence, please contact the Strathcona County RCMP at 780-467-7741 or your local police. If you wish to remain anonymous, you can contact Crime Stoppers at 1-800-222-8477 (TIPS), online at www.P3Tips.com (http://www.p3tips.com) or by using the "P3 Tips" app available through the Apple App or Google Play Store.
Police looking for 2 more suspects in jewelry story armed robbery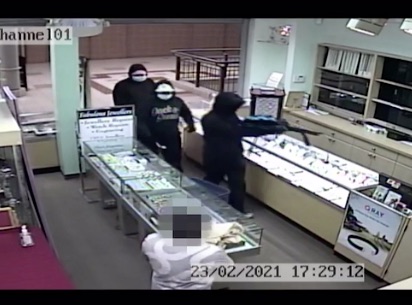 From the Edmonton Police Service
Police arrest two in connection to Bonnie Doon jewelry robbery
TWO SUSPECTS, JEWELRY, REMAIN OUSTANDING
The Edmonton Police Service's Robbery Section has arrested and charged two individuals in connection to a brazen robbery at a southeast Edmonton jewelry store last week.
On Tuesday, Feb. 23, 2021, at approximately 5:30 p.m., three suspects wearing gloves and medical masks entered a south-side jewelry store in a shopping complex near 83 Street and 82 Avenue just before closing.
It was reported to police that one of the suspects then pointed a firearm at the store employee, while the suspects smashed display cases with a sledgehammer and the firearm. The suspects then loaded an estimated $200,000 to $300,000 in jewelry into a pair of blue bins they had brought with them.
The three suspects then fled the store on foot, before getting into a stolen vehicle in the parking lot. The vehicle was driven to a nearby residential area where it was abandoned and lit on fire by the suspects. The three suspects then fled the area in another vehicle, which was being driven by a fourth suspect.
Investigators were able to identify the second suspect vehicle, which led them to an apartment address near 117 Avenue and Groat Road. On Friday, Feb. 26, investigators executed search warrants at several suites at the address, locating evidence allegedly used during the robbery, including the firearm, sledgehammer and approximately $6,000 in stolen jewelry. Two additional firearms were also seized by investigators.
Sylvain Foster, 60, of Edmonton is facing charges of robbery with a firearm (x2) and various other firearm-related offences (x8).
Dustin Logan, 34, of Edmonton, is facing charges of robbery with a firearm (x2), disguise with intent, arson and fail to comply with a probation order.
Robbery Section investigators are also releasing surveillance video today in hopes of identifying the two remaining suspects. The suspects appear in video surveillance taken from the shopping complex parking lot, the jewelry store and a nearby residential neighbourhood, where one of the suspects is seen setting the stolen vehicle on fire, before fleeing the area in a second vehicle being driven by a fourth suspect.
Anyone who is able to help investigators identify the remaining two suspects and/or has information about the jewelry store robbery is asked to contact EPS at 780-423-4567 or #377 from a mobile phone. Anonymous information can also be submitted to Crime Stoppers at 1-800-222-8477 or online at www.p3tips.com/250

Edmonton chiropractor admits to sexually assaulting six female patients in 1980s
EDMONTON — An Edmonton chiropractor has pleaded guilty to sexually assaulting six female patients between 1981 and 1990.
Ronald Harry Latch, who is 67, was facing multiple counts of sexual assault, sexual interference and gross indecency against eight girls and women.
He was charged in March 2019 after one of his victims reported to police that she had been sexually assaulted as a child in the 1980s when she attended his clinic for appointments.
Seven other women came forward to police and reported they had also been sexually assaulted.
Latch pleaded guilty today to six counts in the Court of Queen's Bench.
Latch admitted in an agreed statement of facts to massaging some of the patients' breasts and using a vibrating tool between others' legs.
The case is to return to court for a pre-sentence report on June 2.
This report by The Canadian Press was first published March 1, 2021
The Canadian Press