Strathcona County RCMP arrest 2 after police pursuit – update
Jan. 22, 2021
Strathcona County RCMP arrest 2 after police pursuit – update
Strathcona County, Alta. – Strathcona County RCMP have charged a male and female in relation to the firearms complaint and pursuit that occurred on Jan. 19, 2021.
Michael Patrick Hill (23) of Onion Lake, Sask. has been charged with:
Assault with a weapon
Dangerous operation of a vehicle
Flight from peace officer
Pointing a firearm
Operation of motor vehicle while prohibited
Possession of stolen property under $5000
Possession of stolen property over $5000
Fail to comply
A 21-year-old female from Onion Lake, Sask. has been charged with theft of a motor vehicle. She was released on an Undertaking and is scheduled to appear in Sherwood Park Provincial Court on Mar. 17, 2021.
Michael Hill has been remanded into custody following a judicial hearing and is scheduled to appear in Sherwood Park Provincial Court on Jan. 27, 2021.
The officer taken to hospital was treated for minor injuries and released.
If you have any information about this occurrence, please contact the Strathcona County RCMP at 780-467-7741 or your local police. If you wish to remain anonymous, you can contact Crime Stoppers at 1-800-222-8477 (TIPS), online at www.P3Tips.com (http://www.p3tips.com) or by using the "P3 Tips" app available through the Apple App or Google Play Store.
Heavy RCMP presence in hamlet of Fort Assiniboine – Update #2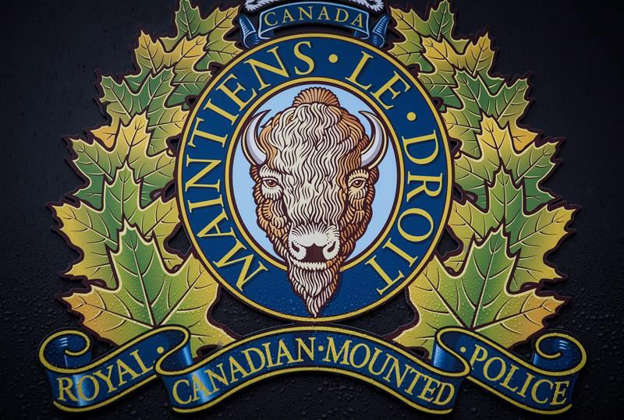 Dec. 17, 2021
Heavy RCMP presence in hamlet of Fort Assiniboine – Update #2
Fort Assiniboine, Alta.- On Dec. 12, 2021 at about 9:15 p.m., Barrhead RCMP were dispatched to a property on Township Road 632 in the area north of Fort Assiniboine in Woodland County, Alta. for a report of an incident where a suspect rammed through the locked gate at a rural residence and a firearm was discharged by the property owner. The suspect, who was known to the property owner, then fled the scene after the firearm was discharged.
Barrhead RCMP then received two additional calls reporting the suspect was at his residence Fort Assiniboine. Barrhead RCMP attended the residence. When officers went to the door of the residence they were challenged by the suspect who was inside the home. Officers were attempting to reposition and the suspect opened the door and an interaction occurred where two shots were fired at police vehicles by the suspect. Officers did not return fire.
Barrhead RCMP, with the assistance Westlock, Mayerthorpe, Swan Hills and Whitecourt RCMP Detachments, as well as RCMP Police Dog Service, contained the residence. To ensure their safety, the residents in the community were evacuated to the Fort Assiniboine Fire Hall, which is located away from the suspect's residence.
On Dec. 13, 2021, shortly before 1 a.m., the Alberta RCMP Emergency Response Team (ERT) attended and took control of the scene. ERT arrested the suspect shortly before 4 a.m.
The suspect was examined by Emergency Medical Services on scene for minor injuries and then turned over to police.
No RCMP officers were injured during this incident.
Police remained on the scene and conducted a search of the residence pursuant to a search warrant. Police completed the scene examination at approximately 5 p.m.
Vernie Travis Huff (41) of Fort Assiniboine has been charged with:
Uttering threats (x2)
Pointing a firearm (x2)
Careless use of a firearm
Discharge firearm with intent
Assault on a Police Officer
Huff is also facing three additional weapons and property related charges.
Following a judicial hearing, Huff was remanded in custody and is scheduled to appear on Dec. 20, 2021, at Barrhead Provincial Court.
No further charges are being laid in this matter.
The investigation has not located any damage to property caused as a result of the discharge of the suspect's firearm; however residents are advised to report any potential damage to Barrhead RCMP.
Barrhead RCMP would like to thank the community of Fort Assiniboine for their co-operation and patience, as well as the media for their assistance, during this incident.
As this matter is now before the courts, no further information can be provided.
Two Million Dollar Drug Bust in Edmonton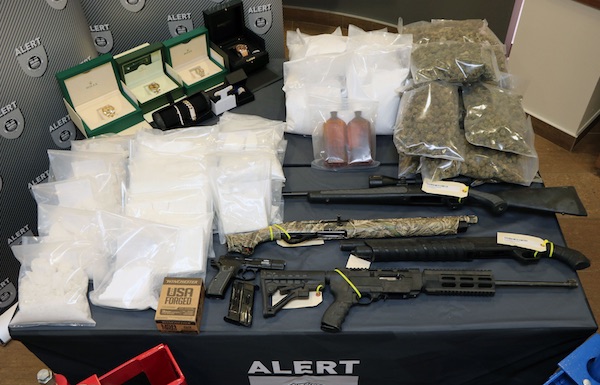 News Release from ALERT (Alberta Law Enforcement Response Team)
Project Elk concludes with eight arrests, millions in drugs and assets seized
A two-year cross-Canada drug trafficking investigation has concluded with eight Edmonton suspects facing charges. ALERT seized roughly $2 million in drugs, cash, and proceeds of crime.
Project Elk was a lengthy investigation into an Edmonton-based drug trafficking network that was involved in drug importation. Eight suspects were arrested and charged in October 2021 with offences ranging from drug and firearms related, to conspiracy to commit an indictable offence, to commission of an offence for a criminal organization.
The suspects are scheduled to make their initial court appearances on November 25, 2021.
"Project Elk will prove to be significant disruption to drug markets in Edmonton and other communities in northern Alberta. The negative impacts of drug trafficking are multi-faceted and connect back to societal harms such as gang-related violence, theft, property crimes, and healthcare implications," said Inspector Kevin Berge, ALERT Edmonton.
ALERT Edmonton's organized crime team spearheaded the investigation in November 2019, and Project Elk also involved the assistance of the Edmonton Police Service, and specialized RCMP units from Alberta, Saskatchewan, and Ontario.
In August 2020, ALERT intercepted a six-kilogram cocaine shipment that originated in Toronto. The seizure precipitated a series of search warrant executions in which six homes in the Edmonton were searched and one home in Strathcona County.
Project Elk resulted in the seizure of:
Five firearms;
10 kilograms of cocaine;
17 kilograms of a cocaine buffing agent;
4.7 kilograms of meth;
2.9 kilograms of cannabis; and
$135,000 cash.
In addition, ALERT seized roughly $200,000 in offence related property, including three vehicles, jewelry, diamond rings, and Rolex watches.
"The drug trade doesn't pay in the end. If you're not shot, you're ending up in jail, and you're only hurting the people around you. It's not the glamourous lifestyle that is fictionalized for the sake of TV and movies," said Berge.
A total of 35 criminal charges have been laid against:
Tyshawn Walters, 29-year-old man from Edmonton;
Kashane Walters, 34-year-old man from Edmonton;
Kariyawasam Kariyawasam, 39-year-old man from Edmonton;
Tyree Malcolm, 28-year-old man from Edmonton;
Levi Collinge, a 39-year-old man from Edmonton;
Boris Derpich, 43-year-old man from Edmonton;
Stacey Sharpe, 35-year-old woman from Edmonton; and
Trevor Bellows, 31-year-old man from Edmonton.
Members of the public who suspect drug or gang activity in their community can call local police, or contact Crime Stoppers at 1-800-222-TIPS (8477). Crime Stoppers is always anonymous.
ALERT was established and is funded by the Alberta Government and is a compilation of the province's most sophisticated law enforcement resources committed to tackling serious and organized crime.