LISTEN: Untold Stories with Serena Mah explores the journey of justice champion Mark Cherrington
In this episode of Untold Stories with Serena Mah we explore human rights violations and follow the journey of Mark Cherrington. Many describe him as a good samaritan he calls himself "a pain in the butt" someone who champions justice and challenges the system. Learn more about the Coalition of Justice and Human Rights and how you can help.
About Serena Mah:
I am fortunate to be able to do what I love and I'm grateful everyday. Storytelling is my passion. Ever since I was little, my mom would say I like to talk. In a big family like mine, you had to fight for attention and you really had to stand out to be heard. No one was surprised when I became a reporter/anchor. As a journalist for two decades, I've covered elections on all levels of government. I've had the privilege of witnessing history first hand, happy, sad and the tragic. I've interviewed newsmakers including Premiers, Prime Ministers, athletes, specialists, those awaiting their fate at the courts and local heroes. I'm thrilled to share my knowledge gained through years of broadcasting with clients. I continue to expand on networks built on as a journalist. My team is skilled at empowering stories in traditional, emerging media and on social media. We love crafting stories and we know how newsrooms tick, what makes a good story and how to tell it in a compelling way.
When I'm not working, I'm usually whipping up something in the heart of my home, the kitchen. Food is central to keeping my family connected. I'm most proud of my young son, who is vibrant and curious. He is my why. He makes me better everyday. He and my beagle #sweetgus keep me busy. They along with yoga and meditation challenge me to stay grounded and grateful.
LISTEN: Untold Stories with Serena Mah examines her Chinese family's struggle and impact on a small northern community
Tour "The Abigail" by Sorento Custom Homes – Grand Prize in the 2022 Red Deer Hospital Lottery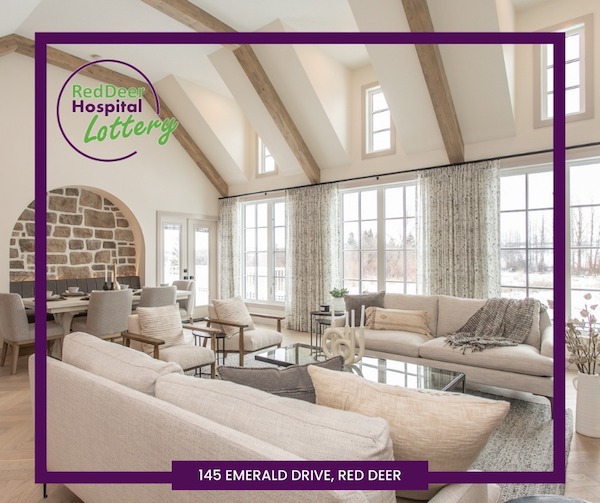 Have you seen it yet? Take a nice long look at the beautiful grand prize dream home!
NEW
TICKET GIFTING
OPTION
Step 1 – Click the GIFT TICKETS NOW! button
Step 2 – Enter the order for tickets and your personal information under buyers details
Step 3 – Click Send as Gift button and enter the giftee name and information
Print off this order form and mail in to the address listed on order form.
You can choose to get your tickets by mail, you will receive them in 3 to 4 week once processed by the lottery office.
You can also choose e-ticket and you will receive your tickets by email the day your order is processed. A valid email address is mandatory for e-ticket.
Mail to:
Red Deer Hospitals Lottery
PO Box 1098 Red Deer AB T4N 6S5
Call 1-877-808-9005 and a representative would be happy to help with your order, our agents are taking calls 7 days a week from 8am to 11pm
MAIN TICKETS
1 for $25 | 5 for $75 | 10 for $125 | 25 FOR $250
ORDER BY PHONE
Call Toll Free: 1.877.808.9005
MEGA BUCKS 50
1 for $10 | 10 for $25 | 25 for $50 | 50 FOR $75
5 winners already in Red Deer Hospital Lottery – Previous Supporters Draw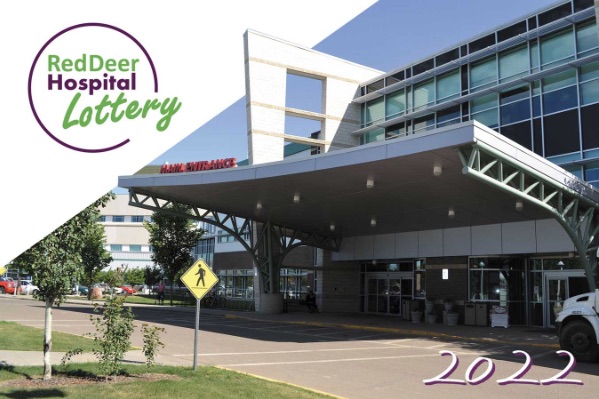 Five lucky people are already glad they purchased a Red Deer Hospital Lottery ticket – and the winning has just begun!
Thank you to Cecile A of Red Deer, Lynda H of Lacombe, Dan & Wendy K of Sylvan Lake, Bobbi & John W of Millet, and Jack W of Stettler who supported our hospital. They each won $1,000 in our Previous Supporter draws.
There are still 115 prizes totaling over $1.1 million to be won!
Our Grand Prize Dream Home package is valued $940,332.00 including furnishings from Urban Barn and $10,000 Dream Home CASH!
Maybe you'll win a 2022 GMC Yukon SLT worth over $81,000.00! Tickets are only $25 each.
There's still more. Buy before May 25th and you could win our EARLY BIRD CASH PRIZE OF $25,000
CHECK OUT OUR GREAT TICKET PACKAGES
$25 EACH | 5 FOR $75 | 10 FOR $125 | 25 FOR $250
Win half of an increasing jackpot of up to $1,000,000.
The jackpot grows with every ticket sold!
1 for $10 • 10 for $25
25 for $50 • 50 for $75
Win half of the current jackpot of:
17 of 83 pieces of equipment have already been funded!
Every ticket purchased will support the Red Deer Regional Hospital Centre with proceeds used to purchase eighty-three pieces of medical equipment for several units.
Since opening a few weeks ago, we've already secured funding for 17 stretchers benefiting 8 different units at our hospital!
CALL RED DEER & AREA OR TOLL FREE
403.340.1878 1.877.808.9005
Red Deer Hospital Lottery
PO Box 1098
Red Deer AB T4N 6S5Lottery Licence 590314 | Mega Bucks 50 Licence 590315
© RED DEER HOSPITAL LOTTERY 2022