Government introduces new auto industry rules to protect consumers
New auto industry rules better protect consumers
October 25, 2018
New rules for vehicle sales and repairs introduce industry-wide standards to protect Albertans and improve business accountability.
Improvements to the Automotive Business Regulation will create consistent standards to help consumers make more informed decisions and ensure businesses can compete fairly in a trusted automotive marketplace. The new, industry-wide standards come into effect on Oct. 31, 2018.
"Buying or repairing a car shouldn't be intimidating. These new rules can give Albertans confidence that they won't be hit with unexpected costs because they will know exactly what they're paying for. More transparency is good for consumers and it's good for Alberta's many trustworthy auto businesses, too."
During the 2017 consultation on consumer protection laws, Albertans identified the need for better protections when buying a car and more transparency when it comes to auto repairs as top priorities.
These changes respond directly to Albertans' feedback to help consumers avoid unexpected and unauthorized costs. The new rules will ensure auto businesses:
Inform buyers of the history and condition of a vehicle such as the vehicle's previous use, ownership or details of any damages.
Provide a comprehensive bill of sale document at the time of the car sale.
Provide written estimates upon request and get consumer's consent before starting any work.
Remove any outstanding liens on a vehicle within seven days of the sale.
Remove any advertising about a sold vehicle within 14 days of the sale to ensure consumers are not enticed by low prices that won't be honoured.
"A vehicle is a lifeline for so many Albertans, and they deserve to feel confident when repairing or selling one. We welcome today's announcement, as it prioritizes consumer protection – a mandate that's been shared by AMA's Approved Auto Repair Service since 1977."
"Increased transparency in automotive transactions means consumers can feel even more confident in their decisions on how to spend their hard-earned money. AMVIC's mandate is consumer protection through education and industry regulation, and AMVIC has been working closely with industry to ensure they are ready to comply with the new legislation. These new laws benefit all Albertans by creating a fair marketplace for consumers and businesses alike."
"I think the government's new legislation is great. It will help protect the consumer while also compelling automotive businesses to be more transparent. At Braeside Automotive, we already provide written quotes and can take pictures of components that we can attach to the quote for our customer. I think these rules will help encourage other businesses to be more innovative, which at the end of the day is good for consumers."
The new rules also support the government's work to build stronger public oversight of the Alberta Motor Vehicle Industry Council (AMVIC), by transitioning AMVIC to a public agency. This will ensure Alberta has a strong and trusted regulator that is well-positioned to protect consumers and build integrity in the industry.
Background
In December 2017, the government passed A Better Deal for Consumers and Businesses Act. Among the many changes introduced through this act was an increased authority to strengthen oversight of the automotive industry to better protect the interests of consumers and ensure integrity in the industry.
AMVIC is responsible for providing consumer protection in the motor vehicle industry. In addition to licensing businesses and salespeople and ensuring there's a fair marketplace for consumers and businesses, AMVIC is responsible for investigating violations of consumer protection laws.
AMVIC will transition to a public agency on Oct. 31. Once in place, AMVIC will be subject to the requirements under the Alberta Public Agencies Governance Act to ensure consumers and industry can have confidence there is strong public oversight of the organization.
Alberta promising changes to campuses amid university 'woke' free speech standoff
By Dean Bennett in Edmonton
The Alberta government says changes are coming to further protect free speech on campuses as a former professor speaking out on so-called "woke" policies prepares for a showdown with the University of Lethbridge.
Advanced Education Minister Demetrios Nicolaides says he plans to announce the changes in the coming days but did not give details.
He was responding to the case of Frances Widdowson, a former tenured professor at Calgary's Mount Royal University, who was invited then disinvited to speak on campus this week about her concerns that a mob mentality and "woke policies" increasingly threaten academic freedom.
Widdowson has previously come under fire for her comments on residential schools.
"I understand past comments made by this speaker are controversial," Nicolaides said in a statement Tuesday.
"But I believe it is important for our universities and colleges to foster a strong culture of free speech and diverse viewpoints, even when those viewpoints are deemed controversial, or even offensive, barring speech intended to incite hatred or violence of course."
Widdowson, asked about Nicolaides' comment, said in an interview: "I think that's great.
"I think we need a public inquiry about what's happening at universities.
"The universities are being run by woke activists who are completely opposed to the open and honest discussion of ideas on campus."
Widdowson was fired from Mount Royal in late 2021 amid controversy over comments she made lauding the educational benefits of Canada's residential school system while questioning whether abuses at the schools against Indigenous children equated to "cultural genocide," as described in the final report of the Truth and Reconciliation Commission of Canada.
Widdowson was invited by a professor to speak Wednesday and the University of Lethbridge granted space for the event.
About 2,500 students signed a petition pushing back on the university for hosting the speech.
University president Mike Mahon, as late as last Thursday, defended the decision to host Widdowson, citing free speech even if the university did not agree with her views.
However, on Monday, Mahon said after further consultation the offer of space was revoked because Widdowson's views would not advance the residential schools discussion and would cause harm by minimizing the pain and suffering inflicted on First Nations children and families.
"It is clear that the harm associated with this talk is an impediment to meaningful reconciliation," said Mahon in a statement.
Widdowson said she plans to deliver her speech in a public atrium on the campus Wednesday afternoon and has challenged school security to toss her out.
"I've never denied the harm of the residential schools," she told The Canadian Press.
"People are distorting what I'm saying about it. My issue is residential schools were not genocidal. (They) were a misguided effort which often had serious problems."
"I've been branded as some kind of hate monger," she added. "I'm just arguing if we want to create a better world for everyone, a more co-operative world, we have to be able to speak truthfully about issues that matter."
Opposition NDP Leader Rachel Notley said Nicolaides is being distressingly tone-deaf and needs to reconsider his statements.
"The idea of having someone come and speak at the university … to a student body that consists of many Indigenous students about how they somehow benefited from residential schools is deeply troubling to me," Notley told reporters.
"That the (United Conservative Party government) doesn't understand how incredibly hurtful those ideas are to huge swaths of the Alberta population reveals their lack of understanding about the real experiences and traumas that treaty people in Alberta have been subjected to."
This report by The Canadian Press was first published Jan. 31, 2023.
Alberta landowners fear repeat of orphan well crisis as renewable energy booms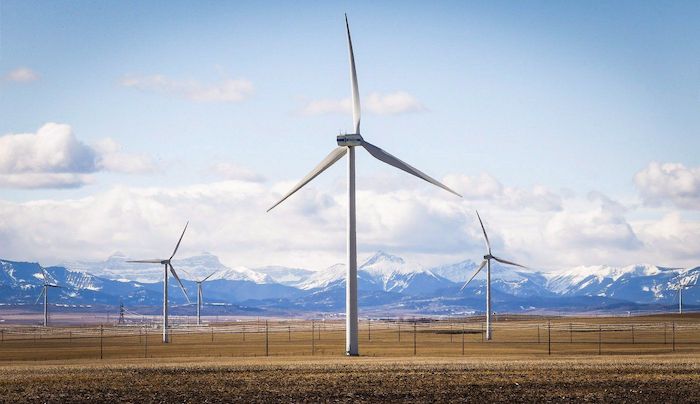 By Amanda Stephenson in Calgary
Once bitten, twice shy.
It's an old adage that explains why Jason Schneider, the elected reeve of Vulcan County, Alta., is jittery about the renewable energy boom under way in his province.
Like many in rural Alberta, Schneider is still smarting over the way municipalities were left holding the bag when an oil price crash nearly a decade ago resulted in billions of dollars of unfunded liabilities left behind by bankrupt fossil fuel companies.
In Vulcan County alone, the landscape is littered with hundreds of wells with no owners that need to be cleaned up, and the municipality itself is owed more than $9 million in back taxes left unpaid by insolvent oil and gas firms.
So Schneider has a hard time looking at acre upon acre of massive wind turbines or solar panels without fearing a repeat of Alberta's orphan well crisis, or wondering who's going to fix everything if something goes wrong.
"These are large industrial developments, and the reclamation costs are going to be substantial," he said.
"We can see the warning signs, and we are being ignored."
Across rural Alberta, concerns are growing about the long-term implications of the province's renewable energy boom — the speed and scale of which has been nothing short of stunning.
A province that not that long ago was largely reliant on coal for electricity, Alberta is now home to more than 3,800 MW of wind and solar capacity, 1,350 of which came online in just the last 12 months. An additional 1,800 MW of capacity is currently under construction, putting the province on track to meet or exceed the target it set in 2016 to generate 30 per cent of its total electricity from renewable sources by 2030.
In Schneider's Vulcan County, which is home to both the country's largest solar farm and one of Western Canada's largest wind farms, renewable energy developments now account for more than 40 per cent of the local tax base, displacing oil and gas as the number one source of revenue for the local municipal government.
But while many in rural Alberta welcome the economic activity, and farmers and ranchers enjoy the extra income that playing host to solar panels or wind turbines can bring, others are sounding the alarm.
For example, the Rural Municipalities of Alberta recently passed a resolution calling on the provincial government to protect taxpayers from incurring costs associated with the potential decommissioning of renewable energy infrastructure.
Specifically, the association wants to see the government mandate the collection of securities for reclamation from developers before a project goes ahead. That way, municipalities won't be footing the bill if a developer becomes insolvent and walks away.
"What we've learned, and what Albertans have learned, is that the cheapest way to get out of reclamation is going bankrupt," said Paul McLauchlin, president of the Rural Municipalities of Alberta.
"Some of these solar installations are being installed by one company, sold to another company … I talked to a gentleman who's on his fifth owner, and his solar installation has been there maybe two years. So we're seeing small companies owning these, and whether they have the wherewithal for reclamation, that's really what's driving this conversation."
In Alberta, the Orphan Well Association is an industry-funded organization tasked with decommissioning old oil and gas infrastructure and returning the land to its prior state. (It's currently backlogged, in spite of a $200 million loan from the federal government. In 2020, the feds also provided $1 billion for well clean-up to active companies under Alberta's Site Rehabilitation Program.)
But there's no equivalent for the renewable energy industry, though renewable energy companies are required to provide an overview of how they plan to cover decommissioning and reclamation costs before they can receive the go-ahead for their project.
However, for a landowner, entering into a wind or solar lease is entirely voluntary. That's very different from oil and gas, where under Alberta law, property owners are not allowed to refuse companies seeking to develop the fossil fuels that lie under the surface of their land.
Evan Wilson, director of policy and government affairs for the Canadian Renewable Energy Association, said that because solar and wind leases remain private civil contracts between the developer and the landowner, the onus is on the landowner to ensure the inclusion of some kind of provision to mitigate risks associated with the project's end-of-life.
But he added many companies do offer landowners some form of reclamation commitment, either in the form of a letter of credit or bond.
"Landowners do have the ability to veto these projects being built on their land," Wilson said.
"So that puts a lot of pressure on our members to ensure that landowners do feel comfortable with the terms."
Sara Hastings-Simon, an expert in energy, innovation and climate policy at the University of Calgary's School of Public Policy, said it's understandable that municipalities have concerns.
However, she said it's odd that there's a push to enforce new regulations for the renewable sector, when the scope of the orphan well problem shows the oil and gas regulatory system could also use an overhaul.
According to the Alberta Energy Regulator, there are more than 83,000 inactive oil and gas wells in the province currently, and close to 90,000 more that have been sealed and taken out of service, but not yet fully remediated.
A report released last year by the Parliamentary Budget Officer estimated that the cost of orphan well clean-up in Canada will reach $1.1 billion by 2025.
"Obviously we need to make sure that all of our industrial development is done in a way that doesn't offload costs to the public," Hastings-Simon said.
"But it would make a lot of sense for the province to look at energy development holistically, rather than just picking the one that right now perhaps has more growth."
This report by The Canadian Press was first published Jan. 29, 2023.