Gerry Feehan takes us to North America's Oldest European Settlement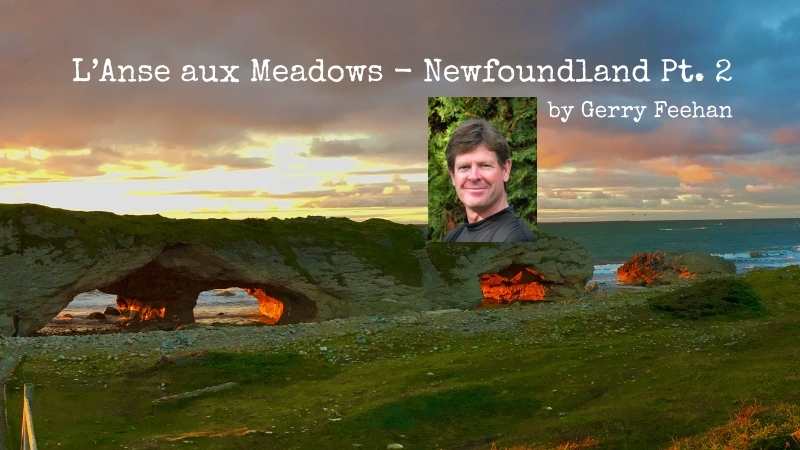 By Gerry Feehan
This is the second in the Newfoundland series. Scroll down to find Part 1, Gros Morne.
On a lonely highway in a tempest on Newfoundland's remote Northern Peninsula, we finally spotted our first moose. Luckily, before moose met grill, the big bull stepped off the road into the ditch and I was able to keep the rig down the centerline, avoiding the frigid Gulf of St. Lawrence to our left and a frightfully deep fen to our right.
We had set out that morning from Gros Morne National Park, 350 km south 'up' the coast. The night before had been clear and 7 degrees. By early morning it was rain and 17. This was the muggy aftermath of Hurricane Irma, which long after devastating Key West, was now bringing high winds and warm rain to remote—and distinctly non-tropical—Newfoundland.
We were bound for L'Anse aux Meadows, on the extreme tip of northwest Newfoundland where lie the remains of North America's oldest European settlement. It was October so, although we arrived before 5 p.m., twilight was nigh as we settled in at the Viking RV Park. We were the only campers. The office was closed. In the morning I deposited cash in the "off-season/$25 per night" bucket by the abandoned office and drove the remaining few km to the National Historic Site.
One of the advantages to a late fall motorhome trip is that, with darkness extant by suppertime, it's early to bed—and early to rise. (The healthy wealthy and wise part I won't comment on.) So, uncharacteristically, we arrived at L'Anse aux Meadows first thing in the morning, just as the park gates were being unlocked.
"…Both are horrible!" said the Leif look-alike…"
Leif Ericsson, a Norse explorer, together with his small group of intrepid fellow Viking seafarers, landed here around 1000 AD. They strategically chose this spot near the Straight of Belle Isle, within sight of Labrador. They called the place Vinland, the land where wild grapes grow. Setting up a sturdy encampment of turf-walled buildings, they explored for hardwood lumber, iron ore and arable land.
From the visitor center we followed a Parks Canada interpreter down the winding boardwalk toward the sea. He showed us the faint remains of the original sod buildings: the Leader's Hall, labourer's quarters, a women's workshop and the smelting hut where a charcoal kiln produced iron from bog ore. But the terrain was unwelcoming—as perhaps was the indigenous native population—and after only a decade or two, the Vikings abandoned the site, burning everything as they departed.
"….I die at you, she said laughing…."
The interpreter's talk ended at the ruins and, with somber thoughts, we continued down the trail to where the National Park service has artfully reconstructed a series of replica sod huts by the cold sea. The Norse may have been fierce warriors but they couldn't have been very tall—I had to stoop as we entered the longhouse. The room was dimly lit by a smoky peat fire. When our eyes adjusted to the low yellow light, we noticed a man and a woman clad in Viking attire seated by the comfortable fire. The man, a Leif Ericsson doppelganger, whittled a talisman while the young woman wove fabric on a traditional loom. They explained in detail how the first Viking explorers had lived, eaten, slept and toiled here 1000 years ago, eking out a meagre existence on this inhospitable shore by the frigid north Atlantic.
Newfoundlanders are the friendliest, most outgoing of people, so when I asked the young woman if she lived nearby, her Parks Canada persona evaporated like 'tick fog' and the talk immediately turned to the upcoming weekend, her two hard-earned days off and fall berry-picking. "I was born just over that side of the 'arbour. My father ran trawler 'til the fish ran out." (In Newfoundland 'fish' means cod. Everything else, haddock, flounder, plaice, etc. is known by its usual name.) She winked and said, "Growing up, it was always cold in the house. In winter me mom would open the fridge to warm the place."
I then inquired about the merits of partridgeberry vs. bakeapple jam. We had been looking for souvenir gifts and both berry varieties were available at the Dark Tickle Chocolate store just down the road. "Both are horrible!" said the Leif look-alike, unable to resist joining in. Our new lady-friend disagreed and told him so in no uncertain terms. "Oh me nerves, he's got me drove." Apparently, partridgeberry-picking was number one on her weekend agenda.
In an effort to segue the subject I asked whether the town of Quirpon or Great Brehat—each just down the coast—were worth a visit. She and Leif chuckled at my accent. "I die at you," she said laughing. Nothing will more quickly label you a tourist in Newfoundland as the mispronunciation of local place names. Quirpon is 'Car-poon.' Great Brehat is pronounced 'Great Bra'. Happily, I didn't inquire about the town of Ferryland.
"Where are youse from?" our Viking-ess asked. "Alberta," we replied. "Alberta," she continued. "I've got a brother in Ft. McMurray." (I can report that we didn't meet a single Newfoundlander who did not have at least one family member working out west. But, no matter where a Newfie might live, a trip 'home' is always in the works. Famously, it is a 63-hour drive from Ft McMurray to the Rock.)
I tried to get her back on Viking track—but to no avail. All pretense of the 11th century Norsewoman was abandoned. She continued, talking about her husband, the small family garden, the incessant rain. "And there was himself last night," she continued. "Luh, standing in a downpour, coat wide open, staring at lord knows what, sopped to the skin and stunned as me arse." Then she politely adjusted her bonnet and resumed weaving.
CBC radio had gravely informed us that morning that the Doomsday Clock had been moved to two minutes before midnight. The world was closer to self-destruction than it had been at any time since the Cold War. I asked her if she was worried.
"Why, not a bit. After all, with the half-hour time change here on the Rock, us Newfies got 'til 12:30."
I love Newfoundland.
Gerry Feehan, QC is an award-winning travel writer and photographer. He lives in Kimberley, BC.
Special thanks to Kennedy Wealth Management for supporting this series.
US to focus bison restoration on expanding tribal herds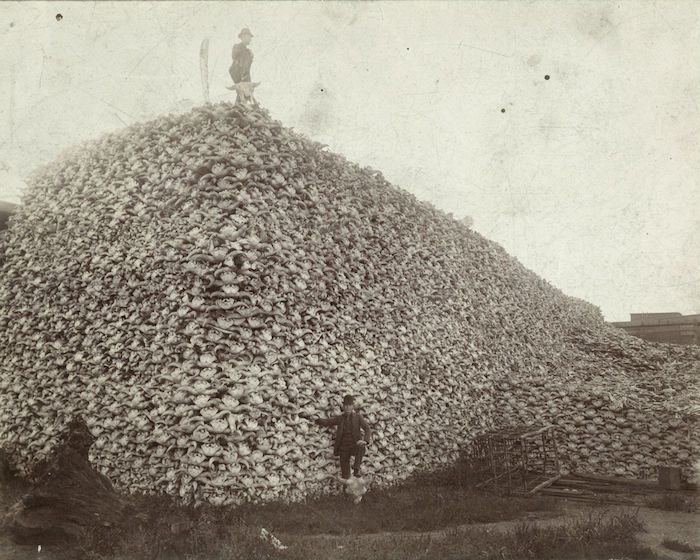 In this 1892 photo made available by the Burton Historical Collection, Detroit Public Library, a man stands atop a pile of buffalo skulls as another rests his foot on one at a glue factory in Rougeville, Mich. U.S. officials will work to restore more large bison herds to Native American lands under an order Friday, March 3, 2023, from Interior Secretary Deb Haaland that calls for the government to tap into Indigenous knowledge in its efforts to conserve the burly animals that are an icon of the American West. (Burton Historical Collection, Detroit Public Library via AP, File)
By Matthew Brown in Denver
DENVER (AP) — U.S. officials will work to restore more large bison herds to Native American lands under a Friday order from Interior Secretary Deb Haaland that calls for the government to tap into Indigenous knowledge in its efforts to conserve the burly animals that are an icon of the American West.
Haaland also announced $25 million in federal spending for bison conservation. The money, from last year's climate bill, will build new herds, transfer more bison from federal to tribal lands and forge new bison management agreements with tribes, officials said.
American bison, also known as buffalo, have bounced back from their near extinction due to commercial hunting in the 1800s. But they remain absent from most of the grasslands they once occupied, and many tribes have struggled to restore their deep historical connections to the animals.
As many as 60 million bison once roamed North America, moving in vast herds that were central to the culture and survival of numerous Native American groups.
They were driven to the brink of extinction more than a century ago when hunters, U.S. troops and tourists shot them by the thousands to feed a growing commercial market that used bison parts in machinery, fertilizer and clothing. By 1889, only a few hundred bison remained.
Haaland, of Laguna Pueblo in New Mexico, is the first Native American to serve as a U.S. Cabinet secretary. She's championed tribal concerns on issues ranging from wildlife conservation to energy development, and put a spotlight on past mistreatment of Native Americans through a series of listening sessions about systemic abuses at government-run boarding schools.
She told The Associated Press in an interview last year that the decimation of bison by European settlers eliminated the primary food source for many tribes and opened the way for their land to be taken away.
The return of bison in some locations is considered a conservation success. But Haaland said they remain "functionally extinct" and more work is needed to return the animals to tribal lands and restore the grasslands they depend on.
"This holistic effort will ensure that this powerful sacred animal is reconnected to its natural habitat and the original stewards who know best how to care for it," Haaland said in announcing her order Friday, during a World Wildlife Day event at the National Geographic Society in Washington, D.C..
"When we think about Indigenous communities, we must acknowledge that they have spent generations over many centuries observing the seasons, tracking wildlife migration patterns and fully comprehending our role in the delicate balance of this earth," she added.
Across the U.S., from New York to Oklahoma to Alaska, 82 tribes now have more than 20,000 bison in 65 herds. Numbers have been growing in recent years along with the desire among Native Americans to reclaim stewardship of the animals.
Many of the tribes' bison came from U.S. agencies, which over the past two decades transferred thousands of the animals to thin government-controlled herds so they don't outgrow the land. The transfers often were carried out in cooperation with the South Dakota-based InterTribal Buffalo Council. The group's director, Troy Heinert, said Haaland's order is an acknowledgement of the work tribes have already done.
"The buffalo has just as long a connection to Indigenous people as we have to it," said Heinert, a member of the Rosebud Sioux Tribe. "They are not just a number or a commodity; this is returning a relative to its rightful place."
Past administrations have proposed or advanced bison conservation plans — including under former Presidents George W. Bush, Barack Obama and Donald Trump — and tribes have long been part of that process.
Haaland's order puts Native American interests at the center of the Interior Department's bison program. It also adds a tribal leader, yet to be named, to a group that's exploring establishing new herds on both tribal and federal lands.
Bison reintroductions could put the Biden administration at odds with state officials in Montana. Republican lawmakers have resisted returning the animals to federal lands and opposed some previous bison transfers to tribes.
State lawmakers voted Thursday to advance a resolution opposing the reintroduction of bison to the million-acre(400,000-hectare) Charles M. Russell National Wildlife Refuge in northern Montana — an idea that's been floated by the Biden administration and has support among Native Americans.
"Bison were part of the culture 200, 300 years ago. We aren't going back to that," said Montana state Sen. Mike Lang, who sponsored the resolution. Lang said he doesn't oppose bison on tribal lands but added that as populations grow they can cause problems for ranchers and present a public safety threat.
About half of the $25 million announced Friday will go to the National Park Service. The remainder will be split among the Bureau of Indian Affairs, the Bureau of Land Management and the Fish and Wildlife Service.
It includes about $1 million to establish an apprenticeship program that will provide training to tribes on managing bison, including at national parks and national wildlife refuges, officials said.
The Interior Department currently oversees 11,000 bison in herds on public lands in 12 states
Alberta's 2022 Lt. Governor Emerging Artists Named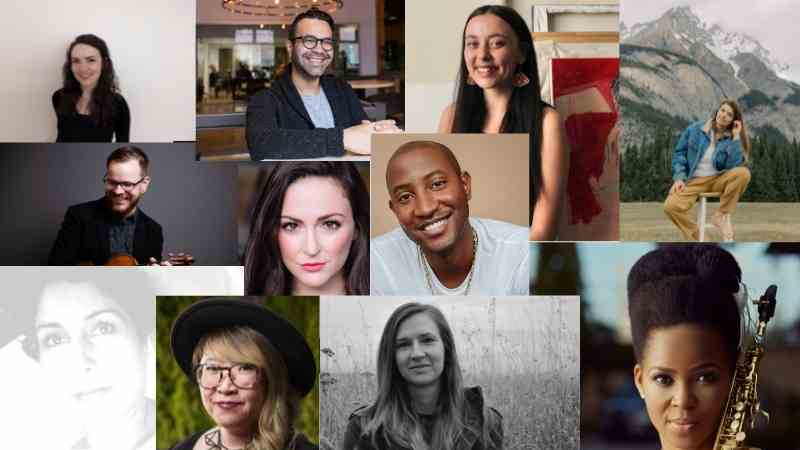 Alberta's 2022 Lt. Governor Emerging Artists Named
The Lieutenant Governor of Alberta Arts Awards Foundation announces awards totaling $110,000 to the 11 recipients of its 2022 Emerging Artist Award.
"When economic times are tough, our artists are particularly vulnerable," says Foundation Chair, Arlene Strom. "We are thrilled to invest $110,000 this year in advancing the careers of these outstanding artists at the early stages of their professional development."
2022 Emerging Artist Recipients:
Perpetual Atife Saxophone, Calgary
Vicki Chau Filmmaker, Calgary
Arlan Vriens Violin, Edmonton; Toronto
Eden Tremayne Soprano, Calgary
Omar Mouallem Writer, Edmonton
Trina Moyles Writer, Peace River
Kiona Ligtvoet Visual Arts, Edmonton
Tenaj Williams Actor, Calgary
Ally McIntyre Visual Arts, Edmonton
Moni Brar Writer/Poet, Calgary
Nahanni McKay Visual Arts, Banff
The Award's patron, Her Honour, the Honourable Salma Lakhani, Lieutenant Governor of Alberta AOE, B.Sc., LLD (hon) awarded the 2022 Emerging Artists at a celebration hosted by the County of Lac La Biche and Portage College on June 10, 2022. Each awardee receives a $10,000 cash award, a handcrafted medal and a certificate.
The 11 recipients were selected from 140 applications in an adjudication process overseen by The Banff Centre. The adjudication panel included: Darren Fung, renowned composer based out of Los Angeles, originally from Edmonton; Sean Caulfield, artist and Centennial Professor in the Department of Art & Design at the University of Alberta; Patricia Darbasie, Alberta actor, director and educator; Jenna Butler, 2014 LG Emerging Artist, award-winning author and educator; Derek Beaulieu, Jury Facilitator, Director of Literary Arts at the Banff Centre.
For more information on the awardees visit artsawards.ca
Who are the 2022 Emerging Artists?
Perpetual Atife Saxophonist, Calgary: Perpetual Atife is retelling African stories and music through her practice as a jazz saxophonist and songwriter. Her entrepreneurial spirit and energy are as impressive as her skills as a band leader and performer. The aural tapestry she creates combines her Nigerian roots and the realities she exists in today. Her debut album, a collection of her journey through instrumental music, spoken word and vocal music, is due to be released in the Fall of 2022.
Vicki Chau Filmmaker, Calgary: Vicki Chau is a filmmaker and media artist based in Calgary. Her two short films Pulled Strings and Hearth of the Lion capture a slice of her Chinese-Vietnamese heritage in a beautiful lyrical way. Her family and cultural identity have been a core inspiration in her artistic practice and help her to promote the appreciation of both Chinese and Vietnamese culture through a uniquely Canadian perspective. She was selected for the WarnerMedia Access Festivals Program at Toronto's Reelworld Film Festival in 2021.
Arlan Vriens, Violin, Edmonton/Toronto: Arlan Vriens is an Edmonton-born classical violinist noted for his ability to evoke strong, emotional performances with difficult, contemporary repertoire that pushes the boundaries of what the instrument was designed to do. Equally at home performing newly-written contemporary works or rediscovering long-lost violin techniques, Arlan is committed to nurturing and critiquing classical music as a living, evolving practice. His chamber music and solo violin projects have been supported by the Canada Council for the Arts and the arts councils of Alberta, Ontario, and Newfoundland.
Eden Tremayne Soprano, Calgary: Eden Tremayne delivers an authenticity and emotional strength that is impressive to see in an emerging opera singer. A soprano with both a strong technical facility and range, she is noted for her stirring performances. For the past three seasons, Ms. Tremayne has been a McPhee Artist with Calgary Opera. She had her Calgary Opera mainstage debut In the 2019-2020 season as Clotilde in Bellini's Norma and covered Musetta in Puccini's La bohème. Tremayne was previously featured as an Apprentice Artist with the San Diego Opera and a Yulanda M. Faris Young Artist with Vancouver Opera.
Omar Mouallem Writer, Edmonton: Omar Mouallem has established himself as a talented young journalist and filmmaker to watch. With the arrival of his important new book of non-fiction, Praying to the West: How Muslims Shaped the Americas, he's an important voice in Canadian literature with a long career ahead. A second-generation Canadian born and raised in Northern Alberta's Muslim Lebanese community, Mouallem has become known for his ability to intertwine human interest stories with world history and broad social issues. Omar co-authored the national bestseller Inside the Inferno: A Firefighter's Story of the Brotherhood that Saved Fort McMurray and co-directed Digging in the Dirt (with Dylan Rhys Howard), a raw look at the psychological toll of oil and gas labour.
Trina Moyles Writer, Peace River: Trina Moyles blends journalistic knowledge with literary expertise and a love for the land. She grew up in the northern community of Peace River, Alberta (Treaty 8), where she spent much of her childhood immersed in the boreal forest. Moyles's first book, Women Who Dig: Farming, Feminism, and the Fight to Feed the World was published in 2018 by the University of Regina Press. Her second book, a memoir and frontline reportage on the increasing prevalence of wildfire in North America, Lookout: Love, Solitude, and Searching for Wildfire in the Boreal Forest, was published in 2021 by Penguin Random House Canada. Lookout won a National Outdoors Book Award in 2021 and has recently been nominated as a finalist for the 2022 Robert Kroetsch City of Edmonton Book Prize and a finalist for the Memoir Award at the 2022 Alberta Literary Awards.
Kiona Ligtvoet Visual Arts, Edmonton: Kiona Ligtvoet looks to experiences with family and the land they live and work on to create paintings, prints and installations that function as both a personal archive, as well as non-linear storytelling. Kiona grew up west of Edmonton near the hamlet of Calahoo where she lived with her moshom and relatives on scrip land. Her family lines are Cree and Métis descending from Michel First Nation, as well as Dutch/ mixed European. Kiona works in painting, printmaking and drawing, recollecting personal stories of grief and tenderness. Most recent exhibitions have been sahkitok mistahi at Ociciwan Contemporary Art Centre (2021), and her solo show, These Are the Things at Latitude 53 (2021). She is currently writing her debut graphic novel We Were Younger Once (2022).
Tenaj Williams Actor, Calgary: Tenaj Williams has built on his community theatre experiences to create a provincial and national footprint as an actor, professionally performing on stages in Alberta and across the country. He has recently branched out into film and television landing roles on various TV series, most prominently the hit CTV comedy show, JANN. Tenaj hopes to further advance his work in the arts and be instrumental in helping to create and foster safe, and brave spaces for diverse and emerging artists. He plans to develop his skills as a director and learn more about theatre production and management.
Ally McIntyre Visual Arts, Edmonton: Ally McIntyre creates bold, powerful paintings that combine passages of abstraction with naturalistic imagery, and which contain moments of aggressive and expressive mark-making, alongside more introspective, sensitive passages of drawing. This blending of visual languages results in highly compelling imagery that fosters unexpected narratives and poetic associations for viewers. Bold and assertive, her works question the prevailing gendered association of large-scale art and expressionism. In 2015, McIntyre was awarded the HIX Award 2015 presented by Tracey Emin and the Jealous Prize 2015. Exhibits include various galleries in London, UK, The Original Print Fair at the Royal Academy, The London Art Fair, Start Art Fair and Art Toronto. She was a finalist in the RBC national painting competition (2018). Her solo exhibition 'Dog Day Circus' was featured at the Saatchi Gallery in London, UK (2022). Her work can be found in private collections in Australia, Asia, Europe, and North America.
Moni Brar Writer/Poet, Calgary: Moni Brar has published in many of the most respected journals in Canada and received a number of the top writing awards. A Punjabi Canadian writer exploring diasporan guilt and intergenerational trauma, she is poised to make major contributions to the literary arts in Canada. She has been nominated for the Pushcart Prize and multiple Best of the Net awards and was the winner of the SAAG Arts Writing Prize, runner-up in PRISM international's Grouse Grind Prize, honourable mention in Room magazine's Poetry Prize, and a finalist in the Alberta Magazine Awards and the Subnivean Awards. Her work can be found in Best Canadian Poetry 2022, the Literary Review of Canada, Passages North, Prairie Fire, Hobart, and the League of Canadian Poets' "Poem in Your Pocket" postcard series.
Nahanni McKay Visual Arts, Banff: McKay's creative practice utilizes photography, digital media, as well as performances in the landscape to explore pressing questions related to environmental change. The work often considers the ways landscape and animals have been depicted historically, particularly in the context of national parks, in order to investigate the complex interrelationship between colonial power structures, identity and ecological degradation and loss. Nahanni uses her photography to bring awareness of the need to coexist with wildlife to prevent further harm to the land we reside on. Exhibits include Personal Structures Exhibition, European Cultural Centre, Venice, Italy (2022), Loop 14, Alberta Foundation for the Arts Travelling Exhibition (2020), EXPOSURE Photography Festival Emerging Artists Showcase, Contemporary Calgary and more.
About The Awards
Founders Fil Fraser, Tommy Banks, John Poole and Jenny Belzberg established the Lieutenant Governor of Alberta Arts Awards Foundation in 2003 to celebrate and promote excellence in the arts. The endowments they established were created with philanthropic dollars and gifts from the Province of Alberta and the Government of Canada. Since its inception in 2003, the Foundation has awarded $1,430,000 to 23 Distinguished Artists and 74 Emerging Artists, all Alberta affiliated. The Foundation administers two awards programs: The Emerging Artist Awards program, established in 2008, gives up to 10 awards of $10,000 each to support and encourage promising artists early in their professional careers. Emerging Artist Awards are given out in even years. The Distinguished Artist Awards program, begun in 2005, gives up to three awards of $30,000 each in recognition of outstanding achievement in, or contribution to, the arts in Alberta. Distinguished Artist Awards are given in odd years.