Fentanyl, cocaine, guns, and cash seized during million dollar bust in Calgary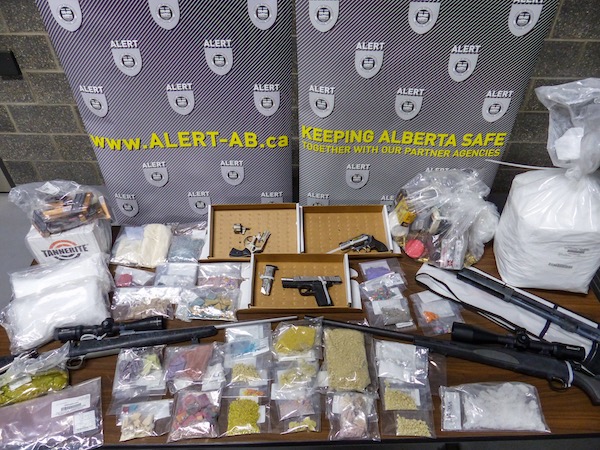 From Alberta Law Enforcement Response Team
Focus on fentanyl paying off with $1 million Calgary bust
Calgary… A recent drug bust in Calgary took upwards of 20,000 doses of fentanyl off the street, part of a series of recent investigations by ALERT that were aimed at disrupting the opioid market.
ALERT Calgary seized nearly $1 million worth of drugs and six firearms after two homes were searched on April 16, 2021. ALERT seized 4.5 kilograms of fentanyl, along with methamphetamine, cocaine, and buffing agents. Two people were arrested and 39 charges were laid.
"Fentanyl has been a scourge in our communities and organized crime is responsible. ALERT will remain ruthless in our pursuit of drug dealers, and investigations like these, demonstrate our success in getting harmful drugs off the street," said Supt. Dwayne Lakusta, ALERT CEO.
The million-dollar seizure is the highlight, to date, of a recent string of investigative successes by ALERT Calgary. The unit has worked in tandem with policing partners, such as Calgary Police Service and RCMP to specifically target street-level opioid and meth sales.
"Integration is the key element of ALERT's success. By working with our partners and sharing intelligence on emerging issues, ALERT's specialized units are able spring into action and deliver meaningful results," said Lakusta.
The following provides a brief synopsis and tally of recent investigative success, including ALERT's most recent bust. The investigations are not believed to be linked:
April 16, 2021 two people were arrested and two homes were searched in Calgary. Nicholas Rybenko, 39, and Wessen Vandenhoek, 35, face multiple drug and firearms charges after ALERT seized:
6 firearms;
4,505 grams of fentanyl;
353 grams of methamphetamine;
13 grams of cocaine;
17,146 grams of a suspected buffing agent;
$30,000 cash.
April 6, 2021 two homes in Calgary's Beltline were searched and a 24-year-old man was arrested. Ady Zhang Chang was charged with possession of drugs for the purpose of trafficking and possession of proceeds of crime, after ALERT seized:
134 grams of fentanyl;
181 grams of cocaine; and
$1,250 cash.
March 29, 2021 a traffic stop was initiated on a suspect believed to be involved in street-level drug sales. ALERT located drugs inside the vehicle and its occupants were arrested. Amrudin Karimyar, 23, and Mohit Sandhu, 19, were charged, and ALERT seized:
43 grams of fentanyl;
9 grams of methamphetamine;
14 grams of cocaine; and
$6,955 cash.
February 2, 2021 ALERT searched two homes in Calgary and arrested a 31-year-old man. Jaspreet Cheema faces a number of drugs and firearms charges after ALERT seized:
A loaded handgun;
220 grams of fentanyl;
12 grams of cocaine;
1,912 grams of a cocaine buffing agent;
$12,970 cash.
Since 2018, ALERT teams from across the province have seized 18 kilograms of fentanyl powder and just over 250,000 fentanyl pills. Over 100 investigations have been conducted involving opioids.
Members of the public who suspect drug or gang activity in their community can call local police, or contact Crime Stoppers at 1-800-222-TIPS (8477). Crime Stoppers is always anonymous.
ALERT was established and is funded by the Alberta Government and is a compilation of the province's most sophisticated law enforcement resources committed to tackling serious and organized crime.
Panel says Grassy Mountain coal mine in Alberta Rockies not in public interest
A joint federal-provincial review has denied an application for an open-pit coal mine in Alberta's Rocky Mountains, saying its impacts on the environment and Indigenous rights aren't worth the economic benefits it would bring.
"We are not confident about the technical and economic feasibility of some proposed mitigation measures," the report says.
"We find that this was particularly true for effects on surface water quality, westslope cutthroat trout (and fish and fish habitat more generally), and vegetation."
Riversdale Resources had proposed the Grassy Mountain project in southern Alberta's Crowsnest Pass region. The area has seen mining in the past.
The mine, said Riversdale, would create about 500 jobs during two years of construction and 400 over the 23-year life of the mine. The company said it would pay $1.7 billion in royalties and $35 million in municipal taxes over that time.
It was supported by many in the town of Crowsnest Pass.
But concerns were raised during a hearing about the chance the mine could contaminate headwaters of the Oldman River with selenium. The element commonly found in coal mines is toxic to fish in large doses.
The review panel also heard the mine would damage ecosystems and impair the cultural and physical heritage of three local First Nations.
"The mitigation measures proposed are not sufficient to fully mitigate these effects," says the report.
The panel advises federal Environment Minister Jonathan Wilkinson to turn the mine down. It has also denied the project's permit applications under provincial laws.
The Grassy Mountain mine is the first of a number of coal projects that have been proposed for the mountains and foothills of Alberta's western boundary. At least eight companies have taken large exploration leases.
Earlier this week, Wilkinson announced that any proposals from those exploration leases would be subject to a federal environmental review. He said concerns about selenium prompted the move.
This report by The Canadian Press was first published June 17, 2021.
Bob Weber, The Canadian Press
Alberta confirms two patient deaths from COVID-19 Delta variant at Calgary hospital
EDMONTON — A health official says two patients at Calgary's Foothills hospital have died from the Delta variant of COVID-19 — and one had been fully immunized.
Kerry Williamson with Alberta Health Services says the two patients, a man and a woman, were in their 80s, had significant co-morbidities and likely acquired the virus in the hospital.
One patient had received two doses of an mRNA vaccine, while the other had not been immunized.
They were among 23 hospital patients and staff who became infected with the Delta variant, one of the variants first identified in India.
Health experts have stressed that it is still possible to contract COVID-19 even with full immunization, but that the chances of severe outcomes drop significantly with vaccination.
The Delta variant is being watched carefully in Alberta, given it is now the dominant strain in the United Kingdom and, with its rapid transmission, is threatening plans there to reopen the economy and lift health restrictions.
This report by The Canadian Press was first published June 17, 2021.
The Canadian Press