Junior and Senior High Students at home for 2 weeks in Red Deer and other large Alberta Cities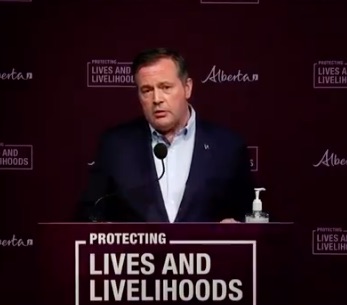 Targeted regional measures to bend the curve
New mandatory measures will address growing COVID-19 cases in hot spot communities across Alberta.
Targeted restrictions will apply to municipalities or regions where there are at least 350 cases per 100,000 people and 250 currently active cases.
New measures will apply to junior and senior high schools, and sports and fitness activities in these communities.
These targeted restrictions will remain in place for at least two weeks for any community or area that reaches this trigger. After 14 days, the enhanced measures will be lifted once the municipality falls back below the threshold.
Expanded public health measures
The following mandatory public health measures will come into effect for hot spot municipalities and regions:
Schools – Starting May 3
While schools remain a safe place and are not a main driver of community spread, in order to limit in-person interactions, all junior and senior high school students (Grades 7 and above) will shift to online learning.
K-6 students will continue in-classroom learning unless otherwise approved by Alberta Education to shift to online-learning.
Indoor fitness – effective April 30
All indoor fitness activities are prohibited. This includes:

all group physical activities, such as team sports, fitness classes and  training sessions
all one-on-one lessons and training activities
all practices, training and games

Outdoor fitness activities may continue under provincewide restrictions currently in place, including individual or household one-on-one training with a trainer.
Indoor sport and recreation – effective April 30
All youth and adult indoor group physical activities, including team sports and one-on-one training sessions, are prohibited.
Outdoor sport and recreation activities may continue under provincewide restrictions currently in place:

Outdoor team sports where two-metre distancing cannot be maintained at all times (such as basketball, volleyball, soccer, football, slo-pitch and road hockey) remain prohibited.
Outdoor fitness training is allowed, as are physically distanced group fitness classes with a maximum of 10 participants.
Outdoor group physical activity with different households must be limited to 10 people or fewer and two-metre distancing must be maintained at all times.

All indoor recreation facilities must close. Outdoor recreation amenities can be open to public access unless specifically closed by public health order.
Curfew
The government will implement a curfew where case rates are significantly high, specifically case rates above 1,000 per 100,000, and if a municipality or region requests it. Details will be announced prior to any curfew being implemented.
All other current public health restrictions, including masking, physical distancing, prohibitions on social gatherings and working from home requirements remain in place provincewide.
Alberta's government is responding to the COVID-19 pandemic by protecting lives and livelihoods with precise measures to bend the curve, sustain small businesses and protect Alberta's health-care system.
Quick facts
Current communities with a case rate above 350 per 100,000 people and at least 250 active cases:

Fort McMurray
City of Red Deer
City of Grande Prairie
City of Calgary
City of Airdrie
Strathcona County
City of Lethbridge
City of Edmonton

Future updates for active case rates for municipalities and a map of those under enhanced restrictions will be available at alberta.ca.
Moving forward, targeted restrictions will be applied to any communities or regions with a case rate above 350 per 100,000 people and 250 active cases, and remain in place for at least two weeks.
If, after two weeks, the case rate falls below the threshold of 350 cases per 100,000 people, these targeted measures will be removed and only current provincewide restrictions will apply.
If a municipality goes below the threshold measure of 350 cases per 100,000 people before the two weeks are finished, the enhanced restrictions will still apply until the two-week period is over.
To prevent rural areas with small populations from being unfairly impacted, municipalities with fewer than 250 active cases will be excluded from the threshold.
Health officials will continue to closely monitor the spread of COVID-19 to assess whether additional action is needed to reduce transmission and when these restrictions are no longer required.


"We have no choice but to implement these targeted measures to slow growth and bend the curve and protect our health system over the next few weeks. These measures are layered on top of Alberta's robust public health restrictions and will buy a little more time for our vaccination program to protect more Albertans and win the race against the variants. We must respond with a firm stand against COVID-19 now so that we can enjoy a great Alberta summer."

"The highly transmissible variants of concern are a game-changer and in turn, we have to change our approach to be successful. No one person or community is to blame, but the evidence is showing that certain areas are experiencing significantly higher spread. To get cases in these municipalities under control, we must take additional action. By following these new restrictions and ramping up our vaccination program, we will be successful in winning this fight."

"I know Albertans, even those who have faithfully followed the health guidance and worked to keep not only themselves but their fellow citizens safe, are tired. But if we can muster the strength to make it through these next few weeks, we will allow our vaccination program a chance to protect more Albertans, and in end, we will get COVID-19 under control in Alberta."
Alberta paleontologists find dramatic change in bite force as tyrannosaurs matured
Tyrannosaurs are well known as having been ferocious predators at the top of the food chain millions of years ago, but a study led by an Alberta-based researcher shows the reptiles didn't start out life that way.
François Therrien, curator of dinosaur paleoecology at the Royal Tyrrell Museum in Drumheller, Alta., said the study focused on tyrannosaur teeth and their dramatic change as they matured. 
He collaborated with Darla Zelenitsky and Jared Voris of the University of Calgary, as well as Kohei Tanaka of the University of Tsukuba in Japan.
For the study, published this week in the Canadian Journal of Earth Sciences, the researchers examined the lower jaws from the Albertosaurus and Gorgosaurus, types of tyrannosaurs commonly found in Canada that predated the T. rex by millions of years.
"Our fossil records for those two species of tyrannosaurs is excellent," Therrien said about the collection at the museum.
"We have so many specimens of those … that represent a full growth series from very young individuals that were probably three or four years of age all the way to fully grown adults that were over 20 years of age."
By examining a wide range of fossils, the researchers were able to see a significant change in tooth size and jaw force once the tyrannosaurs reached about 11 years of age.
Feeding behaviour did not appear to change during the lifespan of the tyrannosaurs, because their jaws were adapted to capturing and seizing prey with their mouths, probably because the forelimbs were too short to grasp food, Therrien said. 
"Tyrannosaurs were truly unique when you look at all the theropods," he said. "They were atypical … because their bite and their skulls were their main weapon for killing prey."
But what did change, he said, is the size of their teeth and their bite force.
A tyrannosaur at about three years of age was still a deadly predator, but it had smaller blade-like teeth that could only slice through flesh. The bite force, Therrien added, was about 10 per cent that of a fully grown alligator.  
That means younger tyrannosaurs ate smaller prey and had to compete with other like-sized predators such as the Velociraptor. 
Once tyrannosaurs turned 11, Therrien explained, they went through a growth spurt in which their teeth became larger and wider. By the time the reptiles were fully grown, their bite force was eight times more than that of an alligator. 
And that meant their diets also changed. 
"These teeth were better adapted for resisting twisting stresses either associated with biting of big prey or even crushing bone."
Therrien said his study shows that young tyrannosaurs were distinct predators that occupied different ecological niches.
"Young tyrannosaurs were not just scaled-down versions of the mature parents," he said. "They were creatures that actually had their own lifestyles."
This report by The Canadian Press was first published June 23, 2021. 
Daniela Germano, The Canadian Press
Construction begins on new Alberta solar farm, Amazon to purchase power
CALGARY — Amazon announced Wednesday it will purchase power from a massive new solar farm in Alberta, marking the e-commerce giant's second renewable energy investment in Canada.
Construction began Wednesday on Travers Solar, a $700-million, 465-MW project southeast of Calgary, which its developers say will be the largest solar photovoltaic project in Canada and one of the largest in the world.
Privately held Greengate Power Corp. of Calgary says the solar farm will consist of 1.3 million solar panels and will provide enough electricity to power more than 100,000 homes by 2022.
Amazon, which has signed a deal to buy up to 400 MW of electricity from the project, previously announced plans to purchase power from an 80-MW solar farm in southern Alberta as part of its commitment to being fully powered by renewables by 2030.
Renewable electricity companies have credited Alberta's unregulated electricity market for a recent boom in solar projects in the province.
Other projects include the 300-MW Blackspring Ridge Wind Project, which is now owned by French firm EDF EN and Enbridge Inc. of Calgary, and the proposed 130-MW Claresholm Solar project, a joint venture between Capstone Infrastructure and Obton, a Danish investment company.
This report by The Canadian Press was first published June 23, 2021.
The Canadian Press