Fentanyl, cocaine, guns, and cash seized during million dollar bust in Calgary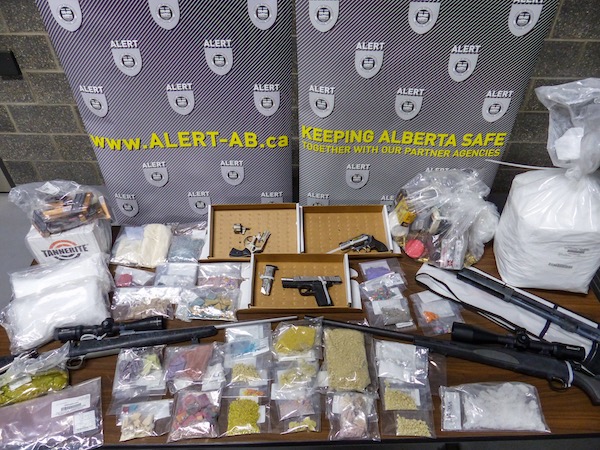 From Alberta Law Enforcement Response Team
Focus on fentanyl paying off with $1 million Calgary bust
Calgary… A recent drug bust in Calgary took upwards of 20,000 doses of fentanyl off the street, part of a series of recent investigations by ALERT that were aimed at disrupting the opioid market.
ALERT Calgary seized nearly $1 million worth of drugs and six firearms after two homes were searched on April 16, 2021. ALERT seized 4.5 kilograms of fentanyl, along with methamphetamine, cocaine, and buffing agents. Two people were arrested and 39 charges were laid.
"Fentanyl has been a scourge in our communities and organized crime is responsible. ALERT will remain ruthless in our pursuit of drug dealers, and investigations like these, demonstrate our success in getting harmful drugs off the street," said Supt. Dwayne Lakusta, ALERT CEO.
The million-dollar seizure is the highlight, to date, of a recent string of investigative successes by ALERT Calgary. The unit has worked in tandem with policing partners, such as Calgary Police Service and RCMP to specifically target street-level opioid and meth sales.
"Integration is the key element of ALERT's success. By working with our partners and sharing intelligence on emerging issues, ALERT's specialized units are able spring into action and deliver meaningful results," said Lakusta.
The following provides a brief synopsis and tally of recent investigative success, including ALERT's most recent bust. The investigations are not believed to be linked:
April 16, 2021 two people were arrested and two homes were searched in Calgary. Nicholas Rybenko, 39, and Wessen Vandenhoek, 35, face multiple drug and firearms charges after ALERT seized:
6 firearms;
4,505 grams of fentanyl;
353 grams of methamphetamine;
13 grams of cocaine;
17,146 grams of a suspected buffing agent;
$30,000 cash.
April 6, 2021 two homes in Calgary's Beltline were searched and a 24-year-old man was arrested. Ady Zhang Chang was charged with possession of drugs for the purpose of trafficking and possession of proceeds of crime, after ALERT seized:
134 grams of fentanyl;
181 grams of cocaine; and
$1,250 cash.
March 29, 2021 a traffic stop was initiated on a suspect believed to be involved in street-level drug sales. ALERT located drugs inside the vehicle and its occupants were arrested. Amrudin Karimyar, 23, and Mohit Sandhu, 19, were charged, and ALERT seized:
43 grams of fentanyl;
9 grams of methamphetamine;
14 grams of cocaine; and
$6,955 cash.
February 2, 2021 ALERT searched two homes in Calgary and arrested a 31-year-old man. Jaspreet Cheema faces a number of drugs and firearms charges after ALERT seized:
A loaded handgun;
220 grams of fentanyl;
12 grams of cocaine;
1,912 grams of a cocaine buffing agent;
$12,970 cash.
Since 2018, ALERT teams from across the province have seized 18 kilograms of fentanyl powder and just over 250,000 fentanyl pills. Over 100 investigations have been conducted involving opioids.
Members of the public who suspect drug or gang activity in their community can call local police, or contact Crime Stoppers at 1-800-222-TIPS (8477). Crime Stoppers is always anonymous.
ALERT was established and is funded by the Alberta Government and is a compilation of the province's most sophisticated law enforcement resources committed to tackling serious and organized crime.
Alberta paleontologists find dramatic change in bite force as tyrannosaurs matured
Tyrannosaurs are well known as having been ferocious predators at the top of the food chain millions of years ago, but a study led by an Alberta-based researcher shows the reptiles didn't start out life that way.
François Therrien, curator of dinosaur paleoecology at the Royal Tyrrell Museum in Drumheller, Alta., said the study focused on tyrannosaur teeth and their dramatic change as they matured. 
He collaborated with Darla Zelenitsky and Jared Voris of the University of Calgary, as well as Kohei Tanaka of the University of Tsukuba in Japan.
For the study, published this week in the Canadian Journal of Earth Sciences, the researchers examined the lower jaws from the Albertosaurus and Gorgosaurus, types of tyrannosaurs commonly found in Canada that predated the T. rex by millions of years.
"Our fossil records for those two species of tyrannosaurs is excellent," Therrien said about the collection at the museum.
"We have so many specimens of those … that represent a full growth series from very young individuals that were probably three or four years of age all the way to fully grown adults that were over 20 years of age."
By examining a wide range of fossils, the researchers were able to see a significant change in tooth size and jaw force once the tyrannosaurs reached about 11 years of age.
Feeding behaviour did not appear to change during the lifespan of the tyrannosaurs, because their jaws were adapted to capturing and seizing prey with their mouths, probably because the forelimbs were too short to grasp food, Therrien said. 
"Tyrannosaurs were truly unique when you look at all the theropods," he said. "They were atypical … because their bite and their skulls were their main weapon for killing prey."
But what did change, he said, is the size of their teeth and their bite force.
A tyrannosaur at about three years of age was still a deadly predator, but it had smaller blade-like teeth that could only slice through flesh. The bite force, Therrien added, was about 10 per cent that of a fully grown alligator.  
That means younger tyrannosaurs ate smaller prey and had to compete with other like-sized predators such as the Velociraptor. 
Once tyrannosaurs turned 11, Therrien explained, they went through a growth spurt in which their teeth became larger and wider. By the time the reptiles were fully grown, their bite force was eight times more than that of an alligator. 
And that meant their diets also changed. 
"These teeth were better adapted for resisting twisting stresses either associated with biting of big prey or even crushing bone."
Therrien said his study shows that young tyrannosaurs were distinct predators that occupied different ecological niches.
"Young tyrannosaurs were not just scaled-down versions of the mature parents," he said. "They were creatures that actually had their own lifestyles."
This report by The Canadian Press was first published June 23, 2021. 
Daniela Germano, The Canadian Press
Construction begins on new Alberta solar farm, Amazon to purchase power
CALGARY — Amazon announced Wednesday it will purchase power from a massive new solar farm in Alberta, marking the e-commerce giant's second renewable energy investment in Canada.
Construction began Wednesday on Travers Solar, a $700-million, 465-MW project southeast of Calgary, which its developers say will be the largest solar photovoltaic project in Canada and one of the largest in the world.
Privately held Greengate Power Corp. of Calgary says the solar farm will consist of 1.3 million solar panels and will provide enough electricity to power more than 100,000 homes by 2022.
Amazon, which has signed a deal to buy up to 400 MW of electricity from the project, previously announced plans to purchase power from an 80-MW solar farm in southern Alberta as part of its commitment to being fully powered by renewables by 2030.
Renewable electricity companies have credited Alberta's unregulated electricity market for a recent boom in solar projects in the province.
Other projects include the 300-MW Blackspring Ridge Wind Project, which is now owned by French firm EDF EN and Enbridge Inc. of Calgary, and the proposed 130-MW Claresholm Solar project, a joint venture between Capstone Infrastructure and Obton, a Danish investment company.
This report by The Canadian Press was first published June 23, 2021.
The Canadian Press