Fentanyl, cocaine, guns, and cash seized during million dollar bust in Calgary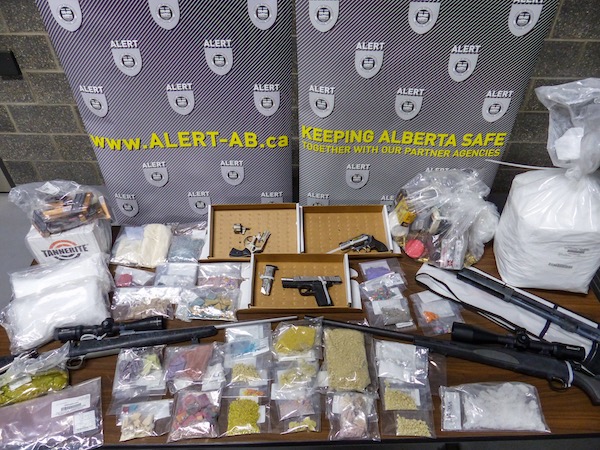 From Alberta Law Enforcement Response Team
Focus on fentanyl paying off with $1 million Calgary bust
Calgary… A recent drug bust in Calgary took upwards of 20,000 doses of fentanyl off the street, part of a series of recent investigations by ALERT that were aimed at disrupting the opioid market.
ALERT Calgary seized nearly $1 million worth of drugs and six firearms after two homes were searched on April 16, 2021. ALERT seized 4.5 kilograms of fentanyl, along with methamphetamine, cocaine, and buffing agents. Two people were arrested and 39 charges were laid.
"Fentanyl has been a scourge in our communities and organized crime is responsible. ALERT will remain ruthless in our pursuit of drug dealers, and investigations like these, demonstrate our success in getting harmful drugs off the street," said Supt. Dwayne Lakusta, ALERT CEO.
The million-dollar seizure is the highlight, to date, of a recent string of investigative successes by ALERT Calgary. The unit has worked in tandem with policing partners, such as Calgary Police Service and RCMP to specifically target street-level opioid and meth sales.
"Integration is the key element of ALERT's success. By working with our partners and sharing intelligence on emerging issues, ALERT's specialized units are able spring into action and deliver meaningful results," said Lakusta.
The following provides a brief synopsis and tally of recent investigative success, including ALERT's most recent bust. The investigations are not believed to be linked:
April 16, 2021 two people were arrested and two homes were searched in Calgary. Nicholas Rybenko, 39, and Wessen Vandenhoek, 35, face multiple drug and firearms charges after ALERT seized:
6 firearms;
4,505 grams of fentanyl;
353 grams of methamphetamine;
13 grams of cocaine;
17,146 grams of a suspected buffing agent;
$30,000 cash.
April 6, 2021 two homes in Calgary's Beltline were searched and a 24-year-old man was arrested. Ady Zhang Chang was charged with possession of drugs for the purpose of trafficking and possession of proceeds of crime, after ALERT seized:
134 grams of fentanyl;
181 grams of cocaine; and
$1,250 cash.
March 29, 2021 a traffic stop was initiated on a suspect believed to be involved in street-level drug sales. ALERT located drugs inside the vehicle and its occupants were arrested. Amrudin Karimyar, 23, and Mohit Sandhu, 19, were charged, and ALERT seized:
43 grams of fentanyl;
9 grams of methamphetamine;
14 grams of cocaine; and
$6,955 cash.
February 2, 2021 ALERT searched two homes in Calgary and arrested a 31-year-old man. Jaspreet Cheema faces a number of drugs and firearms charges after ALERT seized:
A loaded handgun;
220 grams of fentanyl;
12 grams of cocaine;
1,912 grams of a cocaine buffing agent;
$12,970 cash.
Since 2018, ALERT teams from across the province have seized 18 kilograms of fentanyl powder and just over 250,000 fentanyl pills. Over 100 investigations have been conducted involving opioids.
Members of the public who suspect drug or gang activity in their community can call local police, or contact Crime Stoppers at 1-800-222-TIPS (8477). Crime Stoppers is always anonymous.
ALERT was established and is funded by the Alberta Government and is a compilation of the province's most sophisticated law enforcement resources committed to tackling serious and organized crime.
Alberta extends electricity rebate program until December at a cost of about $600M
Edmonton – The Alberta government says it will extend its electricity rebates until the end of the year as the cost of living continues to rise.
Dale Nally, who's the associate minister of natural gas and electricity, says the United Conservative government is doubling the rebate to help reduce the financial burden on Albertans.
The government says the electricity rebate program will now offer about $600 million in relief through 2022.
It says the program will provide nearly two million homes, farms and small businesses with a monthly $50 bill credit each month from July until December.
The government says it will also provide a natural gas rebate to millions of Albertans starting in October, which will continue until March 2023 if prices remain high.
Last week, Finance Minister Jason Nixon announced a $3.9-billion surplus for the 2021-22 fiscal year ending March 31.
This report by The Canadian Press was first published July 6, 2022.
Telus Corp. marks opening of Telus Sky in downtown Calgary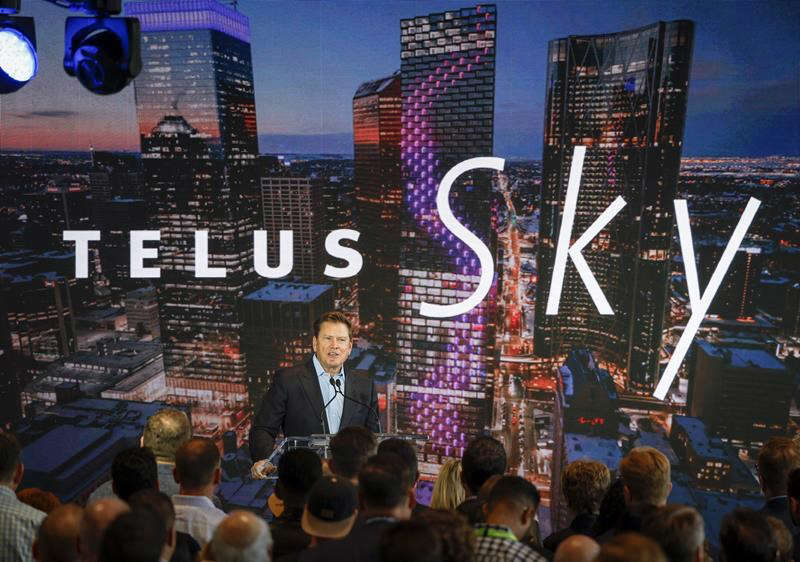 CALGARY — Telus Corp. marked the opening of its new 60-storey Calgary headquarters on Wednesday.
The new $400-million skyscraper, Telus Sky, has been in development for nine years and is now the third-tallest building in downtown Calgary. It features 750,000 square feet of office and retail space as well as 326 rental homes.
The building's eye-catching design, by architects Bjarke Ingels Group (BIG) and Dialog, along with developer partner Westbank and Allied, starts with a rectangular floorplate and then gradually twists as it rises.
Integrated into the facade of Telus Sky is Canada's largest public art display. "Northern Lights" by Canadian author and artist, Douglas Coupland, creates a light show across the building's exterior.
Telus Sky will be home to more than 1,600 Telus employees. It joins TELUS Garden in Vancouver, TELUS Harbour Toronto, TELUS House Ottawa, and Place TELUS Québec as one of the company's LEED (Leadership in Energy and Environmental Design) Platinum-certified buildings.
Among the building's environmental features is a storm water management system that recycles rainwater for use in washroom toilets, reducing the building's municipal water demand by 70 per cent.
This report by The Canadian Press was first published July 6, 2022.
Companies in this story: (TSX:T)
Amanda Stephenson, The Canadian Press