Excessive speeders nailed in Strathcona County
Strathcona County RCMP – Excessive Speeders Receive Fines
Strathcona County, Alta – A number of individuals who were charged with excessive speeding offences at various locations throughout Strathcona County recently appeared in court to answer to their charges.
A synopsis of the charges and dispositions are as follows:
-Driving 171 km/h in a 100 km/h zone received a fine of $1500 and a 7 day licence suspension.
-Driving 187 km/h in a 100 km/h zone received a fine of $1500 and a 6 day licence suspension.
-Driving 112 km/h in a 50 km/h zone received a fine of $1500 and a 7 day licence suspension.
-Driving 146 km/h in a 70 km/h zone received a fine of $1500 and a 60 day licence suspension.
Driving a few km/h over the posted speed limit:
Decreases your field of vision and your peripheral vision;
Extends the distance required to stop your vehicle;
Increases the chances that you will lose control of your vehicle;
Increases the chance of death or injury if there is a collision.
"The faster you're driving, the harder it is to avoid sudden obstacles and the longer it takes you to stop. Driving at an excessive speed makes you much more likely to cause serious injury or death to yourself or to those around you," says Cpl. Shayne Gudmundson of the Strathcona County RCMP. "Speed limits exist for public safety reasons, and we are committed to targeting those who place the public in danger."
The Strathcona County RCMP, Strathcona County RCMP Integrated Traffic Unit and Strathcona County Enforcement Services is committed to ensuring the safety of motorists throughout Strathcona County. Enforcement of traffic laws that target high risk driving behaviours will continue throughout the year in order to reduce the number of serious injury and fatal collisions.
Alberta Mountie charged with manslaughter tells jury she feared for her life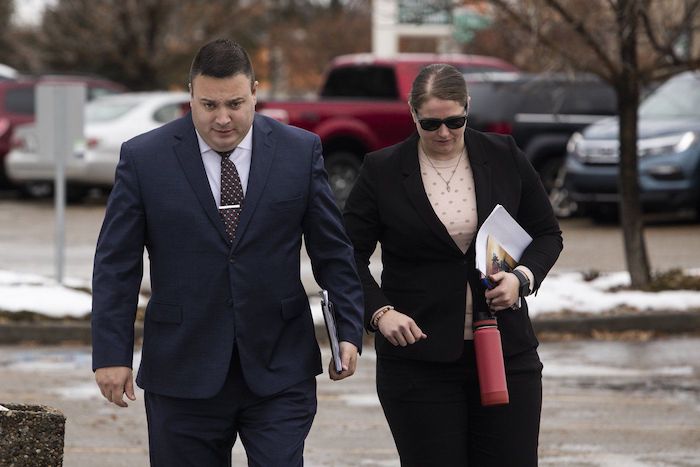 Edmonton – An Alberta Mountie testified Wednesday that she feared for her life before she and another officer fatally shot a man at a rest stop northwest of Edmonton.
"That's not something I ever wanted to do in my entire career," Const. Jessica Brown told a jury as she teared up.
Brown and Cpl. Randy Stenger have pleaded not guilty to manslaughter and aggravated assault in the July 3, 2018, shooting of Clayton Crawford near Whitecourt, Alta.
The jury heard RCMP were looking for a purple 1992 Dodge Dakota pickup truck that had been spotted fleeing the scene of a shooting a day earlier in Valhalla Centre. Crawford's girlfriend had been shot in the leg and other vehicles were also seen leaving the area.
Grande Prairie RCMP later notified the Whitecourt detachment that an off-duty officer had seen the truck at the Chickadee Creek rest stop. Court heard there was a struggle when Brown, Stenger and another officer approached the vehicle.
Brown testified that she and the other officers told Crawford to put his hands up. Brown said Crawford sat up and put his hands up briefly before putting them between his legs.
"All I'm thinking is that I can't see his hands," Brown told the jury. "He's gonna grab a gun, he's gonna grab a weapon."
"I got the sense that the driver was going to start the vehicle," Brown said, adding she had near-misses with vehicles at other points in her career.
Brown told the court that after Crawford started the truck and began to pull away in reverse, she heard Stenger shoot. Brown then began shooting at the driver with her carbine rifle.
"I just kept thinking: 'Why?'" Brown said. "This guy has no reason to be going backward except to try to kill us."
Brown said Crawford had a clear exit route ahead of him.
Prosecutor Linda Shin told the trial last week that Brown shot at the vehicle eight times, while Stenger fired his semi-automatic handgun three times. Ten of the 11 shots hit Crawford.
Three police cruisers at the scene were equipped with cameras that recorded the shooting. The jury has watched the video multiple times. It shows the Mounties approaching the truck and the ensuing struggle, followed by shots fired while the truck starts to leave the rest area before running into a nearby ditch.
RCMP later found a machete in the truck and a butcher knife under its front seat.
The jury also heard Monday that Crawford had methamphetamines in his blood at the time of his death.
Forensic toxicologist Craig Chatter testified that the concentration was relatively high and Crawford was likely under the influence of methamphetamines when he died, or shortly before.
"I've had a lot of negative interactions with people on methamphetamines," Brown told the jury while talking about her experience at the Whitecourt detachment. It was not known to officers at the time of the shooting that Crawford had the drug in his system, the jury heard.
In opening statements last week, lawyers said a potential dispute over a "drug den" could have instigated the shooting in Valhalla Centre and Crawford could have been a target.
CBC reported last week that there was confusion over whether Crawford was considered a suspect or a witness in the Valhalla Centre shooting. Cpl. Eldon Chillog testified he did not tell Brown that the individual in the truck was a suspect, but Brown testified Wednesday that she believed Crawford was.
The jury heard that Crawford was wanted on warrants at the time. He had previously been arrested for shooting a firearm and was known to police as being involved in the drug trade.
Early in her testimony, Brown, 31, told the jury that she wanted to be a Mountie since she was six years old, when she saw RCMP officers on horseback in their red uniforms during a parade.
"I know I wanted to have a job where I could help people in some capacity."
This report by The Canadian Press was first published Nov. 30, 2022.
7 arrests. Police seize $16 million in cash, real estate, and vehicles from Alberta, BC money laundering operation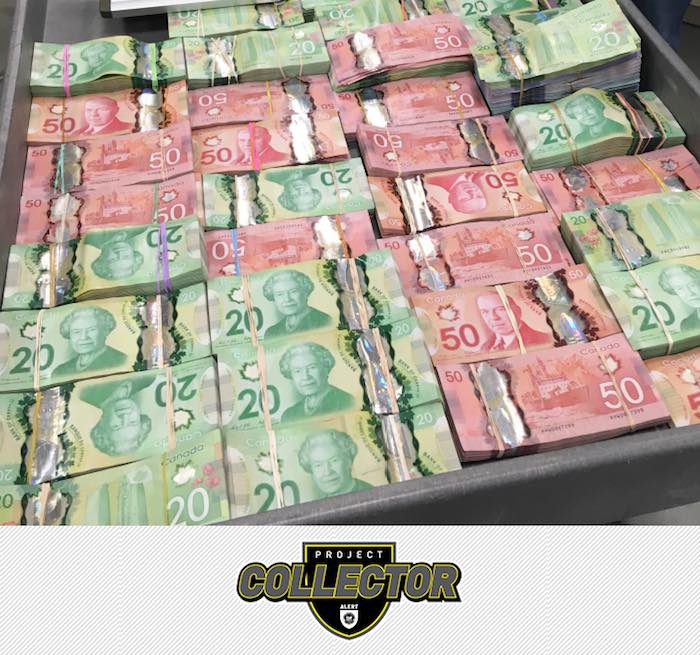 News release from ALERT (Alberta Law Enforcement Response Team)
Project Collector halts Cross-Canada money laundering
Calgary… A professional money laundering organization, working in support of some of Canada's largest crime groups, has been dismantled following an unprecedented investigation by ALERT and the RCMP.
Project Collector is a three-year financial crime investigation conducted jointly between ALERT Calgary's financial crime team and RCMP Federal Serious and Organized Crime (FSOC). The investigation began in Calgary and led to the dismantling of a nation-wide criminal organization involved in money laundering.
Seven suspects have been charged, with arrests taking place in Calgary and Vancouver. In addition, more than $16 million in bank accounts, real estate holdings, and vehicles have been placed under criminal restraint.
Proceeds of crime from some of Canada's largest criminal organizations were allegedly being transported between Ontario, Alberta, and British Columbia. In a one-year period alone investigators identified the transfer of $24 million in cash, while the group's money laundering activities date back to at least 2013.
Project Collector began in July 2018 after $1 million in cash, that was destined for Vancouver, was intercepted in Calgary. ALERT and RCMP launched an extensive investigation that relied heavily on intelligence from the Financial Transactions and Reports Analysis Centre of Canada (FINTRAC).
Project Collector revealed that the group operated pseudo-bank branches at either side of the country, which while holding large cash reserves, allowed organized crime groups utilizing its service to transfer funds while avoiding the detection of financial banking institutions and authorities. The money laundering was primarily connected back to drug trafficking proceeds.
In total, 71 criminal offences are being pursued against the money laundering organization. Charges include participation in a criminal organization, laundering proceeds of crime, and trafficking property obtained by crime. Charges were also laid under the Proceeds of Crime (Money Laundering) and Terrorist Financing Act.
The arrests took place in September 2022:
Lien Ha, 42-year-old from Calgary,
Donald Hoang, 26-year-old from Vancouver;
Van Duc Hoang, 64-year-old from Vancouver;
Van Thi Nguyen, 62-year-old from Vancouver;
Cynthia Nguyen, 42-year-old from Calgary;
Yuong Nguyen, 43-year-old from Calgary; and
Grace Tang, 25-year-old from Vancouver.
During the course of the investigation, search warrants were executed at a total of 10 homes in the Calgary region, Toronto area, and Vancouver.
Project Collector relied on the assistance of a number of police agencies and specialized units, including: Calgary Police Service, Canada Revenue Agency, Financial Transactions and Reports Analysis Centre of Canada (FINTRAC), Forensic Accounting Management Group (FAMG), Vancouver Police, Toronto Police, Edmonton Police, Halton Police, Seized Property Management Directorate, and RCMP units in Ontario and British Columbia.
Members of the public who suspect drug or gang activity in their community can call local police, or contact Crime Stoppers at 1-800-222-TIPS (8477). Crime Stoppers is always anonymous.
ALERT was established and is funded by the Alberta Government and is a compilation of the province's most sophisticated law enforcement resources committed to tackling serious and organized crime.