Updated: Cpl Courtney McKinley is first female soldier from 41 Signal Regiment to deploy from Red Deer in four decades
Correction: Cpl McKinley is the first female soldier from "41 Signal Regiment (2 Sqn)" in Red Deer to deploy overseas. There have been as many as 5 female soldiers from Red Deer that have deployed since 1979/80. In the original version of this article I incorrectly stated that Cpl McKinley was the first female to deploy in 4 decades. She is the first female "signaller" to deploy in that time. My apology.
What follows is the original article, updated for accuracy.
As we go about our busy lives in Red Deer, rarely do we think of the soldiers that work, live, and train in our city. The reality is that we have a growing group of soldiers here, members of 41 Signal Regiment (2 sqn) and 78th Field Battery, a unit of the 20th Field Artillery Regiment.
Given our lack of knowledge at what goes on inside Cormack Armoury and the military in general, it's fair to say many of us wouldn't realize that it's very rare for a female soldier from Red Deer to deploy on an international operation. Forty years ago this past month Cheryl Bolander, Connie Kaastrup, Karen Russel, Bev Scott and Joan Verbonic returned from deployment to Germany. In the ensuing years, there have been as many as 5 deployments of female soldiers from the city.
Those numbers were bolstered recently when Cpl Courtney McKinley Of 41 Signal Regiment took up the call and volunteered for deployment to Latvia in July 2019 for six months. McKinley returned recently to resume her studies in political science at the U of A.
Operation Reassurance in Latvia is part of NATO's assurance and deterrence measures ained to reinforce NATO's collective defence and shows the strength of solidarity of our Allied forces.
The CAF support to NATO helps make Central and Eastern Europe more secure and stable. It also shows that the CAF is a professional force that is ready for any task.
I got together recently with Cpl McKinley to talk about her unique experience.
The interview appears below, lightly edited for brevity.
How long have you been a member of the Armed Forces and what led you down that path?
McKinley: I've been a member for about 3 years. I grew up in Wainwright, and as you know, that's a military town. It really influenced me and I've always thought it was a really cool thing for people to do, and I appreciated it myself, and it's proven to lead me into some very cool experiences.
What was your role there and why did you want to do deploy?
McKinley: Well, Canada has been deploying an increasing amount of troops to Latvia the past several years as part of NATO's Enhanced Forward Prescence in the Balkins with Canada being the Framework Nation for Latvia so many of my colleagues from the Regiment and from the Brigade in general had previously deployed and I heard alot of positive feedback. It's not a combat tour, but it's more of an exercise-based mission and it really allows members to hone in on the roles of their trade and really become professional soldiers. As a Reservist, it allowed me to take my theoretical knowledge and apply it to real world situations. What led me to deploy is I wanted to put my training to a practical use to become a better soldier in the future.
What was your role?
McKinley: Being a Signaller in the Canadian Army means that you are responsible for establishing all types of communications systems. Further you need to be able to track what is going on in the battle and relay that information from the elements in the field back up to the Commanders. You are responsible for everything regarding communications in a military situation.
What did you learn from soldiers from other countries?
McKinley: We worked with militaries from approximately 9 different countries. When you form an international NATO battle group, it's an amazing dynamic because all of these different militaries are expert in some things, but not necessarily everything, Canada included. We were all able to learn from each other and bring that knowledge back to our countries and now work with our peers to advance our own skills. Montenegro for instance, is a very small country and their troops are getting some pretty extensive training on how NATO operates as a whole, and Montenegro, being the newest member of the alliance, is gaining significant knowledge and experience. In my case, I don't think I'm exceptional, but I did have the flexibility in my life, and was readily available, and I really wanted to do it.
What did this experience do for you personally?
McKinley: I guess I gained the knowledge of how other countries perceive Canada and our fighting force. And the ability to make friends with people who do not speak a common language using google translater. And learning that everyone has the same problems and challenges. One example would be, when you supply a mass amount of equipment to a group like this, there are problems – with your leadership, officers, and just personal things. One thing that really stood out for me was at Christmas. We were all away from home, it was the end of the mission, we were all tired of being away, but being able to spend time with our peers and newly-found friends was pretty awesome.
You're studying Political Science at the U of A. Do you intend to continue with your military career and does your education align with this?
McKinley: I have no plan to leave my military life. Me studying politics plays more into the nature of my curiousity in the world around me and my interest in the military, and why I wanted to deploy in the first place.
What would you say to an employer about why a reservist would be a great asset to their company or organization?
McKinley: I would say that throughout my time in the reserves, what I have learned is alot of practical skills. And that goes from how to work with people from different nationalities, down to vehicle mechanics, and how those all play into a working environment. In the military you are taking policy put in place by NATO, really taking political theory and applying it right down to maintaining the equipment needed to make sure that mission succeeds. As a troop on the ground you're part of the gears that are actually working to a successful mission and feel like I've seen all levels of that in my brief military career. The values you see in the military would be working together on a team and working towards a common goal with that team. It's not about the individual. That's probably the biggest lesson I've learned from my military career that can transcend into my civilian work. And trusting in leadership to take you where you need to be in order to be successful.
The military has made diversity a priority over the past few years. What would you say to someone, a female particularly, who is considering a career in the forces?
McKinley: It's important for them to know that all members of the army are treated equally and are all held to the same standard. I can only speak for myself, and in my experience, yes it is a male-dominated field but I've never felt at any point that I was less than because I was a woman, and I guess I'd encourage them to join if they're students or looking for practical skills development. You will have the same expectations if you are a man or a woman, and I've never experienced any objectification in my threee years. I'd encourage women to experience for themselves and listen to the experiences of women who have been in the forces. I think women are starting to realize that the military is very much a field for women as well.
Background:
In June 2017, the CAF deployed about 540 Canadian Army members to Latvia. They are leading a NATO battlegroup comprising military members from several nations, including:
Albania
Canada
Czech Republic
Italy
Montenegro
Poland
Slovakia
Slovenia
Spain
This battlegroup works as part of the Latvian Land Forces Infantry Brigade. It is based at Camp Adazi, Latvia.
Mission timeline
April 29, 2014 – the CAF sent its first CF-188 Hornet Air Task Force to Europe. Since then, the CAF had periodically sent air task forces to Central and Eastern Europe.
May 3, 2014 – the CAF sent a Land Task Force to Central and Eastern Europe, based in Poland.
May 13, 2014 – the CAF sent a Maritime Task Force of one frigate to Central and Eastern Europe.
June 19, 2017 – Canadian-led NATO enhanced Forward Presence battlegroup Latvia was stood up during a ceremony at Camp Adazi, Latvia.
August 17, 2017 – The Land Task Force in Poland completed its final deployment.
July 10, 2018 – The Prime Minister of Canada announced the renewal of Canada's contribution to NATO's enhanced Forward Presence until March 2023. The CAF will also increase the number of members deployed to Latvia from 455 to 540.
Past Deployments
CAF members have continuously supported NATO assurance and deterrence measures since 2014.
To date, seven different ships have contributed to this operation; three of them have deployed twice.
From May 2014 to August 2017, over 1000 soldiers deployed in eight rotations to Europe. Based at Drawsko Pomosrkie Training Area, Poland, they regularly took part in exercises with allies and partners.
The CAF has sent an air task force to three different countries: Romania (four times), Iceland, and Lithuania.
If you've enjoyed this article, please share it. Here's a link to a documentary from 2017 that highlights Alberta soldiers who have deployed overseas.
McDavid enters history books, Skinner shines as Oilers top Kings 2-0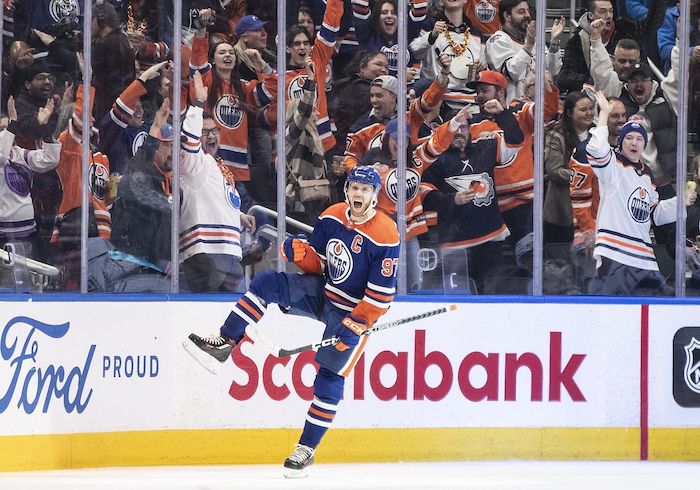 Edmonton Oilers' Connor McDavid (97) celebrates his 300th career goal, against the Los Angeles Kings during third period NHL action in Edmonton on Thursday March 30, 2023.THE CANADIAN PRESS/Jason Franson
By Shane Jones in Edmonton
Connor McDavid scored his 300th career goal, Stuart Skinner made 43 saves for Edmonton's first shutout of the season and the Oilers defeated the Los Angeles Kings 2-0 on Thursday.
McDavid became the first player in NHL history to have five different 10-game point streaks in a single season, breaking Wayne Gretzky's record of four in the 1986-87 season.
McDavid also became the fifth player in league history to reach 300 goals and 500 assists before playing 600 career games. Gretzky, Mario Lemieux, Peter Statsny and Bryan Trottier are the others.
Evander Kane scored the other for Edmonton (44-23-9), which has won three in a row and gone 12-2-1 in March.
The Oilers also moved ahead of the Kings for second place in the Pacific Division by one point.
Joonas Korpisalo made 35 saves for Los Angeles (43-22-10), which has lost two in a row on the heels on a franchise-high 12-game points streak.
Kane opened the scoring with just 52 seconds left in the first period. Leon Draisaitl made a beautiful behind-the-back spin pass to Kane, who was able to send a one-timer past Korpisalo for his 15th of the season.
Draisaitl picked up his 70th assist and extended his point scoring streak to 11 games on the play.
Skinner was later able to keep the Kings off the board midway through the second period, making a big glove save on Adrian Kempe's breakaway backhand shot.
Edmonton outshot Los Angeles 27-24 through 40 minutes after a scoreless second period.
McDavid made it 2-0 3:53 into the third period when he picked off a pass and sped away on a short-handed breakaway to score his 61st goal of the season. It was also his fourth short-handed goal of the campaign.
Skinner made huge saves on Vladislav Gavrikov and Viktor Arvidsson in the dying minutes and collected his 10th win in the month of March to set a franchise record for wins in a single month.
NOTES
The Kings entered the game with a 9-1-2 record in March and the league's best point percentage for the month, while Edmonton was second. Edmonton leads the NHL with 4.71 goals per game in March, while the Kings are fourth at 4.00. A major difference is that the Kings also had the lowest goals against per game at 2.08 during that span … Edmonton had also scored four or more goals in 11 of its 14 games this month and its power play has operated at 42.3 per cent during their 7-0-1 run coming into the contest. … Edmonton became the first team to have two players record 70 assists in the same season since the 2008-2009 Pittsburgh Penguins and just the 21st team in NHL history to do so … The Kings were without Gabriel Vilardi (upper body), while the Oilers were missing Ryan Murray (back), and Ryan McLeod (upper body).
UP NEXT
The Oilers play host to the Anaheim Ducks on Saturday.
The Kings play the third game of a four-game road trip in Seattle against the Kraken on Saturday.
This report by The Canadian Press was first published March 30, 2023.
Appropriate for Alberta premier to discuss COVID case with accused, deputy says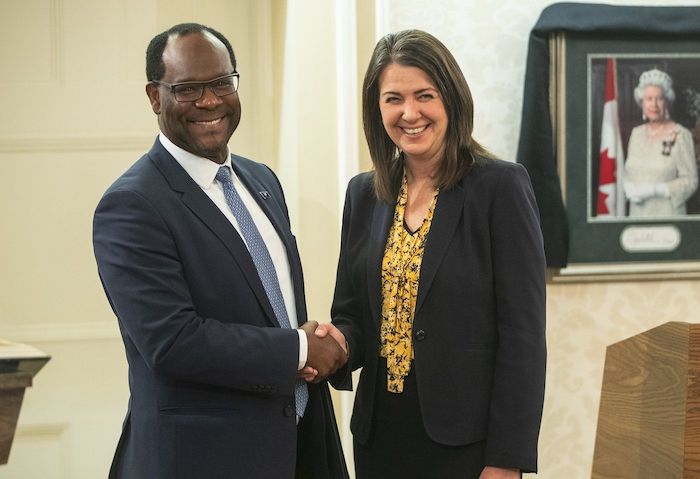 Kaycee Madu shakes hand with Alberta Premier Danielle Smith after he was sworn into cabinet in Edmonton, Monday, Oct. 24, 2022. Madu says it was appropriate for his boss to phone up a pastor charged over pandemic-rule protests and discuss the accused's upcoming criminal trial. THE CANADIAN PRESS/Jason Franson
By Dean Bennett in Edmonton
Alberta's deputy premier says it was appropriate for Premier Danielle Smith to phone up a pastor and discuss his upcoming criminal trial on charges stemming from protests over pandemic restrictions.
Kaycee Madu, who is also the province's former justice minister, said Thursday that Smith is working to make Alberta better, adding that she is free to contact whomever she wants in pursuing that mission.
Opposition NDP Leader Rachel Notley labelled Madu's comments a dangerous "la la land" rationale and the start of a slippery slope toward a "tinpot dictatorship."
Smith faces renewed criticism over a leaked phone conservation she had with Calgary pastor Artur Pawlowski in January about his looming criminal trial for his role at a protest over COVID-19 health measures that blocked the United States-Canada border-crossing at Coutts, Alta., in January 2022.
Audio of the call was obtained by the Opposition NDP and played for reporters Wednesday.
In it, Smith is heard commiserating with Pawlowski over her government's trial tactics, offering to make inquiries on his behalf and saying the Crown is pursuing politically motivated charges against him.
Legal and political observers say the call is a profound breach of the firewall separating politicians from those who decide who gets prosecuted.
Smith has long been critical of COVID-19 masking, gathering and vaccine mandate rules, questioning if they were needed to fight the pandemic. She has called them intolerable violations of personal freedoms.
Madu, when asked by reporters whether it was proper for Smith to have called Pawlowski, said: "COVID policies were divisive for the people of Alberta. I am looking to see us pass that particular era and focus on the people's priorities."
He said Smith's focus as premier has been on things that matter to Albertans, such as affordability, economic growth and taking care of the vulnerable.
"In the course of that particular work, the premier is free to speak with anyone that she wishes to speak with."
Notley said those remarks, coupled with Smith's words on the phone call, put Alberta on a slippery path to the politicization of its justice system. She called for an expedited independent inquiry into the matter before the writ is dropped next month for a scheduled provincial election.
"We're on the verge of a tinpot dictatorship," Notley said.
"You start ripping apart the fundamental tenets of democracy, you move into dictatorship. It's that simple."
Madu moved out of the justice portfolio under former premier Jason Kenney after a third-party report found he tried to interfere in the administration of justice by calling up Edmonton's police chief to complain about a traffic ticket.
Madu was given a new portfolio under Kenney, then promoted to deputy premier when Smith won the party leadership and became premier in October.
Smith has not spoken to reporters since the audio was released, but in a statement Wednesday reiterated she has acted strictly within the parameters of advice from justice officials and has not spoken directly to Crown prosecutors.
"There is no need for further investigation of this matter," Smith said in a statement Thursday.
Notley said the call is dramatic and disturbing proof of Smith breaching the judicial firewall.
"You cannot have unfettered power in the office of the premier. There are limits," Notley said. "Our Constitution for as long as we've been a country has said that those limits are defined by an independent judicial system."
Calgary-based pollster Janet Brown said the controversy will reanimate voter concerns with Smith.
"Why was she even taking a call from someone facing a criminal offence and talking about their criminal charges?" said Brown in an interview.
"This will give undecided voters pause. They will be wondering about her judgment, and her judgment is her Achilles heel."
Political scientist Duane Bratt said Smith is exerting pressure on the justice system by constantly questioning justice officials about why they are pursuing COVID-19 cases.
"Even if this isn't about talking to Crown prosecutors, this is clear pressure on (Justice Minister Tyler) Shandro," said Bratt, with Mount Royal University in Calgary.
Constitutional law professor Eric Adams, with the University of Alberta, said the call threatens public trust in the courts.
"You expose the administration of justice to the reasonable concern of the public that some people have access to the premier and preferential treatment and some people don't," said Adams.
"Our system can't function on that basis."
This report by The Canadian Press was first published March 30, 2023.