Breaking Bad Sized Seizure – ALERT and Edmonton Police Service take over 1.3 million in meth off the street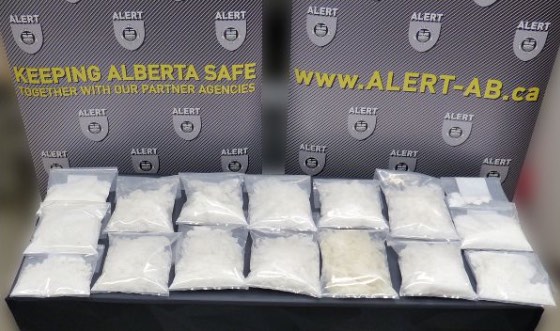 From ALERT – The Alberta Law Enforcement Response Team
Major Meth Seizure Made in Edmonton
Nearly 14 kilograms of methamphetamine were seized from an Edmonton home as part of an ALERT drug trafficking investigation. The drugs have an estimated street value of $1.35 million.
ALERT Edmonton's organized crime and gang team made the seizure on December 30, 2020, after four Edmonton homes were searched. The Edmonton Police Service helped execute search warrants at homes in the Summerside, Oliver, Strathcona, and Rosenthal neighbourhoods.
Inside one of the homes, ALERT seized 13.77 kilograms of methamphetamine, which is a significant amount of drugs prevented from making their way into the community. This would equate to more than 45,000 doses when sold at street level.
"This amount of meth represents a high degree of community harm. The influx of cartel-connected meth into our province has fueled violence, ancillary property crimes, and poses serious health concerns. ALERT has prioritized these types of investigations and we are committed to disrupting the meth trade," said Supt. Dwayne Lakusta, ALERT CEO.
Since 2015, ALERT has seized approximately 110 kilograms of meth from across the province.
"In this case, our investigators believe we hit the distribution point and stopped a lot of drugs from making their way to Edmonton and outlying areas," said Insp. Kevin Berge, ALERT Edmonton.
In addition to the methamphetamine, ALERT also seized:
119.85 grams of cocaine;
112.2 grams of MDMA;
4.3 grams of suspected fentanyl;
63 grams of cannabis resin;
19 grams of psilocybin mushrooms;
40 Oxycontin tablets; and
$8,850 cash.
The four-month investigation came as the result of a tip concerning drug trafficking activity.
ALERT's investigation is ongoing and charges are pending.
Members of the public who suspect drug or gang activity in their community can call local police, or contact Crime Stoppers at 1-800-222-TIPS (8477). Crime Stoppers is always anonymous.
ALERT was established and is funded by the Alberta Government and is a compilation of the province's most sophisticated law enforcement resources committed to tackling serious and organized crime.
Two males facing various charges, following firearm-related incidents in restaurant drive-throughs 
Police seek public's help to ID two remaining suspects
Two men are facing various charges in connection to a pair of firearm-related incidents that occurred in two Edmonton restaurant drive-throughs on Oct. 9.
At approximately 3 a.m., Saturday, Oct. 9, 2021, EPS Southwest Branch patrol members responded to a weapons complaint at a restaurant near 103 Street and 80 Avenue.
It was reported to police that several males, who did not have access to a vehicle, were ordering food at the restaurant's drive-through window. At that time, a 2018 Dodge Durango carrying four males pulled into the drive-through behind them. It is alleged, the 24-year-old driver of the Durango stepped out of the vehicle and approached the complainants, then pointed a firearm at the male complainants, before lowering the weapon and firing a shot at the ground.
The remaining three suspects subsequently exited the vehicle and approached the complainants. Two of the suspects then violently assaulted an 18-year-old male and a 22-year-old male with both complainants falling and striking their heads on the ground. The suspects continued to assault the males while they lay on the ground, before returning to their vehicle.
Paramedics treated and transported the two males to hospital with what appear to be serious, non-life-threatening injuries.
Approximately 25 minutes later, EPS Northwest Branch patrol members responded to a weapons complaint at a restaurant drive-through near 96 Street and 165 Avenue. In this incident, it was reported to police that a male driving an SUV approached the drive-through window demanding a large quantity of food. The male suspect then verbally abused the clerk, before allegedly reaching for and displaying a firearm inside the vehicle, while staring at the restaurant employee. The vehicle subsequently fled the scene.
With the help of surveillance video in the area, EPS investigators were able to confirm that the same 2018 Dodge Durango was involved in both incidents. At approximately 9:30 a.m., Sunday, Oct. 10, 2021, police located the suspect vehicle, and surrounded a residence near 178 Avenue and 103 Street NW.
A search warrant was executed at the home, where investigators recovered a firearm believed to be the weapon used by the suspect male in the two incidents. Police also seized various ammunition and 110 grams of cocaine.
Isiaha Chermak, 24, of Edmonton (the driver) and Darrious Ellis (one of the passengers), have each been charged with aggravated assault and various firearm–related offences.
Investigators are releasing surveillance images of the two other suspect males, who still remain at large. Anyone with information about these two individuals and/or the driver and passenger of the silver Mazda 3 seen in the images, is asked to contact the EPS at 780-423-4567 or #377 from a mobile phone. Anonymous information can also be submitted to Crime Stoppers at 1-800-222-8477 or online at www.p3tips.com/250.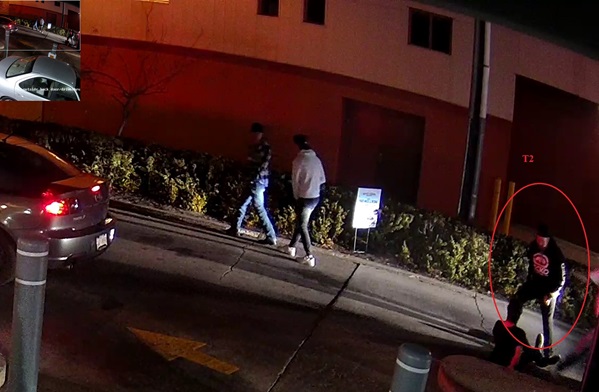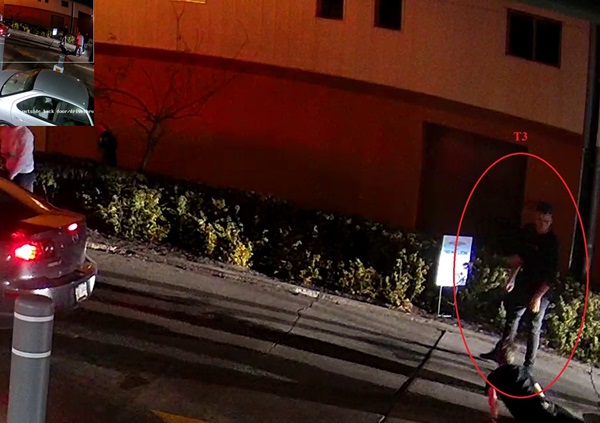 EPS investigators are seeking the public's assistance to identify the two remaining suspects (circled in above photos) involved in a firearm-related assault in a fast food drive-through south of Whyte Avenue at approximately 3 a.m., Oct. 9th. Police would also like to speak to the driver and passenger of the silver Mazda 3, which was also in the drive-through that evening (seen in above photos).
Red Deer: Alberta RCMP Major Crimes Unit investigate homicide of 2-year-old  
Oct. 15, 2021
from Alberta RCMP
Alberta RCMP Major Crimes Unit investigate homicide of 2-year-old
Red Deer, Alta. – On Oct. 10, 2021, at approximately 9:30 a.m., Red Deer RCMP received a request to attend a residence in the City of Red Deer to assist Emergency Medical Services, as a 2-year-old child had sustained critical injuries. The child was transported to a local hospital where they died as a result of their injuries.
As a result of further investigation, Red Deer RCMP arrested an adult female at the residence. The Alberta RCMP Major Crimes Unit took over carriage of the investigation.
On Oct. 11, 2021, the Alberta RCMP Major Crimes Unit charged a 30-year-old adult female from Red Deer with First Degree Murder in relation to the death of the 2-year-old child.
Alberta RCMP Major Crimes' investigation indicates the individuals were known to each other and the general public was not at risk. The Alberta RCMP Major Crimes Unit are not looking for any other suspects involved in the incident.
Due to a publication ban, the identity of the adult female charged and the victim cannot be released.
As this matter is now before the courts, no further information will be provided.