Nominate an Alberta artist or arts collective for 2023 Distinguished Artist Award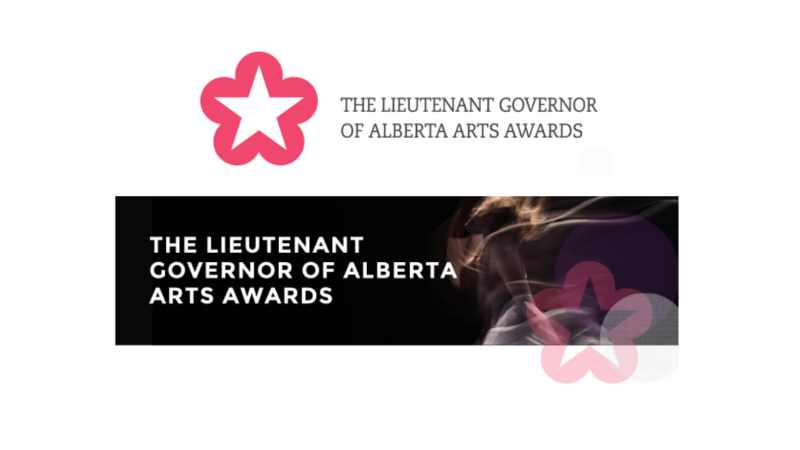 Since the program's launch in 2005, 23 Lieutenant Governor of Alberta Distinguished Artists have been awarded this title, along with a $30,000 prize, a two-week residency at the Banff Centre's Leighton Artist Studios, and a profile video on the artist. The awards were founded to highlight and celebrate Alberta's rich artistic talent – and we know there is so much to celebrate here!
The Lieutenant Governor of Alberta Distinguished Artists have impacted a wide range of arts disciplines provincially, nationally and internationally. Our Distinguished Artists include architect Douglas Cardinal – puppeteer Ronnie Burkett – visual artists Jane Ash Poitras, Alex Janvier, Peter von Tiesenhausen – sculptor Katie Ohe – composer John Estacio – dance choreographer Vicki Adams Willis – sopranist Frances Ginzer – authors Aritha van Herk, Rudy Wiebe – poet Alice Major, and theatre collectives One Yellow Rabbit and Old Trout Puppet Workshop – plus others! Check out our profiles of Alberta's Distinguished Artists at artsawards.ca
The Lieutenant Governor of Alberta Distinguished Artist Award is Alberta's most prestigious recognition of outstanding achievement in the arts. This award recognizes:
The highest degree of artistic excellence.
Career achievement; and/or significant body of work; and/or breakthrough contribution, including pushing the boundaries of the art from.
Significant impact on the arts in Alberta.
Help us celebrate Alberta's artists by nominating one or more artists for the 2023 Distinguished Artist Award. If you have nominated someone in the past who has not yet been recognized we welcome your updated re-submission.
This award has lifted our artistic spirit and propelled our work through the affirmation of our peers and our audience, and it has humbled us to be counted among such amazing talent – in this way we are driven to work harder and to reach further, to push the limits of art in Alberta.
Canada's food costs expected to increase by $700 per family in 2024: report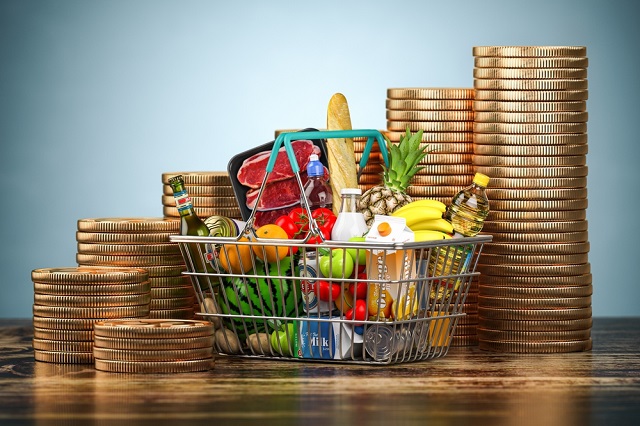 'When Trudeau's carbon tax makes it more expensive for farmers to grow food and truckers to deliver food, his carbon tax makes it more expensive for families to buy food'
A new report estimates that food costs for a family of four in Canada will increase by $700 in 2024 amid the ongoing carbon tax and rising inflation.
On November 27, researchers from Dalhousie University, the University of Guelph, the University of Saskatchewan, and the University of British Columbia published Canada's Food Price Report 2024, which reveals that food prices will only rise in 2024.
"The current rate for food price increases is within the predicted range at 5.9% according to the latest available CPI data," the report stated. The report further revealed that the increases are expected to be less than in 2023.
According to the research, the total grocery bill for a family of four in 2024 is projected to be $16,297.20, which is a $701.79 increase from last year.
Bakery, meat, and vegetables are expected to see a 5% to 7% increase, while dairy and fruit prices are projected to ride 1-3%. Restaurant and seafood costs are estimated to increase 3-5%.
The report further revealed that, "Canadians are spending less on food this year despite inflation," instead choosing either to buy less food or to buy poorer quality of food.
"Food retail sales data indicates a decline from a monthly spend of $261.24 per capita in August 2022 to a monthly spend of $252.89 per capita in August 2023, indicating that Canadians are reducing their expenditures on groceries, either by reducing the quantity or quality of food they are buying or by substituting less expensive alternatives," it continued.
In addition to food prices, the report found that "household expenses like rent and utilities are also increasing year over year."
"A recent report by TransUnion found that the average Canadian has a credit card bill of $4,000 and a 4.2% increase in household debt compared to last year, all of which are possible contributors to reduced food expenditures for Canadians," it continued.
Canadian Taxpayer Federation Director Franco Terrazzano told LifeSiteNews, "The carbon tax makes grocery prices more expensive."
"When Trudeau's carbon tax makes it more expensive for farmers to grow food and truckers to deliver food, his carbon tax makes it more expensive for families to buy food," he explained.
"The carbon tax will cost Canadian farmers $1 billion by 2030," Terrazzano added. "The government could make groceries more affordable for Canadians by scrapping the carbon tax."
Conservative leader Pierre Poilievre referenced the report, blaming the increased prices on Prime Minister Justin Trudeau's policies, saying, "EVERYTHING is more expensive after 8 years of Trudeau. He's not worth the cost."
EVERYTHING is more expensive after 8 years of Trudeau.

He's not worth the cost. pic.twitter.com/0tCwaRJHwC

— Pierre Poilievre (@PierrePoilievre) December 7, 2023
The report should not come as a surprise to Canadians considering a September report by Statistics Canada revealing that food prices are rising faster than the headline inflation rate – the overall inflation rate in the country – as staple food items are increasing at a rate of 10 to 18 percent year-over-year.
Despite numerous reports indicating Canadians are experiencing financial hardship, the Trudeau government has largely ignored the pleas of those asking for help, while consistently denying their policies have any impact on inflation or the economy more broadly.
Trudeau has continued to refuse to extend the carbon tax exemption to all forms of home heating, instead only giving relief to Liberal voting provinces.
The carbon tax, framed as a way to reduce carbon emissions, has cost Canadians hundreds more annually despite rebates.     
The increased costs are only expected to rise, as a recent report revealed that a carbon tax of more than $350 per tonne is needed to reach Trudeau's net-zero goals by 2050.     
Currently, Canadians living in provinces under the federal carbon pricing scheme pay $65 per tonne, but the Trudeau government has a goal of $170 per tonne by 2030.    
The Trudeau government's current environmental goals – which are in lockstep with the United Nations' "2030 Agenda for Sustainable Development" – include phasing out coal-fired power plants, reducing fertilizer usage, and curbing natural gas use over the coming decades. 
The reduction and eventual elimination of so-called "fossil fuels" and a transition to unreliable "green" energy has also been pushed by the World Economic Forum (WEF) – the globalist group behind the socialist "Great Reset" agenda in which Trudeau and some of his cabinet are involved. 
However, some western provinces have declared they will not follow the regulations but instead focus on the wellbeing of Canadians.  
Both Alberta and Saskatchewan have repeatedly promised to place the interests of their people above the Trudeau government's "unconstitutional" demands, while consistently reminding the federal government that their infrastructures and economies depend upon oil, gas, and coal. 
"We will never allow these regulations to be implemented here, full stop," Alberta Premier Danielle Smith recently declared. "If they become the law of the land, they would crush Albertans' finances, and they would also cause dramatic increases in electricity bills for families and businesses across Canada."     
Saskatchewan Premier Scott Moe has likewise promised to fight back against Trudeau's new regulations, saying recently that "Trudeau's net-zero electricity regulations are unaffordable, unrealistic and unconstitutional."   
"They will drive electricity rates through the roof and leave Saskatchewan with an unreliable power supply. Our government will not let the federal government do that to the Saskatchewan people," he charged.  
APP Update: Chief Actuary of Canada to provide opinion on Alberta's share of CPP assets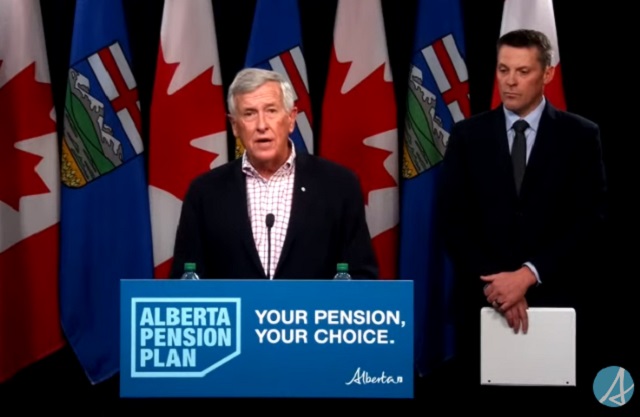 Alberta Pension Plan engagement
The Alberta Pension Plan Engagement Panel is giving the office of the chief actuary of Canada some time to release findings before scheduling new public sessions.
This fall, the Alberta Pension Plan Engagement Panel, led by former provincial treasurer Jim Dinning, invited Albertans to discuss the findings of an independent report on a potential provincial pension plan. The panel has been collecting feedback from Albertans since then, with more than 76,000 Albertans participating in five telephone town hall sessions and more than 94,000 Albertans completing the online survey. The first phase of the engagement is now complete, and the panel will now analyze what it has heard from Albertans so far.
"Albertans can rest assured that their voices have been heard and that's why I tabled the Alberta Pension Protection Act, which provides Albertans with certainty that their pension contributions are safe and that we will not proceed with a provincial plan without their say through a referendum. This is a complex process and one that we do not take lightly."
During this first phase of engagement, it quickly became clear that Albertans wanted more precise information on the value of the asset transfer Alberta would be entitled to receive if it were to withdraw from the Canada Pension Plan. While the LifeWorks report was able to provide a reasonable asset transfer value by relying on publicly available data, determining a more precise number requires analysis from the federal government.
Following discussions between Canada's finance ministers, the federal finance minister has committed to asking the chief actuary of Canada to provide an opinion on Alberta's share of the CPP assets. Alberta's government is hopeful that this work can be completed promptly so that Albertans can have as much information as possible as they consider the possibility of a new plan. To that end, the panel has decided to give the chief actuary of Canada some time to release their findings before scheduling new public engagement sessions.
Albertans continue to have the opportunity to participate in the conversation by reading the information on AlbertaPensionPlan.ca and completing the online workbook.
"We are pleased with how many Albertans we have reached with our consultations to date. The LifeWorks report presents an opportunity worth exploring and Albertans have answered that call, but what we've heard loud and clear is that they want to hear how the federal government calculates the asset transfer number. We will start the next round of public meetings when we have more clarity on that number, but in the meantime, we encourage everyone to have a look at our workbook and provide feedback there."
Throughout this entire process Alberta's government committed to ensuring the most-up-to-date information is provided to Albertans.
Related information