7 USEFUL TIKTOK MARKETING TACTICS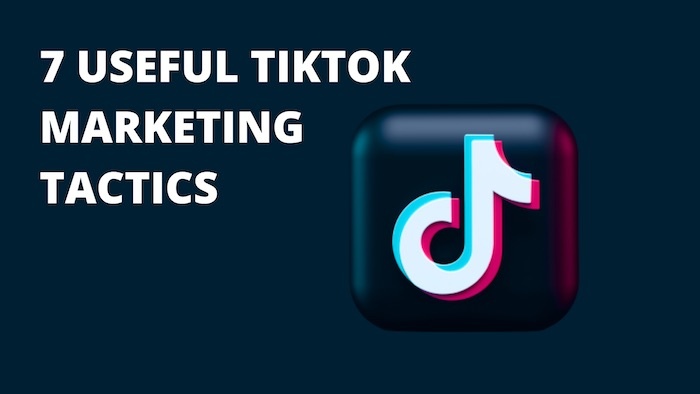 Only within a couple of years, TikTok has become one of the most widely used and popular social media platforms, especially amongst Gen-Z. It has become the go-to app for entertainment and also increasing exponentially for brands. If you are a creator on a hunt for useful marketing tactics, this article is for you. So read this article to know 7 useful TikTok marketing tactics to increase your engagement rate on TikTok, other than simply to buy TikTok followers.
FOLLOW TRENDS WITH A TWIST
TikTok is all about the dynamic nature of trends, giving its users a lot of room to experiment with. If you want to market yourself well and increase engagement rate on TikTok, you have to be quick to catch up with trends in all domains. From using trending hashtags to trying trending challenges to inserting trendy music; you have to be quick with all of these and have fun with it at the same time. Because the one trend that has remained consistent about TikTok is that it's all about having fun and being cool. Adding a twist to trends with a personal touch may help you start a new trend and also attract more audiences, owing to your creativity.
PROVIDE SOME AUTHENTIC VALUE
Nothing can market you quicker than your own content. This implies that you have to provide some value to people to grab their attention. You have to create content that is either entertaining or inspirational. Whatever niche you pick, master your art to stand out and increase engagement rate on TikTok. Make sure that the content you post must be authentic and real because if you simply post copied content, you will be caught and you will simply be redirecting your audience to the creator's account. This also means that you can create your own challenges and hashtags for a faster and more prominent response from your audience.
KEEP CONTENT SHORT BUT INTERESTING
TikTok makes no exception when it comes to the 3-seconds rule! According to this, the first three-second of your video can decide whether your audience is here to stay or they'll simply scroll on to the next creator. If you want to increase your engagement rate on TikTok and market yourself, you have to ensure that the initial part of your videos is captivating enough to make people stay. People are also quick to get bored and lose interest. Hence, keeping your videos short and precise can help in maintaining the fun factor. In case of your inspirational videos or storytelling, you can keep it short by being intriguing and dropping cliffhangers so people have a reason to stay tuned to your space.
COLLABORATIONS
If you want to market yourself well on TikTok, your account doesn't necessarily have to be the only space where you can gain fame. Here comes the role of collaborations. Collaborating with other brands, and influencers can display you on their account, redirecting people to you. If you have a history of collaborations, other brands are more likely to check you out. Further, you don't necessarily need to "collaborate" with other influencers in a monetary sense. However, creating duels, taking up challenges together, doing an account takeover and such ideas can help you grow potentially through the other person's audience. So, come out of your shell and reach out to creators of your interest.
STITCH
TikTok has a lot of up-and-coming features each new day and stitch is another one of its blessings! This new feature allows one to use other video clips in their videos, giving due credits. Make sure that you have given permissions in your privacy that everyone can use your content for stitch. This way, if someone resonates with your content and uses it in their videos; it can make their followers be interested in you and explore your profile. You can also include other people in your Stitched videos to expand your reach by attracting their fans.
STAY ACTIVELY ENGAGING AND CONSISTENT
One of the foremost marketing tips on TikTok, or any platform is to remain active and consistent. Remember that TikTok is for fun and you have to keep having fun, without letting yourself down. It takes time for some people to increase engagement rate on TikTok but saying inconsistent will only make the process longer. Staying engaging can further make people feel a connection for you and improve the quality of your followers. If people start engaging with your videos, there is a higher probability of your efforts being recognized. So, reply to comments, DMs, go live and be friendly with everyone.
TRACK YOUR ANALYTICS
You do things on TikTok that may be working for your TikTok marketing, and others that may not be your cup of tea. The only way to find out is by actively tracking your analytics, and making comparative decisions. You can upgrade to TikTok pro, pick your industry, and look at the overview, followers, and content section to get a clear picture.
CONCLUSION
TikTok is different from other channels and platforms, and it may be said that it requires more effort to market yourself and sell your name on TikTok. However, as long as you continue to have fun and stay consistent, you'll get there. Stay tuned for more tips to master the art of various aspects of social media.
Edmonton company releases a world first NFT project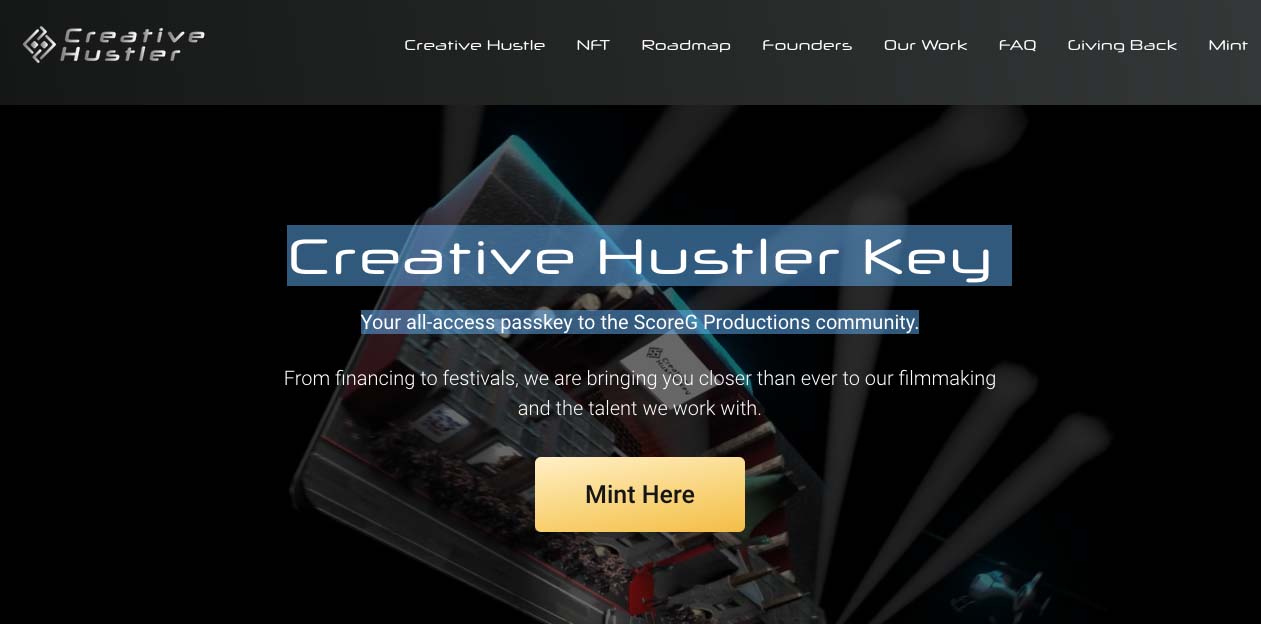 Edmonton based; Score G Productions, launched a first of its kind in the world NFT (non-fungible token) project on April 17th. It's called, Creative Hustler Key. Creative Hustler Key gives buyers through a one-time payment, a lifetime all-access passkey to the Score G Productions. This includes access to a full community of content producers, executive producers, exclusive 3-D NFT artwork, exclusive videos, and even monthly members only access to online workshops featuring creative content producers from around the world. The Creative Hustler Key NFT even offers chances to win access to live in-production sets, access to their studios during editing and post-production, and chances to win tickets and trips to future red-carpet movie premier events. There's more in the works too. Basically, buyers will get access to Score G Productions' impressive Rolodex and industry knowledge.
There are only 999 pass keys for sale, once gone, it will never be expanded, with the promise of no copycat versions of this Creative Hustler Key to ever be started by their team.
We asked Score G Productions founder, father of three, married to his high school sweetheart, Edmonton based Adam Scorgie why he'd take on such a huge undertaking when they are already successful in the film production industry? Scorgie replied, "We get calls, emails and social media posts asking us to help people all the time. People approach us at public events, asking for mentorship, internships, contact access, script readings, it is all kind of overwhelming." Continuing, "I wish I had people I could have called when I was starting out. I knew what I wanted to do, but I knew no one and knew nothing." Explaining, "This is our pay it forward move. I want to help as many people as possible, in any way I can."
A huge personal belief for Scorgie is explained, "I like to do things in and as a team; this will be a world's first team like this. Extremely unique."
The now, world-wide known and highly respect filmmaker with an extensive library of finished and in-production projects never planned on being a film producer, he in fact, never went to film school. He did however, go to acting school in New York and had credits in voice, as dancer, movie and soap opera acting credits. Things were looking up and moving along nicely.
But then his father, Buddy, got sick, very quickly. At 23, he dropped his dreams of Hollywood fame and fortune, moving back to Kelowna where he was born and raised to take over his dad's business, Cheetah's Show Lounge & Bar. Kelowna's only stripper bar. "I went from 23 to 35 in like six months!" the forced adult entertainment entrepreneur said.
His father passed away after a short health battle.
Then things got "really tough". A lawsuit was filed against his father's estate, he had a new partner in the business. While he tried to keep the clothes on his own back and his business afloat; Adam noticed a lot of his patrons, high school friends, same age as himself with cash pouring out of their pockets and stacked high on their tables in the VIP section. They all had 70+ thousand-dollar trucks, 50k Harleys, houses and more. He asked them, what the hell they were all doing to become so rich, so fast? They all said, "We are in the Union, you should join us."
This was in the height of the multi-billion-dollar BC Bud days. The "Union" was code for underground pot grower for organized crime rings being done at arm's length. While Adam admits, he did come close to joining the "Union", he ended up selling his share in the stripper club and put every last cent he had, plus some extra money borrowed from his stepdad into making a full-length documentary movie with his new partner, Vancouver director Brett Harvey. The film was called, The Union: The Business Behind Getting High and it quickly gained a cult following around the world.
And the rest is history! If only it was that easy. Scorgie laughs while reminiscing, "People said I was nuts. I have heard that a lot over the years, especially for just living in Edmonton and not Hollywood."
He fully expects people to say this again about this unique NFT rollout. Being young and ahead of the curve is nothing new for Adam and his team. Scorgie expands, "We didn't have any money for PR marketing firms or to pay agents to promote us. So, we did it all on Facebook and other social media platforms." Continuing, "We had 1.2 million followers on Facebook alone. "Today every production has huge teams of social media specialists, with very expensive detailed marketing plans for social media promotions long before any production even gets close to post-production."
Scorgie remembers one meeting with Hollywood executives when they were shopping a world-wide release of the final cut of the Union. One said, "Oh isn't that cute, you have a Facebook page." Then they saw the Union page had over a million followers for the indie production. Adding, "That got their attention. No one is laughing at us anymore." Finishing, "And years from now, no one will be over this new NFT project."
One of Scorgie's closest friends and partner in Score G Productions, Shane Fennessey, explains more about the Creative Hustler Key project, "There is nothing in the world like what we just launched by offering a real, hands-on community of successful high-quality, award-winning professionals from the film production industry." Adding, "NFT's are known for exclusive digital images and video, yes with us you still get exclusive 3-D images that took months to produce and exclusive videos with the purchase of these keys." Continuing, "What is truly different and very exciting is that this is a utility driven NFT project, a place where professionals will collaborate. It has long-term value too. We are young. As long as we are a business, these keys never expire" Adding, "There are no annual renewal fees, you own the Keys, you can sell them for the going price any time in the future, you can even add them to your estate, they are yours."
Expanding on the added values of the only 999 keys available, Fennessey says, "We know how to apply for grants, we know where the grants are, we know how to fund-raise for the next project." Continuing, "We know all the tax credits and other forms of how to finance projects. We are going to share all of this and even more knowledge that we have about this industry."
In closing Fennessey said, "We love the idea of opening doors for new young Creative Hustlers." Asked if it will it sell out, "Most likely and very quickly we expect, with no outside advertising or media coverage 10% of the 999 keys sold in just the first 2-hours of the Sunday release."
Details for how to get involved can be found here; https://creativehustlerkey.com/
Score G Production's main catalogue;
Alberta sets sights on cryptocurrency 'Wild West,' aims to attract maverick companies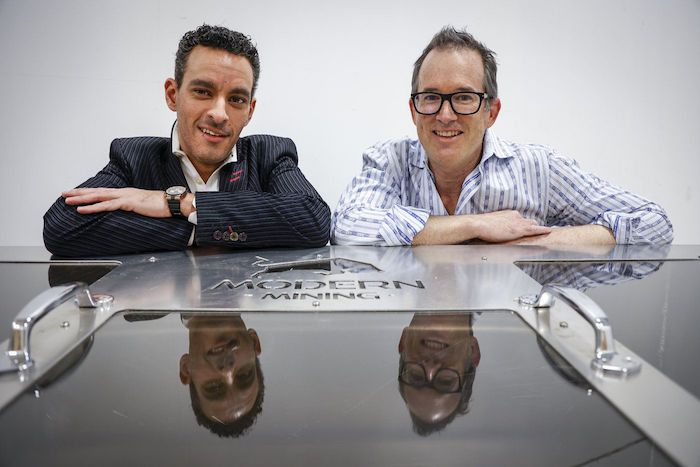 By Amanda Stephenson in Calgary
Cryptocurrency has been described by some observers as a "Wild West," so it's no surprise that of all Canadian provinces, Alberta is the one that has set its sights on becoming a North American hub for the maverick industry.
The oil-and-gas producing province that prides itself on its entrepreneurial history is now touting its ambition to become a North American hub for companies trading in and offering services related to Bitcoin, Ethereum, Dogecoin and other digital assets.
In the province's throne speech last month, Alberta's UCP government declared its intention to table legislation aimed at "promoting innovation" in the financial services sector by allowing companies to test new products and services.
The throne speech also mentioned future legislation that will solidify Alberta's reputation as a "modern electricity powerhouse and a magnet for investment in emerging technology like data storage and cryptocurrency."
While the details of any forthcoming legislation have yet to be revealed, Jobs Minister Doug Schweitzer said in a recent interview that companies operating in the crypto space have demonstrated "immense interest" in the province in recent months.
"It's still very much in its infancy in Alberta," Schweitzer said. "But I think there's an opportunity for Alberta to play a leadership role in Canada by creating a home for these venture companies."
Alberta has already established itself as an attractive destination for cryptocurrency miners, who have set up a number of operations at various locations throughout the province. (The supercomputers used to mine for Bitcoin and other crypto tokens require vast amounts of low-priced power to be economical, so miners are often attracted to Alberta's deregulated electricity system and abundant supply of natural gas).
Beyond mining, the province is also increasingly home to a wide range of other cryptocurrency-related firms, from those that specialize in the custody and storage of digital assets to manufacturers of crypto mining equipment like immersion cooler containers.
"I would say Alberta is close to unique, from what we've seen, in terms of how focused they are on attracting innovative financial technology companies," said Emile Scheffel, vice-president of Brane Inc., which recently chose Calgary as the headquarters for its new subsidiary, Brane Trust.
Brane Trust will provide secure custody of digital assets such as Bitcoin and Ethereum for institutional clients like banks and asset managers that either manage cryptocurrencies, or are seeking to expand their services to cryptocurrency services.
But setting up the business in Brane's home base of Ontario proved difficult from a regulatory perspective. Getting the necessary regulatory approvals would have taken up to two years, whereas Alberta rolled out the welcome mat, Scheffel said.
"When we first reached out to regulators in Alberta about our ambitions, they were knowledgeable about cryptocurrency already — they had the necessary expertise to be able to do this," he said.
Brian Mosoff — CEO of Toronto-based Ether Capital, which helped to launch the world's first Bitcoin ETF last year alongside Purpose Investments — said cryptocurrency companies face many challenges from a regulatory perspective. In Canada, there isn't even clarity yet about what type of assets digital currencies really are.
"Are they commodities? Are they securities?" Mosoff said. "We don't even have an exchange that can compete on an international level."
Globally, cryptocurrency is already a multi-trillion asset class, Mosoff said, so any jurisdiction that can think outside of the box and create a regulatory framework that doesn't push these types of businesses away stands to benefit. (Schweitzer has indicated Alberta's desire to develop a "regulatory sandbox" for crypto companies interested in setting up in the province).
"It's about creating a culture and environment for all of those groups of people who are inspired by (cryptocurrency) to migrate into that jurisdiction," Mosoff said. "Either because they think it's favourable in terms of tax or regulation, or because they feel they can experiment with things without having the book thrown at them."
Modern Mining is an Alberta-headquartered Bitcoin mining company that is currently building its first mining facility near the city of Medicine Hat, in the southeast corner of the province.
Sebastian Elawny, Modern Mining's chief legal officer, acknowledged that there has been an uptick in interest in the province by crypto companies in the last year, but said that's largely because of China's crackdown on the industry.
"All of a sudden, there were hundreds of thousands of mining rigs that needed to find new homes," he said.
But Elawny said U.S. destinations like Miami and Texas remain far more attractive to the industry. While he said Alberta's electricity market is an asset, the province has a long way to go if it truly wants to be a leader in the crypto space.
He names the carbon pricing system in Alberta as one disincentive for the electricity-guzzling crypto industry, as well as the challenges cryptocurrency companies can face securing financing.
"It's even very difficult to get a bank account if you're a crypto company in Alberta," Elawny said. "We currently face a lot of challenges as a business trying to operate in Alberta, and we as a group are actually exploring our options outside of Alberta, because we're falling behind already."
This report by The Canadian Press was first published March 27, 2022.