173 day long disaster in India ended by Piston Well Services of Red Deer
Burning since June 9, a well blowout at Baghjan, India had foiled all who were tasked with somehow stopping the flames.  Oil India Limited (OIL) tried regional companies and then it reached out internationally.  Now one was able to fix this well blowout until they called in Piston Well Services Inc.  The Red Deer based company was able to kill the well within days.
Alert Disaster Control (ALERT), with their well intervention service partner, Piston Well Services, have completed the critical well killing operation in Assam, India.
Piston Well Services mobilized a 142K Snubbing/Hydraulic Workover Unit and specialists to India to assist ALERT in the final phase of the well kill operation. Oil India Limited. officially designated the well as 'killed' on November 15 at 1400 hrs local time.
ALERT and Piston Well Services thank everyone that contributed and persevered through the unprecedented logistical challenges to support the operations. Oil India Limited's commitment to the successful conclusion of the operations, will continue to support the local community and ensure the ongoing protection of the sensitive adjoining wetland areas.
#canadianenergy #albertaenergy #teampiston
By RISHU KALANTRI
Tinsukia, Nov 15: Oil India Limited (OIL) on Sunday finally achieved success in killing the blowout well at Baghjan in Assam's Tinsukia district, almost five and a half months after the blowout occured on May 27.
The development came two hours after the "kill fluid" was pumped into the well at a depth of 3600 metres as part of the last phase of snubbing operation.
The good news comes in the evening
OIL tweeted at 5.35 pm on Sunday: "Baghjan blowout well successfully killed: The well has been killed with brine solution & under control now. Fire has been doused completely. There is no pressure in the well now & the same will be observed for 24 hours to check if there is any amount of gas migration & pressure build up."
Talking to NewsFileonline, OIL spokesperson Tridiv Hazarika said the process to inject the kill fluid started around 11 am on Sunday and soon positive results were visible. "However, it will take few more hours before achieving 100 per cent success," he said.
"Director (exploration and development ) P Chandrasekaran, director (operations) PK Goswami and resident chief executive BK Dad visited the Baghjan well site and had detailed discussions with the experts from Alert (Damage Control)  and OIL crisis management team (CMT)," said Hazarika, adding: "Further operations to abandon the well is in progress."
The way ahead
According to an OIL source involved with the operation, the next step would be to pull out the pipes which will be followed by cementing the well. "Once it is done and tested, the snubbing unit will be uninstalled, blowout preventer (BoP) will be removed and X-mas tree will be placed before the well is abandoned."
In August, OIL succeeded in capping the blowout well by installing BoP on the well head after two failed attempts on July 31 and August 10.
However, the kill-the-well operation failed following detection of a leakage at the casing well head and here's when the global experts from M/s Alert Damage Control decided to move in for snubbing operation and tied up with Alberta-based Piston Well Services to move in its snubbing unit alongwith four crew members.
The 60-ton snubbing unit was flown in from Canada's Calgary by the world's largest cargo aircraft — Antonov An-24, to Kolkata in the third week of October and it reached the blowout well site on November 4.
On September 13, OIL succeeded in diversion of the gas after a failed attempt and used the opportunity to start partial production from a well under blowout for the first time in OIL's history.
What is snubbing unit and the process?
A snubbing unit is a hydraulic rig that can do everything a rig can do in addition to its ability to perform under pressure in an under balanced live well state.
Snubbing operation is a type of heavy well intervention performed on oil and gas wells. It involves running the BHA on a pipe string using a hydraulic workover rig. Unlike wireline or coiled tubing, the pipe is not spooled off a drum but made up and broken up while running in and pulling out, much like conventional drill pipe.
In oil parlance, the well is killed at the bottom by inserting pipes and pumping mud through this new pipe. Killing entails injecting artificial mud into the well at very high pressure to fill up the well and stop the gas from rising to the surface.
Due to the large rigup, it is only used for the most demanding of operations when lighter intervention techniques do not offer the strength and durability. The first snubbing unit was primarily designed to work in well control situations to "snub" drill pipe and or casing into, or out of, a well bore when conventional well killing methods could not be used. Unlike conventional drilling and completions operations, snubbing can be performed with the well still under pressure (not killed). When done so, it is called hydraulic workover. It can also be performed without having to remove the Christmas tree from the wellhead.
Baghjan gas well No 5 — India's longest well on fire 
OIL has 22 producing wells, 18 oil wells and four gas wells at Baghjan Oil Field in Tinsukia district.
The "blowout" occured at the gas well No. 5 at Baghjan oilfield, in the proximity of Maguri-Motapung Beel and Dibru Saikhowa National Park, while workover operations were under way to produce gas from new sand (oil and gas bearing reservoir) at a depth of 3,729 metres. This caused natural gas and condensate oil gush to hundreds of feet in the air and spill all around.
The well caught fire on June 9 and has been raging for 160 days before finally getting doused today.
Political scientists say Kenney must rethink pugilistic approach on oil, environment
EDMONTON — Political analysts say Premier Jason Kenney must rethink his traditional "fight back" approach and start building bridges to reconcile environmental concerns with oil and gas development.
"Attacks are not going to persuade anybody," Lori Williams, a political scientist at Mount Royal University, said in an interview Thursday.
"You don't set up a war room whose purpose from the get-go is to go after environmentalists. That's a problem when you have an environmentalist in the White House."
U.S. President Joe Biden, on his first day in office Wednesday, fulfilled a long-standing campaign promise to cancel the permit for the Keystone XL pipeline expansion.
The line would have taken more oil from Alberta through the United States to refineries and ports to help alleviate the current price discount on the province's landlocked oil.
Biden had promised to cancel former president Donald Trump's permit for the line on the grounds that product from Alberta's oilsands does not mesh with broader goals to battle climate change.
Kenney called the decision an insult to Alberta and urged Prime Minister Justin Trudeau to deliver a breakthrough in talks or, if that fails, impose trade sanctions on the U.S.
Kenney's comments also lauded Canada's environmental record. Williams said those are valid arguments that Kenney needs to make a priority, married to policy initiatives as necessary, rather than throw them in as add-on talking points.
She suggested Kenney needs to pick a lane on the environment. Right now, she noted, he is promoting the federal climate plan as justification for Keystone while simultaneously challenging in court the plan's consumer carbon tax.
Political scientist Jared Wesley said Kenney's stance seems to be more about political damage control for a doomed project his government contributed $1.5 billion to last spring even though, at the time, it was a risky proposition.
"Kenney's not the first premier to have one gear when it comes to intergovernmental relations," said Wesley with the University of Alberta.
"The fight-back approach seems to be in (Kenney's) political DNA. He doesn't like being questioned and when his plans don't turn out, the default position is to blame someone else."
Kenney's challenge is that bridge-building premiers run the risk of being perceived as weak, Wesley said, so Kenney may feel he needs to be bellicose and hard line given his popularity is being challenged on the far right.
Kenney beat the NDP in the 2019 election in part by promising to challenge what he said are shadowy global foes and environmentalists who seek to undermine Alberta's oil industry. He set up a $30-million-a-year "war room" and struck a public inquiry into foreign funding of oil opponents. Both endeavours have been undermined by self-generated mistakes and controversies.
Kenney has blamed many of the province's economic and oil woes on the Trudeau government's policies. Yet the Liberal government in 2018 stepped in to buy the one pipeline that is proceeding – the Trans Mountain expansion from Alberta to the B.C. coast.
Wesley said Kenney blaming Trudeau has almost become a cliché and one that will hurt Alberta.
"The move (to blame Trudeau) has become so predictable that it's laughable," he said. "That's not just among his opponents here in Alberta, but among people he's supposed to be persuading nationally and internationally."
Political scientist Duane Bratt, also of Mount Royal University, agrees.
"This is really setting the stage for the old playbook of 'let's blame Trudeau' … and I'm not sure it's going to work this time," Bratt said.
"We're seeing the collapse of the fight-back strategy in so many different realms. Not only has it not worked, it has cost Alberta taxpayers billions of dollars and a real hit to our reputation."
This report by The Canadian Press was first published Jan. 22, 2021.
Dean Bennett, The Canadian Press
Premier Kenney Goes Ballistic on President Biden and PM Trudeau in defence of Keystone XL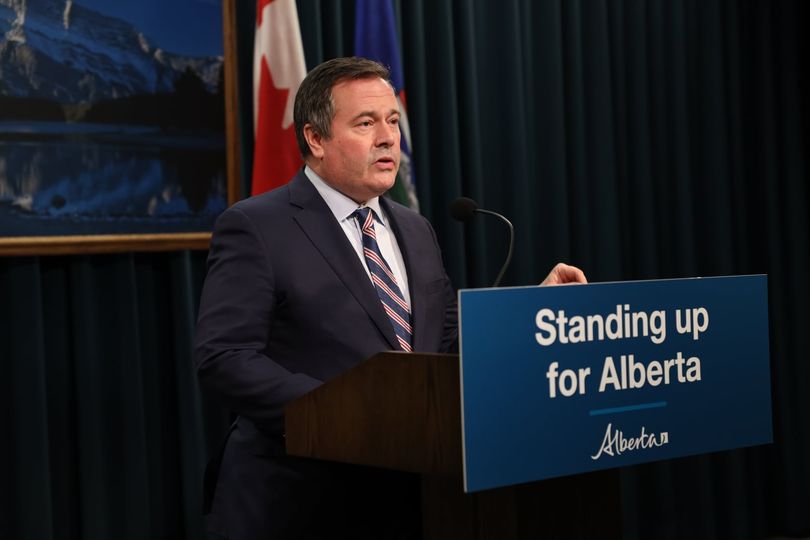 The day before President Biden's inauguration, the incoming government announced the President would rescind the Presidential permit for the Keystone XL Pipeline.  True to his word, one of the first actions of the new President was to retroactively cancel the pipeline which is partially owned by the Canadian Government.
Considering the massive investment by the Province of Alberta which would leave Alberta taxpayers also on the hook for about a billion dollars, Premier Jason Kenney has been speaking out loudly and aggressively.   Premier Kenney has used strong language including "This is not now you treat a friend and ally."
Regarding Canada's response (The federal government is a part owner of the pipeline) Kenney is also calling on Prime Minister Trudeau and the federal government to stand up and retaliate with statements such as. "When the former Trump administration slapped punitive tariffs on Ontario and Quebec steel and aluminum in 2018, the Trudeau government imposed $16 billion worth of countervailing tariffs on U.S. goods the very same day.  By contrast, when Alberta oil was attacked on Wednesday: nothing."
Here are statements Premier Kenney has released over the last three days in full:
January 19
"Canada should be President Biden's first priority in re-establishing U.S. energy security. Canada is the environmental, social and governance (ESG) leader among global energy powers.
Alberta's oilsands, once a source of carbon intensive barrels, has reduced carbon intensity by over 20 per cent in the past nine years. The average barrel produced in Canada is now cleaner than one produced in California.
Canada leads the world in key environmental categories like methane regulation, water use, and innovations like carbon capture and sequestration; and individual Canadian firms hold the top ESG scores in the industry.
TC Energy, the builder of KXL, has also committed to being net zero by 2030, ahead of its US peers, and hire a U.S. union workforce.
You won't get those commitments from Venezuelan shippers.
Canada's oil reserves are vast at 170 billion barrels, making Alberta's oilsands the third largest supply in the world, holding more oil than Russia, China and the USA combined. Keystone XL secures access to this strategic supply for purpose-built U.S. refining capacity in the Gulf.
On environmental and strategic grounds this should be far preferable to carbon-intensive rail transit — or alternate supply from Venezuelan tankers."
January 20
The United States is our most important ally and trading partner. Amongst all of the Canadian provinces, Alberta has the deepest economic ties to the United States with $100 billion worth of exports, and strong social connections that go back over a century.
As friends and allies of the United States, we are deeply disturbed that one of President Biden's first actions in office has been to rescind the Presidential permit for the Keystone XL Pipeline border crossing.
My thoughts are with the 2000 people who lost their jobs today, and all those who are coping with the devastating consequences of this decision.
The US State Department's own exhaustive analysis conducted under President Obama's administration concluded that Keystone XL would actually reduce emissions, as the alternative will be to move this energy by higher emitting and less secure rail transport.
The Government of Canada has more ambitious emissions goals than the new US Administration, and our provincial government is investing billions of dollars in the development of emissions reductions technology.
This means that Alberta, Canada, and the Keystone XL pipeline are part of the solution in the energy transition.
For months we've been told that the Biden transition team would not communicate with foreign governments on this or other issues. And now a decision has been made without even giving Canada a chance to communicate formally with the new administration.
That's not how you treat a friend and ally.
We will continue to fight for Alberta's responsible energy industry, and for the 59,000 jobs that this project would create.
Alberta's government calls for the federal government and Prime Minister Trudeau to immediately enter into talks with the Biden administration on their cancellation of the Keystone XL pipeline in the context of a broader agreement on energy supply and climate action.
Failing an agreement with the American government, we call on the Government of Canada to respond with consequences for this attack on Canada's largest industry. We are not asking for special treatment, simply the same response that Canada's government had when other areas of our national economy were under threat from the US government.
January 21
"He has been so anti-oil himself during his five-plus years in office (including not objecting loudly to the Obama administration's first cancellation of Keystone in 2015), that the incoming Biden administration must have known our Liberals wouldn't put up much of a stink if it killed Keystone.
When the former Trump administration slapped punitive tariffs on Ontario and Quebec steel and aluminum in 2018, the Trudeau government imposed $16 billion worth of countervailing tariffs on U.S. goods the very same day.
By contrast, when Alberta oil was attacked on Wednesday: nothing.
Also, Trudeau can be blamed for making the death of Keystone matter so much. Had Trudeau not killed two other all-Canadian pipelines — Energy East and Northern Gateway — the end of Keystone wouldn't be such a crippling blow."
From January 20