World's largest civilian transport aircraft lifts Red Deer Company to India to battle nightmare well blowout
Piston Well Services Inc. has been hired to take on a fire that's been burning for months.
The world's largest Civilian transport aircraft ANTONOV (AN124) which has been commissioned for snubbing operation in Baghjan-well number 5 landed at Kolkata airport on Wednesday night from where it will make a 14- day long road journey to reach Baghjan in Assam's Tinsukia district.
Reportedly, as both the Guwahati and Dibrugarh airport runways are not able to handle the massive Ukrainian ANTONOV (AN124) aircraft, it had to be landed in Kolkata.
As per reports, the 59,000 kgs equipment boarded the An124 heavy-lift aircraft – the world's largest cargo carrier from Russia. The aircraft is used all over the world for its long haul cargo dropping.
According to the OIL sources, the aircraft was commissioned by Piston Well Service Inc of Canada which was hired by Alert Disaster Control, Singapore. The Alert has been commissioned by OIL for killing the Baghjan-5 well, which was burning since May 27 of this year.
According to the spokesperson of Oil India Limited (OIL) Tridiv Hazarika, the snubbing operation is expected to commence by the beginning of next week and the fire is expected to be snubbed by the first week of November ending months of misery of the people of Baghja
Earlier, the general manager of the company Ross Whelan informed the same through a facebook post saying that a crew had arrived and was ready to board a heavy-lift aircraft from Canada's Calgary.
"Our crew has arrived, and 59,000kg of our equipment boarded the An124 heavy-lift aircraft in Calgary today," he said.
On May 27 this year, a blowout occurred in the Baghjan Oil Well, this was followed by an inferno on June 9, after the well suddenly became active while OIL was carrying out workover operations in the gas-producing well under Baghjan Oilfield. OIL lost three men including two firefighters and a young engineer.
Read the whole story including photos of the Antonov at this link
From Ross Whelan, GM of Piston Well Services Inc. in Red Deer.
Piston Well Services Inc. of Alberta is proud to announce the award of a contract to conduct emergency snubbing services for Alert Disaster Control of Singapore on the Baghjan Well #5 blowout in Assam, India. The scope of work includes mobilizing a crew and snubbing unit with support equipment to facilitate killing, plugging and abandoning the well which blew out on May 27, 2020 and exploded in a remote wetland causing a major human and ecological disaster.
The well is currently capped, and uncontrolled flow is temporarily diverted as wellhead integrity issues caused by the blowout and subsequent fire are preventing the use of traditional well shut-in and kill methods. A proposed snubbing procedure was confirmed with computer modeling and ordered by the well owner.
Piston's team engaged to overcome a litany of logistical issues but it's an honour to deploy our Canadian know-how to bring an unfortunate event to a safe conclusion.
Piston is a snubbing, completions & workover company based in Red Deer, AB, established in 1999 by the industry's pioneers and continues to serve the Western Canadian Basin with a fleet of proprietary high pressure snubbing units.
Here's a time-lapse from Piston Well Services Inc. showing the process of loading Rig 6.
Danielle Smith warns Trudeau gov't she's going ahead with natural gas projects despite regulations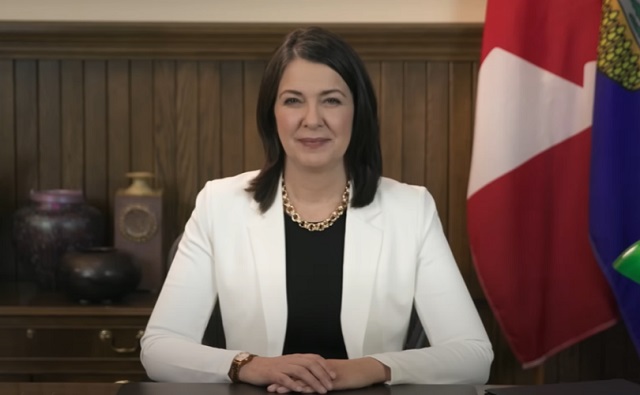 'We're not going to sit and wait while they break the law, drag their feet, make us take them to court, spend years creating economic uncertainty for our investors'
After Environment Minister Steven Guilbeault brushed off Alberta Premier Danielle Smith's invocation of the "Sovereignty Act" as being merely "symbolic," the Alberta leader warned him that her province will be building new gas-fired power plants regardless of his new "clean energy" rules.
"Well, he [Guilbeault] will learn that if he does not back down from his outrageous and unconstitutional targets of 2035, it'll be more than symbolic," said Smith Tuesday after being asked by a reporter about Guilbeault's comments.
"We'll proceed with developing our baseload power on natural gas with the best available technology."
Smith said that the use of the Sovereignty Act, which was invoked on Monday for the purpose of shielding Alberta from future power blackouts due to federal government overreach, will help the province "make sure that we are able to shield any corporation from any kind of criminal liability."
"Whether that means that we have to de-risk it by being the generator of last resort or we have to purchase some of those plants so that we operate them ourselves, so that we're able to continue on with having a reliable power grid," she said.
The Sovereignty Act resolution calls on Alberta's cabinet to "order all provincial entities not to recognize the constitutional validity of, enforce, nor cooperate in the implementation of the CERs [Clean Electricity Regulations] in any manner, to the extent legally permissible."
Guilbeault on Monday came out with a statement concerning Alberta's invocation of the Sovereignty Act, claiming that its use will "create fear and uncertainty over collaboration and positive results for Albertans."
He also later claimed while speaking to reporters that Smith's action using the Sovereignty Act is just "symbolic."
After announcing Monday that she has had "enough" of Prime Minister Justin Trudeau's extreme environmental rules, Smith said her province has no choice but to assert control over its electricity grid to combat federal overreach.
Unlike most provinces in Canada, Alberta's electricity industry is nearly fully deregulated. However, the government still has the ability to take control of it at a moment's notice.
A draft version of the federal government's CERs introduced by Guilbeault projects billions in higher costs associated with a so-called "green" power transition, especially in the resource-rich provinces of Alberta, Saskatchewan, New Brunswick, and Nova Scotia, which use natural gas and coal to fuel power plants.
Business executives in Alberta's energy sector have also sounded the alarm over the Trudeau government's "green" transition, saying it could lead to unreliability in the power grid.
'We're not going to sit and wait while they break the law'
While speaking to reporters Tuesday, Smith noted how Alberta will proceed with ensuring its power grid is stable and secure, and that the province will not "sit and wait" around for the Trudeau government to continue breaking "the law."
"So, there's this is just the indication that we're moving on this. We're not going to sit and wait while they break the law, drag their feet, make us take them to court, spend years creating economic uncertainty for our investors," said Smith.
"We're going to start commissioning those plants now because we need them now."
The Smith government said that while it does not like the route of taking back power production under state control, it says this is the only way the province can keep the current Liberal government, or any other future government, from interfering in provincial power production.
Two recent court rulings dealt a serious blow to the Trudeau government's environmental activism via legislation. The most recent was when the Federal Court of Canada on November 16, 2023, overturned the Trudeau government's ban on single-use plastic, calling it "unreasonable and unconstitutional."
The Federal Court ruled in favor of the provinces of Alberta and Saskatchewan by stating that Trudeau's government had overstepped its authority by classifying plastic as "toxic" as well as banning all single-use plastic items, like straws, bags, and eating utensils.
The second victory for Alberta and Saskatchewan concerns a Supreme Court ruling that stated that Trudeau's law, C-69, dubbed the "no-more pipelines" bill, is "mostly unconstitutional." The decision returned authority over the pipelines to provincial governments, meaning oil and gas projects headed up by the provinces should be allowed to proceed without federal intrusion.
The Sovereignty Act resolution calls on Alberta's cabinet to "order all provincial entities not to recognize the constitutional validity of, enforce, nor cooperate in the implementation of the CERs in any manner, to the extent legally permissible."
It also orders that the province investigate the "feasibility of establishing a provincial Crown corporation for the purpose of bringing and maintaining more reliable and affordable electricity onto the grid in the event that private generators find it too risky to do so under the CERs."
The Trudeau government's current environmental goals – in lockstep with the United Nations' "2030 Agenda for Sustainable Development" – include phasing out coal-fired power plants, reducing fertilizer usage, and curbing natural gas use over the coming decades.
The reduction and eventual elimination of the use of so-called "fossil fuels" and a transition to unreliable "green" energy has also been pushed by the World Economic Forum (WEF) – the globalist group behind the socialist "Great Reset" agenda – an organization in which Trudeau and some of his cabinet are involved.
Alberta's projected surplus balloons: Mid-year budget update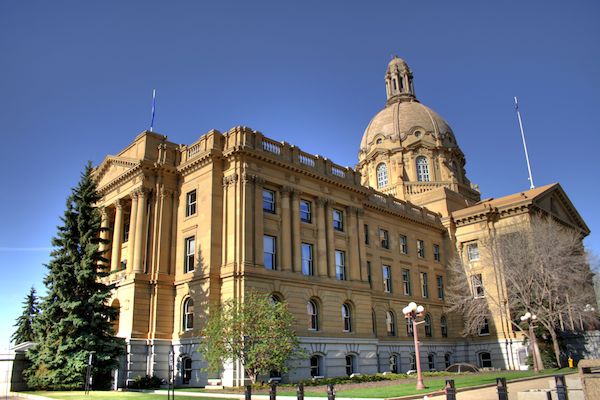 Mid-year update: Keeping Alberta's finances on track
Alberta's government continues to manage the province's finances responsibly with the future in mind.
Alberta continues to lead the nation in economic growth and is forecasting a surplus of $5.5 billion in 2023-24, an increase of $3.2 billion from Budget 2023. The province's fiscal outlook continued to improve in the second quarter of 2023-24, boosted by strong bitumen royalties and higher income tax revenues.
However, volatile oil prices, continued inflation challenges and uncertainty due to slowing global growth could still affect the province's finances going forward. Debt servicing costs will be higher than previous years due to higher interest rates, reinforcing the importance of the government's commitment to balance the budget.
"Alberta continues to stand out as a leader when it comes to fiscal stability and economic resilience in the midst of so much global uncertainty. Our second-quarter fiscal update is another positive report, showing strength in Alberta's finances and economy and positioning us for future growth and prosperity."
The government continues to spend responsibly, maintaining its commitment to keep funds in the province's contingency for disasters and emergencies. The government's new fiscal framework requires the government to use at least half of available surplus cash to pay down debt, freeing up money that can support the needs of Albertans for generations. The government continues to reduce the province's debt burden and will pay down a forecasted $3.2 billion in debt this fiscal year.
Alberta's government is turning its focus to developing next year's budget, so it supports Albertans' needs and the province's economic growth while maintaining the government's commitment to responsible spending within the fiscal framework. Budget 2024 consultations are open and Albertans are encouraged to share their feedback to help set the province's financial priorities.
Revenue
Revenue for 2023-24 is forecast at $74.3 billion, a $3.7-billion increase from Budget 2023. The increase is due to increases across different revenue streams. In addition, the price of West Texas Intermediate (WTI) oil is forecast to average US$79 per barrel over the course of the fiscal year, in line with the Budget 2023 forecast.

Personal and corporate income tax revenue is forecast at $21.8 billion, $1.8 billion higher than at budget.
Bitumen royalties are forecast at $14.4 billion, an increase of $1.8 billion from budget.
Overall resource revenue is forecast at $19.7 billion, $1.3 billion higher than the budget forecast.

Beginning in 2024, Alberta's government will continue to offer fuel tax relief when oil prices are high, even as the province transitions back to the original fuel tax relief program, which is based on average quarterly oil prices.

Albertans will save some or all of the provincial fuel tax on gasoline and diesel when oil prices are $80 per barrel or higher during each quarter's review period.
Although oil prices have been below $80 in recent weeks, Albertans will continue to save at least four cents per litre on the provincial fuel tax in the first three months of 2024 as the tax is phased back in.
The government's fuel tax relief efforts, which include the pause to the end of 2023 and additional savings over the first three months of 2024, are forecast to reduce other tax revenue by $524 million in 2023-24.
Expense
Expense for 2023-24 is forecast at $68.8 billion, a $481-million increase from Budget 2023.
Capital grants are up marginally from Budget 2023, but down from the first-quarter forecast, mainly due to funding schedules for Calgary and Edmonton LRT projects.
Debt servicing costs are forecast to increase $309 million from budget, a reflection of ongoing high interest rates and inflation.
Total expense has increased by $1.9 billion, $0.5 billion is directly offset by revenue and $1.4 billion is absorbed by the $1.5-billion contingency.
In total, $123 million of the 2023-24 contingency remains unallocated.
$1.2 billion in disaster and emergency costs are forecast for the current fiscal year.

$750 million for fighting wildfires in the province
$165 million for AgriRecovery to support livestock producers affected by dry conditions
$253 million to provide financial assistance to communities for uninsurable damage from spring wildfires and summer flooding
$61 million for evacuation and other support

The operating expense forecast has increased by $319 million, including an additional:

$301 million for Health
$48 million for Advanced Education
$48 million for Energy and Minerals
$33 million for Mental Health and Addiction
$30 million for Education
$14 million for Indigenous Relations
Offset by decreases of $187 million for lower-than-expected program take-up of affordability payments and re-profiling of TIER spending to 2024-25.
Alberta Heritage Savings Trust Fund
The Alberta Heritage Savings Trust Fund's market value on Sept. 30, 2023, was $21.4 billion, up from the $21.2 billion reported at March 31, 2023.

The Heritage Fund returned 0.9 per cent over the first six months of 2023-24.
Over the five-year period ending on Sept. 30, 2023, the Heritage Fund returned 5.9 per cent, which is 0.5 per cent above the return of its passive benchmark. While the Heritage Fund is outperforming its benchmark return, it is below the long-term real return target of 6.9 per cent, again a result of interest pressures.
The Heritage Fund generated net investment income of $1 billion in the first half of the fiscal year.
Economic outlook
Alberta's economy continues to be resilient, with continued growth projected over the three-year forecast.
Alberta's real gross domestic product (GDP) is expected to grow 2.8 per cent in 2023, in line with the Budget 2023 forecast.
Despite interest rate increases, high prices and slower global economic growth, Alberta's economy is forecast to keep expanding. The pace of growth, however, will be slower compared with the last two years when the province was recovering from the pandemic.
Alberta Fund
The amount of surplus cash available for debt repayment and the Alberta Fund is determined after a number of required cash adjustments have been made. For 2023-24, this includes $5.1 billion from the 2022-23 final results to start the year.
The Alberta Fund contribution for 2023-24 is forecast at $1.6 billion.
Money in the Alberta Fund can be used toward additional debt repayment, the Heritage Savings Trust Fund, or one-time initiatives that do not permanently increase government spending.
Related information