Difference between politicians and bureaucrats is important.
The main difference between politicians and bureaucrats is that politicians worry about results and the bureaucrats worry about the process. Who do we want to take the leadership role?
For several years after the Conservatives were elected to govern, journalists and M Ps were going on about boys in short pants from the PMO were running the show, telling M Ps, Cabinet Ministers and Senators what to say and who to talk with. For Canadians it was extremely frustrating seeing our elected officials becoming bobble headed puppets spewing prepared talking points.
This was the most obvious example but the same was happening with Premiers and Mayors, across the country.
The result is distressing as governments grew, and with more and more bureaucrats specialized in more restricted areas, the bigger picture got lost. We end up with bubbles, the Ottawa bubble, the provincial capital bubbles, and the city hall bubbles. Most bureaucrats live near where they work, and politicians seldom do, living in ridings a fair distance away. Bureaucrats stay while politicians come and go.
Even in city halls, it often seen in how or where the elected officials are treated and situated in the building or in the hierarchy. Management is symbolically raised above the elected councillors, and nearer the centre of power. Chances are the councillors will be separated from the mayor by departments, floors or wings.
There is a separation between politicians and bureaucrats and a need to separate the governance from the operations and that is understandable. But it is when the governing officials are treated as less than equal, you create the systemic and chronic problems. It has been known, that Prime Ministers treat their M Ps with little respect, relying on bureaucrats in the PMO, Premiers treat MLAs in the same manner, and often times Mayors treat the councillors, so it appears we become govern by bureaucrats.
How do we accomplish anything? Who do we talk to with our personal issue or concern? You can seek out a high level bureaucrat or you can find an Advocate to raise the profile of the issue. Advocacy groups can be very effective, the Downtown Business Association is very effective and it has the extra bonus of having city hall located within it's boundaries.
The Canadian Taxpayers Association, seems like a good start but they have a limited membership and a limited scope, basically not paying taxes, so they will not help the single tax payer in distress. They have a lot of money and influence, but are not really representative of the Canadian taxpayers. Like many advocacy groups they restrict themselves to certain issues.
Every bureaucrat and department has a drawer or file for issues or project to languish and be forgotten. That issue you discussed with your elected official, who supported your cause, probably went into that drawer or file, never to be seen again. The elected official, went on to the next person, and the cycle continues.
Individually, we are shackled to a system, created and nurtured by bureaucrats, and we hope will be changed, altered and improved after every election. It seldom changes. Listen to or watch the Prime Minister, Premiers or Mayors after an issue arises, and where they turn to for advice? Seldom an elected official but their closest bureaucrat, which will be brought forward to the elected officials, usually as a fait d'accompli. Except in some minority governments, where they have to earn support.
So, if the bureaucrats, run the show, why do we bother with the time and costs of having elections? Why not just elect a Mayor, a Premier and a Prime Minister? The Mayors could meet chaired by the Premier, then the Premiers could meet and be chaired by the Prime Minister. It would be cheaper, but it would destroy an illusion of democratic equality.
Perhaps, our politicians could remember why they are there, demand equality and not accept being dismissed by other political offices and bureaucrats, and take over leadership roles. Then this letter would not be needed, but unfortunately, it is needed now. I think the result is the more important and the process is there to achieve the needed result. That I think has been forgotten.
Politicians, please remember why you were elected? It was to lead, not to get lost in the process. Can you do that, because we need you to? Burst those bubbles and represent your constituents, the process will adapt, if you do. Thank you.
Grant's story: Amazing Improvement with Hard Work & Support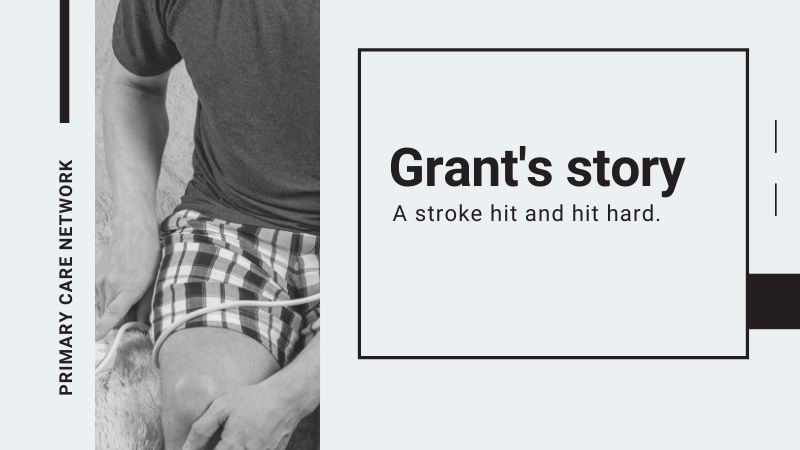 Grant was in his mid-fifties – maybe a bit overweight but with no other cardiovascular risk factors. However, a stroke hit and hit hard. His right side was very compromised, he had little use of his hands, he was unable to walk or lift his right arm. He was hospitalized in Red Deer for 4 months and then went to the Centennial Centre in Ponoka for rehab for 6 months. His doctor had told him that he would be bound to a wheelchair for the rest of his life and would never walk again or be able to recover from this stroke. This made Grant angry as he didn't want this prognosis.
Since that time, he has put a lot of work and effort into getting better. The physios and rehab team helped him make progress, but he kept asking them how he could get more training. They were able to refer him to Recreation Therapy at RDPCN. His therapist arranged to work with him at the Gary W Harris Canada Games Centre three times per week. He is doing a lot better now. He can walk with a cane and he can lift 30 pounds on the machines at the gym. He can now clap hands. He has gained strength and control, his gait has improved along with his endurance, and he has an increased range of motion and strength in his upper extremities. He can now do many more tasks of daily living such as carry groceries, cook and barbeque.
Grant states that his doctor can't believe his progress. Other people he knows have said very similar things. Working with the Rec Therapist has been very encouraging and supportive. The Rec Therapist has really helped me to stay motivated. Having a plan for myself also helps the attendants at the Gary Harris Centre to work with me to move forward. I have highly recommended this program to others I know who have had a stroke.
My work is not done but I am proud of the progress I have made and thankful for everything I can do for myself.
To learn more about the RDPCN programs, visit www.reddeerpcn.com
Keep cool with the firefighters this Thursday!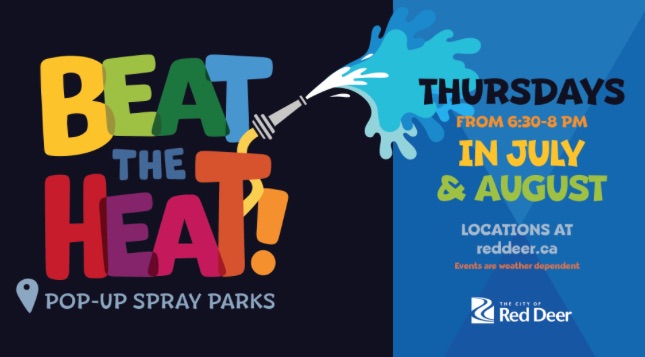 Pop-up Spray Parks
Members of Red Deer Emergency Services, RCMP and Municipal Enforcement blasted the hoses to keep you cool Thursdays in July and August.
Pop-up spray parks are popping up across Red Deer this summer. Beat the heat with Red Deer Emergency Services, Municipal Policing Services and RCMP in a neighbourhood near you.
Participants are reminded to not attend if they are feeling unwell or are currently required to quarantine.
Thursdays from 6:30 – 8 p.m.
| Date | Location | Address |
| --- | --- | --- |
| | | |
| July 22 | Highland Green Community Centre | 65 Halladay Avenue |
| July 29 | Deer Park Community Association | 181 Dowler Street |
| August 5 | To Be Confirmed | —– |
| August 12 | Riverside Meadows Community Centre | 6021 57 Avenue |
| August 19 | Joseph Welsh Elementary School | 4401 37 Avenue |
*Events are weather dependent.