Child Advocacy Centre to have a beautiful home and a central focus on RDC Campus
From the Central Alberta Child Advocacy Centre

CACAC has a home and an 'educational' strategy… Centre for Excellence to instruct child care workers from all over North America.
A new Centre of Excellence opening in Red Deer will enhance services for young people, increase students' learning opportunities and create jobs in the region.
The Central Alberta Child Advocacy Centre (CACAC) and Red Deer College are working together to create a comprehensive child advocacy centre on the college campus. CACAC will construct and operate a Centre of Excellence, expanding victim support services and increasing programs for vulnerable individuals and children, youth and families closer to home.
"Red Deer College students will have access to improved training and tools to assist victims of child abuse and their families. The centre's specialized focus on training, research, community awareness and education will help build a stronger and more resilient community."
"Our children, youth, and families in need deserve the best possible supports no matter where they live in Alberta. CACAC does amazing work helping kids in central Alberta lead healthy and happy lives, and expanding their services will be a big win for families and the community."
"Government support of this important partnership is a major milestone in establishing a Centre of Excellence at RDC supporting child advocacy. Students at RDC will learn the latest and best practices in supporting children and families through practicums and internships. Our new university will benefit tremendously through partnerships like this and it aligns with our vision to provide applied learning experiences."
"The Central Alberta Child Advocacy Centre is proud to announce our official partnership with Red Deer College, made possible by the support of the Government of Alberta. As an organization, we are ecstatic to take another step forward in becoming a Centre of Excellence, specializing in leading practices, training research, community awareness, advancement in education and integrated practice. The new location of the CACAC on Red Deer College campus land will enable a tremendous shift in our community's future as we continue to push boundaries and champion leading practices. We look forward to working and collaborating with the RDC students – tomorrow's leaders – in creating a healthy future for our children and community."
CACAC will receive a plot of land through a lease agreement with Red Deer College to support the construction of the new facility.
The Lending Cupboard staff announces hours for the holiday season
Red Deer, Alberta – Dec. 3, 2021 – In order to make sure that clients can pick up any needed medical equipment prior to the Christmas season, staff at The Lending Cupboard would like to announce hours of operation for over the holidays.
"This year, we at The Lending Cupboard really feel that it's important to allow our staff to spend time with their families over the holiday season. Because of that, and because Christmas falls over a weekend, we've decided that we will be closed between Christmas and New Year's this year," said Dawna Morey, executive director.
"Because of that, we want residents to be prepared so that if they are going to have surgeries, they can come in and see us before we leave on the 24th of December at 2 p.m.," she said.
The Lending Cupboard will re-open for regular hours on Jan. 3rd.
Morey did emphasize that even with the holiday hours, there is no need for anyone to be concerned about accessing equipment in the event of an emergency.
"We all have emergencies in our lives, and in the case of emergencies people can still call us, and those calls will be monitored for emergencies only," she said, adding they can call the regular office number of 403-356-1678.
"In those cases, we will be here to provide equipment."
For inquiries, please feel free to reach out to us.
Dawna Morey – Executive Director
Phone: 403-356-1678 ext. 202
Email: [email protected]
Grant's story: Amazing Improvement with Hard Work & Support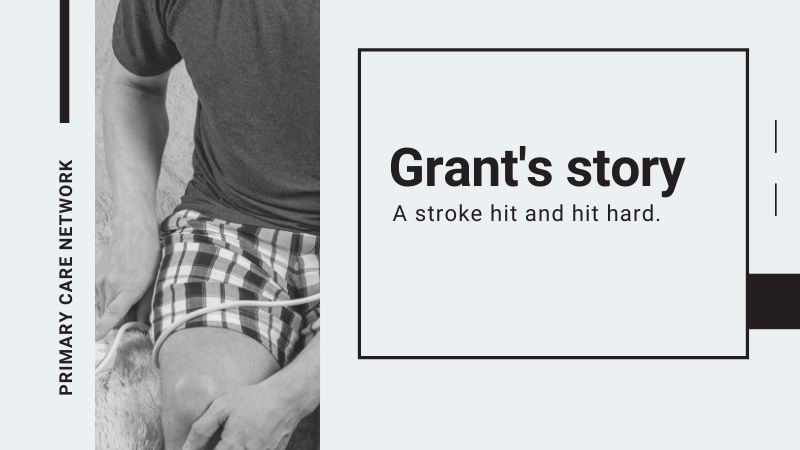 Grant was in his mid-fifties – maybe a bit overweight but with no other cardiovascular risk factors. However, a stroke hit and hit hard. His right side was very compromised, he had little use of his hands, he was unable to walk or lift his right arm. He was hospitalized in Red Deer for 4 months and then went to the Centennial Centre in Ponoka for rehab for 6 months. His doctor had told him that he would be bound to a wheelchair for the rest of his life and would never walk again or be able to recover from this stroke. This made Grant angry as he didn't want this prognosis.
Since that time, he has put a lot of work and effort into getting better. The physios and rehab team helped him make progress, but he kept asking them how he could get more training. They were able to refer him to Recreation Therapy at RDPCN. His therapist arranged to work with him at the Gary W Harris Canada Games Centre three times per week. He is doing a lot better now. He can walk with a cane and he can lift 30 pounds on the machines at the gym. He can now clap hands. He has gained strength and control, his gait has improved along with his endurance, and he has an increased range of motion and strength in his upper extremities. He can now do many more tasks of daily living such as carry groceries, cook and barbeque.
Grant states that his doctor can't believe his progress. Other people he knows have said very similar things. Working with the Rec Therapist has been very encouraging and supportive. The Rec Therapist has really helped me to stay motivated. Having a plan for myself also helps the attendants at the Gary Harris Centre to work with me to move forward. I have highly recommended this program to others I know who have had a stroke.
My work is not done but I am proud of the progress I have made and thankful for everything I can do for myself.
To learn more about the RDPCN programs, visit www.reddeerpcn.com