What's going on in India?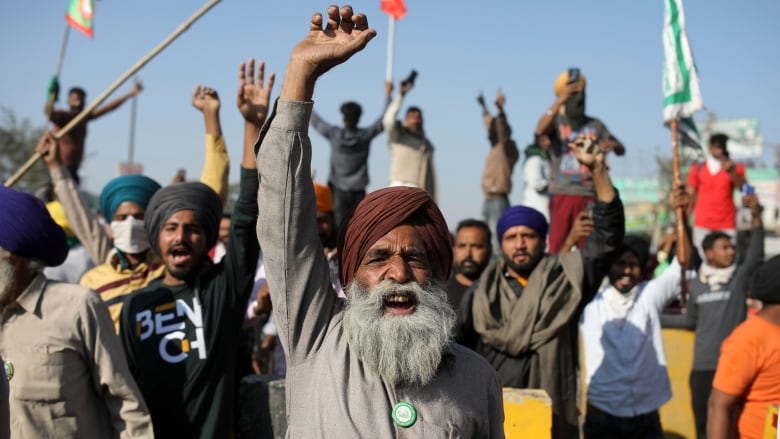 In many places around the world, the global turmoil of 2020 has been deeply exacerbated by accompanying political violence. The United States, Belarus, and India are just a few locations that have faced growing levels of internal violence and discord as political protests have led to dangerous clashes between citizens and governing bodies.
In India, where the COVID-19 pandemic has been rampant throughout the course of 2020, citizens have also experienced ongoing political uncertainty as recent protests against the Narendra Modi government have been met with violence.
The upheaval began in August in response to the Modi government's decision to pass 3 reform laws that would negatively impact local farmers in India's agricultural sector. The Farmers Produce Trade and Commerce Bill, the Farmers Agreement of Price Assurance and Farm Services Bill, and the Essential Commodities Bill were passed on September 20, 2020. These laws, which were allegedly hurried through parliament with little to no regard for the concerns expressed by existing farming organizations in India, serve to ease corporate restrictions and remove regulations put in place to protect farmers and their product.
Although there does appear to be a consensus surrounding the need for reform in India's agricultural sector, the laws passed by the Modi government have been condemned for failing to meet the requirements of a fair, legitimate transition. According to Time, "While the government says the new laws will "empower farmers", unions say the rule changes are not policies they have asked for. Instead they fear that instead of trying to help farmers, the government is opening the door to big corporations who may eventually force them off their land and out of their business."
Peaceful protests then emerged as a public response to the actions of the Modi government. The protests, which originated in Punjab and Haryana as a collaborative movement among Indian farmers, have since mobilized tens of thousands of farmers and supporters from across the country to march on the Indian capital. The protestors flooded New Delhi's main entry points, where they have since set up camps to maintain their position and stand firmly for their cause, requesting the repeal of the 3 reform bills.
Despite the peaceful nature of the protests, where many of the participants are senior members of the community, since September they have been increasingly met with violence from the state. "Protestors have been met with water cannons on some of the coldest winter days Delhi has experienced," Global News reported in December, "along with tear gas, concrete barricades, and some were even beaten with batons." As a result of state-mandated violence and harsh outdoor conditions in Delhi, a total of 65 deaths were reported between November 26, 2020 and January 3, 2021 (1).
Individuals and organizations around the world have since come forward to stand in solidarity with Indian farmers and condemn the acts of violence being perpetrated against them by military and law enforcement.
On Tuesday, January 12, 2021, the Indian Supreme Court announced it was "halting the market-friendly laws until a committee of experts, appointed by the court, could consult with government officials and protesting farmers to try to find a solution to the dispute" (2). However, protestors have expressed initial skepticism following this announcement, and intend to maintain their positions within the protest camps until the laws are repealed.
"It's cold and it's hard to arrange water every morning for a bath," says Shabek Singh, a member of the protests who remains camped in one of the established tent cities, "but we're not going anywhere. We will make this our temple" (3).
For more stories, visit Todayville Calgary.
USAID head urges crisis-hit Sri Lanka to tackle corruption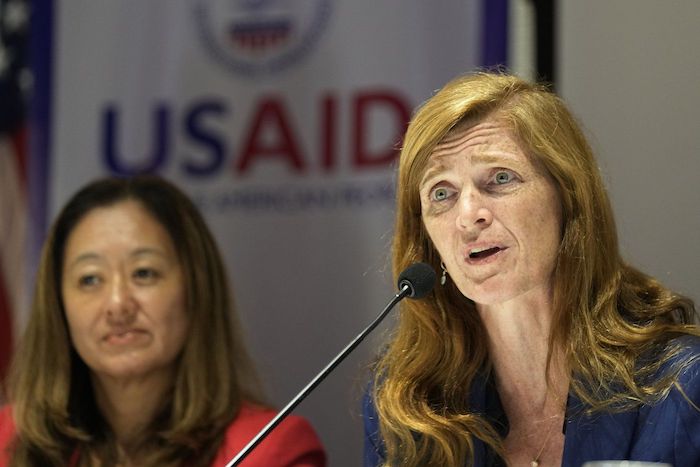 By Krishan Francis in Colombo
COLOMBO, Sri Lanka (AP) — A visiting U.S. diplomat on Sunday urged Sri Lankan authorities to tackle corruption and introduce governance reforms alongside efforts to uplift the country's economy as a way out of its worst crisis in recent memory.
USAID Administrator Samantha Power told reporters that such moves will increase international and local trust in the government's intentions.
"Assistance alone would not put an end to this country's woes," Power said. "I stressed to the Sri Lankan president in my meeting earlier today that political reforms and political accountability must go hand in hand with economic reforms and economic accountability."
She said that international investor confidence will increase as the government tackles corruption and proceeds with long sought governance reforms. "As citizens see the government visibly following through on the commitment to bring about meaningful change, that in turn increases societal support for the tough economic reforms ahead," she said.
During her two-day visit, Power announced a total of $60 million in aid to Sri Lanka. After meetings with farmers' representatives at a rice field in Ja-Ela, outside of the capital Colombo on Saturday, she announced $40 million to buy agrochemicals in time for the next cultivation season.
Agricultural yields dropped by more than half for the past two cultivation seasons because authorities had banned the imports of chemical fertilizers ostensibly to promote organic farming. She said that according to the World Food Program, more than 6 million people — nearly 30% of Sri Lanka's population — are currently facing food insecurity and require humanitarian assistance.
On Sunday, she said an additional $20 million will be given to provide emergency humanitarian assistance to vulnerable families.
Sri Lanka has faced its worst crisis after it defaulted on foreign loans, causing shortages of essentials like fuel, medicines and some food items.
It has reached a preliminary agreement with the International Monetary Fund for a $2.9 billion package to be disbursed over four years. However, the program hinges on Sri Lanka's international creditors giving assurances on loan restructuring. Sri Lanka's total foreign debt is more than $51 billion of which $28 billion must be repaid by 2027.
Power said that the U.S. stands ready to assist with debt restructuring and reiterated that it is imperative that China, one of the island nation's bigger creditors, cooperate in this endeavor.
Infrastructure like a seaport, airport and a network of highways built with Chinese funding did not earn revenue and are partly blamed for the country's woes.
Saskatchewan warns that federal employees testing farmers' dugouts for nitrogen levels could be arrested for trespassing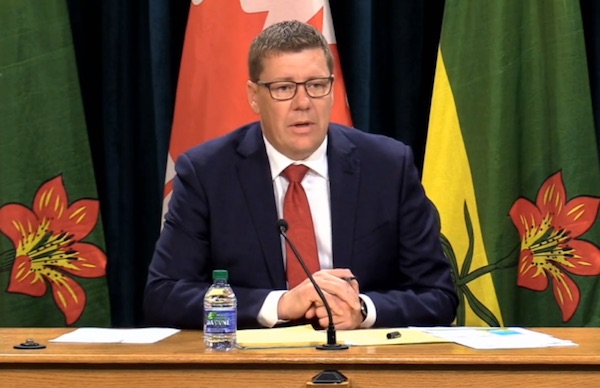 An escalating battle between Western Premiers and the federal government over restricting the use of nitrogen fertilizer has reached a new level of tension.
Premier Scott Moe
is demanding to know why federal employees of Environment Minister Steven Guilbeault are "trespassing" on private land in Saskatchewan. Moe signed a strongly worded letter (below) from Jeremy Cockrill, the Minister in charge of Saskatchewan's Water Security Agency.
The letter dated Sunday, August 21st states farmers from at least 3 different communities in southern Saskatchewan have reported Government of Canada employees in marked vehicles have been trespassing on their private land. When confronted, the agents have admitted to testing dugouts for nitrogen levels.
On his official Facebook page Moe says
"We are demanding an explanation from federal Minister Guilbeault on why his department is trespassing on private land without the owners' permission to take water samples from dugouts."
We are demanding an explanation from federal Minister
Steven Guilbeault
on why his department is trespassing on private land without the owners' permission to take water samples from dugouts. We have received reports of this occurring in several places throughout our province.
We have advised the federal government that this should cease immediately and if it does not, it will be considered a violation of the province's Trespass Act.
Violating this Act is serious, including a maximum penalty of $25,000 for repeat offenders, up to six months imprisonment following a conviction for a first or subsequent trespass offence, and a $200,000 maximum penalty for any corporation that counsels and/or aids in the commission of that offence.
Anyone wishing to report an incident of trespassing on private land can call 1-855-559-5502
Saskatchewan Premier Scott Moe has already
flatly said no thanks
to a federal initiative to restrict the use of fertilizer by up to 30%.
Premier Moe is not alone in this battle with Ottawa. Alberta's Premier Jason Kenney has already weighed in on the nitrogen restrictions in this strongly worded video shared two weeks ago.
Ottawa's planned attack on fertilizer will hurt our farmers.

It needs to stop.

Less fertilizer means less food.

Europe shut in about 50% of its fertilizer production.

Canada should not repeat the same mistake. pic.twitter.com/BztOiC1CPd

— Jason Kenney 🇺🇦 (@jkenney) July 27, 2022
The letter from Saskatchewan comes on the heals of another strongly worded letter from Manitoba's Agriculture Minister Heather Stefanson. In Stephanson's letter to Prime Minister Trudeau, she says this is no time to cut food supply and raise the price of groceries.