The Term "Starving Artist" Now Holds More Weight In Alberta, But There's Hope.
Large and small organisations are coming together to support musicians struggling through this financial crisis. Multiple industries have taken some hard hits in recent weeks and it is looking like there are still troubles on the horizon. If we look at the effects of what an isolation order and social distancing have on our daily lives, individuals and groups who earn their income through social events will be left with few choices.
One thing that the music industry holds true is their support for passionate people to be successful in their own way. These are the kind of people who take their form of art and consistently innovate to create their own success, to which deserves a lot of respect in the current economic climate. We have all heard of the "starving artist" stage of a musician's career. Now with stripped grocery stores and cancelled social gatherings of 15 people in Alberta, that phrase now holds more weight.
Let's be clear, certain successful artists who have gained a high level of success, public awareness and can be seen driving brand new Escalades around LA may still take a hit financially, however now is the time to support the industry as individuals or groups that don't have those same means and are struggling to pay their bills. For those who have had shows, tours, private bookings and event stages cancelled for the foreseeable future, there are multiple resources out there to get through the next few months.
Unison Benevolent Fund
Unison Benevolent Fund is a non-profit, registered charity that provides counselling and emergency relief services to the Canadian music community. Unison has helped over 1000 individuals and their families in every province and territory, as well as Canadians living abroad during times of crisis. They also received a 1900% increase in registrations since the coronavirus outbreak.
"We are here to help professional music makers in times of hardship, illness or economic difficulties"
They feel the pain for the music industry and want to act as a support role at this time. To that point they have resources for musicians and created a self care Sunday blog. They also have information on the music industry and how artists are innovating their approach. Check out their website to apply for financial assistance or for more information on the music industry.
Stan Brown Benevolent Fund
This is a fund made available for all Calgary Musician Association members that have fallen into hardship. The Stan Brown Benevolent Fund originated when the Association introduced an annual showcase called 'Musicalgary'. It was an initiative from the early 90's that helped to promote the musical talents and diversity of the membership. To make sure that any excess revenue was put to good use, the Health & Welfare Fund was born. Check out the Calgary Musicians Association to learn more about their work with the industry and their support for musicians in our city.
"These are difficult times. The Stan Brown Benevolent Fund is available to CMA members in need"
CERB Canada's Response for financial support to individuals
Any of us that have been keeping up to date with the news have been made aware of the emergency support benefit and the rushed EI applications over the last few weeks. The new Canada Emergency Response Benefit (CERB) will launch an online application in early April. As directed by prime minister Trudeau, the government recommends having an account setup on the Canada Revenue Agency with your direct deposit integrated so that once the application software becomes available you will receive the funds faster. If you want to learn more about this emergency benefit, check out this resource page.
Spotify Music Relief Project
Some of our favourite music streaming platforms have also released information and resources for artists that are struggling with the current pandemic and staying connected with their listeners. Spotify released a COVID-19 Music Relief project working with non profit organisations and donated funds to support their initiatives. They are making a donation to these organizations and will match donations made via the Spotify COVID-19 Music Relief page dollar-for-dollar up to a total Spotify contribution of $10 million.
Soundcloud
Soundcloud released numerous resources and podcasts for artists and musicians that are feeling the distress. They released an article on 7 ways to stay connected with your fans during COVID-19. With so many people at home, now is a good time to reset your intentions with your music and how you want to grow your audience. Hopefully before no time, we will be back in venues and concert halls enjoying the creativity and art that our local musicians have to offer.
Community
In a time like this community means more than ever. There are multiple Facebook groups like
Canadian Musicians Association, Calgary Local Music, Music Calgary and the Canadian Federation of Musicians. If you're in the same situation as a lot of musicians in our city, why not reach out to these groups and share your insight into how you are innovating in these times.
From all of us at Todayville Calgary, we wish all of our local musicians and their families the best of health and wellbeing. We look forward to hearing and seeing you all live very soon.
For more stories, visit Todayville Calgary
New app uses AI to help Calgary medical students practise interacting with patients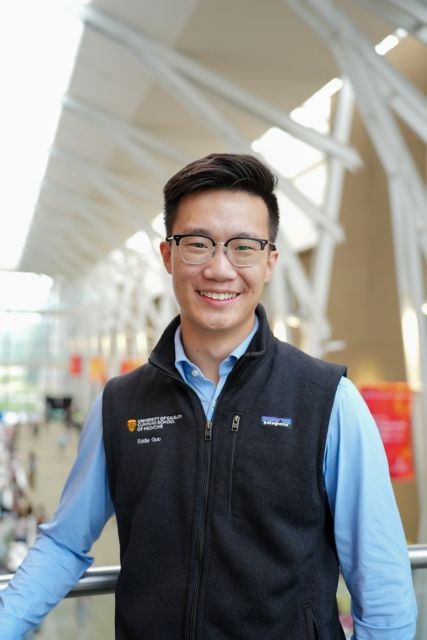 A Calgary medical student has developed a new app that allows future doctors to work on their diagnostic and communication skills before they set up their practices. Eddie Guo, seen in an undated handout photo, is a second-year student at the University of Calgary's Cumming School of Medicine. He says that one of the challenges in medical school is becoming better at interacting with patients. THE CANADIAN PRESS/HO-University of Calgary
By Bill Graveland in Calgary
A Calgary medical student has developed an app that allows future doctors to work on their diagnostic and communication skills before they set up their practices.
Eddie Guo, a second-year student at the University of Calgary's Cumming School of Medicine, said one of the challenges beyond the book learning in medical school is becoming better at interacting with patients.
As a result, he's turned to the rapidly growing area of artificial intelligence to create a number of virtual patients, with a variety of health conditions, that a student can talk to.
"It's good to get more than just two or four hours of the practice we get in medical school to really be able understand what it's like to communicate in a real-life scenario," said Guo.
"We think it's a good idea to have more than a few hours of practice before actually going out into the wild and seeing patients for the first time."
Guo created a program, called OSCE-GPT, where the computer is the patient. Users choose the patient's gender and can select a scenario or let the computer decide on one for them.
"I'm Ben Johnson and I've been having some really bad abdominal pains over the past two days. It's in the right upper quadrant and it spreads to my back," said the robotic male voice in the program.
"I've also been feeling nauseous and vomiting. I'm here in the emergency department because of the pain."
The AI patient can answer questions about its condition and, after the conversation, provides feedback to the student along with a list of other questions that could have been asked.
Guo said until he is finally allowed on the medical wards, the only other interactions he gets are with standardized patients, professional actors who present with various conditions.
"As you can imagine, they're really quite good at their job, but they're also very expensive," Guo said.
"We don't get that much opportunity really to practise speaking with a patient, and so what this app was born out of was a lack of possibility to practise."
Guo collaborated with medical resident Dr. Mehul Gupta. He said this kind of additional help will make for better doctors.
"One of the things we learn again and again in medical school, and that's reinforced again in residency, is that the history you take from a patient is almost 99 per cent of the diagnosis that you make and the impression you make on a patient the first time you speak with them is long-lasting," Gupta said.
"If you have the opportunity to practise to tailor your questions to see how you could have done better, you really do become a better doctor overall."
Guo said the app is still being upgraded and at this point there is no image of a patient that shows up on the screen. He said he is hoping that things like a chest X-ray, a CT scan or a picture of someone's skin could be incorporated into the program.
Within the first month of the app's launch, more than 550 health-care trainees from Canada and across the world including Europe, India, Saudi Arabia and the United States signed on.
This report by The Canadian Press was first published Sept. 22, 2023.
Officials say some patients showing 'severe symptoms' in Calgary daycare outbreak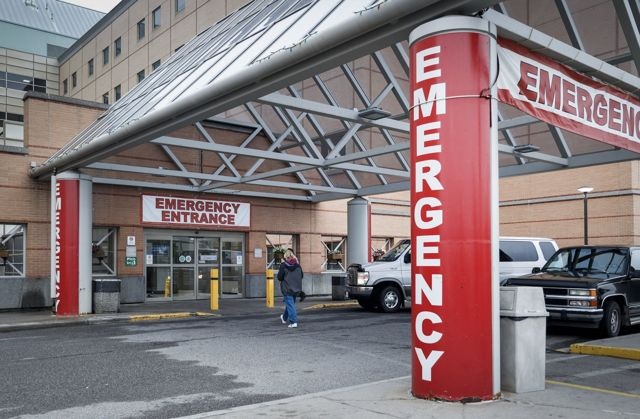 The entrance to the emergency department at Peter Lougheed hospital is pictured in, Calgary on Tuesday, Aug. 22, 2023. An Alberta health official says some of the 22 patients in hospital after an E. coli outbreak at several Calgary daycares have severe symptoms. THE CANADIAN PRESS/Jeff McIntosh
By Bill Graveland in Calgary
An Alberta health official says some of the 22 patients in hospital after an E. coli outbreak at several Calgary daycares have severe symptoms.
Alberta Health Services says there are now 96 laboratory-confirmed cases due to the outbreak, which is up from 56 on Tuesday.
Dr. Francesco Rizzuti, medical officer of health for the Calgary Zone, said Wednesday that the number in hospital has risen from 15. He said 16 are at Alberta Children's Hospital and six are at Peter Lougheed Centre.
"The majority of individuals that get sick from E. coli generally improve on their own and without specific treatment, typically within 10 days," Rizzuti said.
"However, a small portion may develop more severe complications. Currently, we have a handful of children who are hospitalized with these more serious illnesses related to this outbreak."
Rizzuti said that due to privacy concerns, he couldn't say how many are suffering from severe symptoms. He also would not would confirm any of them have hemolytic uremic syndrome, also known has HUS, which affects the kidneys and causes blood clots.
"Hemolytic uremic syndrome can be a severe consequence. At this time, because we do have small numbers and I want to respect the privacy of the parents, I'm unable to speak to the exact numbers," he said.
"But it is a small proportion of our laboratory-confirmed cases who do have severe illness and are in hospital at the moment."
Rizzuti said it was his decision to close six Calgary Fueling Brains daycares and five others out of an abundance of caution after he received calls from city emergency wards.
He said it could take a while before the investigation into the source of the E. coli is found. Public health officers have already taken samples from the central kitchen shared by the daycares.
"They collected a number of food samples, both leftover foods as well as frozen foods, from the site and these are being tested in our laboratory. These do take some time," Rizzuti said.
"Typically in outbreaks like this, we may not find a food source."
Faisal Alimohd, co-founder and chairman of Fueling Brains, said he's saddened that children are sick and immediately began working with AHS to investigate the outbreak.
"Though not all Fueling Brains child-care campuses are currently classified as being on outbreak status by AHS, we have proactively closed all potentially impacted locations as a precaution," Alimohd said in a statement.
"The exact source of the outbreak has not been identified, but we will be reviewing our policies, procedures and sourcing related to food services for our facilities."
This report by The Canadian Press was first published Sept. 6, 2023.