The Truth Of This Epidemic
You never know where you'll find wisdom, or when an otherwise easily ignored bromide might stick with you as something more significant. Years ago, I was watching Dr. Suess's "Horton Hears a Who" with my boys, and one of the character's lines dug into my skull like a wood tick. When the Mayor of Whoville stated, "Nothing bad has ever happened in Whoville, and nothing bad ever will happen in Whoville", the relevance of this statement to our society hit me with the impact of a belly flop from a twenty foot high cliff.
In a disturbing instance, I was reliving a poignant moment from when I returned to Canada from serving as a UN Peacekeeper during the Croatian civil war. I was at the Horseshoe bay Ferry terminal, just north of Vancouver, and found myself in a contemplative daze as I looked at the buildings with all the pristine glass windows glittering in the sunset, totally intact and free of bullet holes. People were meandering about without a care in the world, oblivious to how blessed they were to be safe. I was mesmerized by how clean and maintained everything was; more accurately I was mesmerized by the contrast of where I was, compared to where I had just been two days prior. The shock of moving from the reality of war, to the illusion of safety created an internal dichotomy that has haunted me ever since.
A similar sudden reality shift is now affecting most people in the world. Two months ago, there was no fear of a Pandemic, and now many people are wondering if this might be the apocalypse. And of course, there are still those who still cling to the belief that nothing bad ever will happen in Whoville, and they are acting accordingly.
For the latter, the former are quick to throw angry insults at them for their refusal to act responsibly. The apparent selfishness, and ignorance of those who are ignoring social distancing guidelines enrages those who understand the lethal gravity of inaction. The people who are ignoring the warnings are actually illustrating a common human reaction known as Cognitive Dissonance.
Cognitive Dissonance is the resistance to uncomfortable information which challenges your perceived, or preferred world view. The reaction of denial stems from the same stimulus as panic, they are both coping mechanisms to deal with fear. Neither extremes of Panic, or ignorance serves society well, and both are equally dangerous in our current dilemma.
Nobody knows for sure what the near future will hold, much less what the world will look like two years from now. "Prepare for the worst, and hope for the best" is the best advice for all of us to follow right now. It's a difficult balancing act to contemplate this dichotomy without going mad, but it's the task we all must tackle with resolve if we are to keep our heads about us during this pandemic.
How bad could this get? Well, when I was in Croatia, I witnessed the Apocalypse on a regional scale, and yes I believe it could potentially get that bad the world over. Panic plus economic collapse equals misery, no matter where you live. Canada is no more exempt from this than Croatia was in the early nineties. Yes…something bad can happen in Whoville, and we are at the gates of a potential catastrophe.
Will the world ever be the same? Not likely. The national debts of all G-20 nations are already unmanageable, and are about to rise drastically. High debt means inflation through taxation, and we're already taxed to the max. The other possibility is a global currency collapse VIA hyperinflation which is a ride nobody wants to take. Whatever is in store for us, it will be a significant challenge for the next decade, and perhaps even for a generation.
So, what do we do in the meantime? First, be vigilant. Be mindful of your mental state, and resist both extremes of ignorance, and panic. Put yourself into preparation, and problem solving mode, which will help to alleviate the stress of perseverating over our potential future. Also, be aware that history repeats itself, and historically governments take advantage of any opportunity to expand their power. Power once expanded, rarely contracts. If you trade your freedoms for security, the government is not likely to trade you back once the crisis has been resolved. If you think Canada can't turn into a dictatorship, then I'm afraid you just don't know your history. Canada and the USA were founded by a mass migration of people who were fleeing dictatorships, and our constitutions were created as a firewall against totalitarianism ever rising again. In the midst of an emergency, this firewall will come down. It's our duty as citizens to make sure the firewall is replaced once COVID19 is defeated.
Mark Meincke
Redline Real Estate
403-463-4313
Buy the Home Seller's Bible by clicking HERE
Meincke Show Podcast
Operation Tango Romeo
New app uses AI to help Calgary medical students practise interacting with patients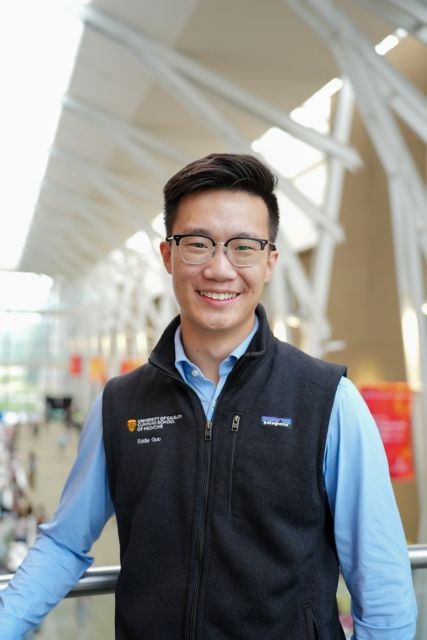 A Calgary medical student has developed a new app that allows future doctors to work on their diagnostic and communication skills before they set up their practices. Eddie Guo, seen in an undated handout photo, is a second-year student at the University of Calgary's Cumming School of Medicine. He says that one of the challenges in medical school is becoming better at interacting with patients. THE CANADIAN PRESS/HO-University of Calgary
By Bill Graveland in Calgary
A Calgary medical student has developed an app that allows future doctors to work on their diagnostic and communication skills before they set up their practices.
Eddie Guo, a second-year student at the University of Calgary's Cumming School of Medicine, said one of the challenges beyond the book learning in medical school is becoming better at interacting with patients.
As a result, he's turned to the rapidly growing area of artificial intelligence to create a number of virtual patients, with a variety of health conditions, that a student can talk to.
"It's good to get more than just two or four hours of the practice we get in medical school to really be able understand what it's like to communicate in a real-life scenario," said Guo.
"We think it's a good idea to have more than a few hours of practice before actually going out into the wild and seeing patients for the first time."
Guo created a program, called OSCE-GPT, where the computer is the patient. Users choose the patient's gender and can select a scenario or let the computer decide on one for them.
"I'm Ben Johnson and I've been having some really bad abdominal pains over the past two days. It's in the right upper quadrant and it spreads to my back," said the robotic male voice in the program.
"I've also been feeling nauseous and vomiting. I'm here in the emergency department because of the pain."
The AI patient can answer questions about its condition and, after the conversation, provides feedback to the student along with a list of other questions that could have been asked.
Guo said until he is finally allowed on the medical wards, the only other interactions he gets are with standardized patients, professional actors who present with various conditions.
"As you can imagine, they're really quite good at their job, but they're also very expensive," Guo said.
"We don't get that much opportunity really to practise speaking with a patient, and so what this app was born out of was a lack of possibility to practise."
Guo collaborated with medical resident Dr. Mehul Gupta. He said this kind of additional help will make for better doctors.
"One of the things we learn again and again in medical school, and that's reinforced again in residency, is that the history you take from a patient is almost 99 per cent of the diagnosis that you make and the impression you make on a patient the first time you speak with them is long-lasting," Gupta said.
"If you have the opportunity to practise to tailor your questions to see how you could have done better, you really do become a better doctor overall."
Guo said the app is still being upgraded and at this point there is no image of a patient that shows up on the screen. He said he is hoping that things like a chest X-ray, a CT scan or a picture of someone's skin could be incorporated into the program.
Within the first month of the app's launch, more than 550 health-care trainees from Canada and across the world including Europe, India, Saudi Arabia and the United States signed on.
This report by The Canadian Press was first published Sept. 22, 2023.
Officials say some patients showing 'severe symptoms' in Calgary daycare outbreak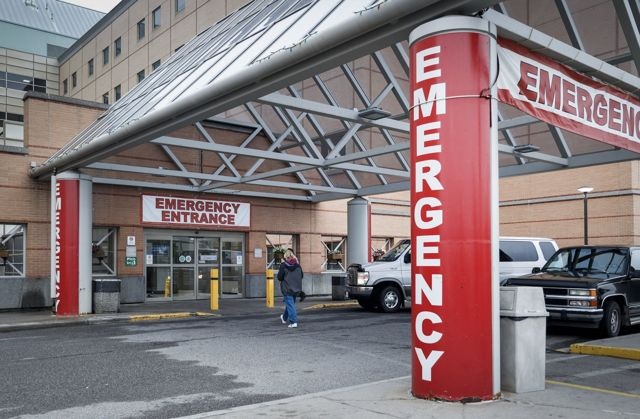 The entrance to the emergency department at Peter Lougheed hospital is pictured in, Calgary on Tuesday, Aug. 22, 2023. An Alberta health official says some of the 22 patients in hospital after an E. coli outbreak at several Calgary daycares have severe symptoms. THE CANADIAN PRESS/Jeff McIntosh
By Bill Graveland in Calgary
An Alberta health official says some of the 22 patients in hospital after an E. coli outbreak at several Calgary daycares have severe symptoms.
Alberta Health Services says there are now 96 laboratory-confirmed cases due to the outbreak, which is up from 56 on Tuesday.
Dr. Francesco Rizzuti, medical officer of health for the Calgary Zone, said Wednesday that the number in hospital has risen from 15. He said 16 are at Alberta Children's Hospital and six are at Peter Lougheed Centre.
"The majority of individuals that get sick from E. coli generally improve on their own and without specific treatment, typically within 10 days," Rizzuti said.
"However, a small portion may develop more severe complications. Currently, we have a handful of children who are hospitalized with these more serious illnesses related to this outbreak."
Rizzuti said that due to privacy concerns, he couldn't say how many are suffering from severe symptoms. He also would not would confirm any of them have hemolytic uremic syndrome, also known has HUS, which affects the kidneys and causes blood clots.
"Hemolytic uremic syndrome can be a severe consequence. At this time, because we do have small numbers and I want to respect the privacy of the parents, I'm unable to speak to the exact numbers," he said.
"But it is a small proportion of our laboratory-confirmed cases who do have severe illness and are in hospital at the moment."
Rizzuti said it was his decision to close six Calgary Fueling Brains daycares and five others out of an abundance of caution after he received calls from city emergency wards.
He said it could take a while before the investigation into the source of the E. coli is found. Public health officers have already taken samples from the central kitchen shared by the daycares.
"They collected a number of food samples, both leftover foods as well as frozen foods, from the site and these are being tested in our laboratory. These do take some time," Rizzuti said.
"Typically in outbreaks like this, we may not find a food source."
Faisal Alimohd, co-founder and chairman of Fueling Brains, said he's saddened that children are sick and immediately began working with AHS to investigate the outbreak.
"Though not all Fueling Brains child-care campuses are currently classified as being on outbreak status by AHS, we have proactively closed all potentially impacted locations as a precaution," Alimohd said in a statement.
"The exact source of the outbreak has not been identified, but we will be reviewing our policies, procedures and sourcing related to food services for our facilities."
This report by The Canadian Press was first published Sept. 6, 2023.