"Take a book, leave a book" at your Local Little Free Library
If you've ever been out on a stroll through your neighborhood or walked through a Calgary residential area on your way to work or school, you may have noticed some unique treasure chests hidden among the houses. These little birdhouses or glass-door cabinets perched on fences and secured to trees in the neighborhood open to reveal an ever-changing selection of second-hand books.
From an outside perspective, these outdoor libraries may appear as a lovely, local community project. However, the Little Free Library program goes far beyond the simple sharing of favorite books among neighbors.
Established in 2009 in Hudson, Wisconsin, Little Free Library has expanded into a global nonprofit network with more than 100,000 registered book-sharing boxes in 108 countries around the world. Using a "take a book, leave a book" system to facilitate the free exchange of millions of books every year, Little Free Library aims to foster the positive social and academic impacts of reading by increasing public access to books.
"The Little Free Library nonprofit organization expands book access for readers of all ages, abilities and backgrounds," says Margaret Aldrich, Director of Communications for Little Free Library, "for more than 10 years Little Free Libraries have been catalysts for bringing people together and getting books into readers hands."
Featuring everything from repurposed filing cabinets and stoves to handcrafted wooden birdhouses and barrels, there are more than 300 Little Free Libraries located across Calgary. Every year, thousands of books change hands throughout the city, using these tiny remote shelves to reach new readers every single day.
Karen Begg is a resident of southeast Calgary who has owned and maintained a Little Free Library in West Dover since 2013. Since unveiling the library, Begg has been continually encouraged by the engagement and support of the community, as well as the opportunity the library presents for committing local acts of kindness. "It made me realize how many small, community acts of kindness a person can do quite simply," she says. In addition to offering books, she has used the library to donate shelf-stable foods, socks and gloves during the cold months.
"For people who need a little extra support, the library is a great place," she continues, "people of all ages and all walks of life both contribute and benefit." After 7 years of operation in the community, Begg's library is now self-sufficient and moves up to 60 books every week.
Aislinn Cairns is a south Calgary resident who converted an old Calgary Sun newspaper box into a Little Free Library in the summer of 2019. Living close to an elementary school and with kids of her own, Cairns chose to tailor her Little Library specifically towards children.
"It really gets kids excited about reading," she says, "I get knocks on my door asking when there will be new books."
The Little Free Library organization allows people from all walks of life, children and adults alike, to expand their horizons and discover something new, all while giving old books a new lease on life. In doing so, Little Free Library contributes greatly to literacy, connectivity and positivity in communities around the world every day.
To find a Little Free Library near you or learn more about how to get involved, visit https://littlefreelibrary.org.
For more stories, visit Todayville Calgary.
"With success comes challenge." Premier Smith to Alberta Municipalities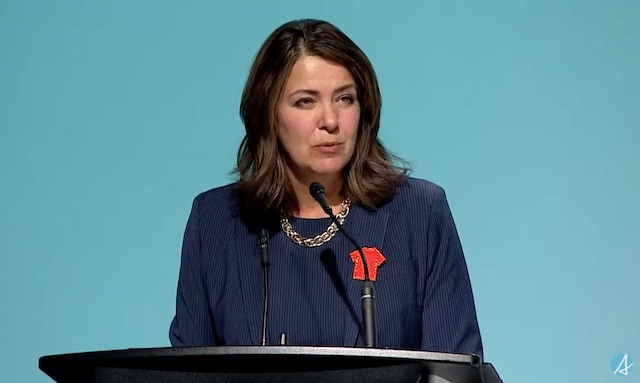 Premier Danielle Smith delivered a keynote address at the 2023 Alberta Municipalities Convention in Edmonton.
Aurora Cannabis to raise $33.8M in share offering, plans to repay convertible debt
EDMONTON — Shares of Aurora Cannabis Inc. were down more than 10 per cent after the cannabis company announced plans to raise $33.8 million in a share offering.
The company says Canaccord Genuity has agreed to buy, on a bought deal basis, 46,250,000 shares of the company at a price of 73 cents per share.
It has also granted Canaccord Genuity an over-allotment option for up to an additional 6,937,500 shares on the same terms. If the over-allotment option is exercised in full, the offering will total $38.8 million.
Aurora says it plans to use the money raised to repay the remainder of its outstanding convertible senior notes at or prior to maturity.
The company says the remainder, if any, will be used for strategic purposes, including potential acquisitions.
Aurora's stock price was down 13 per cent at 79 cents per share in early trading on the Toronto Stock Exchange.
This report by The Canadian Press was first published Sept. 28, 2023.
Companies in this story: (TSX:ACB)
The Canadian Press