Standing for Alberta – The Fight for a Fair Deal Within Canada
A new organization called Fairness Alberta has recently joined the ongoing national conversation discussing Alberta's role in the Canadian landscape as a major contributor to the wealth and general prosperity of the country. Arguments surrounding the value of Alberta, which position it as Canada's neglected province, have long been a contentious topic at the regional and national levels.
In 2016, Conservative MP Michelle Rempel famously made waves at parliament when she accused the federal government of treating Alberta like a "fart in the room, that no one wants to acknowledge or talk about" (1).
In October 2019, the results of the Canadian Federal Election saw the outrage of many across western Canada, giving rise to the popular Western Exit, better known as WEXIT, movement. Based on fundamental principles of economic liberty and social stability, WEXIT advocates for Western Canadian sovereignty through the secession of the western provinces from the rest of the country.
In January 2020, Alberta Proud hosted The Value of Alberta: A One-Day Conference on Alberta's Future, featuring keynote topics such as "The Economic Value of Alberta", "Is there a Canadian Manifesto without Alberta?" and "Reasons Alberta Struggles to fit and Where we go Next".
On Monday, May 25, Fairness Alberta joined the ranks of Albertans dissatisfied with the federal government's treatment of Alberta, seeking to take a stand against biased policies and regulations. This Proudly Canadian, Fiercely Albertan organization operates on non-partisan, factual fundamentals, seeking not to deepen the divide between Alberta and the rest of the country, but to bridge the gap through education, discussion and understanding.
Bill Bewick, Executive Director Fairness Alberta, brings extensive experience to the organization with a PhD in Political Science from Michigan State University and years spent working as a political consultant, as well as within the Alberta legislature. "It is entirely outside of our mandate to speculate about separatism," says Bewick of the WEXIT movement, "our goal is to get a better deal for Alberta, within Canada."
At the core of their organization, Fairness Alberta believes Canadians should recognize how a prosperous Alberta benefits Canada as a whole. According to Bewick, FA founders and members share a fundamental frustration regarding "how little people and politicians seem to understand about the amount of money leaving Alberta every year." The Alberta Transfer Meter, operated by Fairness Alberta, features a running total of Alberta's net contributions to other provinces in the form of federal taxes and EI premiums over the last two decades. According to the Meter, Albertans have seen an estimated total of $324 billion of their tax dollars spent in other Canadian provinces from the year 2000 to 2019.
Dedicated to informing the rest of the country about "the importance of Alberta's contributions to Canada, and about the unfair nature of various federal policies, actions, and decisions from Ottawa", Fairness Alberta hopes to help level the Canadian playing field in regards to fiscal, trade, energy, procurement and infrastructure issues.
"Alberta's contributions are taken for granted," says Bewick, "We want to encourage investment in a place that has shown high levels of productivity in the past and has a lot of potential for the future." In achieving this goal, Bewick adds, "we really think education and open discussion are critical in reaching a common ground and having any significant change take place."
Since their official launch, Fairness Alberta has experienced positive pick-up and feedback from the Alberta public, and is committed to continued growth and expansion throughout the rest of Canada. Dialogue based and donation driven, Bewick encourages the public to reach out, share feedback and join the conversation surrounding Alberta's future.
For more information on Fairness Alberta and how to get involved, visit https://www.fairnessalberta.ca.
For more stories, visit Todayville Calgary.
Telus Corp. marks opening of Telus Sky in downtown Calgary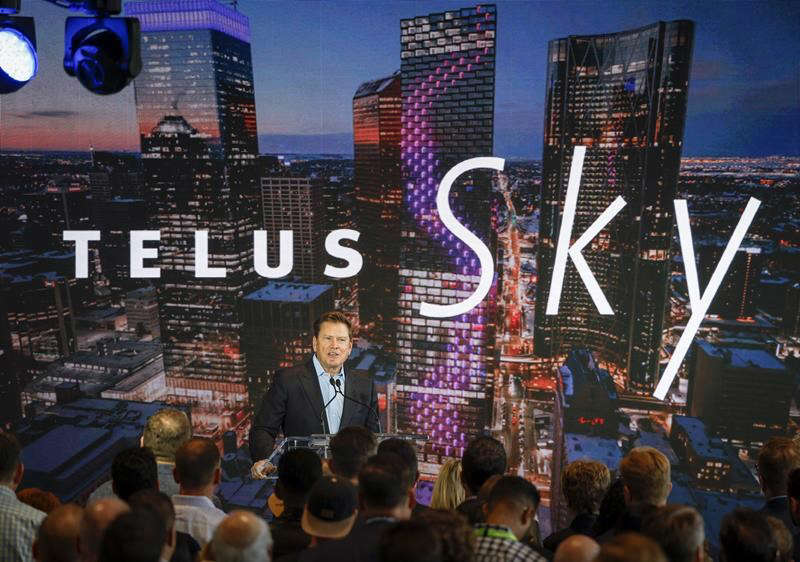 CALGARY — Telus Corp. marked the opening of its new 60-storey Calgary headquarters on Wednesday.
The new $400-million skyscraper, Telus Sky, has been in development for nine years and is now the third-tallest building in downtown Calgary. It features 750,000 square feet of office and retail space as well as 326 rental homes.
The building's eye-catching design, by architects Bjarke Ingels Group (BIG) and Dialog, along with developer partner Westbank and Allied, starts with a rectangular floorplate and then gradually twists as it rises.
Integrated into the facade of Telus Sky is Canada's largest public art display. "Northern Lights" by Canadian author and artist, Douglas Coupland, creates a light show across the building's exterior.
Telus Sky will be home to more than 1,600 Telus employees. It joins TELUS Garden in Vancouver, TELUS Harbour Toronto, TELUS House Ottawa, and Place TELUS Québec as one of the company's LEED (Leadership in Energy and Environmental Design) Platinum-certified buildings.
Among the building's environmental features is a storm water management system that recycles rainwater for use in washroom toilets, reducing the building's municipal water demand by 70 per cent.
This report by The Canadian Press was first published July 6, 2022.
Companies in this story: (TSX:T)
Amanda Stephenson, The Canadian Press
First set of tickets for Pope's mass in Edmonton booked within minutes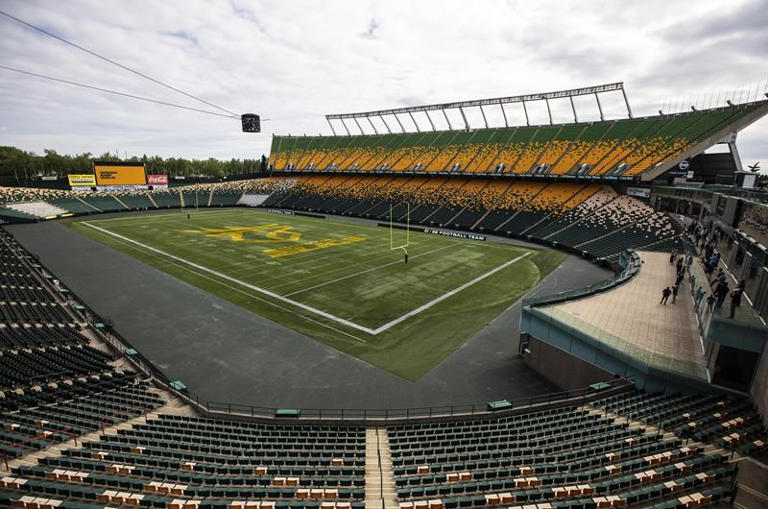 EDMONTON — Thousands of tickets for the Pope's open-air mass at Edmonton's Commonwealth Stadium were all booked about 15 minutes after they were made available to the public for free.
The July 26 mass with Pope Francis is part of his six-day Canadian tour, which also includes stops in Quebec City and Iqaluit.
Neil McCarthy, a spokesperson for the papal visit, says organizers were hopeful the first block of 16,000 tickets would be booked immediately because the impact of the event cannot be underestimated.
A total of 65,000 people can attend the mass at the football stadium.
McCarthy says if people haven't been able to book a seat, they can do so on two other days later this month, when the remaining blocks of free tickets will be made available.
Organizers divided the booking process for the mass over three days, because they say it is easier to manage and want to prioritize some Indigenous people who want to attend.
"We've got seating allocations for Indigenous participation, whether it's residential school survivors, elders, knowledge keepers or those who are supporting them," McCarthy said Wednesday.
"Today was a very, very positive start to the day. People really want to be with him."
The Pope is to arrive in Edmonton on July 24. The next day, he is to meet survivors and visit the site of the former Ermineskin Residential School in Maskwacis, about 80 km south of Edmonton.
He is scheduled to arrive in Quebec City on July 27 and stop in Iqaluit on July 29.
The Pope's visit comes after he apologized in April to Indigenous delegates at the Vatican for the Roman Catholic Church's role in Canada's residential schools and the intergenerational trauma it caused.
This report by The Canadian Press was first published July 6, 2022.
The Canadian Press