Stand Together Against Bullying – Pink Shirt Day 2021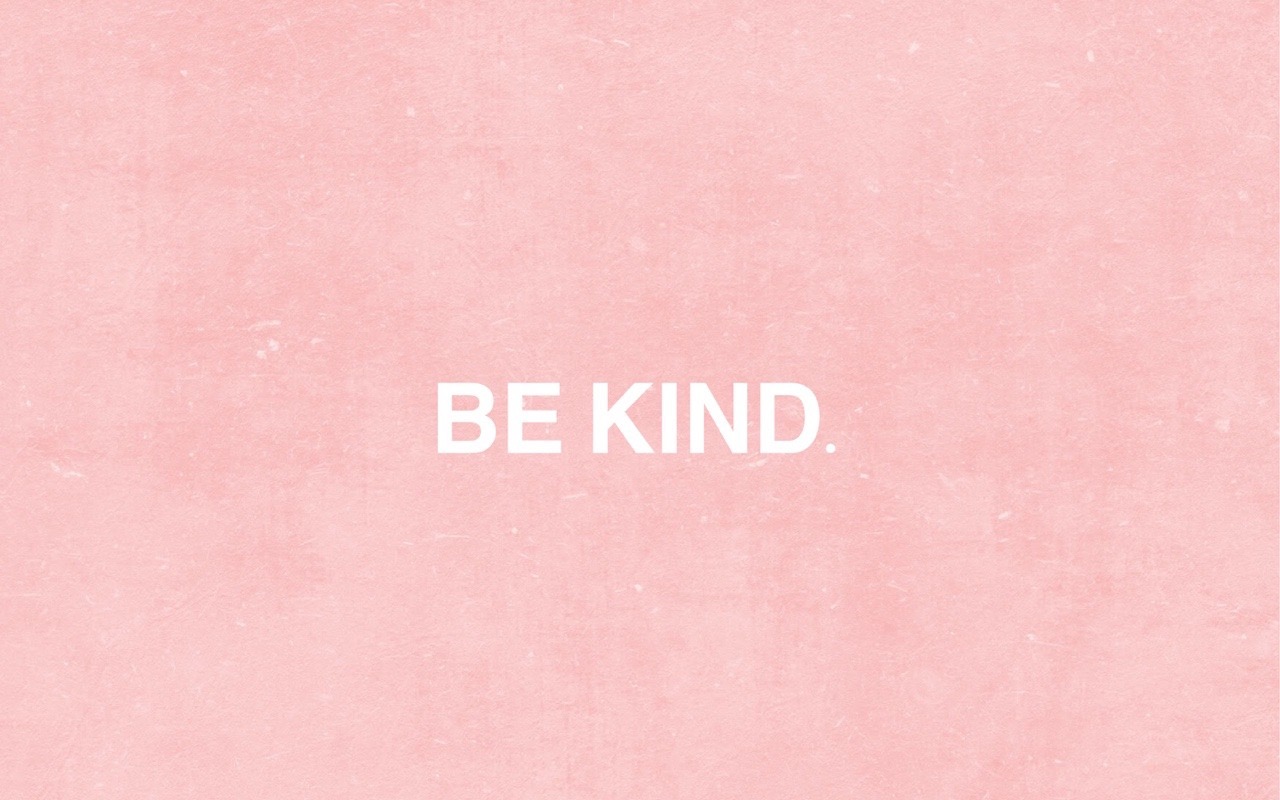 Wednesday, February 24, 2021 is the 14th annual Pink Shirt Day, a globally recognized movement to end bullying in all its forms and encourage the growth of a global community built on acceptance and support regardless of sex, age, background, gender identity, sexual orientation or cultural differences.
Pink Shirt Day originated in 2007 in the eastern Canadian province of Nova Scotia, in a local story that captured national – and eventually international – attention, when a new 9th grade student walked in on the first day of school wearing a pink polo shirt.
Travis Price and David Shepherd are the two young men responsible for unintentionally launching the global pink shirt movement. According to Price and Shepherd, a group of students were physically and verbally bullying the young man for wearing pink to school. As senior students, Price and Shepherd saw the situation as an opportunity to set an example and take a stand against bullying in their school.
That night the two went and purchased 75 pink tank tops and released a call on social media (MSN messenger at the time) encouraging their fellow students to show up at school the next day wearing pink. According to Price, in a school of roughly 1000 students, "700 to 850 kids showed up wearing pink. It was incredible."
Since 2007, the movement has gained exponential traction and is now recognized in communities all around the world as individuals come together in an international display of solidarity against the devastating impacts of bullying.
The global movement to end bullying has led to the creation of countless local, national and internationally available resources, but there is still a long way to go.

Bullying Canada identifies 4 distinct types of bullying: verbal, physical, social and cyber. Short term and long term effects of bullying vary based on each situation, and can lead to damaging and dangerous outcomes for victims, friends, bystanders and countless others. While commonly associated with children and young adults in school, bullying impacts individuals of all ages and backgrounds in many areas of life, including the workplace.
Statistics released by Safe Canada revealed that 47% of Canadian parents have at least one child that has experienced bullying, while approximately 33% of the population experienced bullying as a child, and 33% of teenagers reported being bullied recently. Furthermore, around 40% of Canadians reportedly experience bullying in the workplace on a weekly basis.
If you, or someone you know is struggling with bullying, reaching out is the first step. You are not alone, and help is available. Extensive networks of resources exist in Alberta and across Canada to provide support, aid and solutions for those experiencing bullying.
For support from Bullying Canada, call (877) 352-4497, or email [email protected].
The Alberta 24-hour Bullying Helpline can be reached at 1-888-456-2323, or the online Bullying Helpline Chat can be accessed here.
For more resources on how to identify a bullying situation, get help, or help someone in need, visit https://www.alberta.ca/bullying-how-to-help-others.aspx.
For more stories, visit Todayville Calgary.
Northern Alberta community of Fort Chipewyan evacuated due to wildfire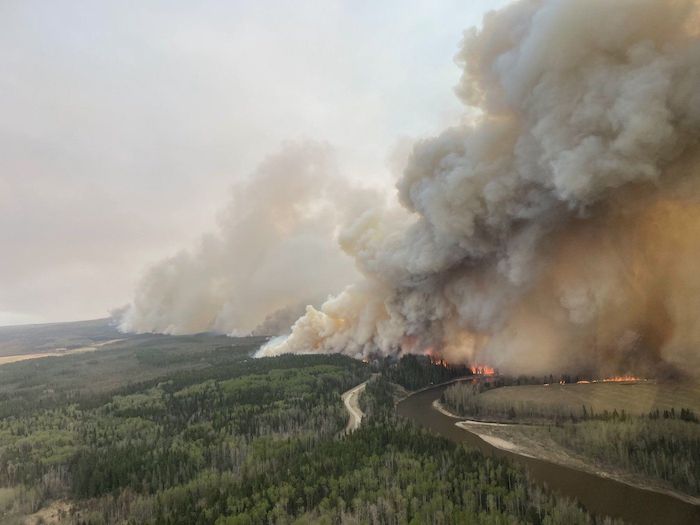 A large wildfire burns this handout image provided by the Government of Alberta and posted on their social media page. THE CANADIAN PRESS/HO-Government of Alberta- Alberta Wildfire
Fort Chipewyan
A hamlet in northern Alberta has been placed under an evacuation order as a wildfire burns nearby.
Residents of Fort Chipewyan, a community of about 800 people, had been told earlier in the day to be ready to leave with 15 minutes' notice.
Athabasca Chipewyan First Nation, Mikisew Cree First Nation, Fort Chipewyan Métis Nation and the Regional Municipality of Wood Buffalo issued a joint evacuation order for the community.
Officials say the out-of-control wildfire is about eight kilometres away from Fort Chipewyan's airport and is about 30 square kilometres in size.
The evacuation is being handled in stages, starting with residents in Allison Bay, the community closest to the wildfire boundary.
Air transportation to Fort McMurray, about 300 kilometres to the south, is being arranged, as well as temporary accommodations in Fort McMurray and Fort McKay for evacuees.
This report by The Canadian Press was first published May 30, 2023.
Tabulation change led to delay in voting results: Elections Alberta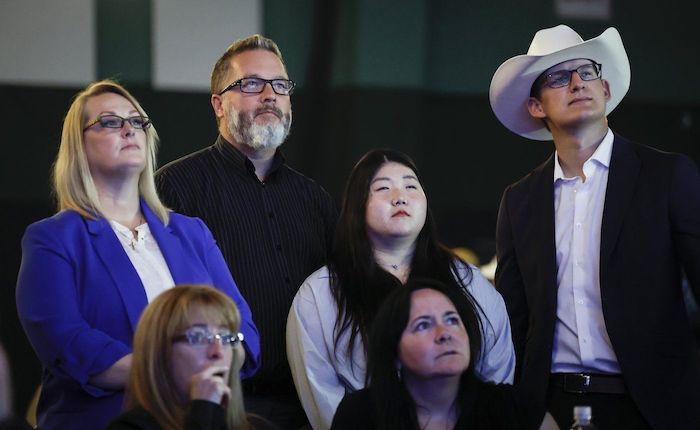 United Conservative Party faithful gather to watch election returns in Calgary, Monday, May 29, 2023. An Elections Alberta official says a change implemented in how "vote anywhere" ballots in advance voting are counted likely contributed to delays in the publishing of results in Monday's provincial election. THE CANADIAN PRESS/Jeff McIntosh
By Bill Graveland in Calgary
An Elections Alberta official says a change in how advance "vote anywhere" ballots are counted likely contributed to a delay in publishing the results in Monday's provincial election.
Only a small fraction of results were available 90 minutes after polls closed.
And a United Conservative Party win wasn't called for another 90 minutes after that.
At some points, a candidate was shown as leading in a riding with a single vote.
Robyn Bell, a spokeswoman for Elections Alberta, says a key change made after the province's 2019 election was likely a factor.
She said it involves ballots that allow Albertans vote in advance at any polling station in the province.
"The report of tabulator results was occurring in returning offices for the first time this year. In the previous election in 2019, those ballots were transported back to Elections Alberta for a count and you may remember that resulted in a 2-1/2 day delay in reporting after the election," she said.
"They're not just counting votes for the candidates in their electoral division, they could be counting results for candidates in multiple divisions."
As well, Bell said transmitting the official statement of votes has to be inputted into the results site and every step of the way has a verification process.
"That just takes time and we prioritize the accuracy of reporting over the speed of reporting is ultimately what it comes down to."
Bell said after every election, there's an opportunity to provide recommendations on what went well and what didn't. Recommendations come in the report of the Chief Electoral Officer about six months after the election. She said the legislative assembly also has a chance to make suggestions.
"It could result in changes for the next provincial election."
Bell said despite the criticism, she thought things went well, although she understands the public was anxious to see the final results.
"It's just an evolution in the vote universe," she said.
"In 2019, I think the delay in counting ultimately kind of resulted in people feeling like their vote didn't matter, because the election was called before those 'vote anywhere' ballots were even counted."
Bell said there will be automatic recounts in Calgary Acadia and Calgary Glenmore, since the margin of victory in those constituencies was under 100 votes.
This report by The Canadian Press was first published May 30, 2023.