More Important Now Than Ever: Remembrance and a few thoughts on this World Suicide Prevention Day
More Important Now Than Ever: Remembrance and a few thoughts on this World Suicide Prevention Day
On August 31, 2019 my sister Kelly and I lost our bright, kind, and beautiful mother Tracey to suicide. In the weeks preceding her death, a major depression Mum had dealt with and overcome several times before in her life came back with a suddenness and intensity that staggered us. It was terrifying to see this episode's impact and how debilitating it was; the helplessness you feel when a loved one is being tormented by their own mind is it's own kind of torture. Still, even through her long and grinding bouts of depression in years past, suicide somehow never felt like a possibility. The very notion was abstract, dark, and seemed impossible- so it was the most shocking and devastating thing we could have imagined that it happened. It's now just over a year later and there are many days we still can't believe she's gone.
Our Mom was our best friend, our biggest cheerleader and just exuded light and kindness. She always wanted to help, whether it was my sister and I, her friends and family or complete strangers- if there was a need for volunteers, she'd be one of the first to sign up. She had so much love for us, for her dogs, for travelling, for golfing, for gardening, for relaxing with drinks on the patio and talking for hours. She was so compassionate and could truly see the good in everyone. When we were growing up, she worked as a registered nurse and often brought home little gifts from patients and their families that she had cared for. She left such an impression on the people she met and this was especially obvious at her memorial, where we were just blown away by the amount of people who attended that had worked with her years, even decades ago. The stories people were generous enough to share with us about our mom were so beautiful- they were such a gift and helped to propel us through that surreal day.
Last year at this time, as we moved through the chaos and fog immediately following Mum's death, I began to see bright yellow billboards all over town stating that '11 Edmontonians attempt or die by suicide per day'. As it turns out, each year, over 50 countries recognize September 10th as World Suicide Prevention Day. So soon after losing my mother this way, the subject of suicide was the only thing on my mind apart from the endless 'Why?'s. This campaign's timing was bananas.
I quickly learned the ads were promoting 11 of Us, a resource portal developed as part of Living Hope: A Community Plan to Prevent Suicide in Edmonton. The Living Hope initiative was developed by a committee of individuals and organizations dedicated to preventing suicides in Edmonton. The plan's objectives include raising awareness and making education on mental health and suicide prevention available to Edmontonians, in most cases free of charge.
Over the past year, I've taken advantage of this initiative and attended excellent courses provided by Living Hope stakeholders including Mental Health First Aid (Basic Course), Safe Talk, Question, Persuade, Refer (QPR), Applied Suicide Intervention Skills Training (ASIST), and Trauma Informed Care. Through these courses I have been lucky enough to meet and share my story with so many kind, compassionate and interesting people, whether they were the ones delivering the course or learning alongside me.
Of course COVID-19 has changed everything. Most of these courses are now offered online, including one I have yet to take called LivingWorks Start which teaches trainees to recognize when someone is thinking about suicide and to connect them with help and support. While many of us are dealing with screen-fatigue, please don't let the idea of one more online session deter you. Most courses don't require more than an hour, but the information you'll learn really could help keep someone with us.
This past year has been the hardest of my life, yet I've been encouraged and inspired by the work and efforts of so many as I try to gain peace and a better understanding of my family's experience. It goes without saying that suicide is a difficult topic- I've come to learn that nothing sucks the air out a room quite like the mention of it. It's much easier to look away, but for World Suicide Prevention Day this year, if your own mental health allows for it, take a moment to read about the experiences of suicide attempt survivors, caregivers, suicide loss survivors, and those at risk of suicide.
We live in a new world now and we're going to need each other more than ever. Like another one of those big yellow 11 of Us billboards I saw recently said, 'There's rarely been a more important time to check in with one another.'
WHERE TO GET HELP
Call 911 if someone is in immediate danger of becoming injured or dying.
In Edmonton: Call The Canadian Mental Health Association's (CMHA) Edmonton Distress Line 24/7 at (780)-482-4357 (HELP)
In Red Deer & across Alberta: Call the Mental Health Help Line at 1-(877)-303-2642
In Calgary: Call the Distress Centre Calgary's Crisis Line 24/7 at (403)-266-4357 (HELP)
Reducing funding for RCMP on the table for Saskatchewan amid firearm buyback debate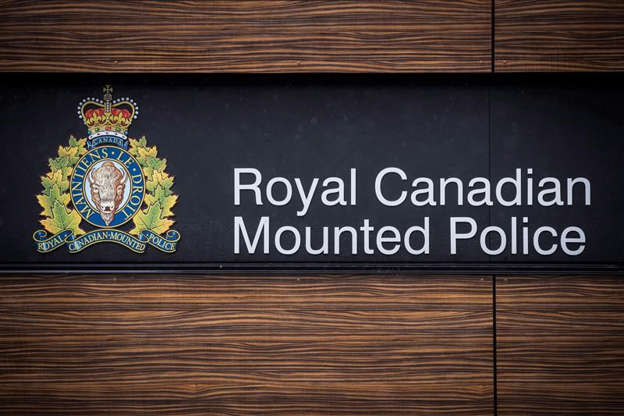 REGINA — Saskatchewan says it would consider reducing its funding for the RCMP if the force was to help the federal government with its proposed firearms buyback program.
Public Safety Minister Christine Tell says all options are on the table, signalling the province will not help Ottawa collect guns it has banned.
"We as a province fund the RCMP to a tune of 70 per cent, so it could even get more interesting," Tell said Thursday.
The Saskatchewan Party government said it is pushing back to protect law-abiding firearms owners from what it views as federal intrusion on its provincial autonomy.
Under Ottawa's proposed firearms buyback program, it would be mandatory for people to have their assault-style firearms rendered inoperable or have them discarded. That could also include centrefire semi-automatic rifles or shotguns designed to accept a detachable magazine that can hold more than five cartridges.
In response, Saskatchewan has introduced its own firearms act to forbid municipalities and police services from receiving federal money to help confiscate firearms.
The proposed law says a municipality, police service or board would have to get written approval from the province's public safety minister before agreeing to support the federal buyback program.
It also states that Saskatchewan's chief firearms officer would enforce which federal agent can or cannot confiscate firearms in the province.
"These legal firearm owners are not the ones committing the crimes," Tell said.
The legislation was tabled Thursday, months after Tell wrote a letter to Assistant Commissioner Rhonda Blackmore, the head of Saskatchewan's RCMP. It stated that the province would not support the Mounties using provincially funded resources to help confiscate firearms.
Alberta, Manitoba and New Brunswick have sent similar letters to their RCMP forces. They have joined Saskatchewan in asking Ottawa to not use up "scarce RCMP and municipal resources" for its buyback program.
In October, Blackmore said Mounties are service providers, not decision-makers, and any decisions over the buyback program are between the federal and provincial governments.
"As the service provider, we would be the individuals that get our information from them," Blackmore told The Canadian Press.
That includes if additional resources would be needed by RCMP once the buyback program rolls out.
"It would depend on the level of expectation, and what that looks like, and what the involvement is if there are additional resources," Blackmore said.
The specific role of the RCMP and the details surrounding the buyback program have not been determined.
On Friday, the Saskatchewan RCMP said it will continue to prioritize front-line services and the safety of communities is its highest priority.
The Saskatchewan Firearms Act also calls for helping firearm owners get fair market value for guns collected through the buyback program and would require all seized firearms to go through forensic and ballistic testing.
The Saskatchewan Wildlife Federation, which advocates for hunters and the protection of the province's hunting heritage, praised the proposed act, saying it would mitigate the "draconian" federal legislation.
There are approximately 115,000 licensed firearms owners in Saskatchewan, 75,000 of whom may be penalized under the federal government's policy. That's about 10 per cent of Saskatchewan's adult population, the province said.
Saskatchewan's NDP Opposition has stood united with the government to denounce the program.
"It does not strike the right balance for Saskatchewan," justice critic Nicole Sarauer said last week in the legislature.
"These amendments are overbroad and capture rifles that have legitimate uses for both hunters and producers in Saskatchewan."
This report by The Canadian Press was first published Dec. 2, 2022.
Mickey Djuric, The Canadian Press
Premier Smith goes on the attack against NDP opposition to the Alberta Sovereignty Act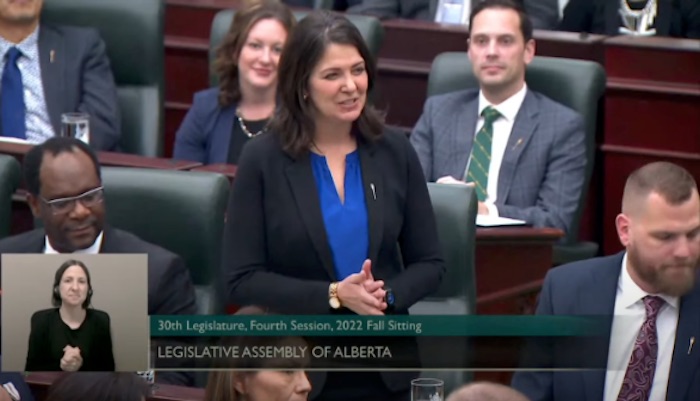 It appears Premier Danielle Smith has had enough of playing defence. In the days since introducing the Alberta Sovereignty Act in the Alberta Legislature this week, Smith has found herself explaining and re-explaining how the Act will survive scrutiny and serve the province well in ongoing battles over issues of contention with Ottawa. Peppered by the media and by the Official Opposition NDP inside and outside the legislature, Smith and her team decided to turn the tables.
The media and the official opposition claim the Sovereignty Act allows laws to be crafted by cabinet members "behind closed doors" after the legislature has declared a federal overreach into provincial jurisdiction.
However that appears to be a confusing opposition tactic since the Sovereignty Act does not require the passing of new laws. Rather, the Province will simply provide reasons for declining to enforce federal laws which (i) intrudes into provincial legislation jurisdiction, (ii) violates the rights and freedoms of Albertans under the Canadian Charter of Rights and Freedoms, or (iii) causes or is anticipated to cause harm to Albertans.
Thursday, Premier Smith took the opportunity during Ministerial Statements to lash out at the opposition leader Rachel Notley for siding with Ottawa instead of Alberta in the struggle to defend provincial rights.