World War II amputee veteran reflects on D-Day 75th anniversary
On June 6, 1944, Toronto's Allan Bacon was one of thousands of Canadians to arrive by boat on the shores of Juno Beach in Normandy, France. As this year marks the 75th anniversary of D-Day, 99-year-old Bacon is reflecting on that pivotal event.
Bacon enlisted with the Royal Regiment of Canada in 1940 and was later transferred to the Canadian Scottish Regiment. When his tour of duty took him to Normandy, his role was in the mortar platoon. "That was because I had difficulty opening one eye at a time, which was required to operate a rifle," he recalls.
On June 17, 1944, Bacon was based in a barn, anticipating an attack that never came. He went into a nearby shed to disarm the grenades when one exploded, resulting in the loss of his right arm.
When Bacon realized he'd lost his arm, his first thought was, "This will break my mother's heart." Bacon recovered at a hospital in England where he learned to use his left arm through exercises like washing windows.
On returning to Canada, he became a member of The War Amps, an Association started by amputee veterans returning from the First World War to help each other adapt to their new reality. Today, Bacon continues to be active with The War Amps Toronto Branch
Bacon's daughter, Deborah Sliwinski, says, "In our family, we see my father as a hero. He talks about how losing his arm was the best thing that ever happened to him because it gave him the courage to try new things."
When asked what he thinks of being called a hero, Bacon says that he didn't do anything out of the ordinary, adding that at the time, men and women enlisted with the goal of protecting the country and he wanted to do the same.
Through the years, he along with his fellow War Amps members, have made it a goal to remember and commemorate their fallen comrades, and to educate youth about the horrors of war. "In Normandy, many Canadians died or suffered wounds that they had to carry for the rest of their lives," says Bacon. "On anniversaries like D-Day, it's important that we never forget."
What's going on in India?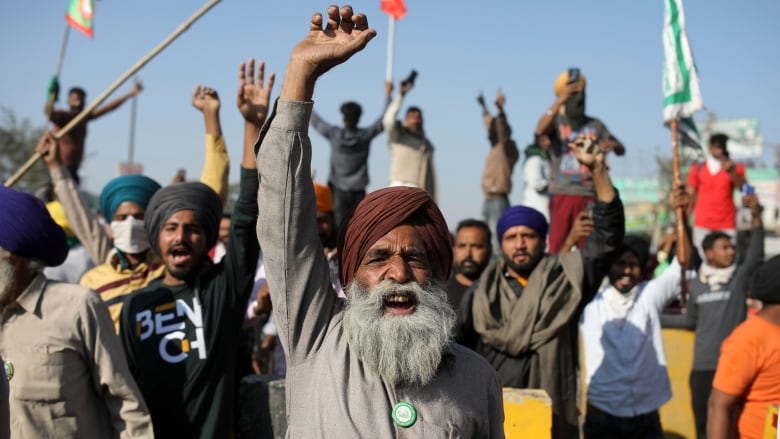 In many places around the world, the global turmoil of 2020 has been deeply exacerbated by accompanying political violence. The United States, Belarus, and India are just a few locations that have faced growing levels of internal violence and discord as political protests have led to dangerous clashes between citizens and governing bodies. 
In India, where the COVID-19 pandemic has been rampant throughout the course of 2020, citizens have also experienced ongoing political uncertainty as recent protests against the Narendra Modi government have been met with violence. 
The upheaval began in August in response to the Modi government's decision to pass 3 reform laws that would negatively impact local farmers in India's agricultural sector. The Farmers Produce Trade and Commerce Bill, the Farmers Agreement of Price Assurance and Farm Services Bill, and the Essential Commodities Bill were passed on September 20, 2020. These laws, which were allegedly hurried through parliament with little to no regard for the concerns expressed by existing farming organizations in India, serve to ease corporate restrictions and remove regulations put in place to protect farmers and their product. 
Although there does appear to be a consensus surrounding the need for reform in India's agricultural sector, the laws passed by the Modi government have been condemned for failing to meet the requirements of a fair, legitimate transition. According to Time, "While the government says the new laws will "empower farmers", unions say the rule changes are not policies they have asked for. Instead they fear that instead of trying to help farmers, the government is opening the door to big corporations who may eventually force them off their land and out of their business." 
Peaceful protests then emerged as a public response to the actions of the Modi government. The protests, which originated in Punjab and Haryana as a collaborative movement among Indian farmers, have since mobilized tens of thousands of farmers and supporters from across the country to march on the Indian capital. The protestors flooded New Delhi's main entry points, where they have since set up camps to maintain their position and stand firmly for their cause, requesting the repeal of the 3 reform bills. 
Despite the peaceful nature of the protests, where many of the participants are senior members of the community, since September they have been increasingly met with violence from the state. "Protestors have been met with water cannons on some of the coldest winter days Delhi has experienced," Global News reported in December, "along with tear gas, concrete barricades, and some were even beaten with batons." As a result of state-mandated violence and harsh outdoor conditions in Delhi, a total of 65 deaths were reported between November 26, 2020 and January 3, 2021 (1).
Individuals and organizations around the world have since come forward to stand in solidarity with Indian farmers and condemn the acts of violence being perpetrated against them by military and law enforcement. 
On Tuesday, January 12, 2021, the Indian Supreme Court announced it was "halting the market-friendly laws until a committee of experts, appointed by the court, could consult with government officials and protesting farmers to try to find a solution to the dispute" (2). However, protestors have expressed initial skepticism following this announcement, and intend to maintain their positions within the protest camps until the laws are repealed. 
"It's cold and it's hard to arrange water every morning for a bath," says Shabek Singh, a member of the protests who remains camped in one of the established tent cities, "but we're not going anywhere. We will make this our temple" (3).
For more stories, visit Todayville Calgary.
Local artist records original song for Remembrance Day with video showcasing Red Deer's military history
This spring, a singer and songwriter friend of mine from Red Deer, Shelly Dion, came to me with a song idea that had, in her words, been "knocking around in my head for the past 30 years". She said that she really wanted to pay her respects to the people who sacrificed their lives and livelihoods to go to war.
The song is called "Lay Me Down", and it's a very fitting song for this time of year. We decided to get together and record a simple version of the song.  Then I sent her off to see musical wizard, Red Deer's Heath West of Medodius Design.  Heath came up with some excellent improvements and we recorded it in his studio this fall.
As Honorary Colonel of 41 Signal Regiment in Alberta, I'm always looking for opportunities to promote the military, our Regiment's members, and of course at this time of year, to acknowledge the sacrifice made by the men and women who serve in the Canadian Armed Forces. "Lay Me Down" hit all the right notes.
With some help from Counsellor Michael Dawe, long time archivist for the City of Red Deer, I gained access to some wonderful historic photos that helped me to tell the some of the story of Red Deer's military history. At the same time, I wanted to help the members of our Regiment honour the many local members who have volunteered to put their lives and careers on hold to deploy internationally to places like Afghanistan, Golan Heights, Bosnia-Herzegovina, Croatia, and more recently Ukraine and Latvia. This project allowed me to both profile some local history and recognize our more modern history. Thanks to WO Drew Adkins of 41 Signal Regiment for his help in coordinating photos from our wall of fame inside Cormack Armoury.
The above video is the result. Take some time to learn about our local military history. Do you know who Cormack Armoury  is named after? You'll also learn about local members of 41 Signal Regiment (2 Sqn), many of whom actively serve in Armed Forces today. You may even know some them as neighbours, friends, and co-workers.  Please take a moment to acknowledge their service, and on November 11th, with so many restrictions that limit our usual services and ceremonies, please take a moment at 11 AM to be silent and consider how lucky we are to be at peace in our country.
"Lay Me Down" is written and performed by Shelly Dion and produced and engineered by Heath West. Musicians: Bagpipes Glenn MacLeod, acoustic guitar Heath West, electric guitars Lloyd Lewis, drums Phil Liska, Bass Doug Gagnon.
Click to read more on Todayville.