It's starting to feel like a real old-fashioned NHL playoff
Hard to believe, but this is starting to feel like a real, old-fashioned NHL playoff. The Stanley Cup will not be awarded for months.
Yet, here we are, two weeks away from the official lid-lifters in the opening round of what will become a five-series marathon for two teams and the internet universe is full of hopes and doubts, fears and prayers — almost as if this was April, not mid-July.
The shocking news that a $600-million edifice like Rogers Place is as susceptible to flooding as a mere million-dollar structure did nothing to delay this outbreak of opinions. No further proof is needed that hockey, for large groups of us, stands at least equal to COVID-19 in daily interest.
In Edmonton, for example, there is growing hope that the Oilers will cruise through their first series with Chicago, largely because proven goaltender Corey Crawford has been declared "unfit to play" and any available backup for the Blackhawks is far less competent.
Having Leon Draisaitl and Connor McDavid available will also help, and there were signs late last season that the depth pieces at forward and on the blue line are more than just place-holders until the superstars take control.
In Calgary, optimism is quieter, maybe because the Flames have won only a single playoff round in six years. And maybe because talented Johnny Gaudreau was separated from familiar linemates in early workouts while other holdovers have been — like Crawford — handed the unique "unfit to play" designation.
General manager Brad Treliving went online quickly to defend Gaudreau against suggestions that he is not in game shape and has struggled in the early going. Gaudreau himself labeled the criticism "just one of those things."
Other potential issues have not been widely discussed. Coronavirus infection for Derek Ryan and others who have stayed off the ice? Chances are fans will never know.
At least one presumed expert on Friday went so far as to say in print that the Oilers "have a real chance to win the Stanley Cup." Pre-playoff season is the time to dream big in any sport.
In a normal NHL season — if there is ever such a thing as normalcy in sports — the focus for most fans goes to player signings, free-agent talk and the like, including inevitable calls by so-called supporters for one or several coaches and general managers to be dismissed.
A big difference now is fan interest in winners of individual honours: Ted Lindsay Award for best player, Lady Byng for most gentlemanly, Masterton Trophy for dedication to the sport and others for top rookie, top defenceman and the like.
Automatically, Calgary fans insist, for example, that Mike Giordano is the league's top defender. Oilers fans and several media types, always convinced their opinions lack bias, have gone on record with demands that Daisaitl must win the Lindsay award and that McDavid, who used the entire 2020 pre-season to battle a career-threatening knee injury, should have no challengers for the Masterton Trophy, which this old reporter believes should go to Bobby Ryan of the Ottawa Senators.
So far, it seems, the biggest difference between Edmonton's observers and the similar group in Calgary is positive versus negative. Some Oilers-watchers honestly hint that their two superstars might portend the beginning of a magical run like Edmonton's domination in the 1980s.
In Calgary, there are fresh complaints about Treliving's performance and the sad recent finishes by a team that figures to be seriously challenged by the Winnipeg Jets in their first-round match.
Is it too soon to be talking about a Flames rebuild. Several voices in Calgary insist it is not.
Lawyer tells Alberta's highest court review board biased in de Grood's case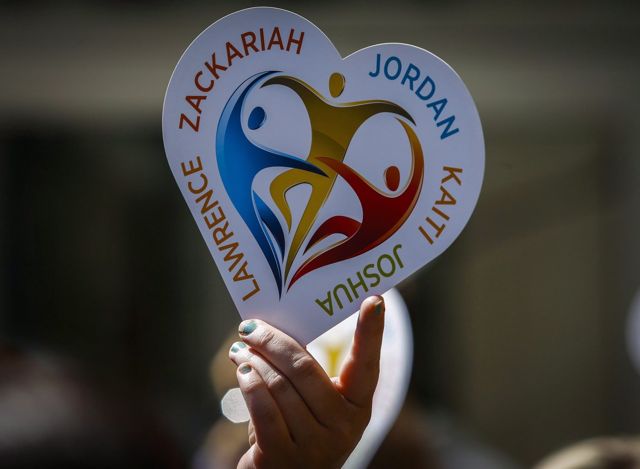 A family member of five slain students holds a heart sign with their names on it following a court decision in Calgary, Alta., Wednesday, May 25, 2016. Alberta's highest court is being asked to overturn a review board decision on the stabbing deaths of five young people at a Calgary house party that confined a man to a supervised Edmonton group home. THE CANADIAN PRESS/Jeff McIntosh
By Ritika Dubey in Edmonton
Alberta's highest court is being asked to overturn a review board decision that confined a man to a supervised Edmonton group home after the stabbing deaths of five young people at a Calgary house party.
The lawyer representing Matthew de Grood argued Wednesday the review board's decision was biased, citing what she described as political interference from Alberta's former justice minister.
"The appellant says, 'I think the conclusion about me is wrong. The board's conclusion is incorrect and not supported by evidence,"' Jacqueline Petrie said before the Alberta Court of Appeal. "He says there's no significant evidence that he's a risk."
De Grood, 31, was found not criminally responsible in 2016 for the killings two years earlier of Zackariah Rathwell, Jordan Segura, Kaitlin Perras, Josh Hunter and Lawrence Hong because he was suffering from schizophrenia at the time. Petrie said de Grood has been stable on medication, is at low risk to reoffend and should be allowed to live with his parents while being monitored under a full warrant.
She argued the review board misunderstood medical evidence during the September 2022 review, which deemed de Grood a significant risk despite the assessment showing improvements. She said the board is supposed to recommend the least onerous disposition compatible with public safety and did not do that for de Grood.
The defence lawyer has said the review had been influenced by former justice minister Doug Schweitzer, who weighed in on de Grood's case in October 2019 after the panel allowed de Grood to transition from institutional care to a supervised group home.
He has been under supervision at a group home. His case is reviewed by the Alberta Review Board yearly to see whether he can transition back into the community while maintaining public safety.
Petrie pointed at de Grood's "exemplary record," and that he has been "compliant to the (medical) treatment team."
"Nobody knew he had schizophrenia (at the time of the stabbings) and needed medication."
Crown prosecutor Matthew Griener said the board considered a conditional discharge but dismissed it, citing a relapse in schizophrenia symptoms in 2021.
Griener said de Grood's relapses were brief and happened at the hospital, providing an early window for medical professionals to intervene.
Justice Kevin Feehan said de Grood may be low-risk, but the consequences of even one relapse could be significant.
Reading from an expert's report, Feehan said: "A low risk to offend doesn't mean the reoffence would not be severe."
Some family members of the victims drove from Calgary for the hearing.
Segura's mother, Patty, said the last nine years have been about de Grood and his rights.
"He should be thankful that he ended up NCR (not criminally responsible) rather than end(ing) with five life sentences for murdering five people," she said. "He should not be appealing."
Hunter's father, Barclay, opposed a potential full release.
"The idea that he wouldn't be monitored for the rest of his life seems to defy logic, it doesn't make any sense," said the father.
Hunter's mother, Kelly, said the family has had "no healing."
"We do this every year, at least once. Now, this is the second appeal," she said. Barclay
Hunter said although there are attempts to reintegrate de Grood into society, he hopes the man is not left on his own with an absolute discharge.
"Regardless of what they say, he killed five people. If that doesn't stand on its own as a risk factor, then I don't know what does."
This report by The Canadian Press was first published June 7, 2023.
—
City official says Calgary Flames arena deal to include a 35-year commitment to stay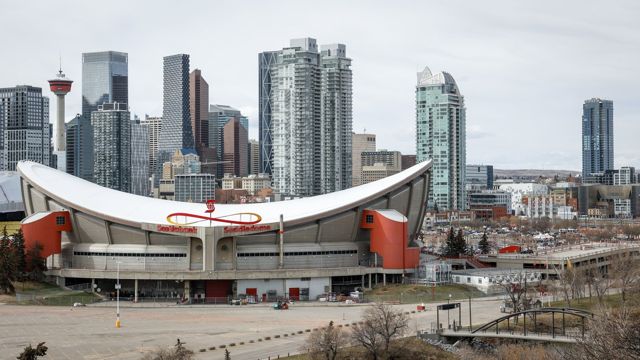 The Scotiabank Saddledome is shown with Calgary's downtown area in the background on Tuesday, April 25, 2023. A city official says a $1.2-billion deal to replace Calgary's aging Saddledome with a new NHL arena would come with a 35-year lease that includes a commitment from the owners of the Calgary Flames to stay in the city. THE CANADIAN PRESS/Jeff McIntosh
Calgary
A city official says a $1.2-billion deal to replace Calgary's aging Saddledome with a new National Hockey League arena would come with a 35-year lease that includes a commitment from the owners of the Calgary Flames to stay in the city.
The City of Calgary, Alberta government, Calgary Sports and Entertainment Corp., and Calgary Stampede reached an agreement in principle in late April.
City council's event centre committee met this morning and asked administration some of the questions that have come up since the deal was announced.
Coun. Andre Chabot says there are concerns from some Calgarians that the lease could be terminated.
Calgary's general manager of infrastructure services, Michael Thompson, says the city has a commitment from Calgary Sports and Entertainment Corp. that it would stay in the city for the 35-year term of the lease.
No one from the company could immediately be reached for comment.
CSEC owns the Flames in the National Hockey League, the Wranglers in the American Hockey League, the Hitmen in the Western Hockey League and the National Lacrosse League's Roughnecks.
The $1.2-billion price tag for the event centre project includes $800 million for the new arena, as well as parking, transit improvements, a new community rink and an enclosed plaza.
The Alberta government is not contributing directly to the arena, but has said it plans to fund up to $300 million on public transit and road improvements, site utilities, reclamation and other supportive infrastructure.
The province would also contribute $30 million to cover half the cost of the 1,000-seat community rink if the deal is approved by provincial cabinet and the Treasury Board before the end of summer.
This report by The Canadian Press was first published June 5, 2023.