Fans of Flames and Oilers go to familiar response: "Fire the Coach!"
Officially, the National Hockey League season is over for the only two teams this province really cares about. While survivors prepare for action in Round Two of the Stanley Cup playoffs, both the Edmonton Oilers and the Calgary Flames are setting up what should be fascinating games of chop and change.
The final on-ice breath for 2020 took place after the Dallas Stars humbled Calgary 7-3 to win their best-of-seven series in six games. Days earlier, the Edmonton Oilers were outworked and outscored in a five-game loss to the Chicago Black Hawks.
Promptly, supporters of both teams fell to the oldest response in the Dedicated Fan yearbook: fire the coach.
Dave Tippett was singled out because he juggled some lines. Truly, his Oilers were not good enough at forward, on defence or in goal. Interim Flames head coach Geoff Ward drew immediate criticism on Thursday for replacing Cam Talbot with an ice-cold David Rittich in the early stages of the Stars' record-setting offensive burst following their early 3-0 deficit. Talbot gave up three goals on only eight shots, but Ritich's immediate performance was even worse.
Before the sixth and decisive game, Ward expressed optimism about his team's future. "This is more relentless, more prepared, a better team" than the group that faded badly as a playoff top seed a year ago, he said. Well, for the first 20 minutes, he was absolutely correct. Fan frustration will not force any changes behind the bench. On the ice is entirely different. Goaltending, for example, is a serious concern in both centres.
Edmonton's pair, Mikko Koskinen and Mike Smith are 32 and 38, respectively. At the very least, a reliable young netminder is required. Talbot, widely inconsistent before being traded to Calgary for Koskinen two years ago, shone through most of the playoffs for the Flames this season and drew solid support from teammates Sean Monahan and Mikael Backlund after Thursday's shoddy start.
Monahan's generous view did not detract from the likelihood that the veteran winger, in common with linemate Johnny Gaudreau, is sure to be prominent in trade talks, starting almost immediately.
Captain and key defenceman Mark Giordano, 35, finally showed signs of age. Partner T.J. Brodie, 29, would attract serious offers if general manager Brad Treliving put him on the market.
Good news for Calgary is that on-ice leader Matt Tkachuk has shown no sign of abandoning his fiery style. He was sadly missed after suffering an apparent concussion in Game Two. The seasoned Backlund, and youngsters Andrew Mangiapane, Dillon Dube and Sam Bennett are set for solid futures up front.
In Edmonton, the question about offence is simple: who will play with Connor McDavid on one line and Leon Draisaitl on another? Third- and fourth-liners on the 2020 roster will have plenty of company looking for jobs next year.
At this point, Edmonton lags behind its provincial rivals in at least one important area. It must be remembered that the Flames won their so-called elimination round by defeating a strong (but injured) group of Winnipeg Jets. The Oilers, who would mortgage the future of the entire Icer District for a brilliant young defender such as Miro Heiskanen of Dallas, Cale Makar of Colorado or Quinn Hughes of Vancouver (all still active in playoffs) have no such victory as a building block at this point.
Johnson dazzles, Canada tops Czechia 5-1 in world junior hockey championship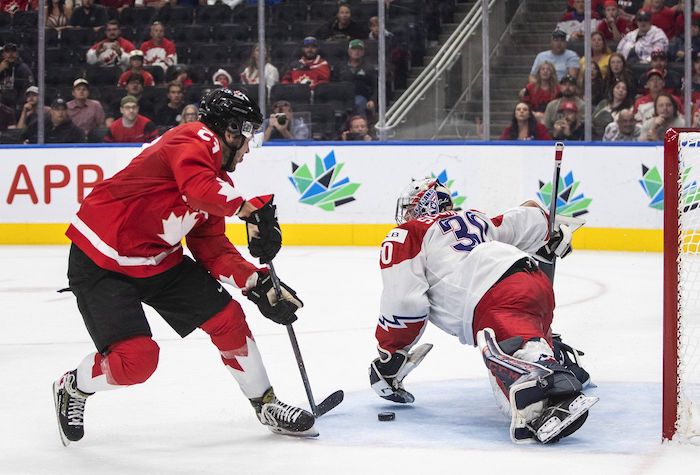 By Gemma Karstens-Smith in Edmonton
Kent Johnson has been working for years on a move that stuns goalies and hockey fans alike.
On Saturday, he executed it in a big way, scoring a highlight-reel-worthy goal that helped Canada to a 5-1 win over Czechia at the world junior hockey championship.
Johnson put away the dazzling game winner 19 minutes into the first period, scooping the puck on to his stick blade behind the net, picking it up as he glided forward and swirling it in over the Czech goalie's shoulder for an elusive "Michigan" goal.
The move — also known as a lacrosse goal — is something the Columbus Blue Jackets prospect has been honing for about six years.
"I've been practising that move since I was like, 14, and doing it," he said. "Now it's just something that's kind of in the tool box."
Still, pulling it out to give the Canadians a 2-1 lead — one they never relinquished — was exciting.
"It's a big goal, a really good one," said Johnson, who added an assist in the third period. "I think it's the period I was having, too. I think I would have been pretty pumped for it to go off my skate, too."
The play drew wild cheers from the crowd of 5,135 at Rogers Place. On the ice, Johnson's linemate Logan Stankoven held his gloved hands above his head and uttered "Oh my God!"
"That was probably one of the nicest Michigans I've seen, honestly," said Canada's captain, Mason McTavish. "He got it up so fast and at the end of the first period, the ice isn't that great then. So that was something special to watch. I'll definitely be watching that over and over again."
McTavish scored twice for Canada (3-0-0) on Saturday, while Ridly Greig and Tyson Foerster each found the back of the net. Jack Thompson, Ronan Seeley and Stankoven each contributed a pair of assists.
Czechia (1-1-1) opened the scoring with a short-handed goal early in the first period.
Jaroslav Chmelar was sent to the box after running fellow New York Rangers prospect Brennan Othmann into the boards from behind and leaving the Canadian with a bloody nose.
The play was reviewed and Chmelar was ejected with a game misconduct. His team was left to kill a five-minute major penalty.
Rysavy gave the Czech's some breathing room, putting a shot up under the crossbar 5:10 into the game. The puck bounced out of the net and the play continued, but a video review moments later showed the puck had crossed the goal line.
The way Canada rallied bodes well for the rest of the tournament, said Othmann.
"It's just a little bit of adversity. And that's OK in these games," he said. "I think that builds more character for the important games, elimination games. And it just shows that we're resilient. It doesn't matter who we're playing, we're going to keep going."
It was a busy night in net for Czech goalie Tomas Suchanek, who stopped 52 of 57 shots.
McTavish was first to beat the netminder, putting away the equalizer 16:44 into the opening frame by deflecting in Thompson's long blast through traffic.
Seconds earlier, Suchanek made an eye-popping stop to preserve his team's lead. Stationed at the side of the net, Johnson got a quick shot off on the out-of-position netminder but Suchanek slid over just in time to make a diving glove save.
"I was a little bit lucky," the Czech goalie admitted. "The puck went into the slot and I saw he was going to pass it across and I just put my glove out and he just shot it in my glove. I was like 'Oh my god, what just happened?' I watched the replay and it was pretty fun. I just said to myself 'Good job' and I kept going."
Canada's head coach Dave Cameron said he was "nervous" early in the game about how well Suchanek was playing.
"This tournament, now as the games get better and the competition gets tougher, you have to stick with it," he said. " (Suchanek) was really good and we stuck with it and found a way."
At the other end of the ice, Dylan Garand made 22 saves to collect his second win of the tournament for the Canadians.
Canada took a 3-1 lead 4:48 into the frame thanks to a power-play goal.
Czechia's Gabriel Szturc was called for roughing and five seconds into the man advantage, Greig tipped in Seeley's shot for his second goal of the tournament.
Canada was 1 for 3 on the power play Saturday while Czechia went 0 for 2.
Teen phenom Connor Bedard set up Canada's fourth goal of the night, slicing a crisp pass to McTavish, who was alone at the top of the slot. He stickhandled his way in and put a shot through the goalie's legs for his second goal of the game 11:05 into the second.
Foerster sealed the score 7:39 into the third period, collecting a pass from Johnson in the middle of the slot, winding up and blasting a massive shot past Suchanek to give the Canadians a 5-1 advantage.
Earlier on Saturday, the reigning champion Americans (3-0-0) remained undefeated with a lopsided 7-0 victory over Austria (0-3-0).
Austrian goalie Leon Sommer stopped 49 of the 56 shots he faced.
"I love those kind of games," he said with a smile. "Lots of shots."
Saturday's workload wasn't the largest Sommer has shouldered in world juniors action — he faced 64 shots in a 11-2 loss to Canada before COVID-19 scrubbed the original 2022 tournament in December.
"I guess I get the tough ones," the goalie said. "But I love those."
In Saturday's final game, Germany recorded its second win by outlasting winless Switzerland 3-2. Germany is now 2-1-0, while Switzerland slips to 0-3-0.
Canada will wrap up round robin play against Finland (2-0-0) on Monday.
The preliminary round continues through Monday, with the quarterfinals set for Wednesday. The semifinals are scheduled for Friday and the medal games will be played next Saturday.
NOTES: McTavish leads the tournament with 10 points (six goals, four assists). … Canada has outscored its opponents 21-4 across its first three games of the tournament. … Both sides were coming off a rest day after Canada routed Slovakia 11-1 on Thursday while the Czechs fell 4-3 in a shootout to Finland the same day.
This report by The Canadian Press was first published Aug. 13, 2022.
B.C. Lions chase down Calgary Stampeders with 41-40 comeback win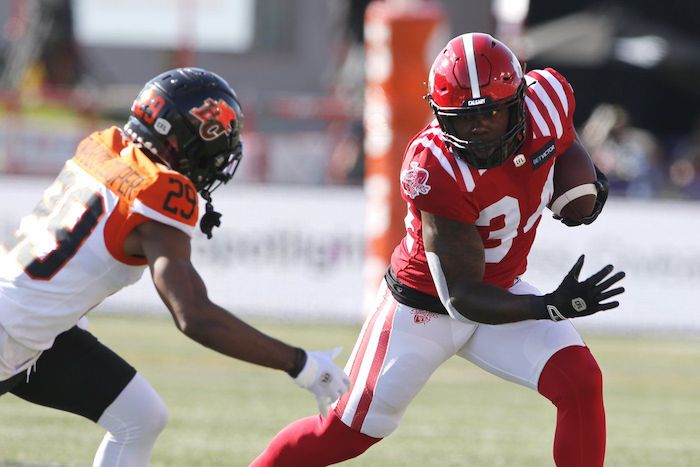 By Donna Spencer in Calgary
B.C. Lions quarterback Nathan Rourke threw for 488 yards and engineered a 41-40 comeback win Saturday over the Calgary Stampeders.
The 24-year-old from Victoria recovered from two early interceptions, which the Stampeders converted into touchdowns, running for a pair of short-yardage touchdowns and throwing a pair of touchdown passes in the exciting CFL contest.
Completing 39 of 52 pass attempts, Rourke broke his own single-game passing record by a Canadian following the 477 yards he posted in last week's win over Edmonton.
"There's going to come a time in my life when I'm going to look back and realize how fortunate I was to be able to play with him," Lions receiver Bryan Burnham said. "I'm just excited to be a part of it."
Sean Whyte's 25-yard field goal with two seconds left in the game capped the Lions' comeback.
The Stampeders led by nine points midway through the fourth quarter when Peyton Logan scored on an electric 99-yard kick return, but the Lions chewed through that deficit.
"It wasn't pretty by any means but we found a way to win, but I'm proud of the guys for staying together and finding a way," Rourke said. "At this point, I'm just trying to help this team win in any way possible."
Rourke threw touchdown passes to Burnham and Dominique Rhymes. Whyte also kicked field goals from 19, 38 and 23 yards.
University of Calgary alumnus Jalen Philpot scored his first CFL touchdown, as did defensive lineman Folarin Orimolade on an interception return for Calgary.
Shawn Bane had a touchdown catch and Rene Paredes kicked field goals from 28, 53, 32 and 51 yards in front of an announced 22,229 at McMahon Stadium.
The Lions (7-1) and Stampeders (5-3) rank second and third respectively in the CFL's West Division behind the Winnipeg Blue Bombers (9-1).
Calgary and B.C. conclude their season series with a home-and-home Sept. 17 in Calgary and Sept. 24 in Vancouver.
Bo Levi Mitchell became the Stampeders' all-time leader in passing yards with an eight-yard throw on Calgary's opening drive.
He needed just six yards to vault over Henry Burris (32,191) and reach that milestone in his 10th season and 116th game with Calgary. Burris played 118 games for the Stampeders.
After two straight games without a touchdown pass, Mitchell threw two Saturday. The Stampeders quarterback completed 18 of 32 pass attempts for 206 yards and was interception-free, but he was unhappy with Calgary's inability to finish the Lions off.
"Bad penalties, bad decisions. Everybody, from sidelines to the guys on the field, everybody was terrible," Mitchell said. "It was a bad second half. You score 40 points, you can't lose a game."
Calgary led 40-31 with just over six minutes to play following Logan's kickoff return for a major.
The Lions would not go quietly, however, with Burnham's 33-yard catch under double coverage taking B.C. to Calgary's 10-yard line with just under three minutes to play.
Rourke collected his seventh rushing touchdown this season on a one-yard carry for B.C. to trail by just two points.
Calgary opted to punt instead of insert Paredes for a 55-yard field goal attempt with a minute-and-a-half to play.
"I get nervous anything 50-plus especially with their returner back there," Stampeders head coach Dave Dickenson explained. "We had in our mind around 51, 52 maxed out. He did hit one because the wind kind of switched.
"I just felt we had a good plan. We just didn't get them stopped."
The Lions still faced a long field for a winning field goal starting from their own six-yard line, but Cameron Judge's roughing-the-passer penalty shortened it for the visitors.
Rourke engineered a nine-play, 86-yard drive to put Whyte in field-goal range.
The Lions trailed by 12 points when B.C. linebacker Ben Hladik recovered Dedrick Mills' fumble on Calgary's 34-yard line in the final minute of the third quarter.
Rourke overthrew Lucky Whitehead in the end zone leaving Whyte a 23-yard field goal to make.
But Rourke's 54-yard touchdown pass to Burnham behind coverage with seven minutes left in the game pulled the Lions within two points of the lead.
Calgary parlayed a pair of Rourke interceptions into a 20-3 lead by the first minute of the second quarter, when Orimolade ran his first career pick back 28 yards to score.
Rourke rallied with a pair of scoring drives — sandwiched around a Paredes 32-yard field — but the Stampeders would score again before the half.
B.C.'s David Menard's roughing-the-passer penalty moved Calgary to the Lions' 24-yard line, where Mitchell promptly threw to Bane dashing into the end zone for a 30-18 lead at halftime.
Paredes was wide from 51 yards in the final minute of the half, but split the uprights from the same distance early in the third quarter for Calgary's 33-18 lead. Whyte was good from 38 yards midway through the quarter to cut the deficit.
Rourke scored his first rushing touchdown of the night with a one-yard plunge in the second quarter.
After Orimolade's pick-six, Rourke quickly marched the Lions downfield and threw a 30-yard pass to Rhymes in the end zone to score.
Paredes' 53-yard field goal, which matched his season's longest, gave the hosts a 13-3 lead with four minutes remaining in the opening quarter.
After Nick Statz picked off Rourke on B.C.'s second drive of the game, Mitchell's second pass was a 19-yard throw to Philpot in the end zone to score.
The clubs traded field goals on early drives in the first quarter.
This report by The Canadian Press was first published Aug. 13, 2022.