Province twinning David Thompson Highway (#11) from Sylvan Lake to Rocky Mountain House
From the Province of Alberta
Improving David Thompson Highway and creating jobs
The Government of Alberta will twin a 66-kilometre stretch of the David Thompson Highway between Sylvan Lake and Rocky Mountain House.
This $120-million project is part of Alberta's Recovery Plan and will create about 582 jobs, while upgrading the highway and improving traffic flow along this important recreation corridor.
"Alberta's government is taking every possible step to get folks back to work. Infrastructure upgrades like this will create jobs today, while ensuring our roads and highways can support the needs of Albertans for years to come. Ultimately, this will create more opportunities for Albertans and visitors alike to access the natural beauty and hospitality of our province."
"The David Thompson Highway leads to some of the most breathtaking scenery in Canada and has become a popular route for the tourism industry. Twinning this highway will increase and improve access for Albertans and tourists alike to enjoy Alberta's outdoors. The project is part of our government's recovery plan to create jobs, diversify our economy and get Albertans back to work."
The David Thompson Highway project is part of the more than $10 billion infrastructure spending announced as part of Alberta's Recovery Plan. This spending includes: $6.9 billion Budget 2020 capital spending, $980 million accelerated for Capital Maintenance and Renewal, $200 million for Strategic Transportation Infrastructure Program and water infrastructure projects, $600 million in strategic infrastructure projects, $500 million in municipal infrastructure and $1.5 billion for Keystone XL.
"The twinning of the David Thompson Highway is an important infrastructure project for our community and will support further investment in the province. It will address the congestion at the 781 intersection that continues to plague the area and, frankly, is long overdue. Most importantly, this project will create jobs right here in central Alberta at a time when Albertans need it most."
"This project represents major progress on transportation infrastructure that will positively impact many communities in Rimbey-Rocky Mountain House-Sundre. The David Thompson Highway – named after one of Western Canada's true pioneers – sees considerable use by industry, tourists and Albertans recreating in the surrounding areas. Twinning the highway will ensure this gateway to the Rockies is upgraded for use for generations to come – boosting tourism, shoring up industry supply chains and allowing Albertans to explore what I consider the most beautiful area in the province."
Alberta's government is helping create more than 50,000 good jobs for Albertans by building schools, roads and other core infrastructure that benefits Albertans and communities. It will further diversify our economy by helping sectors grow and succeed and return investment to our province by ensuring we have the most competitive tax environment in Canada
Quick facts
Sylvan Lake and the David Thompson Country region are popular summer vacation destinations.
Design work will start in 2020 with construction activities getting underway in the 2021 construction season following land acquisition. A project of this scope typically takes about four years to build.
The project will be completed in phases over the following several construction seasons.
About 5,800 vehicles use this section of Highway 11 each day.
This project is anticipated to support 344 direct and 248 indirect jobs.
"With success comes challenge." Premier Smith to Alberta Municipalities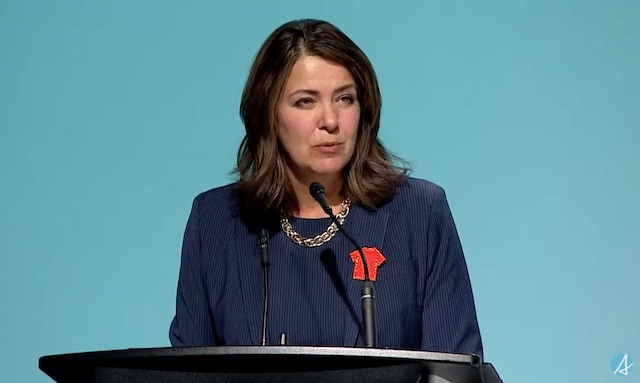 Premier Danielle Smith delivered a keynote address at the 2023 Alberta Municipalities Convention in Edmonton.
Aurora Cannabis to raise $33.8M in share offering, plans to repay convertible debt
EDMONTON — Shares of Aurora Cannabis Inc. were down more than 10 per cent after the cannabis company announced plans to raise $33.8 million in a share offering.
The company says Canaccord Genuity has agreed to buy, on a bought deal basis, 46,250,000 shares of the company at a price of 73 cents per share.
It has also granted Canaccord Genuity an over-allotment option for up to an additional 6,937,500 shares on the same terms. If the over-allotment option is exercised in full, the offering will total $38.8 million.
Aurora says it plans to use the money raised to repay the remainder of its outstanding convertible senior notes at or prior to maturity.
The company says the remainder, if any, will be used for strategic purposes, including potential acquisitions.
Aurora's stock price was down 13 per cent at 79 cents per share in early trading on the Toronto Stock Exchange.
This report by The Canadian Press was first published Sept. 28, 2023.
Companies in this story: (TSX:ACB)
The Canadian Press