#Calgarystrong: "Business on Camera" surviving and thriving during chaos
Business On Camera Shares How They Grew Amid COVID-19
These are uncertain times, and the effects of COVID-19 are being felt in every home across our country. Tensions are high, morale is low, and people are frightened. Many families are experiencing stress from loss of livelihood and income and are uncertain of what the future will hold.
It's in these times that we are encouraged and motivated by success. We've heard countless stories of businesses that are struggling, even giving up and throwing in the towel. In our industry, media and communication industry, the stories are dire.
Hearing stories of companies that are persevering in this environment keeps us all moving forward. One of those is a company we are excited to be working closely with, Business on Camera (BOC), an innovative and leading communications firm in Calgary. Their business is celebrating their 10th anniversary in 2020, right in the middle of a pandemic.
"We've doubled our staff and doubled the square footage in our office which is located on the Beltline at Work Nicer Roxbury," says Graham McGinn, Creative Director at BOC.
"We are currently executing on a variety of exciting initiatives including supporting Todayville to launch a new and unique digital media platform in the city. We are really excited about a major project that involves developing an international multilingual communications strategy for an award-winning technology based energy company developing clean, scalable, baseload energy."
The support of the Alberta Government's Alberta Multimedia Development Fund, administered by Alberta Culture has played a key role in BOC's growth.
"Our WeMaple documentary series pushes boundaries in energy storytelling. We've created "micro-consumption" short format videos that are then compiled together to create full 22 minute episodes," states Matt Keay, CEO, Business on Camera. "The project examines the energy conversation in a completely new way; both the approach to the project, as well as how we're distributing it.
We are eternally grateful for the support we've received from the Alberta Government, as well as the ATB Branch for Arts & Culture, which provides bridge financing against these government grants."
Since 2010, Business on Camera has produced sixteen documentaries. Matt says these projects have generated approximately $3.5 million dollars of economic activity, including employment and freelance work that benefited more that 250 people and 55,000 man-hours. They received the "Spirit of Activism Award" from the Colorado Environmental Film Festival for a documentary film called Pipeline Wars. That moment 6 years ago started the company's exploration of this polarizing social issue.
"If you're a creative artist with an entrepreneurial mindset," says Mr. Keay, "the province provides perfect conditions to create jobs and tell Alberta's stories. In regards to the Spirit of Activism Award, it was funny because we were advocating for balanced discussion, that made us activists I guess as far at the Colorado Environmental Film Festival was concerned."
The company's WeMaple brand is about inspiring and engaging a new generation of Canadians and creating a global consciousness and began with six documentary films that are currently available on Telus Optik TV and the stories are also being showcased on Todayville. One example in partnership with Calgary Arts Development explored how "Calgarians Live Creative Lives," another captures Shambhala's 20th Anniversary.
Keay says the project took a nearly two-year hiatus.
"We faced multiple challenges from multiple areas including financing, compliance, team, and all the mental health and addiction issues that sometimes come along with entrepreneurship. But, from the ocean to the prairies to the Rocky Mountains, the sun always rises again. Things will get better, and until they do, we have each other. We are Canadians, we are True North tough, and we will weather the storm together. Hold on, Canada. Better days are on their way."
Click to check out the WeMaple video series on Todayville, Calgary's newest and fastest growing media platform! Email [email protected].
Lloyd Lewis is President of Todayville.
Calgary Local Changing Lives with Senior Safe Project during COVID-19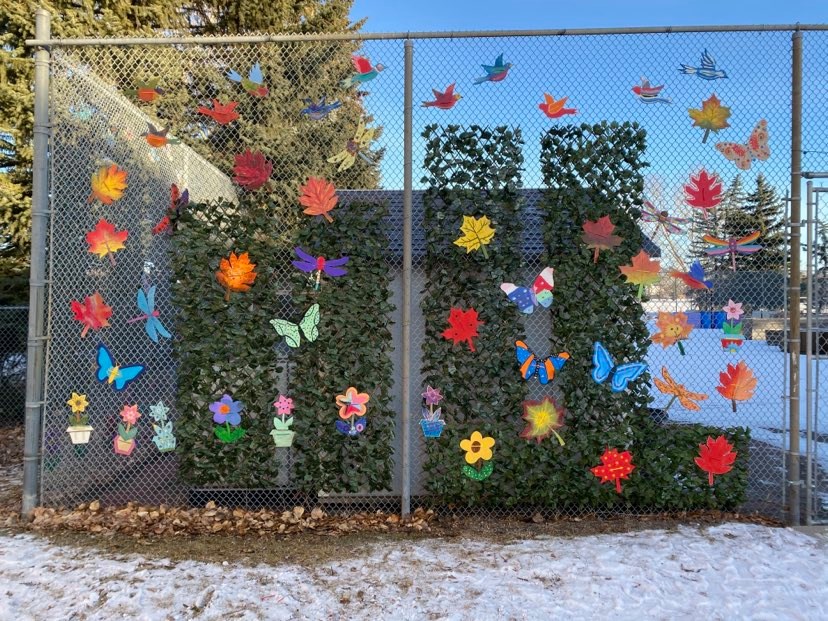 A member of the Dover community in SE Calgary stepped up this past year to fill a gap in the system by providing a unique way for senior citizens to participate and engage with the community from the safety of their own residences.
Throughout the lockdown measures that were present in varying degrees for the majority of 2020, many of us struggled with feeling removed and isolated from the community. For senior citizens, many of whom already experience loneliness and isolation in greater capacity during normal times, the pandemic has severely exacerbated the negative mental health impacts of extreme seclusion.
In July 2020, Karen Begg applied for a grant through the City of Calgary public art department to fund a senior's community art project in Dover. "I thought about all the senior citizens who had lost a partner, or maybe never married, and were now going through this alone, and I had to do something," she says. "I coordinated a senior safe activity that would allow them to contribute to the beautification of their community by featuring their art in a public space."
Begg's original project design featured the distribution of 50 art kits to various participating seniors residences throughout the city. Each kit contained 8 2 oz. containers of colored paint, brushes, stamps, stencils, a canvas for the artists to keep, and a cutout to be returned for inclusion in the final installation. Upon launching the project, Begg described the response as overwhelming, and the original projection of 50 participants was quickly expanded in order to accommodate the tremendous expression of interest.

A total of 74 senior citizens from Riverview Properties, the Calgary Vietnamese Women's Association and Grand Avenue Village Seniors participated in the project from October to late December. The project features a diverse range of painters, with the oldest participant being 92 years old.
Begg cites her own great grandmother, who lived to the age of 104, as an inspiration behind the project itself. "My great grandmother was a huge influence on me. She taught me a lot about aging and the importance of community," she says, "so when COVID struck, I thought about my great grandmother, who had been a widow most of her life, and how she would have coped."
The installation, officially named Birds and Blooms after the various nature inspired cutouts, which feature bird, flower, dragonfly, butterfly and leaf prints, was revealed on December 19, 2020. It is located at the Twin Views Communal Garden in Dover, at 2951 26 Ave SE. Since then, the feedback from the seniors and the surrounding community has been unbelievably positive. "It really brightened up a dark corner," says Begg, "and now everyone who uses that pedestrian path can enjoy it."
According to Begg, this project has highlighted the need for more senior safe activities, which she intends to continue working on. "I'm so proud of the creativity we saw from the seniors," she says, "and I hope to keep this up."
For more stories, visit Todayville Calgary.
September is Childhood Cancer Awareness Month – This is Auralia's Story
September is Childhood Cancer Awareness Month.
According to the Canadian Cancer Society (CCS), childhood cancer is the #1 cause of death among Canadian children past infancy – more than asthma, diabetes, cystic fibrosis and AIDS combined. In 2019, the Government of Canada Canadian Cancer Statistics Report estimated that 1,000 children between the ages of 0 and 14 would be diagnosed with cancer throughout the year.
That is 1,000 families whose lives have been irreversibly changed as they face the battle of a lifetime before their child has even finished middle school.
For Ryan and Trinda from Calgary, Alberta, this day came on November 14, 2018, when their daughter Auralia was diagnosed with Leukemia, just 16 days before her 8th birthday. Two days later, she was taken in for her first surgery.
"It's hard for people to understand," says Trinda, Auralia's mom, "because they don't ever think it will happen to them. Then one day, you're told something you never thought you'd hear, and you're making decisions you never thought you'd have to make."
As parents of a daughter with childhood cancer, Ryan and Trinda have learned to take things as they come, knowing every day is its own rollercoaster. They celebrate Auralia's successes and support her during the most difficult days, standing in solidarity with their daughter and weathering the ups and downs of each new stage of treatment together. "Losing her hair was, of course, hard," says Trinda, "before she lost it to treatment, she had gorgeous, waist-long hair. Now, Ryan keeps his head shaved, so his hair is never longer than his daughters."
Auralia is 9 years old now, 2 years into her 2.5-year Leukemia treatment. She loves animals and the outdoors, and wants to be a zoologist one day. Her reality for the past two years has been filled with doctor's visits and daily chemo, isolation periods, and unexpected obstacles such as sudden illnesses and emergency hospital trips that have derailed her treatment. In the face of such monumental adversity, however, Ryan and Trinda are continually inspired by their young daughter's perseverance and compassion. "She is so kind." Says Trinda, "She just wants to help. Even with Leukemia, she is still out helping Ryan shovel the elderly neighbors walks all winter long."
For the month of September, Auralia, Ryan and Trinda are participating in the Believe in the Gold Virtual Run/Walk for Childhood Cancer.
Believe in the Gold is a charitable organization established in 2013 that works to raise awareness and provide financial and emotional support for families impacted by childhood cancer. Based out of Calgary, Alberta, it was founded in memory of Jacey Uphill, who passed away after a fight with Ewing's Sarcoma in October of 2012, at the age of 19.
Believe in the Gold has helped Ryan and Trinda mitigate some of the uncovered costs incurred by Auralia's treatment over the last two years, and they are participating in the fundraiser as a way to give back to the organization and help other families who have experienced the difficulties of childhood cancer. "They've done so much for Auralia and for our family," says Ryan, Auralia's dad, "this is our chance to do what we can for them, while doing something we love."
Auralia and her family have always been outdoor enthusiasts and avid hikers – something that they've continued to pursue at an adapted rate following Auralia's diagnosis – and the family decided to participate by hiking. For the month of September, Auralia and Trinda each set a 10 km goal, and Ryan set a 100 km goal.
According to Trinda, when she was first diagnosed, Auralia was unable to walk more than a few blocks before her dad had to carry her. This month, Auralia and her mom have already accomplished their original 10 km goals, and Ryan is now at 87.5 km.
After smashing her 10 km goal well ahead of schedule, Auralia has showed no signs of slowing down. "The first thing she said when we finished was that she wanted to increase her goal by another 10 kilometres," says Ryan.
"She just wants to keep helping." Says Trinda. Their most recent has hike put Auralia at over 17 km!
The family has now raised over $2,700, more than doubling their original fundraising goal, and will continue to push as hard as they can to support Auralia and raise awareness and funds for childhood cancer.
You can follow Auralia's progress and support her cause here.
For more stories, visit Todayville Calgary.