Business Spotlight: How One Company Is Helping Decontaminate Calgary Post Covid-19
There will be a stage of this crisis that begins to get the majority of our community back to work. In the meantime, we want to help out in the community, stay hopeful and make ourselves aware of new developments every single day. Now is a time where we can take a step back and realise that Calgarians are in this together, and we have been showing it through kind messages to each other, through texts, videos, social media and the actions we can take.
Through the eyes of a business owner, what can you do to ensure the health and safety of your staff? Or unsure how to take action and get supplies into the hands of those who need it most? Read how one Calgary company, ProStar Cleaning and Restoration, is stepping up to the plate to support our community.
The local Calgary business was started in 2002 by founder Jodi Scarlett, who had just graduated from the University of Calgary in the MBA program and also received a Bachelors of Commerce. She is an active member of the Women Presidents Organization and Alberta Women Entrepreneurs. She holds 3 Master Restorer designations with The Institute of Inspection Cleaning and Restoration Certification. Also being a certified instructor for the Alberta Insurance Council, continues to offer seminars relating to water damage restoration and mold remediation. A truly inspiring entrepreneur that has a true passion for supporting the community. She has been an avid supporter of the knowledge and research done into countering the contamination of Covid-19 and has worked to ensure her staff are fully trained on the potential harm and the skills required to lower the risk of any contamination.
From humble beginnings, the story begins by painting the picture of a small cleaning company, rickety chairs, no filing system, a team of several maids and no computer in sight. It may not be the prettiest picture, however when Jodi bought the business back in the early 2000's, providing the highest quality cleaning service has continued to be the heart of ProStar Cleaning and Restoration today.
Now in 2020, the business has built up their skills and capabilities to offer a wide range of cleaning and restoration services. Traditionally their focus is on services for their customers so they can recover from unexpected events. Whether that be fire, wind, water or sewage damage, household or commercial cleaning, construction cleanup and mold or biohazard abatement, they can handle it all. This speaks lengths into how they have listened to their customers needs over the past 18 years.
Their fight against Covid-19
How we can integrate back into the workplace and social gatherings with lowering the risk of a second uprise in contamination through peers? Now that we have found ourselves in a state of emergency with a global virus pandemic in our community, Jodi and her team at ProStar Cleaning and Restoration have found themselves going back to their roots, cleaning.
Jodi and select members of her team spent a lot of time researching the novel Covid-19 virus. From their efforts they have created FAQ's that relate to concerns about how they are taking measures to address the challenges involved. Having their staff trained on cleaning various disasters that came before the wake of the virus, their team was skilled to address the conditions required to disinfect any areas at risk of already being contaminated. Jodi mentions:
"We gathered all the information and wrote safety practices, we trained the team within 24 hours…they were ready, it didn't take us very long because we were uniquely poised for this kind of work"
Field staff were trained on bloodborne pathogens and in house "clean and apply" methods. They can service any single facility up to 100,000 square feet and includes the application of approved disinfectant chemicals by professionals on their field staff. Staff are taking the necessary precautions to ensure they can deliver a successful decontamination of social housing, homes and businesses across Calgary and surrounding areas. You can learn more about their FAQ's on their Facebook page where they are avidly responding to any queries or comments.
The team at ProStar Cleaning and Restoration want to reiterate that with the conversations they are having regarding Covid-19 and their methodology, is that they will first screen the details of the risk involved. These efforts are more so focused on staying transparent to not sell a service to someone who simply does not need it. It is key to note whether there has been a high chance that someone or groups have been in contact with the area and whether there has been a history of testing positive for the virus.
How are the management lowering the risk for their employees in office and in field staff?
As mentioned previously, the staff have been trained on safety practices and the potential ways the virus can attach itself to surfaces. From their usual hazard assessment policy that traditionally would be applied to their customer requests, they put those same skills to work on their own facility. To address specifically the health and welfare of all staff under Jodi's leadership, she has implemented a few different ways to ensure the highest level of precaution is taken.
"every job site we go to is hazardous. So we do a hazard assessment and determine how to mitigate those hazards. So this COVID-19 is a new environmental factor for us"
The majority of her office staff have integrated a work from home environment during this time, assisting with customers' questions and supporting the field staff. Within their 15,000 square foot facility, only three in-house staff continue to work at their location to ensure there is replenishment of gear ready for field staff. It is a priority for their facility employees to have zoned areas allowing for ample social distancing practices, key to ensuring that there is little to no crossover day to day from staff not working from home.
They built a decontamination stations at all entries and exits at their facility to have staff coming in and out to decontaminate themselves through handwashing stations, regular temperature readings to ensure they stay on top of any risk that may come into effect as conditions change and segmented their field staff into smaller groups to address specific job site conditions; to which also include decontamination stations.
How has the communication been with your employees since the state of emergency was declared?
Jodi mentioned that she had arrived home from a personal trip just on the cusp of the declaration from the government, thus leading her to self isolate for 14 days and continues to work from home trusting the recommendations made by Alberta Health Services. The transition for the team has been greatly received moving to communicating using online conference calls and messaging apps like WhatsApp. Jodi has continued to create leadership videos and is a true believer in the use of humour to ensure there is a healthy work balance between her and her employees.
How is ProStar Cleaning and Restoration helping the community during this time?
Jodi and her team have taken upon themselves spending time trying to educate the public and calm those concerns. It is important to remember that there is continuous research going into the 'shelf life' of the virus and ProStar Cleaning and Restoration will continue to inform the community through social media channels to ensure the most relevant information is reaching those concerned. ProStar's team implemented a sustainable PPE(Personal Protective Equipment) initiative early on during this pandemic and are cognisant to not interrupt the supply chain channels for health care. They have adapted with the equipment they own to ensure they can reuse everything they possibly can, thus allowing essential PPE to be received by front line workers who need it most.
One initiative ProStar is happy to support is ConquerCovid19. It has gained a lot of attention for supporting our healthcare workers and women's shelters at a time where there is a shortage of medical and personal supplies they deeply need replenishment of. This gained a major push from Olympian hockey player Hayley Wickenheiser and support from well known actor Ryan Reynolds. It has received support from companies across Canada such as Canadian Tire and Toys 'R' Us, ProStar is one of the Calgary companies that have offered to lend a hand.
ProStar's involvement will be boots on the ground and the use of their facility in Calgary where they will be hosting one of the first PPE supply drives at their location, details can be seen below. We commend ProStar for their support offered to the team at ConquerCovid19. Please visit their Facebook page to learn more about their work with ConquerCovid19 and how you can offer your own support for their PPE supply drive Saturday April 18th.
The team are happy to respond to questions through their contact information available on their website and through all their social media platforms. Working directly with the social housing sector on some large cleaning projects, providing maintenance services to ensure those who need these services have a safe and clean environment, with the additional support of assisted self isolation rooms. Working to support vulnerable individuals, they are proactively implementing preventative cleanings across their service areas. They also have been working with housing and apartment rentals such as Airbnb's to have turnover cleaning to ensure the owners can safely offer a clean environment to stay. Jodi and her team are eager to witness the transition of our community back into their workplace and some normality for the future, and of course, are there for support.
If you have any questions and would like to learn more about ProStar Cleaning and Restoration and their work in the community, visit their website and follow them on Facebook, Twitter, Instagram and LinkedIn.
For more stories, visit Todayville Calgary
WestJet sets sights on low-cost leisure with purchase of 42 more airplanes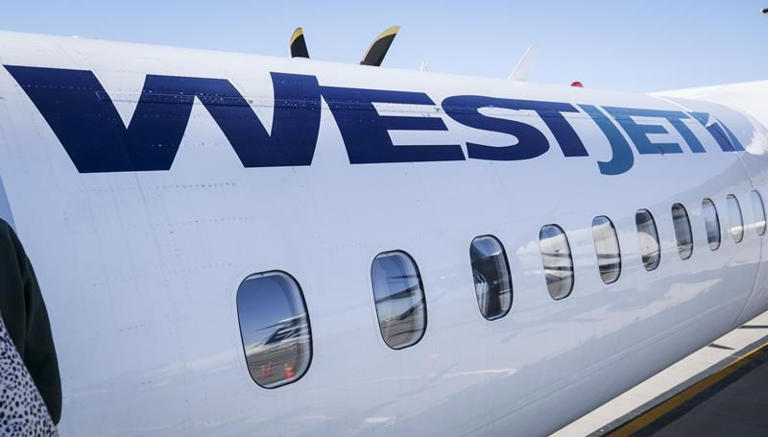 WestJet is making a substantial addition to its fleet with the purchase of 42 aircraft as the airline plans to expand its low-cost offerings, with plans to add routes to sun destinations from cities across Canada.
The Calgary-based airline announced the agreement with Boeing for the purchase of the 737-10 MAX planes on Thursday.
The purchase, which was on top of an existing order of 23 aircraft, includes the option to add 22 more planes depending on demand.
The purchase is a part of the airline's plan to expand its low-cost offerings and offer sun and leisure flying across Canada, said WestJet Group's chief executive officer, Alexis von Hoensbroech.
Earlier this month, WestJet said in a press release that it would be suspending several routes to Atlantic Canada, including flights between Halifax and Montreal, as of Oct. 28. Spring flight schedules are not yet available.
WestJet chief commercial officer John Weatherill said the decision was difficult but will help in the long run, as the airline shifts more of its eastern routes to sun and leisure destinations.
However, he said WestJet is not stopping Atlantic flights completely; instead, von Hoensbroech said the airline plans to ramp up its cross-country flights and flights from the East to leisure destinations including the Southern U.S. and the Caribbean.
"What we will do less, is flying within the East," said von Hoensbroech. "So flights between Montreal and Toronto will decrease but Montreal to Cancun will increase."
"We are a low-cost carrier and we want to improve our low-cost positioning," said von Hoensbroech.
Supporting this move is the pending Sunwing acquisition, given Sunwing's focus of servicing Eastern Canada's leisure market, said WestJet's chief executive officer.
Brought with the incoming aircraft is the need for more cabin crew, ground handlers and pilots, a challenge recognized by WestJet's chief executive officer, as staffing levels have been an industry-wide problem after the return of domestic and international travel.
While some roles are more challenging to fill, von Hoensbroech said that he is confident WestJet will find enough staff for the expansion and said it will create hundreds and thousands of additional job and career opportunities within WestJet.
"If you're a pilot and you are joining an airline that is growing, this will give you a faster track to become a captain than if you are joining an airline that is not growing as fast as we do," said von Hoensbroech.
WestJet says the Boeing 737-10 MAX provides the lowest cost per seat among mid-range aircraft and is part of the airline's plan to offer more affordable flights.
The order will start delivering at the end of 2024 through to 2028, expanding the fleet by 65 aircraft over six years.
WestJet wouldn't yet say whether the 42 additional aircraft will service WestJet alone or if they will also fly under Swoop, the airline's ultra-low-cost carrier.
This report by The Canadian Press was first published Sept. 29, 2022.
Caitlin Yardley, The Canadian Press
Vancouver gas prices pass $2.39, breaking North American record: analyst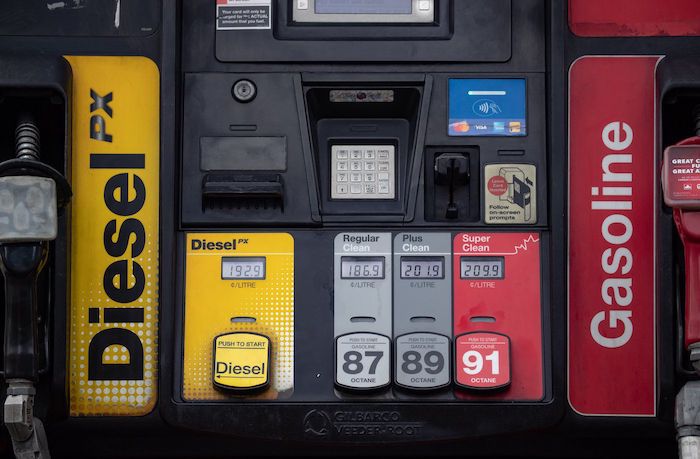 Vancouver – Gas prices in Vancouver hit a new high of more than $2.39 a litre at some stations Thursday, blowing past the previous peak set this summer.
One gas analyst said that's a new all-time record for North America, and expects prices to continue to rise this week.
Dan McTeague, president of Canadians for Affordable Energy, said prices passed the previous record of nearly $2.37 a litre, set in Vancouver in June, due to the temporary shutdown of refineries in the U.S. Pacific Northwest and California.
McTeague said prices will likely rise again then drop fairly quickly once the supply issues are resolved.
"I don't see the all-clear light at the end of the tunnel just yet. It's going to happen and when it does it will be a dramatic drop, probably about 20 cents a litre, not in one fell swoop but very close to that over two or three days," he said.
Gas prices jumped overnight across Canada by almost 20 cents in some places.
McTeague said no one could have predicted gas prices increasing at the speed they have over the past several days.
"The bottom line is that there's not enough supply out there and however we got here, we're going to have to spend a bit more time trying to figure this out because this is the kind of things that bring economies to a standstill," he said.
According to the CAA's price tracker, gas is up nationally by just over three cents on average at $1.58 per litre, with some provinces seeing higher jumps than others.
The CAA says the average gas price across Vancouver was $2.32 on Thursday.
This report by The Canadian Press was first published Sept. 29, 2022.