British journalist produces excellent story on yesterday's riot in DC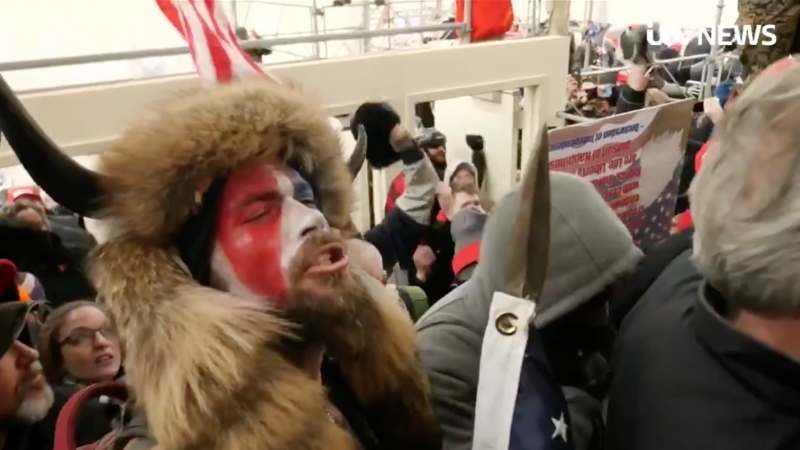 Today we are all reacting to yesterday's riots in Washington where Trump supporters stormed the Capitol building. Here's an excellent story from the UK's ITV News. Reported by its Washington correspondent Robert Moore, much of the footage is shot inside as the violent mob stormed in through doors and broken windows.
It's well done and a shining example of great reporting. Cudos to Mr. Moore and his crew who reported what they saw, asked questions, and put together an extraordinary piece while being in significant danger.
Watch @robertmooreitv's report from inside the Capitol building as the extraordinary events unfolded in Washington DC https://t.co/krCQf1uQbx
Watch @robertmooreitv's report from inside the Capitol building as the extraordinary events unfolded in Washington DChttps://t.co/krCQf1uQbx pic.twitter.com/SiWbzF5Nzs

— ITV News (@itvnews) January 6, 2021
— ITV News (@itvnews) January 6, 2021
After excusing violence, Trump acknowledges Biden transition
Putin declares victory in embattled Donbas region of Luhansk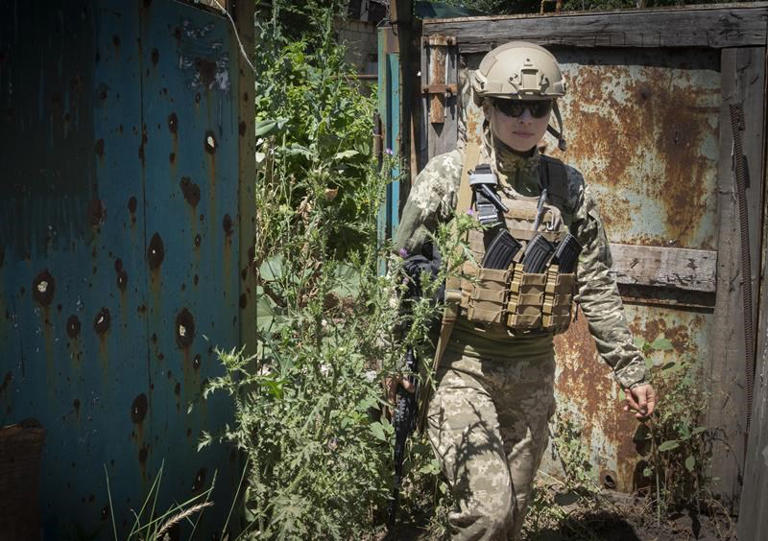 POKROVSK, Ukraine (AP) — Russian President Vladimir Putin on Monday declared victory in the eastern Ukrainian region of Luhansk, one day after Ukrainian forces withdrew from their last remaining bulwark of resistance in the province.
Russia's Defense Minister Sergei Shoigu reported to Putin in a televised meeting Monday that Russian forces had taken control of Luhansk, which together with the neighboring Donetsk province makes up Ukraine's industrial heartland of Donbas.
Shoigu told Putin that "the operation" was completed on Sunday after Russian troops overran the city of Lysychansk, the last stronghold of Ukrainian forces in Luhansk.
Putin, in turn, said that the military units "that took part in active hostilities and achieved success, victory" in Luhansk, "should rest, increase their combat capabilities."
Putin's declaration came as Russian forces tried to press their offensive deeper into eastern Ukraine after the Ukrainian military confirmed that its forces had withdrawn from Lysychansk on Sunday. Luhansk governor Serhii Haidai said on Monday that Ukrainian forces had retreated from the city to avoid being surrounded.
"There was a risk of Lysychansk encirclement," Haidai told the Associated Press, adding that Ukrainian troops could have held on for a few more weeks but would have potentially paid too high a price.
"We managed to do centralized withdrawal and evacuate all injured," Haidai said. "We took back all the equipment, so from this point withdrawal was organized well."
The Ukrainian General Staff said Russian forces were now focusing their efforts on pushing toward the line of Siversk, Fedorivka and Bakhmut in the Donetsk region, about half of which is controlled by Russia. The Russian army has also intensified its shelling of the key Ukrainian strongholds of Sloviansk and Kramatorsk, deeper in Donetsk.
On Sunday, six people, including a 9-year-old girl, were killed in the Russian shelling of Sloviansk and another 19 people were wounded, according to local authorities. Kramatorsk also came under fire on Sunday.
An intelligence briefing Monday from the British Defense Ministry supported the Ukrainian military's assessment, noting that Russian forces will "now almost certainly" switch to capturing Donetsk. The briefing said the conflict in Donbas has been "grinding and attritional," and is unlikely to change in the coming weeks.
While the Russian army has a massive advantage in firepower, military analysts say that it doesn't have any significant superiority in the number of troops. That means Moscow lacks resources for quick land gains and can only advance slowly, relying on heavy artillery and rocket barrages to soften Ukrainian defenses.
Russian President Vladimir Putin has made capturing the entire Donbas a key goal in his war in Ukraine, now in its fifth month. Moscow-backed separatists in Donbas have battled Ukrainian forces since 2014 when they declared independence from Kyiv after the Russian annexation of Ukraine's Crimea. Russia formally recognized the self-proclaimed republics days before its Feb. 24 invasion of Ukraine.
In his nightly video address, Ukrainian President Volodymyr Zelenskyy acknowledged the withdrawal, but vowed that Ukrainian forces will fight their way back.
"If the command of our army withdraws people from certain points of the front where the enemy has the greatest fire superiority, in particular this applies to Lysychansk, it means only one thing: We will return thanks to our tactics, thanks to the increase in the supply of modern weapons," Zelenskyy said.
Since failing to take Kyiv and other areas in Ukraine's northeast early in the war, Russia has focused on Donbas, unleashing fierce shelling and engaging in house-to-house combat that devastated cities in the region.
Russia's invasion has also devastated Ukraine's agricultural sector, disrupting supply chains of seed and fertilizer needed by Ukrainian farmers and blocking the export of grain, a key source of revenue for the country.
In its Monday intelligence report, Britain's defense ministry pointed to the Russian blockade of the key Ukrainian port of Odesa, which has severely restricted grain exports. They predicted that Ukraine's agricultural exports would reach only 35% of the 2021 total this year as a result.
As Moscow pushed its offensive across Ukraine's east, areas in western Russia came under attack Sunday in a revival of sporadic apparent Ukrainian strikes across the border. The governor of the Belgorod region in Western Russia said fragments of an intercepted Ukrainian missile killed four people Sunday. In the Russian city of Kursk, two Ukrainian drones were shot down, according to the Russian Defense Ministry.
In other developments:
— Ukrainian soldiers returning from the front lines in eastern Ukraine's Donbas region — where Russia is waging a fierce offensive — describe life during what has turned into a grueling war of attrition as apocalyptic.
— Two Russian airplanes departed Bulgaria on Sunday with scores of Russian diplomatic staff and their families amid a mass expulsion that has sent tensions soaring between the historically close nations, a Russian diplomat said.
___
Associated Press journalists Maria Grazia Murru and Oleksandr Stashevskyi contributed from Kyiv, Ukraine.
___
Follow AP's coverage of the Russia-Ukraine war at https://apnews.com/hub/russia-ukraine
Francesca Ebel, The Associated Press
Graffiti artist completes world's tallest mural in downtown Calgary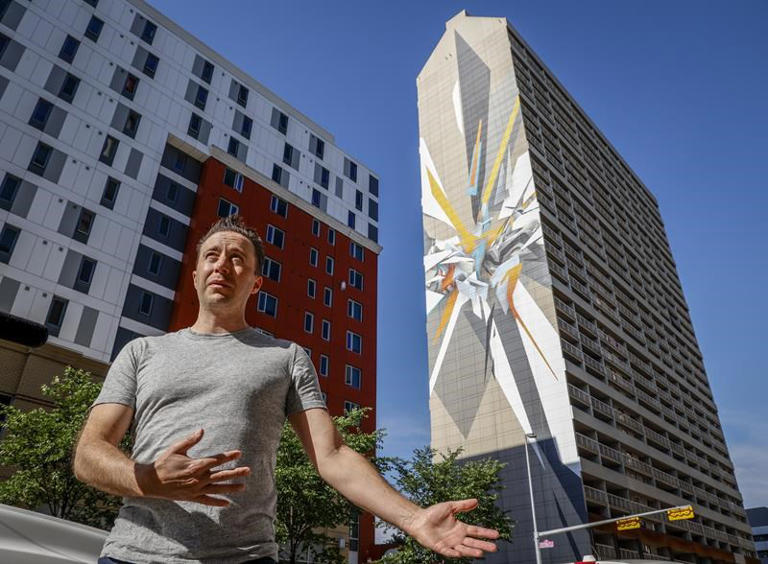 CALGARY — It looms on the edge of downtown a stone's throw from the Calgary Tower, a splash of colour amid aging buildings, railway tracks, parkades and a steady stream of traffic.
It's billed as the world's tallest mural, painted by one of the globe's top graffiti artists, and is part of a project to turn an austere area of downtown into an expansive open-air urban art gallery.
"The brutalism and dystopian look of this area with the giant parkades and the spiral ramps and stuff — it feels like Gotham. So turning this wall from concrete nothing to this is really fun," said Peter Oliver, president of the Beltline Urban Murals Project, or BUMP.
The mural is an abstract painting in various shades of orange, black, grey, blue, white and yellow and is the creation of DAIM, an internationally renowned German artist. DAIM, whose real name is Mirko Reisser, has been creating public artworks for more than 30 years.
"DAIM's work is rooted in graffiti art. It's abstract and he was actually the very first graffiti artist to start exploring three-dimensional works. So his work kind of obeys the laws of light and shadow but defies the laws of gravity," Oliver said.
"I think his work really marries well with the brutalism of this building and it's just a massive flat wall of concrete. It's the very first prefabricated concrete building in Calgary, built in 1980."
The mural is 95 metres high, making it the tallest mural in the world "by a long shot," said Oliver.
He said most cities don't have giant concrete walls available, with the majority being glass, steel or aluminum. So this was a perfect marriage.
DAIM, who was assisted by three local artists, spent over three weeks painting and went through more than 500 cans of spray paint after a base coat was added to the bare concrete. It is to be a permanent addition to the area and, as of last week, was awaiting a coat of UV sealant to make it complete.
Facing toward the east, it can be seen from a long way away.
"If you've got the window seat on the airplane, you can see it on the approach into the airport," Oliver said.
"I think what we're really doing with BUMP is re-architecting the identity of this city."
The project will be unveiling about 60 new murals during its annual festival, which runs from Aug. 1 to 28. Before that, the new art work can be viewed by visitors at the annual Calgary Stampede, which begins this week.
"If you're coming down, I'd check this out over the parade any day," Oliver said with a chuckle.
This report by The Canadian Press was first published July 4, 2022.
Bill Graveland, The Canadian Press