Welcome to the "Sky Palace" – Premier Kenney clears the record with photos of new temporary office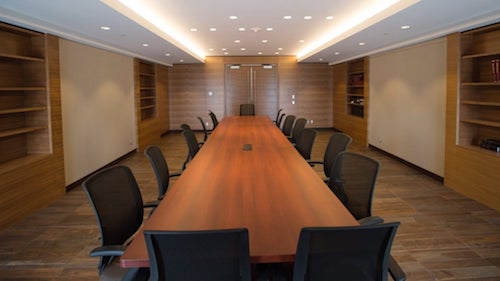 There has been much chatter over the last day or so about the office I'm currently occupying. I want to clear the record for those who didn't hear about why this is when we disclosed this information last summer.
As many of you know, the Legislature's 100 year-old sandstone is in need of repair. This project was contracted under the NDP in January of 2019, and is an important part of protecting Alberta's temple of democracy.  This involves, jackhammering, grinding, blasting, and lots of other work that is, by nature, quite loud. But it's necessary work that should get done to preserve the structural integrity of an important building that belongs to the people.
They work on different sections of the building at a time, and last summer they arrived at the section that includes the Premier's office. As you can imagine, trying to conduct important phone calls or host meetings while this noisy work takes place is not easily done (see a sample of the noise from today in a comment below), so a decision was made to temporarily move offices and staff in the Premier's office over to the federal building.
Thankfully, there are many office spaces that are available and under-utilized on the 10th and 11th floor of this building, so apart from minor moving expenses, there was no extra cost to repurposing these rooms with existing furniture and supplies for me and members of my staff.
Under previous governments, the entire 11th floor space was first designed as a penthouse suite, and when those plans were rightfully scrapped, it was repurposed to host the occasional meeting, and many other cocktail or guest receptions attended by the NDP while they were in government.  We believe these spaces should be there to support government business first and foremost.
As you can see, the area I'm working in is a former boardroom that we moved existing furniture into to serve as an office space (see before and after pics). It's not overly fancy or glamorous, but it serves the purpose of a functional workspace.
Once the work outside my Legislature office is complete, I'll be happy to move back into the space that is intended to serve as the Premier's office (see photos of that office prior to renovations).
Former world champion Kevin Koe earns third straight win at Tim Hortons Brier event
CALGARY —
Kevin Koe remains unbeaten at the Tim Hortons Brier.
Koe's Wild Card 2 rink defeated Eddie MacKenzie of Prince Edward Island 12-5 on Sunday to improve to 3-0 at the Canadian men's curling championship.
MacKenzie's squad dropped to 0-2.
Koe, a four-tine Canadian champion and twice a world gold medallist from Calgary,  took control of the match early, scoring three in the second for a 4-0 lead.
Koe's rink added four more in the fourth end to go up 8-1 before adding three in the sixth for an 11-3 advantage.
Koe rounded out the scoring with one in the eighth, after which the two teams shook hands.
Koe's takes on Team Canada's Brad Gushue (2-0) in the evening draw.
In other early action, Saskatchewan's Matt Dunstone (2-1) downed Newfoundland & Labrador's Greg Smith (0-3) 6-3; Quebec's Michael Fournier (2-1) defeated Nunavut's Peter Mackey (0-2) 15-1; and Ontario's John Epping (2-1) got past Nova Scotia's Scott McDonald (1-2) 12-7.
This report by The Canadian Press was first published March 7, 2021.
The Canadian Press
'It kind of clicks:' Text4Hope program helps with depression, anxiety during pandemic
EDMONTON — Kiara Robillard says she was in a really bad place.
During the start of the COVID-19 pandemic, after she was struck by a truck and her spine broke in two places, she moved home to Alberta from California.
"That put a real damper on my life for quite awhile," says the 25-year-old, who's unemployed and living in Edmonton.
"I was depressed, anxious, losing touch with reality, and I was desperate for help."
A few months ago, she says her doctor recommended she subscribe to an Alberta Health Service text-messaging program designed to provide mental-health support during the COVID-19 pandemic.
It's called Text4Hope.
Participants receive one text message every morning for three months. After that, they can subscribe for a further six months.
Robillard selects a message of hope on her cellphone. "This one's my favourite: 'We often think that motivation leads to behaviour. The opposite is also true. Engaging in activities can increase your motivation.'
"I struggle with motivation so just seeing it written out in plain English … it kind of clicks."
Vincent Agyapong, a clinical professor of psychiatry at the University of Alberta in Edmonton, founded the program.
"Text4Hope is a program that allows individuals to subscribe to receive daily supportive text messages to help people deal with stress, anxiety and depression during the COVID pandemic," he says.
"When people are feeling stressed, anxious and depressed, they become preoccupied with doom and gloom.
"Once you are in this mental state you receive this positive message of hope, which momentarily disrupts your negative pattern of thinking."
Agyapong says the messages are crafted by psychologists, therapists and psychiatrists.
Another example of a message sent to subscribers: "When bad things happen that we can't control, we often focus on the things we can't change. Focus on what you can control; what can you do to help yourself (or someone else) today?"
The idea for Text4Hope came from a similar texting service Agyapong created after a wildfire tore through Fort McMurray, Alta., in 2016. Text4Mood, which was also promoted by Alberta Health Services, sent similar messages of hope to that community's residents.
Over six weeks with Text4Hope, Agyapong says users reported a 10 per cent reduction in depressive thoughts in comparison to those who didn't get messages.
"When people switch from being preoccupied with the doom and gloom to thinking more of the positive contents of the messages, which changes their thinking pattern, (it) results in reduced stress, anxiety and depression," he says.
More than 52,000 people have subscribed to the program since it started nearly a year ago. It is planning to continue for at least two years.
Agyapong says he has also set up a program that will send similar text messages in Arabic for newcomers, starting in April.
Last month, he started a text service for first responders suffering from post-traumatic stress disorder and he launched one in British Columbia for residents in Indigenous communities who have had multiple traumas. "They had wildfires, then they have flooding and now they have the pandemic," says Agyapong.
Robillard says she is getting therapy and on medication, but Text4Hope comes in handy on days when she feels down.
"It's something that's like a good addition to whatever regimen you have for taking care of your mental health," she says.
"It's there to help me … having a different voice, a different stream of consciousness around me helps."
This report by The Canadian Press was first published March 7, 2021.
—
This story was produced with the financial assistance of the Facebook and Canadian Press News Fellowship
Fakiha Baig, The Canadian Press