Welcome to the "Sky Palace" – Premier Kenney clears the record with photos of new temporary office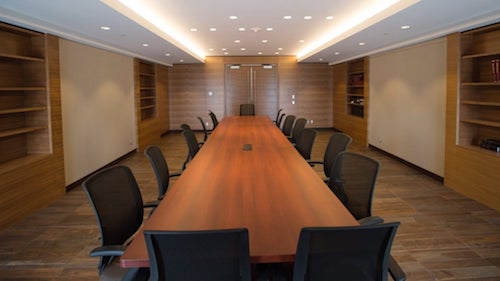 There has been much chatter over the last day or so about the office I'm currently occupying. I want to clear the record for those who didn't hear about why this is when we disclosed this information last summer.
As many of you know, the Legislature's 100 year-old sandstone is in need of repair. This project was contracted under the NDP in January of 2019, and is an important part of protecting Alberta's temple of democracy.  This involves, jackhammering, grinding, blasting, and lots of other work that is, by nature, quite loud. But it's necessary work that should get done to preserve the structural integrity of an important building that belongs to the people.
They work on different sections of the building at a time, and last summer they arrived at the section that includes the Premier's office. As you can imagine, trying to conduct important phone calls or host meetings while this noisy work takes place is not easily done (see a sample of the noise from today in a comment below), so a decision was made to temporarily move offices and staff in the Premier's office over to the federal building.
Thankfully, there are many office spaces that are available and under-utilized on the 10th and 11th floor of this building, so apart from minor moving expenses, there was no extra cost to repurposing these rooms with existing furniture and supplies for me and members of my staff.
Under previous governments, the entire 11th floor space was first designed as a penthouse suite, and when those plans were rightfully scrapped, it was repurposed to host the occasional meeting, and many other cocktail or guest receptions attended by the NDP while they were in government.  We believe these spaces should be there to support government business first and foremost.
As you can see, the area I'm working in is a former boardroom that we moved existing furniture into to serve as an office space (see before and after pics). It's not overly fancy or glamorous, but it serves the purpose of a functional workspace.
Once the work outside my Legislature office is complete, I'll be happy to move back into the space that is intended to serve as the Premier's office (see photos of that office prior to renovations).
Wildfire forces evacuation of an area in Yellowhead County west of Edmonton
EDMONTON — A wildfire has forced the evacuation of an area in Yellowhead County west of Edmonton.
An Alberta Emergency Alert message says the evacuation order affects people along Highway 16 between Evansburg and Wildwood.
It says the order also applies to people who are in the Lobstick resort area.
The order says all people in this zone must leave immediately.
The province says an evacuation centre is being set up at the Evansburg Arena in Evansburg.
The wildfire danger in the area is listed as very high and there are six airtankers, four helicopters, six pieces of heavy equipment and 30 firefighters working on containing the blaze.
This report by The Canadian Press was first published June 22, 2021
The Canadian Press
Edmonton school to be named after legendary locker room attendant Joey Moss
EDMONTON — A school in Edmonton that will open next year has been named after Joey Moss, a legendary locker-room attendant for the city's national hockey and football teams.
Moss, who was born with Down syndrome, became the Edmonton Oilers' locker-room attendant in 1984, when superstar Wayne Gretzky was dating his older sister.
In 1986, Moss joined Edmonton's football team, now called the Elks, and held roles with both organizations for more than 30 years.
He captured the hearts of sports fans along the way, particularly with his enthusiastic participation in the national anthem before the start of every hockey game.
Edmonton Public Schools says Joey Moss School in the southwestern part of the city will be for students from kindergarten to Grade 9 and will open in the fall of 2022.
In a statement, board chairwoman Trisha Estabrooks says it was an honour to name a school after "an excellent role model" for students.
"Joey has left a profound legacy in the hearts and minds of many Edmontonians and through this school naming, that legacy will continue to live on for generations," Estabrooks said. 
"Our students can learn a great deal from Joey and his spirit of acceptance, inclusion and most importantly his unwavering dedication to his community."
At the time of Moss's death in October, Gretzky said he "brought a ray of sunshine and a lot of fond memories to all of us."
Gretzky said he and his teammates used to joke that Moss would be a staple with the Oilers long after their playing careers were finished.
"(The Oilers) traded me, (but) Joey was a lifer," he said. 
"It was sure always a breath of fresh air when you'd walk into the locker room and he'd be sitting there."
This report by The Canadian Press was first published June 22, 2021.
The Canadian Press