Green Technology Is "Pie In The Sky" According To Premier Kenny
The economic benefits of oil and gas in Alberta are well known. The volatility of the boom and bust cycle is also a familiar song and dance in this province. When you take into consideration the environmental impact of the resource, the fossil fuel industry is a double-edged sword. It's also commonly understood that moving to a renewable future, with less environmental impact, is better for everyone in the long run.
To me, the solution is pretty straight forward: the sooner we move to a renewable long-term energy mix, the better off we will be.
The path forward that I've heard from the Alberta business community is that we need a strong fossil fuel industry to support a renewable industry – that we can have oil and gas companies working side by side with renewable energy companies, growing the Canadian energy industry together. Profits from a strong economy can be used to finance our diversification.
During the April 24th press conference, Jason Kenny threw that narrative out the window. He wants Alberta to be a petrol state, full stop.
When Tom Ross from 660 news asked the Premier about working with the US on the Green New Deal, he got quite upset. He made it absolutely clear that he is only interested in fossil fuel jobs.
"Our focus is on getting people back to work in Alberta, not pie in the sky ideological schemes."
For the UCP, the only good job is an oil job.
The Premier went on to say "That kind of question in the middle of an economic crisis from a Calgary based media outlet, frankly, throws me for a loop".
What message does that send to the thousands of Albertans who are working in renewable energy?
What about Iron and Earth, the non-profit that is training oil field workers with additional skills so they can work in both fields? What about the students at SAIT, NAIT, the University of Calgary, and the University of Alberta who are in alternative energy courses?
What about the people who are currently working in renewable energy at companies like BluEarth, Eavor, and SkyFire? Do their jobs not count? Are the projects that they operate and profit from "pie in the sky"?
What about the former Prime Minister Stephen Harper and his new role at Terrestrial Energy? Does the work he's doing to develop nuclear power in Canada qualify as "pie in the sky"?
The main goal of the Green New Deal is "meeting 100 percent of the power demand in the United States through clean, renewable, and zero-emission energy sources"
That's a completely reasonable goal in my opinion. There is no reason why Canada and Alberta shouldn't work with the US to help them develop their plan. Unless your goal is to create oil jobs instead of jobs.
There are shovel-ready projects that will put Albertans to work in areas other than oil and gas. Not to mention the potential in this province in areas like software, technology, manufacturing, and engineering services. There are viable solutions being left cold because the UCP is so focused on fossil fuels, they can't see anything else.
Teck Resources exits energy industry group CAPP, citing cost-cutting
Moneris confirms credit and debit card processing outage, but offers few details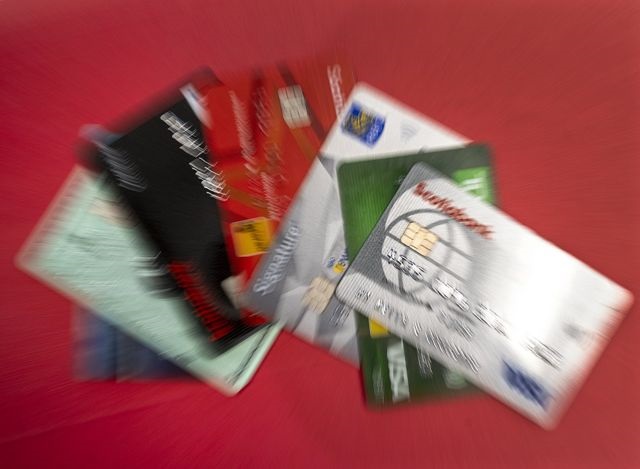 Toronto
The Canadian payment processing firm Moneris confirmed Saturday that credit and debit card transactions were interrupted by a network outage earlier in the day.
The Toronto-based technology company issued a statement saying there was nothing to suggest the outage was related to a cyber attack.
Complaints about outages started rolling in to the Downdetector.ca website before noon eastern time, but Moneris did not say when the outage started.
About three hours later, Moneris posted a message on X — the social media site formerly known as Twitter — saying it had resolved the network problem.
It remains unclear how many businesses and transactions were affected, but data provided by Downdetector.ca indicated complaints had come in from across the country.
In a statement provided to The Canadian Press, the company said the outage lasted about 90 minutes.
"We have resolved the network outage and returned transaction processing to normal," the statement said. "We continue to investigate the root cause of the issue. There are no indications this appears to be cyber-attack related and all transaction systems are functioning normally again."
The company, a joint venture between Royal Bank and BMO Bank of Montreal, said transaction processing could be slow as its systems catch up with the backlog.
Moneris says it supports more than 325,000 merchant locations across Canada.
This report by The Canadian Press was first published Sept. 23, 2024.
Smith says despite difficulty with Ottawa, Alberta has allies in Trudeau cabinet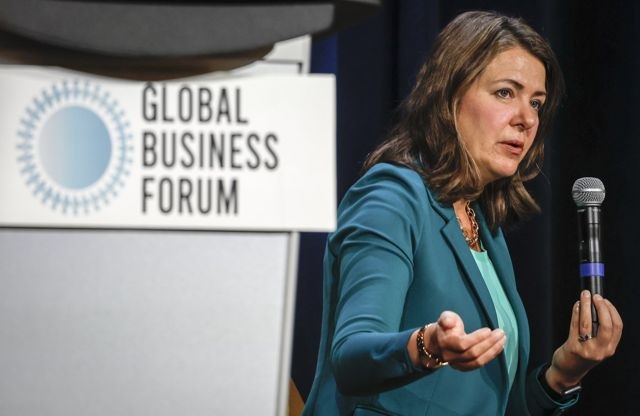 Alberta Premier Danielle Smith speaks to business leaders at the Global Business Forum in Banff, Alta., Friday, Sept. 22, 2023. Smith told the conference that despite her concerns with the federal Liberal government there was some cabinet ministers she can work with. THE CANADIAN PRESS/Jeff McIntosh
By Bill Graveland in Banff
Alberta Premier Danielle Smith told a business conference on Friday that despite her concerns with the federal Liberal government, there are some cabinet ministers she can work with.
Smith has been at odds with federal Environment Minister Steven Guilbeault and Natural Resources Minister Jonathan Wilkinson amid concerns over Ottawa's climate-change policies and transition plan for a net-zero emissions economy.
Guilbeault intends to publish draft regulations this fall to cap emissions from oil and gas, then force them downward overtime. Ottawa has also set a target to have the electricity grid be net-zero by 2035, but Alberta says it's unrealistic.
Smith says Alberta won't implement the emissions cap, nor will it follow the 2035 target.
The premier told delegates at the Global Business Forum in Banff, Alta., that Wilkinson needs to answer for comments he made earlier this week at the World Petroleum Congress in Calgary.
Wilkinson's call for the industry to work aggressively to get to net-zero was basically telling them to "pack it up, because the oil and gas industry is winding down," said Smith.
"You could just feel the energy leave the room and you could just feel the investment dollars leave the room."
Smith said energy producing provinces such as Alberta, Saskatchewan and Newfoundland and Labrador, can't trust the Trudeau government to look out for their interests at international conferences.
"After hearing how the natural resources minister talks about our industry, after hearing how the federal environment minister talks about our industry, we can't afford to let them carry our message," Smith said.
"We can't afford not to be there."
Smith said she has been in discussions with Saskatchewan Premier Scott Moe and intends to talk to Newfoundland and Labrador Premier Andrew Furey about joint presentations at conferences in the future.
Despite her disappointment with Wilkinson and Guilbeault, Smith said it's not all bad.
Finance Minister Chrystia Freeland among the top allies, she said.
"Let's give her credit for shepherding through all of the constant need to give more debt financing to Trans Mountain pipeline to get that to the finish line. That has not been easy," Smith said.
She also praised Innovation Minister Francois-Philippe Champagne, Public Safety Minister Dominic LeBlanc, Labour Minister Seamus O'Regan and Employment Minister Randy Boissonnault.
"I would say it's not uniformly negative in the Liberal caucus. But for some reason they're allowing Stephen Guilbeault to be a maverick and a renegade and quite offensive to those of who are trying to be reasonable and adult about this," Smith said.
Smith said it's time for the federal government to back away from setting "aggressive targets" in dealing with the provinces.
"Aggressive targets are not helpful. They're not helpful to us. They're not helpful to investors."
This report by The Canadian Press was first published Sept. 22, 2023.