Behind the Violence, Looting & Vandalism During the Black Lives Matter Riots
Image Credit: Michael Tracey
It has been just over 2 months since the death of George Floyd in the streets of Minneapolis, Minnesota, at the hands of 3 police officers in broad daylight, ignited a global conversation on police brutality. The significant outrage invoked by this tragedy has manifested across the globe in the form of mass protests under the banner of Black Lives Matter. While a significant number of protests have been peaceful presentations of solidarity and collective calls for change, a number of cities throughout the United States and across the world have been devastated by violent riots, vandalism and looting. The response of the media and general public to these instances of violence, which have left a number of people dead, have dramatically deepened the ideological divide surrounding the already controversial issues of systematic racism and police brutality.
One side of the argument is highlighted by an opinion piece written by Robin D. G. Kelley, an American history professor, published in the New York Times titled "What Kind of Society Values Property Over Black Lives?". This article argues the media's focus on looting as a part of the riots is a way to deflect from the central issue. "The police keep killing us with impunity," says Kelley, "Instead, once the burning and looting start, the media often shifts to the futility of "violence" as a legitimate path to justice."
Similarly, an InStyle piece by Jacqueline Schneider states, "If you're more concerned about looted storefronts than the brutal loss of life that spurred these protests, please re-evaluate." The article goes on to highlight certain leading fashion brands, such Marc Jacobs and Coach, have come out in support of the protests despite the material losses sustained by their brands as a result of the looting and destruction. Marc Jacobs published an Instagram post featuring the vandalism of a Los Angeles branch location with the simple caption, "A life cannot be replaced. Black Lives Matter."
A number of other works with a similar sentiment have emerged over the last two months, many of which make reference to the work of Martin Luther King Jr. While King is largely known for his unwavering commitment to non-violence in the face of oppression, he "recognized violent political rebellions … as the organic response to racial oppression and structural violence" (1).
""Alienated from society and knowing that this society cherishes property above people, [the looter] is shocking it by abusing property rights," he said. The real provocateur of the riots, he argued, was white supremacy." (2)

Therefore, many of the arguments that do not denounce looting as a part of the riots lean on this ideological argument along with the notion that the destruction of property should not be discussed alongside the loss of human life.
On the opposite side of this controversial debate, journalist Michael Tracey presents an investigative report featuring first-hand stories from shop owners and locals in small US cities that have received minimal coverage throughout the riots. In something of a post-apocalyptic Purge-esque collection, Michael Tracey's interviews showcase the current quality of life in places like Atlantic City, Fort Wayne, Green Bay, Olympia and more. The impact of the riots in these areas has been the significant destruction of small businesses and housing projects, burnt buildings and cars, shattered glass and windows barricaded with plywood, oftentimes featuring bullet holes.

Photo Credit: Michael Tracey
According to Tracey, who spent six weeks travelling the US collecting testimonies and documenting the unfolding implications of the ongoing riots, "…The primary victims – meaning those who feared for their safety, suffered severe material losses, and whose lives were upended – are themselves minorities, and were targeted by activist whites."
Tracey shares the stories, fears and opinions of a number of minority locals and shop owners who struggle to make sense of the looting. Victims of the riots highlight the lack of available emergency responders during the crises, adding to the level of fear and helplessness being experienced. In one video, Tracy interviews a local resident, who "recalls being told during the riots that there would be no fire or police service available and people needed to fend for themselves."
A number of boarded up storefronts, many of which will likely never open again, feature signage with the phrase "Black-owned business". Tracey believes this is both a statement of pride as well as a plea to be left alone by rioters, "Does the ubiquity of these types of signs, in which owners declare their ethnic or racial status, seem healthy to you?" he asks.

Photo Credit: Micheal Tracey
These disparate opinions position looting and violent rioting as an inevitable response to minority oppression and injustice, while highlighting the logical inconsistency that occurs as a number of those being victimized are themselves, minorities. While this debate continues to unfold, the chaos remains ongoing across the United States, where many protests have continued to take violent turns and the death toll continues to rise.
For more stories, visit Todayville Calgary.
'Tragic accident' blamed for recent death of giraffe at Calgary Zoo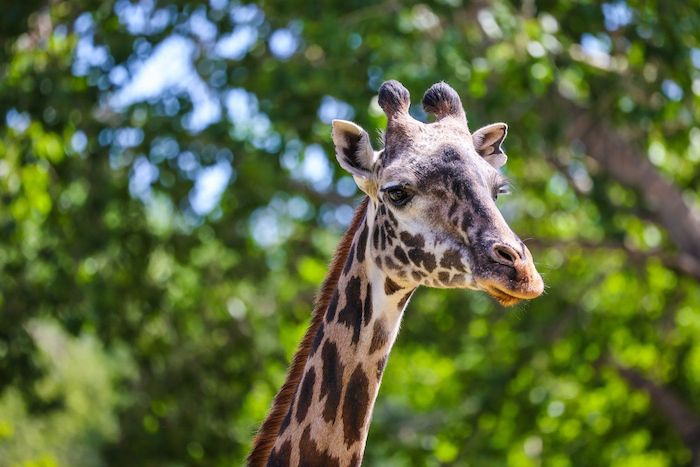 The Wilder Institute/Calgary Zoo says a "tragic accident" led to the recent death of an adult Masai giraffe. A statement from the zoo says the female giraffe named Emara died May 19 after tangling one of her horns on a cable surrounding her enclosure. THE CANADIAN PRESS/HO-Wilder Institute/Calgary Zoo-Sergei Belskey
Calgary
The Calgary Zoo says a "tragic accident" led to the recent death of one of its adult Masai giraffes.
A statement from the zoo says a female giraffe named Emara died May 19 after tangling one of her horns in a cable surrounding her enclosure.
The statement says a necropsy revealed Emara fell against the enclosure fence and died almost instantly of a broken neck.
Emara, who had just turned 12, came to Calgary from the San Diego Zoo in 2016.
The statement says she was a treasured member at the zoo and was known for her cautious yet curious personality and gentle nature.
The zoo says it is checking fencing within its African Savannah Yard enclosure to see if changes are needed to better protect the other giraffes and animals that share the space.
Doug Whiteside, interim associate director of animal care and welfare at the zoo, said Emara was in her prime and was in excellent health when she died.
"Major life changes such as this not only affect our people but can affect our animal residents as well," Whiteside said in the statement Monday.
He said the zoo's remaining giraffes, Nabo and Moshi, are doing well.
Grief counsellors are being made available to Emara's caregivers and other zoo staff.
This report by The Canadian Press was first published May 29, 2023.
Bail hearing set for Alberta man accused of sexually assaulting five women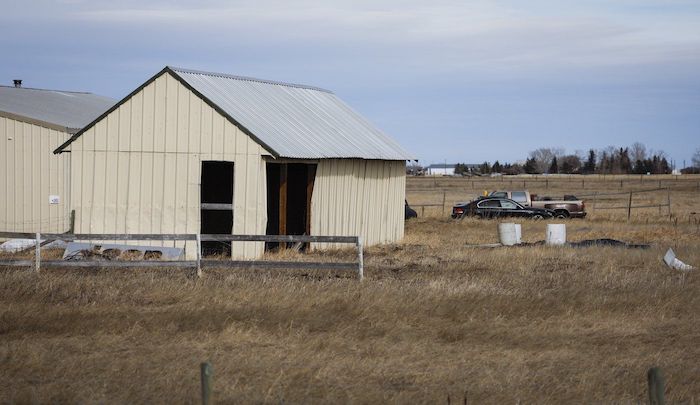 A rural property is seen near Langdon, Alta., Monday, April 10, 2023. A bail hearing for a man accused of kidnapping and sexually assaulting women in Calgary's sex trade will be held later this month. THE CANADIAN PRESS/Jeff McIntosh
Calgary
A bail hearing for a man accused of kidnapping and sexually assaulting women in Calgary's sex trade is to be held later this month after two more complainants came forward.
Richard Robert Mantha, who is 59, faces two new charges of sexual assault and two additional charges of administering a noxious substance.
They are in addition to 13 offences he faces in relation to three women, including sexual assault causing bodily harm.
Mantha appeared in court and a bail hearing was scheduled for May 26.
Police say the women allege they were approached by a man, then drugged and taken to a rural property, where they were physically and sexually assaulted.
Mantha was charged after officers cordoned off a property east of Calgary and brought in cadaver dogs, but police said at the time that no bodies were found.
This report by The Canadian Press was first published May 12, 2023.