Business spotlight: MCG careers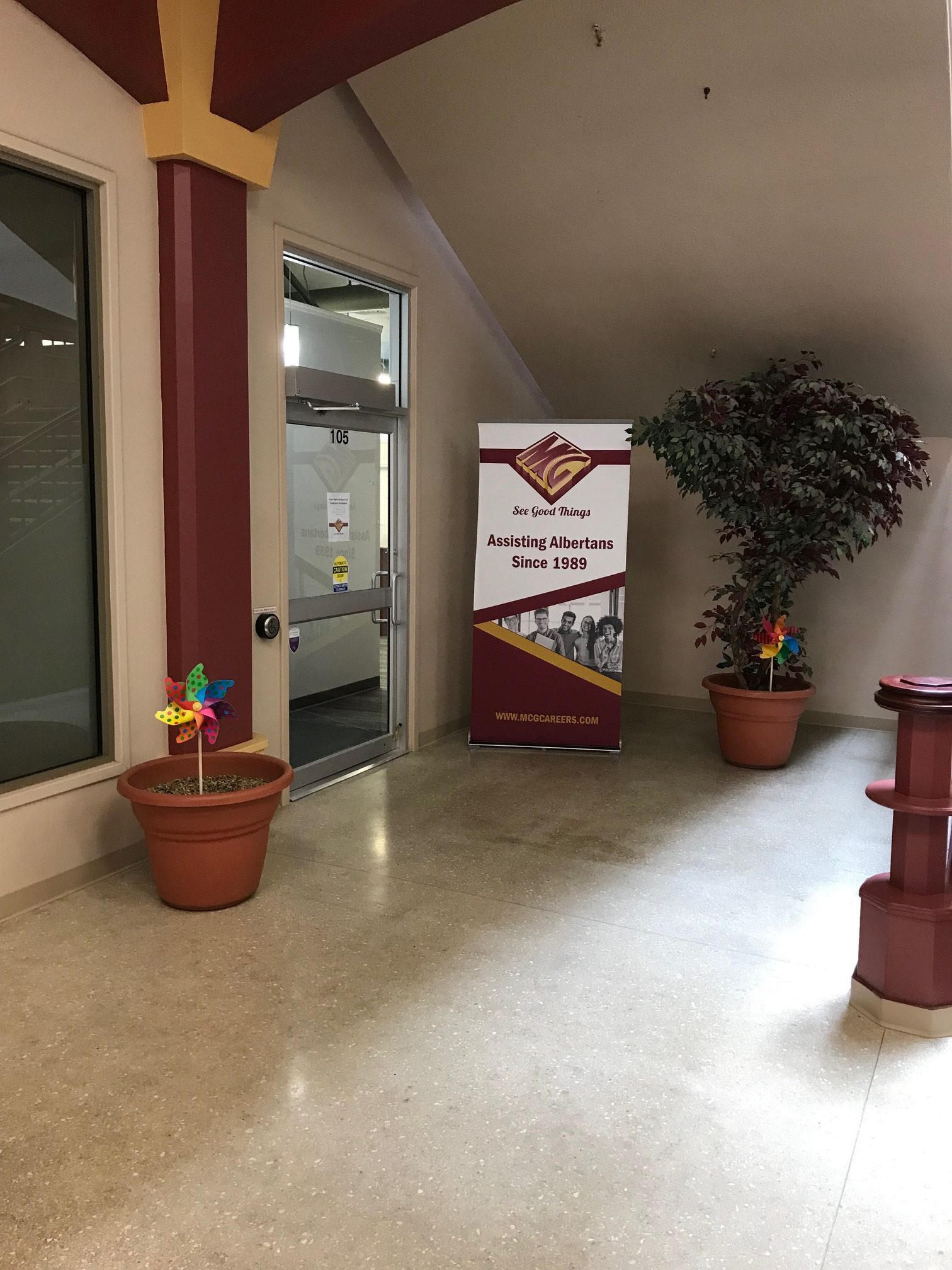 This week's Business Spotlight shines on MCG careers; This amazing company is helping Albertans get back to work! They offer many programs geared at getting their clients into good employment. all services are at no cost!
When did your business open?
MCG has been around since 1989. This office opened for business June 1st, 2022, in a new location with new programming. 
What makes your business unique?
Our mission is innovative career development training and human resource services which enable individuals and companies to achieve their full potential. 
What are some products/services that you offer?  
Resume/cover letter – resources, professional development recognition programs, communication skills, job search techniques, everything we can do to help people with employment. 
Why did you choose Downtown Red Deer as the location for your business? 
Easy access to non-profit and clients
What do you think makes Downtown vibrant? 
The amazing businesses, the people, the history and the no-cost activities
Finish this sentence; I love downtown red deer because…
Of its history and quaintness. The flowers baskets, street markets and entertainment
For more information check out
# 105 – 4807 – 50th Ave.
Red Deer, AB T4N 4A5
Direct : 403-304-9252
Ford workers in Canada ratify agreement, set precedent for other automakers
TORONTO — The union representing 5,600 workers at Ford Motor Co. facilities in Canada says workers have voted to accept a deal with the automaker.
Unifor and Ford reached a tentative agreement Tuesday after extending a strike deadline by 24 hours.
The union has said the three-year deal addresses all issues raised by members for this round of bargaining.
With the Ford deal ratified, Unifor can move on to trying to replicate that deal at the other big automakers, Stellantis and General Motors.
The union has said wages, pensions, job security and the transition to electric vehicles were key areas of focus for bargaining.
Meanwhile, workers at GM and Stellantis plants in the U.S. have been participating in limited strikes, and on Friday expanded the work action to 38 locations in 20 states.
This report by The Canadian Press was first published Sept. 24, 2023.

Union leader Lana Payne, national president of Unifor, issued a statement today saying the deal will mean tremendous gains for autoworkers.
Payne says the deal will also set the pattern for future negotiations with General Motors and Stellantis.
Unifor and Ford reached a tentative agreement last Tuesday night after extending a Monday strike deadline by 24 hours.
The deal covers more than 5,600 workers at Ford's plants in Canada.
The Canadian Press
<!– Photo: 20230924120956-65106abdf696d3d4f45d28d9jpeg.jpg, Caption: Unifor national president Lana Payne attends a news conference in Toronto, Tuesday, Aug. 29, 2023. Unionized workers at Ford Motor Co. of Canada have ratified a three-year agreement. Payne issued a
statement today saying the deal will mean tremendous gains for
autoworkers. THE CANADIAN PRESS/Tijana Martin –>
Moneris confirms credit and debit card processing outage, but offers few details
Toronto
The Canadian payment processing firm Moneris confirmed Saturday that credit and debit card transactions were interrupted by a network outage earlier in the day.
The Toronto-based technology company issued a statement saying there was nothing to suggest the outage was related to a cyber attack.
Complaints about outages started rolling in to the Downdetector.ca website before noon eastern time, but Moneris did not say when the outage started.
About three hours later, Moneris posted a message on X — the social media site formerly known as Twitter — saying it had resolved the network problem.
It remains unclear how many businesses and transactions were affected, but data provided by Downdetector.ca indicated complaints had come in from across the country.
In a statement provided to The Canadian Press, the company said the outage lasted about 90 minutes.
"We have resolved the network outage and returned transaction processing to normal," the statement said. "We continue to investigate the root cause of the issue. There are no indications this appears to be cyber-attack related and all transaction systems are functioning normally again."
The company, a joint venture between Royal Bank and BMO Bank of Montreal, said transaction processing could be slow as its systems catch up with the backlog.
Moneris says it supports more than 325,000 merchant locations across Canada.
This report by The Canadian Press was first published Sept. 23, 2024.