3 Questions for John Wing (The Tonight Show, America's Got Talent, Just For Laughs)
I think it's safe to say my first large scale comedy show I ever put on was bringing John Wing to town. Two sold out shows back to back in a market that hadn't really seen that kind of comedy talent in a long time. John had just finished up a stint on America's Got Talent and I remember thinking "holy heck, he's actually coming here…"
"I'm not a BARBARIAN, you know!"
– John Wing
Since then I have remained somewhat buds with John and have followed his journey over the last several years. John has performed on the Tonight Show with Jay Leno six times, performed several Just for Laughs and countless other festivals, clubs, cruise ships and more. John is an accomplished author spanning several books and most recently launched his "The Bad Piano Player" podcast.
I caught up with John and gave him the "3 QUESTIONS FOR" treatment.
1) As a Comic who's normally on tour a huge percentage of the time, what activity if any have you taken up or rekindled to keep the mind occupied?
I started playing the piano three or four hours a day, and planning podcasts. That's totally what kept me sane. Writing the episodes as well.
2) What's your favourite memory of being on the Tonight Show?
My first Tonight show was in 1990. Jim McCawley, the guy who booked and wrangled the comics, was holding the curtain, ready to pull it back when I was introduced. We were coming back from commercial. As we did, a couple of seconds before Jay started my intro, McCawley turned to me and said, "Hey, don't forget your jokes." I had my set typed out in my suit jacket pocket and I whipped it out for a final scan. Jesus, what an A-hole.
3) Ketchup or no ketchup on your Mac n' Cheese? Or no Mac n' Cheese at all?
No Ketchup on anything. I occasionally dip fries in Ketchup one by one, and I like cocktail sauce with shrimp, which is a form of ketchup but never ON anything. I'm not a BARBARIAN, you know!
Check out John's podcast and enjoy a little you time with your headphones on or cozied up by the fireplace with the bluetooth. The Bad Piano Player Podcast is available on PodTail, Buzzsprout, Apple podcasts and basically anywhere you get your podcast fix.
OR JUST CLICK HERE!
.
Click to see more stories on Here to Mars.
You might of missed this, Quarter Life Crisis – Taylor Tomlinson (The Tonight Show, Conan, Comedy Central)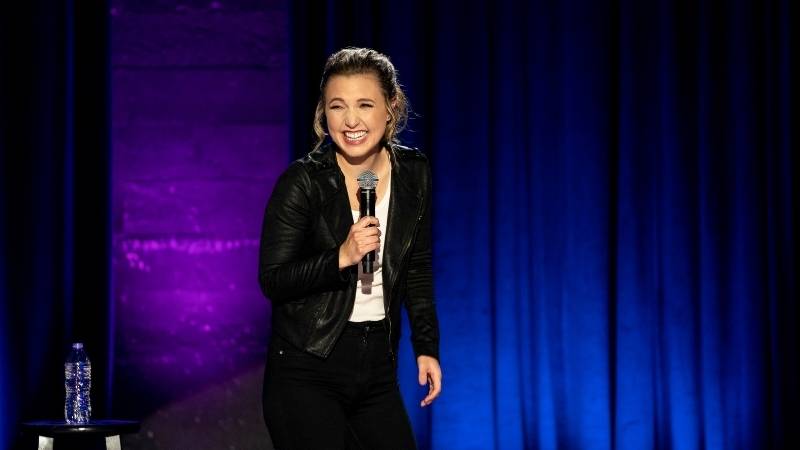 One of the silver linings of this ridiculous year is all the binge watching you could ever want. (Focus on the positive!)
But what to watch? If you need some cheering up, I'm going to curate some of the best stand up comedy from the past year plus to make it all go away, just for a while.
To keep things simple, this list will all be specials that you can find on Netflix. Because at this point, you either have Netflix, or somebody you can mooch Netflix off of. There's more great stuff on Amazon Prime and Crave among other places (Special shout out to Doug Stanhope's "Dying of a Last Breed" on Vimeo if you're into dark stuff), but those platforms are less popular, so Netflix it is.
This list isn't a countdown or anything. Just some great stuff that you may not have seen, that I think you'll like. Ready? Let's go.
#1 –
Taylor Tomlinson – "Quarter Life Crisis"
The first thing you need to know about Taylor, is that she's only 26 years old. Despite that, she's already ten years into a dynamic career. Starting on the Christian circuit as a teen, she stepped out of that as an adult to talk about subjects that mattered more to her as she hit her 20's. Subjects like sex and relationships in the age of dating apps and accessible porn. She wanted to express the young adult experience with total honesty, and that doesn't exactly fly with the church crowd. So she's shifted into the mainstream, and we're lucky she did.

Taylor has a high status persona with an old soul behind her observations, but she isn't afraid to make fun of how not fun she is. Her stage presence is rock solid and energetic, and while I'd describe her as more of a smart "writer" style comic, her act outs pack a punch.
The second thing you need to know is that her writing is AMAZING. Example: "Women always go for men who are just like their fathers, so I keep finding men who don't want to sleep with me".
Other thoughts she shares are about her fear of drugs and alcohol, her relationship with her very religious dad, and watching her friends get married and start families. If you're in your 20's, you'll relate. If you used to be in your 20's, you still will. Trust me. If I'm wrong, it's only an hour of your day, and we all know you can spare the time.
THE COMEDY REWIND – MITCH HEDBERG ON JUST FOR LAUGHS
Join us as we dive back into some of Stand Up Comedy's most timeless comics. Gone but not forgotten.
"I used to lay in my twin size bed and
wonder where my brother was"
-Mitch Hedberg
Mitch Hedberg was one of a very few who could tell a joke that was simply that. A joke. No putdowns or crazy shock value, just one liner after one liner. Check out this clip from Just For Laughs circa 2004.