3 Questions for Edmonton Comic LARS CALLIEOU (Just For Laughs, Comedy Network, CBC)
Lars Callieou is just what we need in Stand Up Comedy right now!
Edmonton Comic Lars Callieou is no stranger to the stage. That is until this whole COVID-19 thing hit. What's a touring pro comic to do? Re-Invent 'Stand Up' thats what. Over the past little while Lars has been busy building up the Firepit Comedy Tour. Crazily this type of set up goes against everything it takes to have a successful comedy show, the audience is way too far away and there's a very small number of people allowed at the show. Heres the thing, Lars and his team have crushed all of that stigma. Not only did they crush it they rebuilt the entire idea of a stand up show and put it to work. Most importantly Lars and co. have people laughing again. "I needed this" said Lars explaining that this was born out of the "necessity" to be on stage. I can relate.
"Get the funny Canadian kid again." – Joan Rivers
What a weird time to be a performer. There's something about Stand Up Comedy though thats really different. It's you and the crowd. No barriers. It's essential to the process. I've produced a lot of comedy shows and I would have never ever thought of an idea like this. CTV even picked up the story and presto! Firepit Comedy Tour is booking up like crazy!!! Let me be clear, this is nothing short of incredible.
Want a Firepit Comedy show? Get in touch with Lars by checking out his website extralars.com or hit up the Firepit Comedy Tour FB page.
Now down to the skinny, I had a quick chance to catch up with Lars online and thought I'd hit him with 3 questions just for fun.

1. What has been your go to food and or meal through this whole world wide lockdown?
I usually work at my computer in my office until I'm starving and then heat up a microwave meal. I get so busy with projects I forget to eat. Most of the time some bowl I got at Safeway, they say 'healthy choices' but I think that's a bit of a marketing gimmick. My eating habits haven't changed much during the day. At night, I'll have chicken and some other microwaved veggies.
2. Who is the first band you wanna see live in concert once this is all over?
Great question. I've seen pretty much everyone I want to, maybe the Stones again? Page/Plant? Some Zepplin members, I haven't seen them. And maybe KISS.
3. How would you describe the role music plays on your mental health during the last few months?
I listen to the same 12 songs all the time. I find something I like and play it until I'm sick of it, which takes months. I'll send you a screenshot (see below) of 2 of my playlists. I usually just listen while I'm driving. I spend a lot of time on the phone with some 'big idea' that is going to save the world.
He's appeared at the Bridgetown Comedy Festival in Portland, Boston Comedy Festival and played Brad Garrett's comedy club at the Tropicana in Las Vegas. Lars has also been overseas to entertain the troops 3 times (Kuwait, IRAQ, Kyrgyzstan, Dubai, and Abu Dhabi) and has a weekly comedy radio show on CJSR 88.5 FM that is a 2-Time Canadian Comedy Award Nominee. He's toured with Miss Joan Rivers TWICE. The second time she even requested him personally, "Get the funny Canadian kid again."
You might of missed this, Quarter Life Crisis – Taylor Tomlinson (The Tonight Show, Conan, Comedy Central)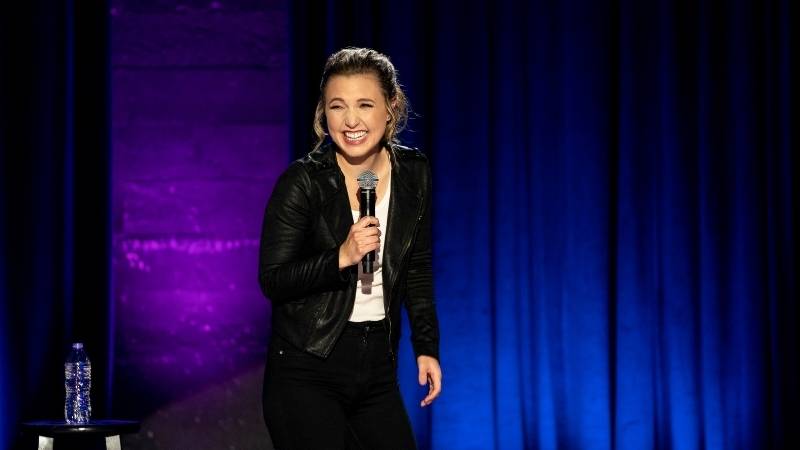 One of the silver linings of this ridiculous year is all the binge watching you could ever want. (Focus on the positive!)
But what to watch? If you need some cheering up, I'm going to curate some of the best stand up comedy from the past year plus to make it all go away, just for a while.
To keep things simple, this list will all be specials that you can find on Netflix. Because at this point, you either have Netflix, or somebody you can mooch Netflix off of. There's more great stuff on Amazon Prime and Crave among other places (Special shout out to Doug Stanhope's "Dying of a Last Breed" on Vimeo if you're into dark stuff), but those platforms are less popular, so Netflix it is.
This list isn't a countdown or anything. Just some great stuff that you may not have seen, that I think you'll like. Ready? Let's go.
#1 –
Taylor Tomlinson – "Quarter Life Crisis"
The first thing you need to know about Taylor, is that she's only 26 years old. Despite that, she's already ten years into a dynamic career. Starting on the Christian circuit as a teen, she stepped out of that as an adult to talk about subjects that mattered more to her as she hit her 20's. Subjects like sex and relationships in the age of dating apps and accessible porn. She wanted to express the young adult experience with total honesty, and that doesn't exactly fly with the church crowd. So she's shifted into the mainstream, and we're lucky she did.

Taylor has a high status persona with an old soul behind her observations, but she isn't afraid to make fun of how not fun she is. Her stage presence is rock solid and energetic, and while I'd describe her as more of a smart "writer" style comic, her act outs pack a punch.
The second thing you need to know is that her writing is AMAZING. Example: "Women always go for men who are just like their fathers, so I keep finding men who don't want to sleep with me".
Other thoughts she shares are about her fear of drugs and alcohol, her relationship with her very religious dad, and watching her friends get married and start families. If you're in your 20's, you'll relate. If you used to be in your 20's, you still will. Trust me. If I'm wrong, it's only an hour of your day, and we all know you can spare the time.

THE COMEDY REWIND – MITCH HEDBERG ON JUST FOR LAUGHS
Join us as we dive back into some of Stand Up Comedy's most timeless comics. Gone but not forgotten.
"I used to lay in my twin size bed and
wonder where my brother was"
-Mitch Hedberg
Mitch Hedberg was one of a very few who could tell a joke that was simply that. A joke. No putdowns or crazy shock value, just one liner after one liner. Check out this clip from Just For Laughs circa 2004.