You need to know – Climate Change and the Future of Energy
Todayville hunts for information that cuts through politics and ideologies.  We're a lot more interested in sharing in depth views than we are about screaming (and misleading) headlines. Here's an excellent example.  This video podcast interview is an absolute must-see for all those Canadians who want to know the truth about the future of energy production.   Turns out carbon based energy production isn't as bad as we thought, and some of the renewables aren't nearly as good as we thought.  No matter which side of this debate you're on you need to know what Michael Shellenberger is saying.
From Forbes.com (Michael Shellenberger is a regular contributor of articles on energy.)  "Michael Shellenberger is a Time Magazine "Hero of the Environment," Green Book Award Winner, and author of Apocalypse Never: Why Environmental Alarmism Hurts Us All (Harper Collins, June 30, 2020). He is a frequent contributor to The New York Times, Washington Post, Wall Street Journal, Scientific American, and other publications. His TED talks have been viewed over five million times."
This video podcast is the second edition of a new offering from Robert Bryce called the Power Hungry Podcast. The Power Hungry podcast spotlights energy, power, innovation, and politics. Author and journalist Robert Bryce talks with top thinkers, writers, and influencers — as well as regular citizens.
In the second edition of the Power Hungry podcast, Robert Bryce talks with Michael Shellenberger about his new book, Apocalypse Never: Why Environmental Alarmism Hurts Us All. Michael is one of the most famous environmentalists in America as well as a former candidate for governor of California. He and Robert discuss a myriad of topics including liberation theology, the roots of apocalyptic environmentalism, and why nuclear reactors, not wind turbines and solar panels, are the only viable path forward if we are going to reduce greenhouse gas emissions and preserve natural areas for people and wildlife.
Here's one of the comments from a viewer of this video.
"I am unacceptably right wing, but I agree with everything this guy is saying about renewables, nuclear, & energy policy in general."
Alberta production Pipe Nation seeking to tap musical talent for soundtrack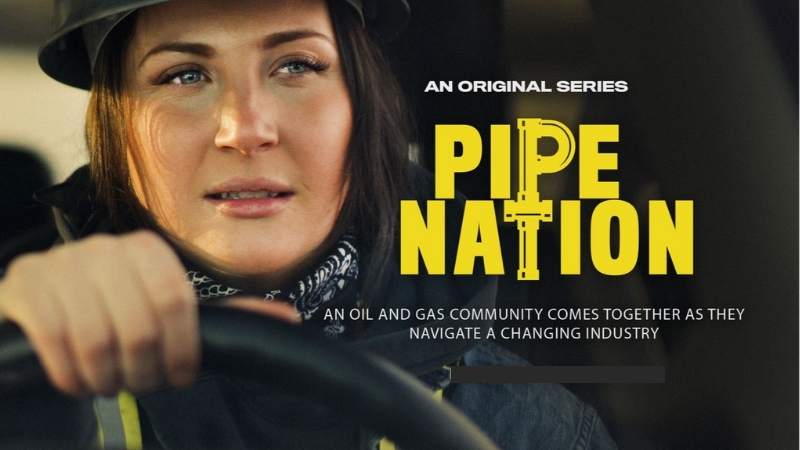 Here are the details.
January 13, 2021
Edmonton-AB, CANADA-​One of the largest independently funded tv-series in Canada, Pipe Nation, is seeking talented musicians to round out its soundtrack as the pilot episode nears completion.
The director, Raoul Bhatt, and executive producer, Dan Svedberg, are seeking submissions from Canadian and American artists to collaborate on the show's soundtrack.
The dramatic series is told through the experiences of a single mother working in the male-dominated, oil and energy industry. The pilot was filmed in August and September of 2020 in the picturesque mountains of Canada and the Edmonton area. 18 scenes and 180 takes were captured in Sundre, Alberta, which was transformed into the fictitious town of Hardwell. A great deal of effort has been put into this pilot including a $300,000 built for the show pipeline, a medical helicopter, and a long list of heavy equipment worth $180 million.
The scenes are now in editing, where the crucial process of pairing beautiful scenes with dramatic music is underway. Several genres of music including, rock, blues, country, electronic dance music, and classical will be used in the series. The show's soundtrack will be released on Apple Music, Amazon, Spotify and Google Play Music in the coming months. Director, Raoul Bhatt and his team have been in post-production for the last three months​. ​The pilot tv-series is expected to be complete by February 2021.
Musicians, labels, bands looking to collaborate or submit their work, please contact Executive Producer & Sound Designer, Daniel Svedberg, and Director, [email protected]
Read more on Todayville.
Where Iron and Earth Meet – Oil & Gas Workers for Renewable Energy
Iron and Earth is a Canadian non-profit organization led by oilsands workers who advocate for a balanced approach towards a green energy transition. The organization was founded in 2015 during the economic crisis that led to the termination of thousands of oil and gas workers nationwide. It began as a collective of boots-on-the-ground employees who had experienced the hard times brought on by the boom-bust nature of the oil and gas industry, and wanted to be a part of the movement to diversify and build resilience in Canada.
According to the Iron and Earth mission statement, Where Iron and Earth Meet, "There's a place for the oilsands, and there's a place for renewable energy. The intention is not to shut down the oilsands, but to see they are managed more sustainably while developing our renewable energy resources more ambitiously." 
Dialogues surrounding sustainability and diversification often place renewable energy alternatives at odds with the oil and gas industry, with little room for productive discussion. Iron and Earth provides a platform for oilsands workers, business owners, non-profits, politicians and consumers to meet at the same table and collaborate effectively to build a more sustainable future for all Canadians. Rather than contribute to divisive narratives that position oil and gas and renewable energy as mutually exclusive industries, Iron and Earth advocates for a balanced approach towards diversification, sustainability and a renewable transition.
"Iron and Earth is proof of the dichotomy of people working in the oil and gas industry who care about the environment very, very much," says Bruce Wilson, board member for Iron and Earth. "There is a diverse array of political affiliations and backgrounds within the organization, from individuals presently working in oil and gas to those who have recently transitioned, to those who have never worked in the industry at all." Wilson joined Iron and Earth in 2018 after more than 30 years in the oil and gas industry, including 17 years with Shell International. 
By focusing on industry overlaps, Iron and Earth highlights the ways in which fossil fuels and renewable energy can be beneficial, reinforcing sectors that can produce positive outcomes for the Canadian workforce and the global climate crisis. "Fortunately for many of the workers who are affected by the ongoing boom and bust cycles of the oilsands, many renewable energy jobs require the same skills and tradespeople that are currently working in the Canadian oil and gas industry" (1).
Iron and Earth streamlines the transfer of skills between industries by offering a number of programs and resources to support workers seeking to transition away from fossil fuels into renewable energy.  This includes offering training, classroom education, and hands-on experience to broaden the understanding of industry overlaps that will aid oil and gas workers in finding their fit in clean technology.
These processes and resources operate with respect to the reality that transitions away from oil and gas into renewables can be a daunting and difficult process for many. Former Canadian oil and gas worker and current Iron and Earth spokesperson, Nick Kendrick, came to Iron and Earth in 2018 after reaching a fork in the road in his own career path. After 5 years in oil and gas, Kendrick was faced with the employment insecurity many workers in the Canadian oil and gas industry are familiar with. "When I started in oil and gas, prices were booming," he says, "but by the time I got up north, the industry was struggling. People were getting laid off, and I realized it might be time to make a move." 
Kendrick made the decision to return to school at the University of Calgary, where he pursued a Master's Degree in Sustainable Energy. It was there he connected with Iron and Earth for his capstone project, where he facilitated the drafting of a strategic path forward for the organization. This included mapping out geographic locations that offered the most opportunity to deliver impactful training workshops and support upcoming renewable energy projects, as well as encourage Indigenous participation.
"Leaving oil and gas for renewables is a very scary thing, especially in Alberta," says Kendrick, "I admire how Iron and Earth's approach is not to completely abandon the oilsands. They've been very foundational for Canada, but they're not sustainable. It's time to help each other progress onto something new."

In September 2020, Iron and Earth unveiled their Prosperous Transition Plan, framing the future for Canada's green transition. The Prosperous Transition Plan boldly calls on the Trudeau Government to invest $110 billion over the next decade into a green recovery for Canada. The plan highlights four focal points of the Canadian economy: workforce, business, infrastructure and environment. With an emphasis on repurposing oil and gas infrastructure and getting people back to work, Iron and Earth's Prosperous Transition Plan focuses on recovering from the COVID-19 pandemic, decarbonizing the economy and addressing inequality to ensure a prosperous future. 
With more than 1000 active members across Canada from a variety of industrial trades, Iron and Earth is continually expanding and advocating for ethical, legitimate solutions to facilitate Canada's transition to renewable energy. "These are not utopian suggestions," says Wilson, "they are pragmatic solutions that require purposeful, ambitious action from the government … Change and thrive is the business model for the future."
To learn more about Iron and Earth's mission and Prosperous Transition Plan, visit https://www.ironandearth.org. 
For more stories, visit Todayville Calgary.