WATCH: YEG Artist Spotlight: Aftershock
Todayville's YEG Artist Spotlight is AFTERSHOCK, they are known for setting up a wave after wave of energetic pulses everywhere they play! I asked each of the band members three questions… see below.
Check out their next show on November 23rd, follow them on https://www.facebook.com/pg/aftershockedmonton/
Rhythm section Doug Bodtcher & Mike Klassen, kick the seismic energy into high gear, balanced with Paul Coffey & Tyler Stang on guitar. Stang, who's also the owner of Edmonton's Stang Guitars, keep jamming with their vibrant and oscillating guitar licks. The lead singer at the epicentre of the music, and with earth moving vocals is Themesa McKeen!!
Doug Bodtcher:
1. Where do I find my artistic inspiration?
I have been a drummer for as long as I can remember. If a song has a powerful drum beat, that is what drives me.
My inspirations are Nikko McBrain, Alex Van Halen, Tommy Aldridge, Tommy Lee, Stewart Copeland and many others.
2. Talk about live music scene in edmonton.
The live music scene is alive and well, more live music venues are popping up and we are very pleased to be able to play for so many enthusiasts of live music.
3. Add something to make the article personal
– Mike, Paul and I were in a band together that ended. We missed each others company and realized the only way to see each other more frequently was to put instruments in our hands, so we started getting together to mess around with some songs. Doug was in another band called Sadie Gunn. Mike and Paul came out to support and instantly fell in love with "Pipes" Doug's vocalist Themesa. She joined the crew and later Tyler joined to be the fifth and final piece of Aftershock.
–
– Our style: we listen to a song a few times, get the meat and potatoes down and then play it without memorizing the song as the audience doesn't want a canned act but rather a live performance so we make subtle changes to try to make each song ours.




PAUL:
Heres my submission… i did it on my phone with no spell check so good luck. Hahahah
1. Where do I find my artistic inspiration?
Iinspiration, I have to say for me, it all comes from the audience. Being a musician on its own is amazing but it's the interaction with the audience that truly inspires me. When you look out at a croud and you can see that they're having a great time, especially when they 'get it' and and then they're somehow part of what you're doing up there, that inspires me..Thats when its magical.
2. Talk about live music scene in edmonton.
I won't lie, the live music scene has seen better days but the community is still tight and the friends we make along the way still make it worthwhile getting out there to perform.
3. Add something to make the article personal:
Like Doug said, we started down this road together a long time ago. I guess noone really sees it coming, but as time passes and we get a bit older, our lives all take us in different directions. Its important to create ways to maintain connections.. so we might not be the 'best' band going, but I know I'll be hanging out with my friends on Friday.
–
Our style: our style is nonsense. Every one of us has a different 'style'. haha. Sometimes I'm baffled how we even function. Yet somehow all of our differences are 'super' complementary. It all just seems to work. But if i had to point in any one stylistic dirrection, I would say we are colorful blend of 'rock' and 'silliness'
Mike Klassen:
I'm inline with Paul on question one. Definitely inspired by the interaction and energy from a crowd. I draw a lot of inspiration from many genres of music and have an appreciation for those with artistic flair! Many of the other thoughts shared are echoed by me too. Thanks again Raoul.
Themesa McKeen:
1. Where do I find my artistic inspiration?
I find it through the crowd as well as feeling their energy that they're all having a good time makes me give it my all on stage.. but also from other musicians..and to name a few would be incorrect… One of my biggest inspirations though is from my mother Linda McKeen my Auntie Beverley McKeen who are both singers and song writers as well as amazing musicians and god rest his soul Fraser Bud McKeen who was a amazing singer with such a powerful voice!
2. Talk about live music scene in Edmonton.
My thoughts are the same as Doug's and Paul's thoughts on this.
3. Add something to make the article personal.
Most of what Doug and Paul has said is the same thoughts just like what Mike said.. But I have to add that Paul Coffey… Doug Bodtcher… Mike Klassen…And Tyler Stang Are all My Bros and I'm their Broette lol 🤘🏼🤘🏼and I'm so grateful for being part of this strong, wonderful, fun and very talented band family. It's very rare to find a band that You click with right away! And You know what… I would not have it any other way I love them to pieces! 🤘🏼
Alberta's Distinguished Artist Award Recipients Announced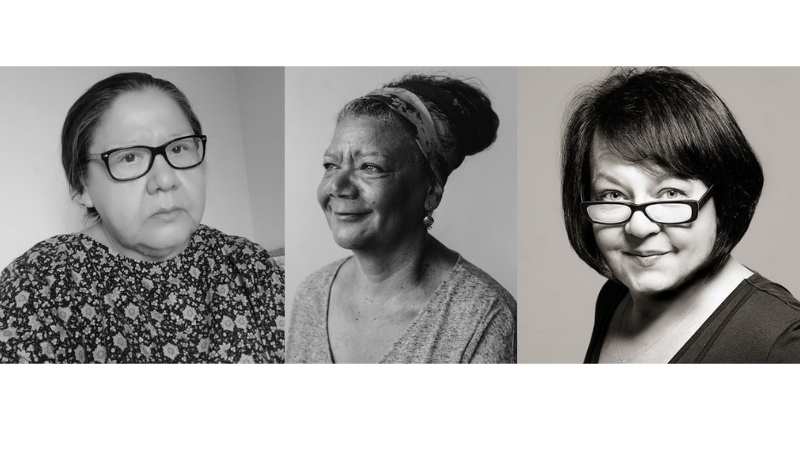 June 16, 2021
Alberta's Distinguished Artist Award Recipients Announced
(Calgary, AB) The Lieutenant Governor of Alberta Arts Awards Foundation is pleased to announce that artist Faye HeavyShield (Blood Reserve, Kainaiwa Nation, AB), writer and filmmaker Cheryl Foggo (Calgary, AB), and dance choreographer Vicki Adams Willis (Calgary, AB), have been selected to receive the 2021 Lieutenant Governor of Alberta Distinguished Artist Award.
Arlene Strom, chair of the Lieutenant Governor of Alberta Arts Awards Foundation said, "Albertans can be proud of these three whose contributions have pushed the boundaries of art to reflect Indigenous identity and expression; present a more inclusive and diverse view of Alberta's history; and define the province as a beacon for jazz dance artists. Each has contributed immeasurably to the development of the province's artists, arts communities and expanding art disciplines."
Faye HeavyShield, Visual Arts
Over the past 30 years, Faye HeavyShield has been one of Canada's pre- eminent artists within Alberta and the Blackfoot Confederacy. Currently living on the Blood Reserve in southwestern Alberta, Faye studied at Alberta University for the Arts in Calgary.
Honouring her Kainaiwa (Blood) Nation, the striking landscape they dwell within and the Blackfoot language which she speaks, Faye HeavyShield's legacy of three-dimensional art and sculpture including recent installations incorporating photography and delicately constructed paper figures make her a senior figure in the artistic and cultural renaissance of Indigenous nations in the country.
"…My art is a reflection of my environment and personal history as lived in the physical geography of southern Alberta with its prairie grass, river coulees, and wind and an upbringing in the Kainaiwa community. I would say the environment is an extension of myself because it's always been there, from the time I was a child. It was one of the first things that I saw and smelled. I consider it a part of me. The landscape is an extension of the body because we're dependent on it, and to flip that, the landscape is dependent on us…" Faye Heavyshield
Beyond her personal practice, Faye is actively involved with her community by working with youth through art programming and creating cultural connections for children in care.
Cheryl Foggo, Playwright, screenwriter, film maker, author
Creating a more inclusive and diverse view of Alberta's history through her plays, films, books, articles and multi-media presentations has been Cheryl Foggo's life work. Profiled in Who's Who in Black Canada and the recipient of the 2008 national Harry Jerome Award for The Arts, Foggo has applied her talent as a researcher and writer to uncovering the compelling but overlooked stories of Alberta's Black settlers and
cowboys. Most recently, the award winning National Film Board feature- length documentary, John Ware Reclaimed (2020), highlighted an earlier thriving Black community in the province often left out of the history books.
Her seminal, autobiographical book, Pourin' Down Rain: A Black Woman Claims Her Place In The Canadian West, is a powerful narrative of Foggo's ancestors' journey from enslavement in the United States to Western Canada. The book, first published in 1990, received the distinction of a special 30th anniversary reprint in 2020. Her books for young people: Dear Baobab, I Have Been in Danger and One Thing That's True have garnered many commendations between them, including One Thing That's True being short-listed for the Governor General's Award. In addition to her books, Cheryl Foggo has published prose in more than 40 journals and anthologies.
Two new productions of Foggo's plays are scheduled in 2021 with the Citadel Theatre in Edmonton and the Urgency Collective in Calgary, and her short play The Sender is currently available through Toronto's Obsidian Company's 21 Black Futures Project. As a cultural activist, mentor and volunteer she advocates for writers and Black artists.
Vicki Adams Willis Performing Arts: Dance
Vicki Adams Willis has changed the face of jazz dance in Alberta and Canada. A co-founder nearly 40 years ago of Decidedly Jazz Danceworks (DJD), she is foremost a teacher and choreographer of more than 35 original productions. She is recognized as a true leader in the world of jazz; an acclaimed ground-breaking choreographer who created one of the most unique jazz dance companies in the world, and the key person to ensure Calgary, Alberta as a viable dance centre for serious jazz artists. She has helped to change the very course of the jazz dance art form by influencing students, dancers, musicians and audiences with her strongly researched and brilliantly creative work.
Jazz dance is a misunderstood art form. Born of African parents and of the Black American experience, Vicki Adams Willis acknowledges herself as a guest in this form and has demonstrated her deep understanding of, and utter respect for, the authentic roots and history of jazz through her research, teaching and choreography. The company she co-created in 1984 – Decidedly Jazz Danceworks (DJD) has gained international recognition. It has been referenced in articles, dissertations, anthologies and, most recently, in an award-winning international film: Uprooted–The Journey of Jazz Dance, which had its Canadian premiere at the 2021 Toronto Black Film Festival.
"..These three ground-breaking women have offered important contributions to the arts in Canada. Their creativity has brought new light to their respective disciplines and created countless opportunities for us all to learn, grow and explore fresh ideas. Artists like this are essential to the vibrancy of our communities and we are truly fortunate to have them as cultural leaders in our province and country as a whole…"
Her Honour, the Honourable Salma Lakhani, Lieutenant Governor of Alberta
The laureates will each receive a handcrafted medal, a $30,000 award and a two-week residency at the Banff Centre's Leighton Artist Studios. The awards patron, the Honourable Salma Lakhani Lieutenant Governor of Alberta, will present the awards at a celebration hosted by the Community of Lac La Biche and Portage College, Lac La Biche campus, at an awards event June 10 and 11, 2022.
The awards are funded through an endowment established with private donations and gifts from the Province of Alberta and Government of Canada. The Lieutenant Governor of Alberta serves as honorary patron of the awards. Since its inception, 23 Distinguished Artists and 63 Emerging Artists have been recognized across Alberta with this significant honour. See details at artsawards.ca
The 2021 Distinguished Artists were chosen from nominations received and reviewed by a jury of experts overseen by the Banff Centre for Arts and Creativity. Jurors for the 2021 Distinguished Artist Awards were Mary-Beth Laviolette, visual arts curator and author; John Estacio, 2017 Distinguished Artist and JUNO nominated composer; Seika Boye, scholar, writer, artist and Assistant Professor, University of Toronto, Centre for Drama, Theatre & Performance Studies; Jordan Abel, Nisga'a writer from Vancouver and Assistant Professor in the Department of English and Film Studies at the University of Alberta teaching Indigenous Literatures and Creative Writing.
Click to learn more about the Lieutenant Governor of Alberta Arts Awards Foundation.
Read more on Todayville.com.
DISTINGUISHED & EMERGING ARTIST AWARDS JUNE 2022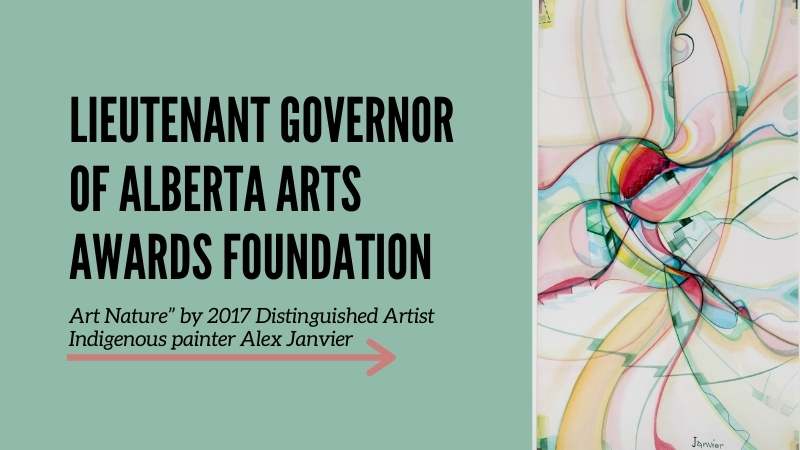 Lac La Biche County and Portage College have been making plans for a community celebration to honour three new 2021 Lieutenant Governor of Alberta Distinguished Artists. Given the ongoing COVID-19 related challenges of convening in person, Portage College, Lac La Biche County, and the Lieutenant Governor of Alberta Arts Awards Foundation have moved the celebration to June 11, 2022.
This change has provided a new opportunity: for the first time in the Awards' history, the host community of Lac La Biche County will celebrate both the 2021 Distinguished Artists and up to 10 new 2022 Emerging Artists.
Her Honour Salma Lakhani, Lieutenant Governor of Alberta, says she is looking forward to honouring the Distinguished and Emerging Artists next summer in Lac La Biche.
"I appreciate the tremendous work that the community has already invested into this special celebration, and I know that the 2022 awards will be well worth the wait. In the meantime, I offer my heartfelt thanks to all of the artists, administrators and patrons across Alberta for everything that you are doing to keep the arts a vibrant part of our lives and our communities during this extraordinary time."
The organizers look forward to hosting this prestigious event and showcasing Alberta's diverse arts scene. Their June 2022 plans include opportunities to chat with artists, outdoor community celebrations featuring an Art Walk and Market, art classes and demonstrations, an artist retreat, and a celebratory awards gala.
Click to learn more about the Foundation.