WATCH: YEG Artist Spotlight: Aftershock
Todayville's YEG Artist Spotlight is AFTERSHOCK, they are known for setting up a wave after wave of energetic pulses everywhere they play! I asked each of the band members three questions… see below.
Check out their next show on November 23rd, follow them on https://www.facebook.com/pg/aftershockedmonton/
Rhythm section Doug Bodtcher & Mike Klassen, kick the seismic energy into high gear, balanced with Paul Coffey & Tyler Stang on guitar. Stang, who's also the owner of Edmonton's Stang Guitars, keep jamming with their vibrant and oscillating guitar licks. The lead singer at the epicentre of the music, and with earth moving vocals is Themesa McKeen!!
Doug Bodtcher:
1. Where do I find my artistic inspiration?
I have been a drummer for as long as I can remember. If a song has a powerful drum beat, that is what drives me.
My inspirations are Nikko McBrain, Alex Van Halen, Tommy Aldridge, Tommy Lee, Stewart Copeland and many others.
2. Talk about live music scene in edmonton.
The live music scene is alive and well, more live music venues are popping up and we are very pleased to be able to play for so many enthusiasts of live music.
3. Add something to make the article personal
– Mike, Paul and I were in a band together that ended. We missed each others company and realized the only way to see each other more frequently was to put instruments in our hands, so we started getting together to mess around with some songs. Doug was in another band called Sadie Gunn. Mike and Paul came out to support and instantly fell in love with "Pipes" Doug's vocalist Themesa. She joined the crew and later Tyler joined to be the fifth and final piece of Aftershock.
–
– Our style: we listen to a song a few times, get the meat and potatoes down and then play it without memorizing the song as the audience doesn't want a canned act but rather a live performance so we make subtle changes to try to make each song ours.




PAUL:
Heres my submission… i did it on my phone with no spell check so good luck. Hahahah
1. Where do I find my artistic inspiration?
Iinspiration, I have to say for me, it all comes from the audience. Being a musician on its own is amazing but it's the interaction with the audience that truly inspires me. When you look out at a croud and you can see that they're having a great time, especially when they 'get it' and and then they're somehow part of what you're doing up there, that inspires me..Thats when its magical.
2. Talk about live music scene in edmonton.
I won't lie, the live music scene has seen better days but the community is still tight and the friends we make along the way still make it worthwhile getting out there to perform.
3. Add something to make the article personal:
Like Doug said, we started down this road together a long time ago. I guess noone really sees it coming, but as time passes and we get a bit older, our lives all take us in different directions. Its important to create ways to maintain connections.. so we might not be the 'best' band going, but I know I'll be hanging out with my friends on Friday.
–
Our style: our style is nonsense. Every one of us has a different 'style'. haha. Sometimes I'm baffled how we even function. Yet somehow all of our differences are 'super' complementary. It all just seems to work. But if i had to point in any one stylistic dirrection, I would say we are colorful blend of 'rock' and 'silliness'
Mike Klassen:
I'm inline with Paul on question one. Definitely inspired by the interaction and energy from a crowd. I draw a lot of inspiration from many genres of music and have an appreciation for those with artistic flair! Many of the other thoughts shared are echoed by me too. Thanks again Raoul.
Themesa McKeen:
1. Where do I find my artistic inspiration?
I find it through the crowd as well as feeling their energy that they're all having a good time makes me give it my all on stage.. but also from other musicians..and to name a few would be incorrect… One of my biggest inspirations though is from my mother Linda McKeen my Auntie Beverley McKeen who are both singers and song writers as well as amazing musicians and god rest his soul Fraser Bud McKeen who was a amazing singer with such a powerful voice!
2. Talk about live music scene in Edmonton.
My thoughts are the same as Doug's and Paul's thoughts on this.
3. Add something to make the article personal.
Most of what Doug and Paul has said is the same thoughts just like what Mike said.. But I have to add that Paul Coffey… Doug Bodtcher… Mike Klassen…And Tyler Stang Are all My Bros and I'm their Broette lol 🤘🏼🤘🏼and I'm so grateful for being part of this strong, wonderful, fun and very talented band family. It's very rare to find a band that You click with right away! And You know what… I would not have it any other way I love them to pieces! 🤘🏼
'A big part of my life': Orillia mourns hometown legend Gordon Lightfoot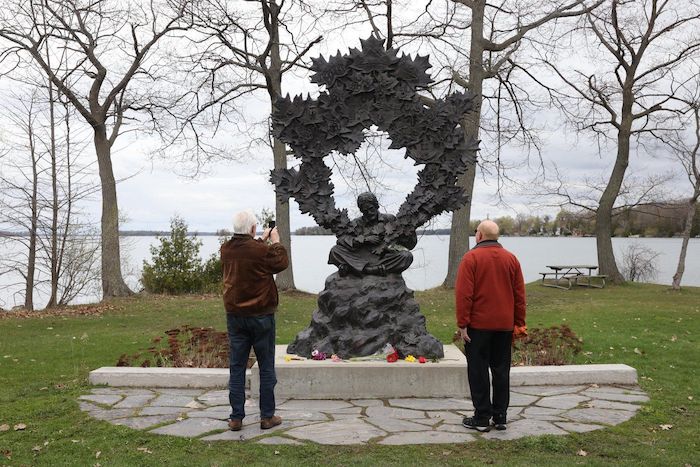 Two men pay respects at Gordon Lightfoot's Golden Leaves statue at Tudhope Park in Orillia, Ont., on Tuesday, May 2, 2023. Flowers were placed on the tribute after news broke that Lightfoot passed away at 84 years old Monday May 1, 2023. THE CANADIAN PRESS/Christopher Drost
By Sharif Hassan in Orillia
It didn't take long for the flowers to appear at the statue of Gordon Lightfoot in his Ontario hometown.
The legendary folk musician, claimed by the City of Orillia as its "favourite son," died of natural causes at a Toronto hospital on Monday at the age of 84.
Barely 24 hours later, Orillia residents stopped by the bronze sculpture of Lightfoot that stands in a city park to pay their respects.
Cam Gardy, who brought yellow flowers to lay at the base of the statue, said his mother went to school with the musician and would tell tales of how he'd perform for students.
"He has been a part of my life as I have grown up," Gardy said, adding that while he never met Lightfoot personally, he had been to one of his concerts.
"Mr. Lightfoot is iconic, not only to the residents and the city but obviously to the people across Canada."
Lightfoot put Orillia on the map, Gardy said, and was an "incredible ambassador" for the city.
"He always spoke of his town fondly," Gardy said.
Joanna Bell, who brought a rose to place at the statue, said she cried when she woke up to news of Lightfoot's death on Tuesday morning.
"Gordon Lightfoot was a big part of my life, my childhood," she said, adding that she is one of seven siblings. "He was loved by all of us, and of course he wrote the most beautiful music."
Lightfoot's music brings to mind the beauty of Canada, she said.
"He is such a well-respected Canadian," she said. "That is why I came today, I felt compelled to come."
Heather Placken, who said she's been a fan of Lightfoot's for 40 years, said she only learned of the singer's death when walking by the entrance of the Orillia park hosting his statue – an announcement had been posted by the entrance.
"I feel really honoured and grateful that I had the opportunity to see him here last summer," she said.
Lightfoot was more than just a songwriter and musician, she said.
"Every song he has ever written and sang, it tells a story of something significant that everyone of us can relate," she said.
"He was an amazing individual and for Canadians, to have somebody of that stature to look up to in the music industry is phenomenal."
Lightfoot was born in Orillia in 1938, sang in a church choir as a boy and dreamed of becoming a jazz musician.
He later emerged from Toronto's Yorkville folk club scene in the 1960s, and went on to record more than 20 studio albums and hundreds of songs, including "Early Morning Rain," "Carefree Highway" and "Sundown."
Orillia Mayor Don McIsaac said Lightfoot was highly regarded in the city.
"His homecoming concerts at the Orillia Opera House and appearances at the Mariposa Folk Festival have always been celebrated by Orillians as they welcomed him home," the mayor wrote in a statement.
"Many of us who knew him will remember his soft-spoken demeanor, generous personality and infectious laugh."
There are reminders of Lightfoot throughout Orillia, McIsaac said, noting that the singer's name graces a city auditorium stage and a trail, while a bust of him sits at the Orillia Opera House, in addition to the sculpture honouring him in the city's J.B. Tudhope Memorial Park.
"His deep roots in our city are woven into the fabric of Orillia," McIsaac said. "Our community is mourning together along with the rest of the world."
The city has lowered its flags to half-mast, the mayor said. Books of condolences for the music icon are available at the Orillia Opera House and Orillia City Centre.
A concert tour to celebrate Lightfoot's music had been set to begin on Saturday, on the stage named after him at the Orillia Opera House. It will still go ahead, with the show's creator saying she hopes it will serve as a celebration of Lightfoot's music and life.
"My band and I were huge fans of Gordon Lightfoot. The reason that we created this concert is because his music has impacted all of our lives so much," Leisa Way said in an interview.
"He's just shaped who I am as a Canadian, certainly growing up in northern Ontario, and now it will be very emotional for all of us."
Way said the concert, called Early Morning Rain: The Legend of Gordon Lightfoot, had premiered for three weeks in February 2020 but the COVID-19 pandemic meant it had to stop.
She said she hopes Saturday's concert will be a special event for the residents of Orillia.
"There's nothing that Gordon Lightfoot would love more than knowing that audiences are getting together in theaters and singing along to all of his songs," she said. "I think he'll be smiling down on us."
– with files from Maan Alhmidi in Toronto.
This report by The Canadian Press was first published May 2, 2023.
Antiquities, plucked from storeroom, on Roman Forum display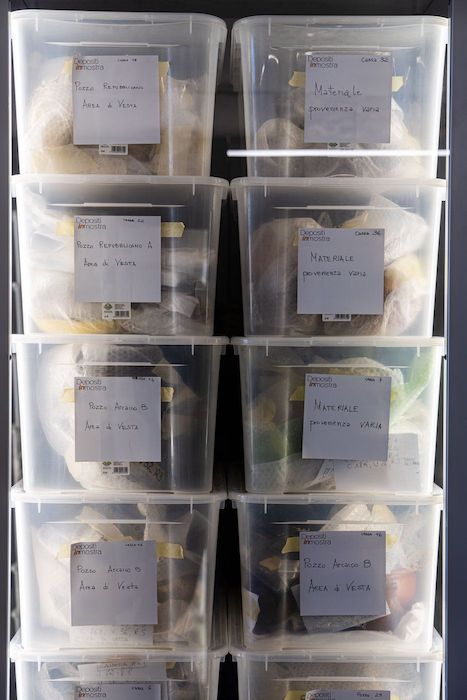 Archaelogical findings are stored in plastic tubs in the antiquities storeroom inside the Roman Forum in Rome, Wednesday, April 19, 2023. The pieces today on display at the Forum were part of the myriads of findings still kept in the Colosseum storehouse that is not open to the public. (AP Photo/Domenico Stinellis)
By Frances D'emilio in Rome
ROME (AP) — Hundreds of remnants of ancient Roman life — including colored dice, rain gutter decorations depicting mythological figures, and burial offerings 3,000 years old — have long been hidden from public sight. Until now.
For the next few months, a limited number of visitors to the Roman Forum, Colosseum or Palatine Hill can view a tantalizing display of ancient statuettes, urns, even the remarkably well-preserved skeleton of a man who lived in the 10th-century B.C. All the exhibits have been plucked from storerooms in the heart of the Italian capital.
Indeed, so many artifacts are kept in storerooms that "you could open 100 museums," said Fulvio Coletti, an archaeologist with the Colosseum archaeological park. On Wednesday, Coletti stood at the entrance to a "taberna," a cavernous space which had served commercial purposes in ancient Roman times and belonged to the palace complex of the 1st-century Emperor Tiberius.
Three such "tabernae" now double as exhibition rooms for once-hidden antiquities. To give an idea of just how many more artifacts are still not on display, curators stacked enormous see-through plastic tubs, chockful of discoveries from some 2,000 years ago and bearing minimalist labels like "Ancient Well B Area of Vesta," a reference to the temple in the Forum erected to the goddess of the hearth.
One display holds row after row of ancient colored dice — 351 in all — that in the 6th century B.C. were tossed into wells as part of rituals. Also in the exhibit is a decoration from a temple rain-gutter depicting a bearded Silenus, a mythological creature associated with Dionysus, the wine god.
Some artifacts are displayed in showcases custom-made by archaeologist Giacomo Boni, whose excavations in the first years of the 20th century revealed dozens of tombs, including many of children. Some of the tombs dated from as far back as the 10 century B.C., centuries before the construction of the Roman Forum, the center of the city's political and commercial life, when the city's inhabitants dwelt in a swampy expanse near the River Tiber.
In one display case is the largely intact skeleton of a man who was a good 1.6 meters tall (about 5-foot-4 inches), on the taller side for his time, in the 10th century B.C. He was buried with some kind of belt, whose bronze clasp survived. Found in his tomb and on display are a scattering of grains, remnants of funeral rites. Layers of mud, formed in Rome's early days, helped preserve the remains.
The director of the Colosseum's Archaeological Park said staff were working to make an inventory of artifacts kept in more than 100 storerooms, whose contents up to now have been accessible to academics but few others.
"We want in some way to make objects come to light that otherwise would be invisible to the great public," Alfonsina Russo, the director, told The Associated Press.
"We're talking of objects that tell a story, not a big story, but a daily story, a story of daily life," Russo said.
Every Friday through July, visitors can admire the antiquities pulled out of the storerooms during 90-minute guided tours. The "tabernae" are small exhibition spaces, so only eight visitors can enter during each tour. Reservations are required, and visitors must buy an entrance ticket to the archaeological park. Park officials indicated they hope the initiative can be extended or renewed.