Apply for Canada Emergency Response Benefit (CERB) with CRA
The Government of Canada is issuing payments to workers residing in Canada who have lost income or self-employment income for reasons related to COVID-19.
You can apply for this benefit through either the Canada Revenue Agency (CRA) or Service Canada, but not both.
By applying, you are giving consent to the CRA to use your tax information for the purposes of administering and enforcing the CERB, and are agreeing that your information, including tax information, may be shared with Employment and Social Development Canada.A.
Click here to start your CERB application. If you haven't already, you may be asked to setup your direct deposit with CRA https://www.canada.ca/en/revenue-agency/services/benefits/apply-for-cerb-with-cra.html
Copied off of the CRA website.
Who can apply
To be eligible, you must meet the following requirements:
You reside in Canada
You are 15 years old or more when you apply
For your first CERB application:

You have stopped or will stop working due to reasons related to COVID-19
For at least 14 days in a row for the period you are applying for, you will not receive:

employment income
self-employment income
provincial or federal benefits related to maternity or paternity leave

For your subsequent CERB applications:

You continue to not work due to reasons related to COVID-19
For the 4 week period you are applying for, you will not receive:

employment income;
self-employment income; or
provincial or federal benefits related to maternity or paternity leave.

You have not quit your job voluntarily
You did not apply for, nor receive, CERB or EI benefits from Service Canada for the same eligibility period
You earned a minimum of $5,000 income in the last 12 months or in 2019 from one or more of the following sources:

employment income
self-employment income
provincial or federal benefits related to maternity or paternity leave
Raoul Bhatt
https://instagram.com/raoul
The masks are coming off in Red Deer!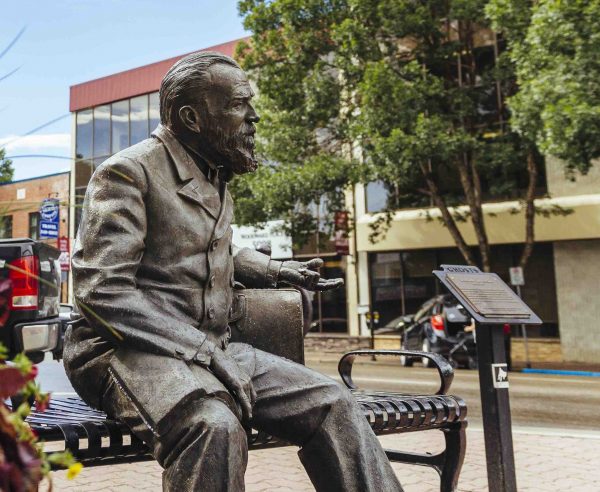 Municipal mask bylaws to expire July 1, some provincial mask restrictions to remain in place
All three of Red Deer's face covering bylaws will expire on July 1, in line with the lifting of the provincial mask mandate.

On June 18, the Government of Alberta announced that the general indoor provincial mask mandate would be lifted on July 1, with masking still required in some specific circumstances, including public transit.

At their meeting on May 25, Red Deer City Council made the decision to expire the local face covering bylaws when the provincial mandate was lifted. As such, the following bylaws will expire on July 1:
Face Coverings in Indoor Public Places and Public Vehicles Bylaw 3656/B-2021 (enacted on November 23, 2020)
Face Coverings in City Civic Facilities 3657/B-2021 (enacted on November 23, 2020)
Transit Face Covering Bylaw 3654/B-2021(enacted on August 17, 2020)
While the municipal face covering bylaws will expire, there will still be masking requirements as per provincial restrictions. Masks will still be Provincially mandated under in the following situations:
On public transit
In public ride shares and taxis
In specific continuing care and acute healthcare care settings
Additionally, there may be occupational and business masking requirements, so Red Deerians may still see people wearing masks outside of the Provincially mandated mask requirements.
For full details on the provincial mask mandates still in place after July 1, visit www.alberta.ca.
As restrictions are set to be lifted, citizens are reminded to get vaccinated and continue following public health restrictions in place, including the use of masks, physical distancing and staying home when sick.
For more information, please visit reddeer.ca/covid
$1,200 Covid payment for 76,500 more Albertans including truck drivers, janitors, taxi drivers, security guards, farm workers, etc
More Albertans to receive $1,200 Critical Worker Benefit
76,500 more workers to receive a one-time payment to recognize the risks they have taken to support Albertans and the economy.
The Critical Worker Benefit is a joint federal-provincial program with $465 million available to recognize the hard work of critical workers during the pandemic.
During the first round of the Critical Worker Benefit Alberta's government provided $1,200 payments to over 277,800 workers in the healthcare, social services, education and private sectors who deliver critical services to Albertans or support food and medical supply chains.
Workers in new job categories will be eligible for the same $1,200 payment. This includes workers in social services and the private sector who provided critical services to Albertans, were essential to the supply and movement of goods, and faced greater potential risk of exposure to COVID-19 through their work environments.
To be eligible for the benefit, employees must have worked a minimum of 300 hours during the period of Oct. 12, 2020 to Jan. 31, 2021. Support staff working in licensed child care must have worked a minimum of 243 hours during this period.
Eligible social services sector employers do not need to apply. Employers of support staff working in licensed child care programs, disability support workers providing independent living supports, respite, community access, and employment supports, and front-line workers in seniors-serving organizations and non-profit affordable housing providers will be contacted by the Government of Alberta to confirm details.
Eligible private sector workers making $25 per hour or less will also qualify for the benefit. These workers include: truck drivers, farmworkers, security guards, cleaners, funeral workers, employees at quick service and dine in restaurants and taxi drivers who can demonstrate they worked at least 300 hours during the eligibility period. The complete list of eligible workers for this phase of the program are available in the Application Guidelines for the private sector at alberta.ca/criticalworkerbenefit.
Private sector employers can apply on behalf of employees at alberta.ca/criticalworkerbenefit as of June 22. Employers have until July 23 to apply.
Employers will be responsible for distributing the $1,200 Critical Worker Benefit to their eligible employees.
Alberta's government is responding to the COVID-19 pandemic by protecting lives and livelihoods with precise measures to bend the curve, sustain small businesses, and protect Alberta's health care system.
Quick facts
Alberta's government contributed $118 million to the $465 million program.
A total of about $367 million has been spent on about 289,800 workers.
$355 million has been spent on about 277,800 workers in the phase one of the Critical Worker Benefit. This includes social services workers, health care workers, education workers and critical private sector workers, such as grocery cashiers, pharmacy assistants, and gas station attendants.
Announced in April 2020, Alberta also used $12 million of the one-time federal funding along with a provincial investment totalling $30 million to date to provide a $2 an hour wage top-up for about 12,000 health care aides working in long-term care and designated supportive living facilities.
About $99 million is available for about 76,500 workers in the social services and private sectors.
The break down of benefit recipient is:

Up to $18.5 million in the social services sector supporting 14,300 workers
Up to $80.3 million in the private sector supporting 62,200 workers
Workers in the following private sector occupations are eligible to receive the Critical Worker Benefit:
truck transportation, primarily engaged in the transportation of goods, in the following occupations:

­transport truck drivers
­light duty cleaners
­janitors, caretakers and building superintendents
­security guards and related security services
­material handlers
­dlivery and courier services drivers
­other trades helpers and labourers

crop production, animal production or aquaculture directly involved in the production of food for human consumption
funeral homes, cemeteries and crematoria

not eligible: municipally-run funeral homes, cemeteries and crematoria

security guards

not eligible: private investigators, armoured car guard, house detective, personal bodyguards and security

light duty cleaners, janitors and specialized cleaners working in commercial, institution and industrial locations

not eligible: private residence cleaners

taxi drivers

not eligible: chauffers and drivers of ride-share companies such as Uber and Lyft

workers in full-service restaurants and limited services eating places – workers must be primarily involved in the preparation, cooking or service delivery in an eligible establishment

not eligible: drinking places that do not serve food onsite
Read the application guidelines for the private sector for more information.