Why Canadians Should Care About Land Loss
Why Canadians Should Care About Land Loss
Developments are increasingly taking over Canadian farmland. Farms once took up much of Canadian land. However, that case is not true today. Only about 5% of Canada's land is considered prime farmland. This prime land borders one of Canada's fastest-growing regions, and once suburban development overtakes it, Canadian farmers will have a challenging time providing food for the cities.
Farmers in Canada make their livelihood by planting, growing, harvesting and distributing food to the Canadian populations. Without land, both farmers and the rest of those living in Canada will not get fresh, Canadian grown produce.
Here are some reasons why Canadian farmers should care about land loss:
Farmland Provides Food
While this is an apparent reason, it's an essential one. Prime farmland in Canada produces food for major Canadian cities. As farmers continue to lose land, they have to rely on a smaller acreage to make the same amount of food — if not more — for the growing population.
Over the past 10 years, almost 1 million hectares of agricultural land has diminished due to development and growing populations. Agriculture continues to adapt to land loss. However, further technological advancements must first take place to grow enough produce vertically rather than horizontally.
Land Preservation Will Help the Economy
Farmland preservations come with a wealth of economic benefits. Agriculture contributes to the economy through the following ways:
Sales: For the economy to survive, there needs to be consumer demands and sales. Almost everyone purchases produce, so there will always be a demand for those goods. Without land to grow agricultural products, no sales will be made, and the economy could suffer.
Job opportunities: Less than 2% of Canada's population works in the agriculture industry. While it's not much, that's still over 750,000 people. Preserving farmland shows a commitment to the industry. Land loss would create job loss. However, maintaining the farmland — and even reclaiming it, along with pastures — could boost the sector and, therefore, the economy. It would provide unemployed people with job security.
Secondary markets: Farmers are just one part of the food business. Because of farmers and farmland, secondary markets can thrive. These would include processing businesses, restaurants, schools, grocery stores and even waste management companies.
Canadian farmers should care about land loss because standing back and allowing companies to overtake the farmland could seriously affect the economy.
Farmland Benefits the Environment
Wildlife often depends upon farmland for both food and habitat. Various types of farmland create diverse habitats for many different species. Without land protection, these habitats and food sources would be destroyed, leaving many animals without a place to survive. Many would have difficulty finding a native habitat.
Additionally, growing crops helps eliminate some of the carbon dioxide released into the air. Air pollution could decrease for Canadian cities as long as no more farmland is used for development.
One major problem occurring with Canadian farmland is desertification. This happens when the soil loses nutrients and becomes barren. The urbanization of Canadian farmland is the primary contributor to desertification, which speeds up climate change and harms the environment. Keeping farmland as-is will slow down climate change.
Land Loss Affects Farmers' Jobs
Perhaps the main reason why Canadian farmers should care about land loss is because their livelihood could be taken away. If they don't have the means to keep up with technological advancements in the agricultural industry, they will not be able to continue their jobs if they experience land loss.
Agriculture is an essential industry. Not everyone can pick up the skills needed to grow their own food, and so many people depend upon farmers for nutrition and goods.
Take a Stand to Preserve Farmland
Farmland is a worthwhile and precious resource for many people. Reduction in farmland acreage will hurt Canadian farmers and the rest of the population, the economy and the environment. Taking steps to prevent more land loss can slow the rates of destruction and keep natural habitats thriving for both humans and animalls.
Click here read more stories by Emily Folk. 
I'm Emily Folk, and I grew up in a small town in Pennsylvania. Growing up I had a love of animals, and after countless marathons of watching Animal Planet documentaries, I developed a passion for ecology and conservation.
Olymel temporarily closes due to COVID-19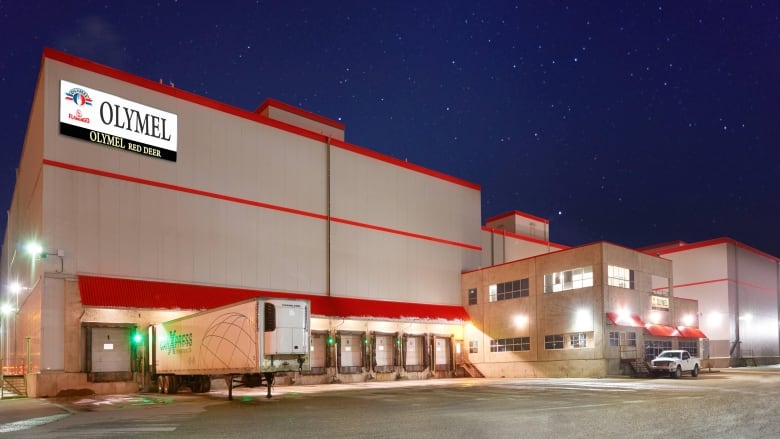 This is a news release from Olymel L.P.
Olymel announces the temporary closing of its Red Deer plant
Olymel management is announcing the temporary closing of its hog slaughtering, cutting and deboning plant in Red Deer, Alberta. Despite the testing protocols and sanitary measures already in place, as well as the close collaboration of Alberta Health Services to deal with a resurgence of positive cases of Covid-19 among plant employees, Olymel management believes that the conditions are no longer assembled to continue normal operations in a safe and efficient manner.
After notifying the union, Olymel management drew up an orderly temporary closing plan for an indefinite period. Over the next few days, plant management will mobilize the staff necessary to cease operations and complete the facility closure as soon as possible. The sanitary measures will continue to be in effect at the plant during the shutdown and Olymel management will be in contact with officials at Alberta Health Services to continue working closely with this organization.
Olymel sincerely hopes that all employees at the Red Deer plant who have tested positive for Covid-19 soon regain their health. The company will follow up with all employees to ensure their quarantine period is being respected and will strongly encourage all staff to get tested before returning to work. Olymel will also continue ongoing investigations to determine what may have caused such a large outbreak of Covid-19 cases since January 20.
Olymel management has also informed all hog suppliers of the Red Deer plant of the situation and has suspended all pending deliveries until further notice.
Federal Government Examines Living Conditions for Thousands of Foreign Workers
Canada Improving Foreign Worker Living Conditions
The Canadian agricultural economy relies heavily on foreign and migrant workers for its continued prosperity. While there has been a call to take action and overhaul the foreign worker program for years now, the pandemic has pushed those priorities even further. Living conditions have long been in need of change, but the government is now looking to seriously improve the conditions for these workers — primarily from a public health perspective.
While some actions have already been put in place — such as consultations with industry leaders, provinces and territories as well as foreign workers themselves — we're still in the beginning stages of the consistent change that needs to happen in order to thoroughly improve living conditions.
Health Risks
As the COVID-19 pandemic has swept all around the world, it specifically highlighted some of the shortcomings of the current system for Canadian foreign workers in terms of health and safety. By June 2020, hundreds of Canadian agricultural workers were infected on the job, causing two fatalities.
Since many of Canada's foreign agricultural workers rely on consistent income from their often labor-intensive jobs maintaining farms and equipment, they can't afford to miss work, even if they're sick. Staying home may not be much better. Housing for foreign workers keeps everyone in close quarters. Housing standards are often inconsistent, leaving many workers in cheap communal units that work as a perfect breeding ground for the virus.
Even many workers who needed to quarantine described being kept in conditions that didn't allow for social distancing and didn't provide adequate supplies for the required length of the quarantine. Since reports vary and standards tend to be inconsistent, it's clear that there's a disconnect between the government's vision and the reality of the living conditions these workers are facing.
Seeking Input
The government understands that things are in need of change. Although there has been a push for improvements in the past, the pandemic has made clear just how unsightly the living conditions are. As a start, the Government of Canada is seeking input until 22 December 2020 on proposed requirements for foreign worker living conditions.
While this is a move in the right direction, requirements only make a difference if they are upheld, and that will be the key to ensuring conditions are actually maintained and improved. It's about consistency on a municipal and local level, not just federal regulations.
Mexico Halting Foreign Workers To Canada
For now, Mexico has halted their foreign workers from coming to Canada — specifically as a result of the deaths associated with foreign worker COVID-19 outbreaks. While this doesn't change the conditions for those already living in Canada, it did stop over 5,000 new workers from entering the country over the summer. Mexico's ambassador to Canada maintains that this is an action of solidarity with Canada.
What Needs To Change?
While policy changes and new requirements are important to the equation, those requirements and policies need more regulation in order to uphold them on a local level. There also needs to be a push towards better working and living conditions for foreign workers on the whole — not just in terms of residencies.
Reducing the number of hours these workers spend on the job, paying them better wages and providing them with universal health care are all changes that would benefit the health and safety of foreign workers — and incentivize workers to stay home if they're sick. They are an integral part of the Canadian economy, and they deserve better rights and conditions.
Making Steady Improvements
Although the Canadian government is just now beginning to make strides towards improving conditions for their foreign workers, they're definitely heading in the right direction. From here, things will look up as long as they remain committed and make sure they keep human rights a priority.