Westerner Days Fair And Exposition Wins Two International Awards!
By Sheldon Spackman
Red Deer's Westerner Days Fair and Exposition has been recognized with a pair of international awards.
The event has received the first place Award of Distinction for Communications in the categories of "First Time Sponsor", recognizing the Calm Room sponsored by On the Mark Productions INC and in "Sponsorship Innovation" for the Share the Fair Program sponsored by Olymel.
The awards were handed out by the International Association of Fair and Expositions (IAFE) during an industry conference held in Las Vegas November 30th. Officials say the purpose of this competition is to improve the advertising and publicity programs of fairs and to provide recognition for those fairs doing an outstanding job.
There are a total of 20 award categories for the Communications Awards, each divided into 5 divisions by attendance, that a Fair or Expo can enter. The entries are evaluated and judged by a team of industry leaders. These individuals are selected from the membership of International Association of Fairs and Expositions, which has over 1200 members from around the globe.
CP NewsAlert: David Johnston quits as special rapporteur on foreign interference
OTTAWA — Former governor general David Johnston says he is stepping down from his role as special rapporteur investigating foreign interference, citing the highly partisan atmosphere around his work.
More coming.
The Canadian Press
Canada under pressure to produce more food, protect agricultural land: report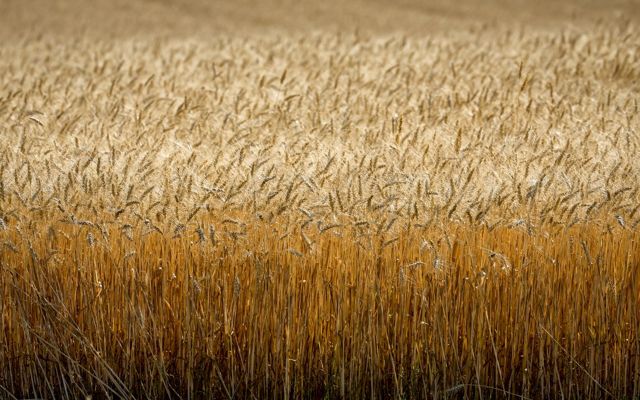 A field of wheat is pictured near Cremona, Alta., Tuesday, Sept. 6, 2022. Canada's agricultural land is under increasing pressure as demand for food grows domestically and internationally while the industry grapples with limited resources and environmental constraints, a new report found. THE CANADIAN PRESS/Jeff McIntosh
By Rosa Saba
Canada's agricultural land is under increasing pressure to produce more food as demand grows domestically and internationally, while the industry grapples with limited resources and environmental constraints, a new report found.
"We need to grow more food on less land and in a volatile climate," said Tyler McCann, managing director of the Canadian Agri-Food Policy Institute.
The report by the institute released Thursday looks at the pressures on Canada's agricultural land to produce more food while also mitigating and adapting to the effects of climate change, said McCann.
Despite Canada being a big country, it doesn't have as much agricultural land as people might think, said McCann, with the report noting that agricultural land makes up only around seven per cent of the country.
Because of that, we can't take what we do have for granted, he said. "We need to be really thoughtful about how we are using our agricultural land."
In 2020, Canada was the eighth largest country in terms of cropland area, the report said, with that cropland decreasing by seven per cent over the previous two decades.
Canada is a major producer and net exporter of agriculture and agri-food products, the report said, exporting $91 billion in products in 2022, and one of the top 10 exporters of wheat, canola, pulses, pork and beef.
In the coming years, Canada will face increased demand from countries whose populations are growing, the report said.
"With population growth on one side and climate change on the other, Canada will be amongst an increasingly smaller number of countries that is a net exporter," said McCann, noting that Canada's own population is growing, and farmland also needs to be protected against urban sprawl.
The wildfires clouding Canadian skies this week are a "vivid reminder" of the pressure that extreme weather and the changing climate are putting on the agricultural sector, said McCann.
"We need to clearly mitigate … agriculture's impact on climate change. But we also need to make sure agriculture is adapting to climate change's impacts," he said.
One of the ways the world has responded to demand for increased agricultural production over time is to create more agricultural land, in some cases by cutting down forests, said McCann. But that's not a viable option for Canada, which doesn't have a lot of land that can be sustainably converted into farmland — and even if it could, doing so could have a variety of adverse environmental effects, he said.
Some of the practices used to reduce emissions and sequester carbon in agriculture can also improve production output on existing farmland, the report found, such as precision agriculture and no-till practices.
However, intensifying the production of current agricultural land also comes with potential environmental downsides, the report said.
For example, McCann said fertilizer is an important part of sustainable agriculture, but there's a balance to be struck because excessive use of fertilizer can quickly turn food production unsustainable.
"We need to be a lot more thoughtful about the inputs that we're using," he said, adding the same can be said about the use of technology in agriculture and the policies and programs put in place to encourage sustainable intensification of Canadian agriculture.
The report recommends that Canada adopt policies that provide financial incentives and technical assistance to farmers and develop regulatory frameworks promoting sustainable land use, as well as promoting education and awareness campaigns, so that the country can "ensure the long-term sustainability of its agricultural sector while protecting the environment."
This report by The Canadian Press was first published June 8, 2023.