Lacombe County Council Approves Funding Requests But Some Denied
By Sheldon Spackman
Numerous funding requests have been approved by Lacombe County Council this month, at least to some degree but some other noteable ones have not.
Those include one from Big Brothers-Big Sisters of Lacombe and District for $50,000 to assist with paying down the mortgage of their recently acquired building in Lacombe. The other, a request from Stars Air Ambulance requesting funding in 2017 of $2.00/capita or $20,624, based on the current County population, which was defeated.
However, most others were approved at their most recent regular meeting. The Town of Blackfalds requested $294,000 in funding for their Blackfalds Community Hall Expansion Project. This amount was based on 18% County resident usership of the facility. Part of the expansion will permanently house the Blackfalds Parent Link Centre. Lacombe County approved the funding request to a maximum of $250,000, funded through the Recreation Capital Assistance Reserve.
Other funding applications were approved for operating support of Historical, Cultural, Tourism & Visitor Information Facilities & Services. This policy was developed to provide financial support to community organizations that preserve and promote the history and heritage of Lacombe County, as well as promote tourism. Those beneficiaries include:
Mirror & District Museum Society $ 22,365.51
Alix Wagon Wheel Museum $ 3,800.00
Blackfalds & Area Historical Society $ 10,000.00
Lacombe & District Chamber of Commerce $ 12,500.00
Lacombe Regional Tourism & Marketing Assoc. $ 43,878.00
Lacombe & District Historical Society $ 33,475.00
Bentley Museum Society $ 10,000.00.
These requests total $136,018.51.
Elsewhere, Council also approved the provision of in-kind gravel base and site work for the Lacombe
Athletic Park Association exterior basketball project to a maximum of $ 44,078.66.
Finally, Lacombe County has allocated $50,000 in the 2017 Budget to distribute to community groups- and municipalities to help celebrate Canada's 150th anniversary next year.
Ford workers in Canada ratify agreement, set precedent for other automakers
TORONTO — The union representing 5,600 workers at Ford Motor Co. facilities in Canada says workers have voted to accept a deal with the automaker.
Unifor and Ford reached a tentative agreement Tuesday after extending a strike deadline by 24 hours.
The union has said the three-year deal addresses all issues raised by members for this round of bargaining.
With the Ford deal ratified, Unifor can move on to trying to replicate that deal at the other big automakers, Stellantis and General Motors.
The union has said wages, pensions, job security and the transition to electric vehicles were key areas of focus for bargaining.
Meanwhile, workers at GM and Stellantis plants in the U.S. have been participating in limited strikes, and on Friday expanded the work action to 38 locations in 20 states.
This report by The Canadian Press was first published Sept. 24, 2023.
The Canadian Press
<!– Photo: 20230924120956-65106abdf696d3d4f45d28d9jpeg.jpg, Caption: Unifor national president Lana Payne attends a news conference in Toronto, Tuesday, Aug. 29, 2023. Unionized workers at Ford Motor Co. of Canada have ratified a three-year agreement. Payne issued a
statement today saying the deal will mean tremendous gains for
autoworkers. THE CANADIAN PRESS/Tijana Martin –>
Hot rental market makes search 'stressful' for many — and it won't get better soon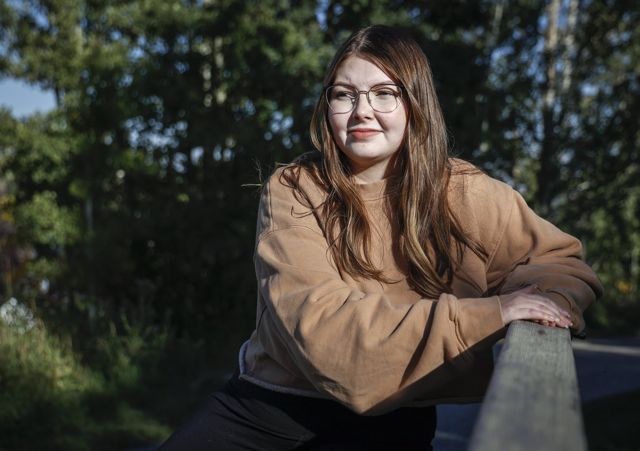 Marissa Giesinger is pictured in Calgary, Thursday, Sept. 21, 2023. On the hunt for a rental home in Calgary over the last six weeks, Giesinger and her boyfriend trawled through listings morning, noon and night, only to find most come along with dozens of applications and a steep price tag. THE CANADIAN PRESS/Jeff McIntosh
By Tara Deschamps in Toronto
On the hunt for a rental home in Calgary over the last six weeks, Marissa Giesinger and her boyfriend trawled through listings morning, noon and night, only to find most come along with dozens of applications and a steep price tag. As an added difficulty, many landlords are unwelcoming to the couple's brood — dogs Kado and Rosco and a cat named Jester.
"We made the tough decision recently to house our dogs with someone else until we can find a place that's affordable and we can take both of them," said Giesinger, a 23-year-old Mount Royal University student.
"It's definitely been stressful."
The competitive rental market Giesinger has encountered in Calgary is being seen across the country as multiple factors combine: high interest rates deter buyers and add to rental demand, still-high inflation is squeezing renter budgets, there's an undersupply of purpose-built rental units and population growth is fuelling demand.
These conditions have left prospective renters feeling even more frustrated than usual by sky-high rents, the frenzy of interest that surrounds any affordable listing and the litany of demands landlords can make when so many people are interested in their home.
Giacomo Ladas, communications director for Rentals.ca, calls it "almost a perfect storm" — and it isn't likely to ease up any time soon.
"What this does is create such a burden on this rental housing market that even though we're out of the (busy) summer rental season, there's so much demand that (these conditions are) going to continue like this until the fall and into the winter," he said.
Data crunched by his organization and research firm Urbanation.ca shows average asking rents for newly-listed units in Canada increased 1.8 per cent between July and August and 9.6 per cent from a year earlier to reach a record high of $2,117 last month.
Between May and August, asking rents in Canada increased by 5.1 per cent or an average of $103 per month.
When Giesinger rented a two-bedroom basement unit with a roommate a few years ago, the duo paid $1,000 per month, but now she routinely spots "super tiny," one-bedroom places for $1,350 a month.
"If you want a basement suite or an apartment, you're looking at minimum $1,200 and that doesn't include any utilities or anything like that unless it's a super rare listing," Giesinger said.
Rentals.ca data show newly listed one-bedroom properties in Calgary priced at an average $1,728 per month in August, up 21.6 per cent from a year earlier. Two-bedroom homes have climbed 17.4 per cent to $2,150 over the same period.
The picture in Vancouver and Toronto is far bleaker. Rentals.ca found the cities had the highest rents in the country.
Newly-listed one-bedroom properties in Vancouver averaged $2,988 in August, up 13.1 per cent from a year earlier, while two-bedroom units hit $3,879, an almost 10 per cent increase year-over-year.
Newly-listed Toronto one-bedroom homes averaged $2,620 in August, up almost 11 per cent from the year before, while two-bedroom properties had a 7.1 per cent rise over the same time frame to $3,413.
It's numbers like these that have convinced Kanishka Punjabi to abandon her hopes of moving in the near term.
"Two days ago, I gave up on my search because the rental market is that bad," she said.
The public relations worker has been living in Mississauga, Ont., but felt it was time to find a home in downtown or midtown Toronto, closer to where she works.
However, few of the two-bedroom homes she spotted in her two-month search were within her $2,800 budget.
For example, one apartment she liked at the intersection of Yonge and Eglinton streets had 25 offers in just over a week.
"Some people actually just sent in their offer without looking at the apartment too because there are so many people who are in desperate need of rental units," said Punjabi. "There's just not enough."
The Canada Mortgage and Housing Corp. has projected that the country needs to build 3.5 million additional homes beyond what's planned before the market reaches some semblance of affordability.
It also calculated that the annual pace of housing starts — when construction begins on a home — edged down one per cent in August to 252,787 units compared with 255,232 in July.
Despite the nudge down, Rishi Sondhi, an economist with TD Bank Group, said it has been a strong year for starts because the industry is responding to elevated prices by building at a robust pace.
But between population growth and rising interest rates, he said, "supply is struggling to keep up with demand" and that's bound to weigh on renters for quite some time.
"In the short term, it would be unrealistic to expect too much of a reprieve simply because population growth is likely to remain strong through the duration of this year — and that's really one of the big fundamental drivers," he said.
"In addition, it's unlikely to expect affordability in the ownership market to improve too much either because we think the Bank of Canada (key rate) is going to be on hold for the remainder of the year, but there is some risk that they take rates even higher, especially if inflation doesn't co-operate."
For renters like Giesinger that message puts even more pressure on her to settle on a place soon.
"Now I'm scrambling to find the money for a deposit and we're still never really sure like what kind of place we're going to get," she said.
"And when you're battling dozens of other people for a rental it can be super stressful."
This report by The Canadian Press was first published Sept. 24, 2023.