Welcome to the "Sky Palace" – Premier Kenney clears the record with photos of new temporary office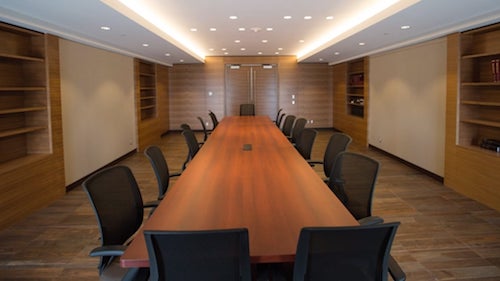 There has been much chatter over the last day or so about the office I'm currently occupying. I want to clear the record for those who didn't hear about why this is when we disclosed this information last summer.
As many of you know, the Legislature's 100 year-old sandstone is in need of repair. This project was contracted under the NDP in January of 2019, and is an important part of protecting Alberta's temple of democracy.  This involves, jackhammering, grinding, blasting, and lots of other work that is, by nature, quite loud. But it's necessary work that should get done to preserve the structural integrity of an important building that belongs to the people.
They work on different sections of the building at a time, and last summer they arrived at the section that includes the Premier's office. As you can imagine, trying to conduct important phone calls or host meetings while this noisy work takes place is not easily done (see a sample of the noise from today in a comment below), so a decision was made to temporarily move offices and staff in the Premier's office over to the federal building.
Thankfully, there are many office spaces that are available and under-utilized on the 10th and 11th floor of this building, so apart from minor moving expenses, there was no extra cost to repurposing these rooms with existing furniture and supplies for me and members of my staff.
Under previous governments, the entire 11th floor space was first designed as a penthouse suite, and when those plans were rightfully scrapped, it was repurposed to host the occasional meeting, and many other cocktail or guest receptions attended by the NDP while they were in government.  We believe these spaces should be there to support government business first and foremost.
As you can see, the area I'm working in is a former boardroom that we moved existing furniture into to serve as an office space (see before and after pics). It's not overly fancy or glamorous, but it serves the purpose of a functional workspace.
Once the work outside my Legislature office is complete, I'll be happy to move back into the space that is intended to serve as the Premier's office (see photos of that office prior to renovations).
Alberta announces next phase of COVID vaccinations, doses for about 437,000 residents
EDMONTON — Alberta's health minister says 437,000 people can soon begin booking appointments for the next round of COVID-19 vaccinations.
Tyler Shandro says those aged 65 to 74 and First Nations, Inuit and Metis people aged 50-plus can begin booking March 15.  
The province has been able to accelerate vaccinations due to a third one being approved by Health Canada, the Oxford-AstraZeneca vaccine.
Shandro says the first 58,000 doses of AstraZeneca will available starting March 10.
The National Advisory Committee on Immunization has said while AstraZeneca is just as effective as the others, due to incomplete data it recommends it not be given to those over 64.
Shandro says for that reason, the AstraZeneca vaccine will be offered to adults 50 to 64 who don't have a severe chronic illness.
This report by The Canadian Press was first published March 4, 2021.
The Canadian Press
Parkland blames pandemic as Q4 profits and revenue slide on lower fuel sales
CALGARY — Parkland Corp. is reporting lower fourth-quarter earnings and revenue as affects of the COVID-19 pandemic lockdowns continue to erode fuel sales.
The Calgary-based convenience store operator and fuel retailer says it had net earnings of $53 million in the last three months of 2020 on revenue of $3.47 billion, down from $176 million on revenue of $4.78 billion in the same period of 2019.
It says it sold 5.4 billion litres of fuel and petroleum products in the fourth quarter, a decrease of seven per cent compared with the year-earlier period.
It says lower volumes were offset by strong per unit fuel profit margins in Canada and in its international operations, as well as robust company convenience store same-store sales growth in Canada of around eight per cent and a healthy 90 per cent utilization of its Burnaby, B.C., refinery.
Parkland says it will hike its dividend by two per cent, its ninth consecutive annual increase.
The company says it plans growth capital spending of between $175 million and $275 million in 2021, along with between $225 million and $275 million in maintenance capital spending, including about $40 million of work deferred from 2020.
"In 2021, we will strengthen our customer offerings and continue our organic growth initiatives, advance our disciplined acquisition strategy and deepen our commitment to providing customers with low-carbon fuel choices as part of our broader sustainability efforts," said CEO Bob Espey.
This report by The Canadian Press was first published March 4, 2021.
Companies in this story: (TSX:PKI)
The Canadian Press