Wave of Omicron cases in North America should peak at the end of January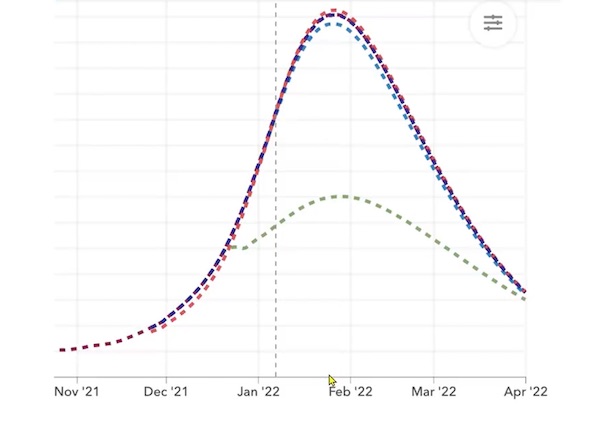 It's looking more and more obvious that the worst of the Omicron wave is going to peak for North Americans over the next couple of weeks. In the video shared below, health researcher John Campbell shares projections from the United States made over the weekend. He also shows how case numbers appear to be on their way down now in the United Kingdom which is considered to be about 2 weeks ahead of North America in this latest wave of cases. In both South Africa and the United Kingdom, while the number of cases skyrocketed during the Omicron wave, hospitalizations only increased slightly, and the death rate fortunately plummeted.
Some of the highlights from this video are posted below in short notes, along with links to the data shared in this presentation.
United States omicron surge will continue https://covid19.healthdata.org/united… https://www.publichealth.columbia.edu…
New York hospitals https://www.nytimes.com/2022/01/04/he…
Incidental positives 50% to 65%
Dr. Rahul Sharma, emergency physician
We are seeing an increase in the number of hospitalizations But the severity of the disease looks different from previous waves We're not sending as many patients to the I.C.U., we're not intubating as many patients, and actually, most of our patients that are coming to the emergency department that do test positive are actually being discharged
France, Omicron wave https://www.theguardian.com/world/liv…
Prof Alain Fischer
I think we are coming to the peak of this new wave primarily towards the beginning of the second fortnight of January, so if we work it out this would be in around 10 days' time

Sir David Spiegelhalter, University of Cambridge
https://www.bbc.co.uk/news/live/uk-59… There's still no sign of a serious increase in intensive care ventilation and deaths, and we would have expected to see that by now
Hospitalisations in England, with good luck they won't go above 3,000 This is down to the fact that people have voluntarily been very cautious about their behaviour
London has peaked 31st December London hospital admission fall below 400 per day line Flu numbers still low
Zoe study https://covid.joinzoe.com/post/omicro…
Judge denies bail for protester charged in southern Alberta border blockade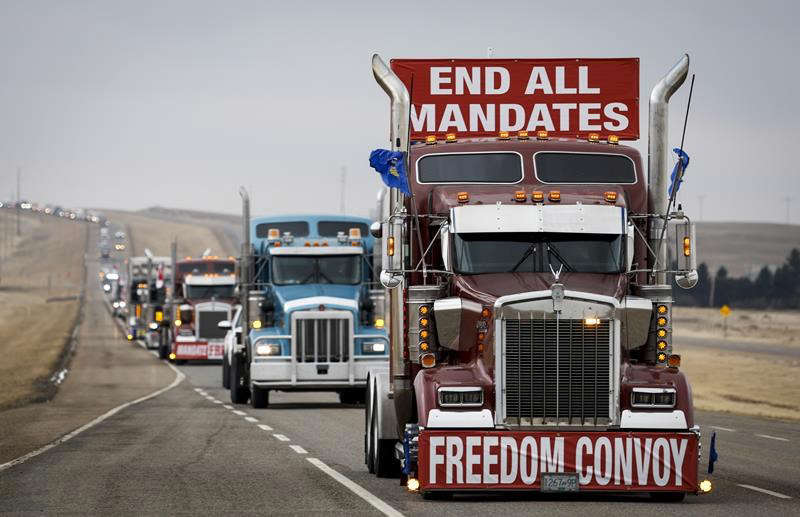 LETHBRIDGE, Alta. — A judge has denied bail for a man charged with conspiracy to commit murder at a border blockade in southern Alberta.
Chris Carbert, who is 45, appeared by video in Court of Queen's Bench in Lethbridge on Friday to hear the decision after a bail hearing last week.
Reasons for Justice Johnna Kubik's ruling are protected by a publication ban.
Carbert and three other men are accused of conspiring to kill police officers at a blockade near Coutts, Alta., in protest of COVID-19 vaccine mandates and other pandemic restrictions.
One of the men, Christopher Lysak, was denied bail in March.
Anthony Olienick, whose bail hearing began this morning, and Jerry Morin also remain in custody.
The Crown has already indicated it plans to try the four men together.
They are to return to court on June 13.
The protest near Coutts began in late January and lasted for almost three weeks.
Fourteen people were charged in February after RCMP found a cache of long guns, handguns, body armour, large amounts of ammunition and high-capacity magazines in three trailers.
Police allege a group at the protest was willing to use force if the blockade was disrupted. Officers described the threat as "very serious."
This report by The Canadian Press was first published May 27, 2022.
The Canadian Press
Judge decides 'Freedom Convoy' organizer Tamara Lich stays out on bail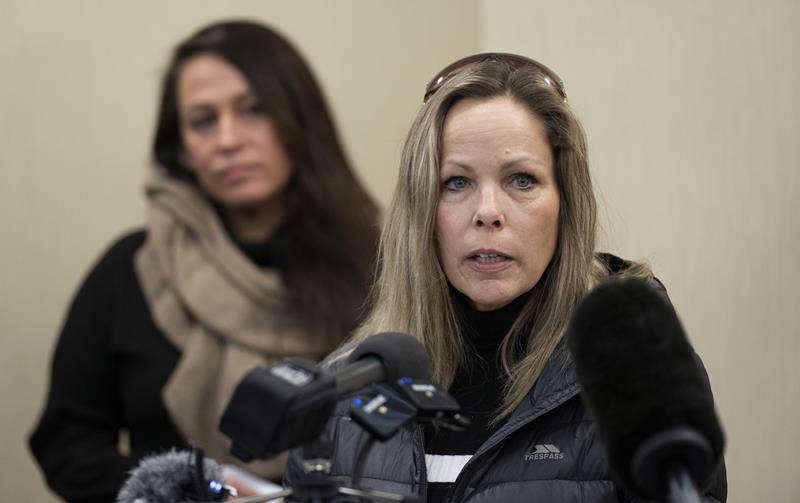 OTTAWA — Tamara Lich, a key organizer of the "Freedom Convoy" protest that gridlocked Ottawa for weeks, will remain released on bail while awaiting trial, a judge ruled Wednesday.
Ontario Superior Court Justice Kevin Phillips said he made his decision because she has followed her bail conditions, her surety has supervised her well and she's already had a "taste of jail," which he said lowered her risk to reoffend.
The judge said he does not accept that Lich breached her release conditions by agreeing to receive an award, and added Lich can be trusted to respect the conditions of her release.
She was released in March with a long list of conditions, including a ban from all social media and an order not to "support anything related to the Freedom Convoy."
The terms of Lich's release were intended to prevent a similar protest from happening in the national capital, the judge said, adding the court does not seek to control people's political views.
"The courts are not a thought police. We seek only to control conduct to the extent that certain behaviour will violate or likely lead to violation of the law," he said.
The protest is over and has left Ottawa, he said, adding it would be "practically impossible" to mount a similar protest in the city again.
Lich's lawyer, Lawrence Greenspon, said in an interview Wednesday that he was pleased with the decision.
"She'll be able to conduct her life in a lot more normal fashion as a result of the judge's ruling," said Greenspon.
Moiz Karimjee, a Crown prosecutor, said last week that Lich violated one of her bail conditions by agreeing to accept an award for her leadership during the Ottawa protest, and should be sent back behind bars to wait for her trial.
Greenspon argued last week her bail conditions should be loosened to allow her to come to Ontario and use social media.
He told the court that the social media ban imposed on Lich was unnecessarily broad and has had a huge impact on her life while she's been out of custody.
However, Phillips said Wednesday the ban on Lich's access to social media is warranted.
"Social media can be a problematic feedback loop where people get egged on and caught up in group activity they would never perform on their own," he said.
Social media "undoubtedly contributed to and even drove" Lich's conduct related to the protest, and her separation from it is necessary to lower her risk of reoffending, said Phillips.
Noting that Lich is in her late 40s, Phillips said she should be able to remember "how to use the social skills she surely built up before the advent of the internet."
Lich is able to communicate by many other means, including email, phone or meeting in person, he said.
Greenspon said while he would have liked to see the social media ban reversed, "the most important thing was the rejection of the Crown's efforts to to put her back in jail for agreeing to accept an award."
The judge did amend her release conditions to allow her to visit Ottawa.
Lich's motivation for coming to the city cannot be disclosed because it is under a court-ordered publication ban.
Phillips reiterated the high unlikelihood that Lich could organize an event resembling the convoy protest.
While she's permitted to come to Ottawa, Lich is not allowed to visit the downtown core so as not "to walk around the very neighbourhoods she is alleged to have traumatized," he said, except to attend court or meet with legal counsel.
Lich and fellow protest organizer Chris Barber are jointly accused of mischief, obstructing police, counselling others to commit mischief and intimidation.
The "Freedom Convoy" protest evolved into a weeks-long demonstration that congested the streets of Ottawa in February.
This report by The Canadian Press was first published May 25, 2022.
———
This story was produced with the financial assistance of the Meta and Canadian Press News Fellowship.
Erika Ibrahim, The Canadian Press