Anti-Mandate and Anti-Mask protestors say staging protests outside the homes of politicians a suitable response to "government's excessive overreach"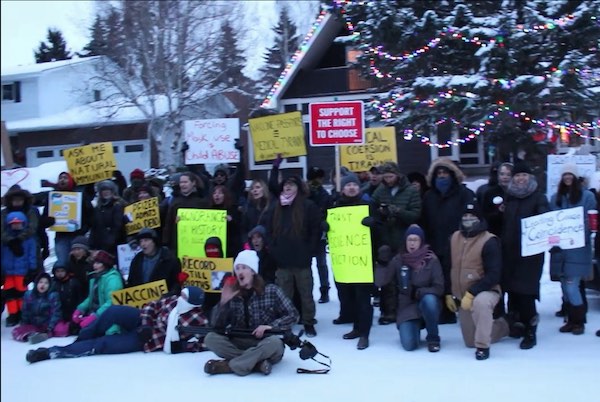 Multiple media outlets have reached out today for comments from the protesters who visited Jyoti Gondek's house yesterday and Jason Copping's home on January 1st.
The protesters have asked Calgary Freedom Central to post their answers to their questions here. The media is welcome to quote from these answers in their coverage of this story.
1. Why are you protesting at these politicians' homes?
For over a year and a half we have been protesting non-stop the government's excessive overreach into our lives and businesses on the premise of a public health emergency. We have held in excess of a hundred protests around the city, as well as sent thousands of emails to our MLA's and city councillors to express our concerns about these measures.
Not once has any politician seriously considered any public input on these policies that have dramatically affected the well-being and livelihoods of millions of Albertans. Instead, they have responded with hate speech and slander against the people they are meant to represent, calling anyone who stands up for their rights and freedoms self-serving racists, misogynists, conspiracy theorists and other names.
Their policies and rhetoric have driven many thousands of Albertans into joblessness, ill-health and despair. They have torn apart families and destroyed childhoods with their fear-based narrative and unscientific mandates. They have forced their overreaching policies into the homes of every Albertan and have ignored all opposing voices.
They have hid themselves away from any form of public accountability for nearly two years. So we now feel it is time to take our message to their homes, and we have received overwhelming support for these protests from the public.
2. Do you feel your message is being heard?
It has become very clear to us that after nearly two years, none of these politicians are willing to listen to the voices of the people they supposedly represent. It seems to us that they are taking their orders from Justin Trudeau and elsewhere, and have relinquished all accountability to the people of Alberta.
3. Do you plan on protesting at other homes?
Yes. We expect to continue protesting outside their homes until all vaccine and mask mandates and restrictions are removed and an open dialogue is started with the public.
4. Would you welcome a conversation with these politicians?
Yes, we would welcome an open conversation that allows for the voices of the public and uncensored medical professionals to be heard.
5. What do you say to people who think you shouldn't be protesting at their homes?
These politicians have entered the homes of every Albertan over the past 22 months with their draconian policies, while ignoring or disallowing all voices of dissent. They have neglected their duties as elected representatives and have disregarded the very foundations of our democracy.
They have now decided that they have the right to impose experimental medical procedures on the population through coercion, threats and intimidation. This goes far beyond their responsibilities as elected representatives, making it a personal matter for which they must be held accountable by the people.
They believe it is acceptable for them to threaten and intimidate Albertans, but cry foul when the people show up to peacefully protest at their homes. This reveals the profound level of hypocrisy within our current political establishment.
If they were to actually listen to the voices of their constituents, there would not be a need for protests outside their homes. If they were acting lawfully and in the best interest of the people they are supposed to represent, they would not have any reason to be concerned about people protesting outside their homes.
Edmonton Oilers, Calgary Flames weigh in on NHL playoff Battle of Alberta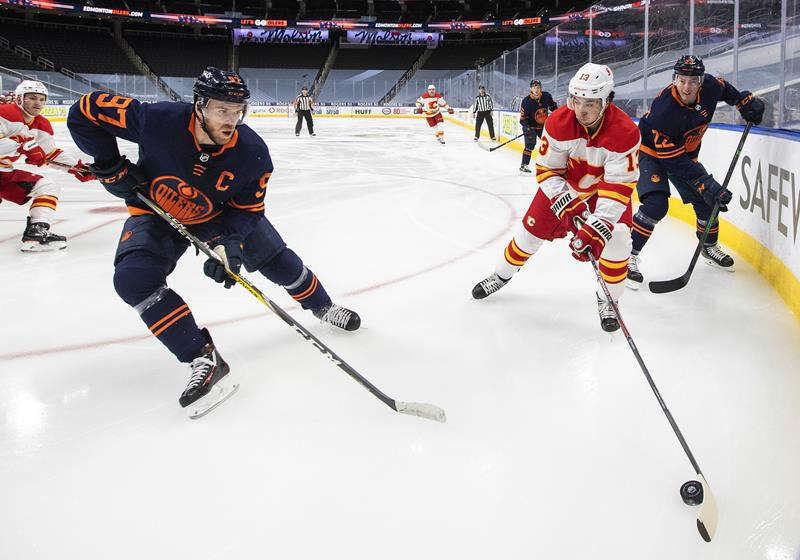 CALGARY — The Calgary Flames and Edmonton Oilers meet in the playoffs for the first time since 1991 in a best-of-seven Western Conference semifinal starting Wednesday. Here are some key quotes from both teams:
"We became a province in 1905 I believe, so that's 116 years ago. How many people are in Alberta? Four and a half million maybe? What brings our province together, always? No. 1 sports, No. 2 church, No. 3 music.
"What's this doing to Alberta right now? It's bringing people together. They might cheer for the Oilers, they might cheer for the Flames. Big deal. It's sport. That's what it's about.
"Is it important? Damn right it's important. It's great for the league. It's great for Alberta, especially with what's gone on. COVID, oil and gas, livestock, agriculture, we've all got smoked here the last two years, right? It's good to see that energy, all that's positive and it's awesome." — Flames head coach Darryl Sutter
—
"It's huge. The Battle of Alberta is another level in the regular season, and now for us — as players, fans and the cities — to have that rivalry exist in the playoffs is something special. I think we are all going to try and take it in, do our best and live in the moment." — Oilers forward Derek Ryan.
—
"Honestly, I think (the media) hypes it up more than the players do. Being close distance-wise makes it a little more interesting, but to us, we are not getting caught up in the hype. It is just another series for us." — Oilers goaltender Mike Smith.
—
"I haven't been to the second round since my first year in the league, so this is real exciting for me, especially being the Battle of Alberta. I've been in the city long enough to know what that means." — Flames defenceman Michael Stone.
—
"It's not so often you get traded from a rival team to another that's in the same province, and then you end up playing them in a playoff series. And not just the playoff series, it's the second round of the playoffs. Add it to the list of things I've been very fortunate enough to experience in my hockey career." — Flames forward Milan Lucic.
—
"I know everyone is looking forward to it. Two really good teams that just got out of two hard-fought series. It's not only big for the teams. It's big for the province. This is, personally, probably the biggest series I've ever played in." — Oilers forward Zack Kassian.
—
"Being part of a series that has history is special. It's moments that fans will relish and look back on. To have the chance to go to the conference final and have the chance to be Canada's team, that's an opportunity that both sides are eager to be (have)." — Oilers forward Zach Hyman.
—
"It's big for the province and all that, but I think our focus is Game 1. It's a really important game. Get ready and all the noise and media and that stuff, you've got to block it out. It's going to be fun, it's going to be wild in the crowd, but on the ice, we've got to be composed and play our game. — Flames goaltender Jacob Markstrom.
This report by The Canadian Press was first published May 17, 2022.
The Canadian Press
Loaded handgun seized in Red Deer traffic stop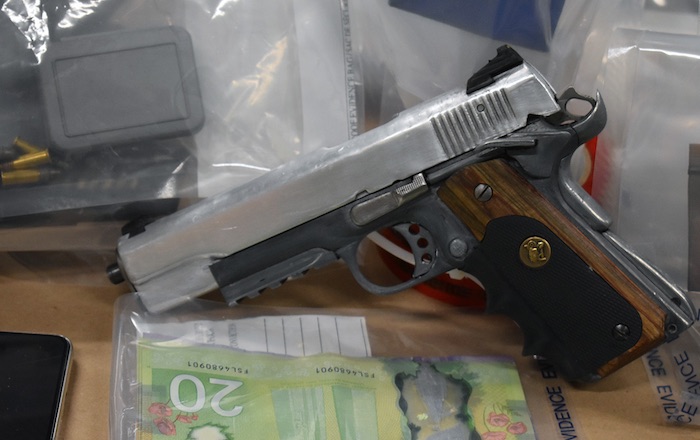 News release submitted by the Alberta Law Enforcement Response Team (ALERT)
A variety of drugs and a loaded handgun were seized from a suspected Red Deer drug dealer by ALERT. The handgun, which had its serial number defaced, was located following a traffic stop.
ALERT Red Deer's organized crime and gang team made the seizure on May 4, 2022 after conducting a planned vehicle stop near Gasoline Alley in Red Deer County. A 41-year-old suspect was arrested, but has yet to be formally charged.
"Taking a handgun out of the hands of a drug dealer is a measure of success towards reinforcing community safety. ALERT continues to work with our partners at Red Deer RCMP, and neighbouring detachments, to disrupt and dismantle drug trafficking activity," said Staff Sgt. Jason Gibson, ALERT Regional teams.
Along with the handgun ALERT located a variety of drugs inside the vehicle, including:
40 grams of fentanyl;
28 grams of methamphetamine;
6 grams of cocaine;
30 milliliters of GHB;
16 assorted illicit prescription pills; and
$360 cash.
The handgun will be submitted for ballistic testing and firearms analysis.
The investigation remains ongoing as investigators are preparing reports and disclosure for Crown Counsel.
Members of the public who suspect drug or gang activity in their community can call local police, or contact Crime Stoppers at 1-800-222-TIPS (8477). Crime Stoppers is always anonymous.
ALERT was established and is funded by the Alberta Government and is a compilation of the province's most sophisticated law enforcement resources committed to tackling serious and organized crime.