Valentine's Day During COVID – The Most Memorable Yet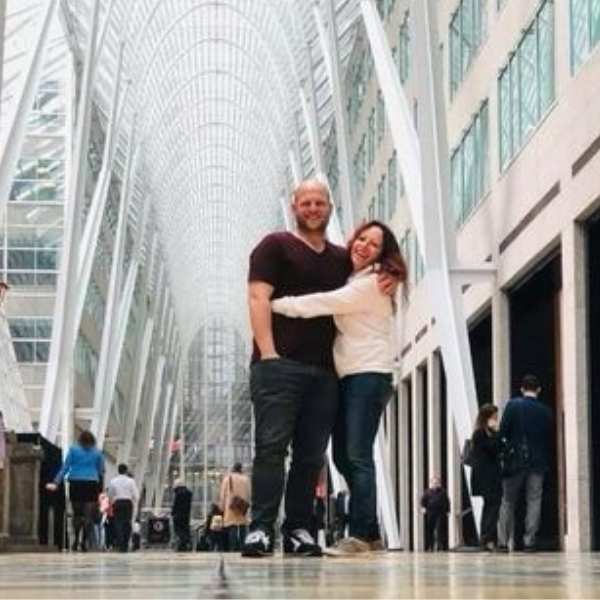 Valentine's Day During COVID – The Most Memorable Yet
Every day and every occasion for the past year have come with the new challenge of learning how to acknowledge it under the shadow of the pandemic. The next date on the calendar, one that is quickly approaching, is Valentine's Day, and our ability to go out for a romantic dinner, or a weekend getaway will not be the same. For one personal development coach, the COVID-19 situation should not be considered a road block to a great day. In fact, he argues it provides the perfect opportunity to have one of the most memorable Valentine's Days ever.
"Flowers, chocolates, and dinner, those are the obligatory gifts on Valentine's Day, says Ben Oosterveld from Agent From Within. "The lockdown provides the ideal situation to up your Valentine's game.'
The key to a successful relationship, argues Ben, is that connection with your partner, and to make that connection, you need to invest some time thinking about what your spouse really likes, and wrap the day around that. Ben says, "Getting her a skill saw is great, if she really wants a skill saw," he says with a sly grin. "But maybe she just wants to go skating or tobogganing. If that's what your partner really wants to do, and you arrange a day like that, you're going to have the most memorable Valentine's Day of your relationship."
Gift Giving Goes Both Ways
Ben's wife, Renae, admits her husband is just as likely to get her gifts before or after Valentine's Day as he attempts to break free from the obligations of February 14th and make the presents more meaningful. She also argues both partners can up their efforts to acknowledge each other. Renae reinforces what her husband says about finding those special parts of your partner's personality and exploit them.
For example, for Ben's birthday one year, Renae pulled the seats out of their minivan and threw in a small mattress and took her husband to Jasper for the weekend. And while that may seem like a "cutting corners" kind of trip to many, for Ben, it was perfect. He'd always wanted to drive across the country in a van, sleeping in the back at night and exploring during the day. Renae knew this. Her gift was not a weekend in Jasper but a weekend of making memories. "That's still one of the best birthday's I've ever had," says Ben. "I would have gone crazy in a hotel room, but sleeping in the van was perfect."
"Think about the connections you had with your spouse back when you were dating," says Renae. "That's a great place to start when looking for those meaningful moments to reconnect with your partner now."
Delivery Matters
With less than a week to go before Valentine's Day, it may be too daunting for some to find the perfect gift or experience for their spouse, but Ben suggests anyone can take their romantic nature to the next level by just improving the delivery of the gift.
"If you're going to get your partner flowers, don't give him or her a bouquet of 12 all at once; spread it out. Give her one flower every hour," urges Ben. "Or attach a love note to the flower that hints where the next flower is in the house – make it a bit of scavenger hunt, make it memorable."
We've all learned how to adjust our routines to this new normal that the pandemic has thrust upon us, Valentine's Day is just another challenge. With a little thought and creativity, Ben is confident February 14, 2021 can be a day that will remain as a highlight for many years.
Read more on Todayville.
Amazing opportunity today only! Oilers 50/50 in support of Central Alberta Child Advocacy Centre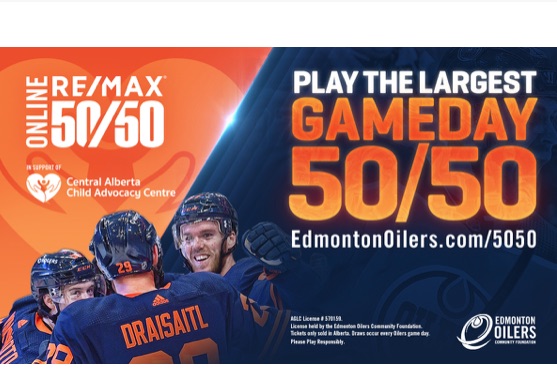 Oilers Game Day 50/50 in support of the CACAC!
Thank you to the Edmonton Oilers and Edmonton Oilers Community Foundation organizations for involving us in this incredible opportunity to share our story. This platform will help create more awareness across the country regarding the issue of child abuse and the need for Child Advocacy Centres.
Select from the following for your chance to WIN!
Regular: Five dollars ($5.00) for one (1) ticket (D)
Discount 1: Ten dollars ($10.00) for ten (10) tickets (C)
Discount 2: Twenty dollars ($20.00) for sixty (60) tickets (B)
Discount 3: Fifty dollars ($50.00) for two hundred (200) tickets (A)
AGLC Raffle License #570159
Tickets available for purchase starting at
9AM Saturday, May 1st
Ticket Deadline: Saturday, May 1st @ 11PM
Thanks again to everyone involved!
Your support will create the foundation for lasting impacts in the lives of children and youth that have been abused in Alberta.
Your support makes a difference!
Your $10 ticket to help the Sports Hall of Fame gives you a shot at up to $10,000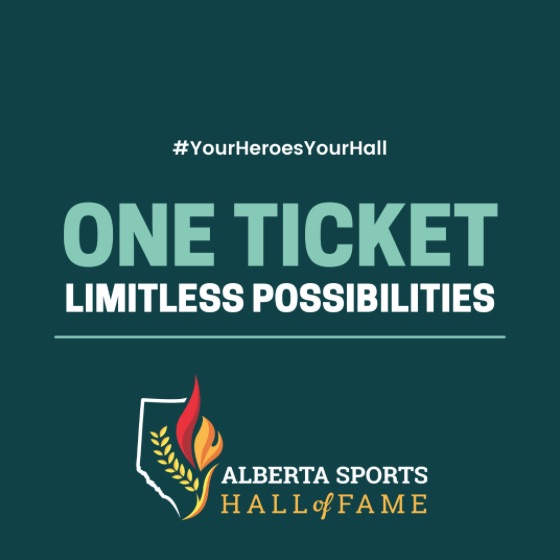 Your Hall. Needs Heroes.
We're enhancing the Alberta Sports Hall of Fame experience, one ticket at a time.
It's time for us to replace our "vintage" ski machine with something a little more modern. But changing an interactive doesn't come cheap.
Be Our Hero – get your tickets today for a potential shot at $10,000.
AGLC Raffle #573630
Out with the old …
Pixels might be cool again, but our ski machine has seen better days. We've kept it going, but it's past its prime.
In with the new.
The super-sized version of our old classic, Super Alpine Racer is as close as you can get to the real thing.